It now seems clearer that Apple is preparing to launch a rival to Tile, the company which sells Bluetooth tags to help find your lost items.
Evidence of the tags, which are believed to be white and circular, as pictured above, leaked out a couple of times while the new iOS 13 iPhone software went through its beta development stages. Now, we have our clearest picture yet of what the tags will do, and what the user interface will look like.
Read More:
Published by MacRumors, the screenshots below show how the tags will work in unison with Apple's Find My app on the iPhone. We don't yet know what the Tags will be called, as the screenshots refer to them by their internal codename of B389.
The user interface shows images of a key, suitcase and bicycle, and states: "Keep track of your everyday items. Tag your everyday items with B389 and never lose them again."
A new tab called Items is seen in the screenshots of the Find My app, alongside the existing tabs for locating People (ie, your iPhone-using friends and family) and Devices (other Apple products compatible with Find My, like iPads an AirPods).
Working in a very similar way to Tile, the new Apple location trackers will alert iPhone users via a notification if they become separated from the phone. For example, if you have an Apple tag on your keys or in your wallet, then leave home without them, your iPhone will alert you and ask if you meant to do that.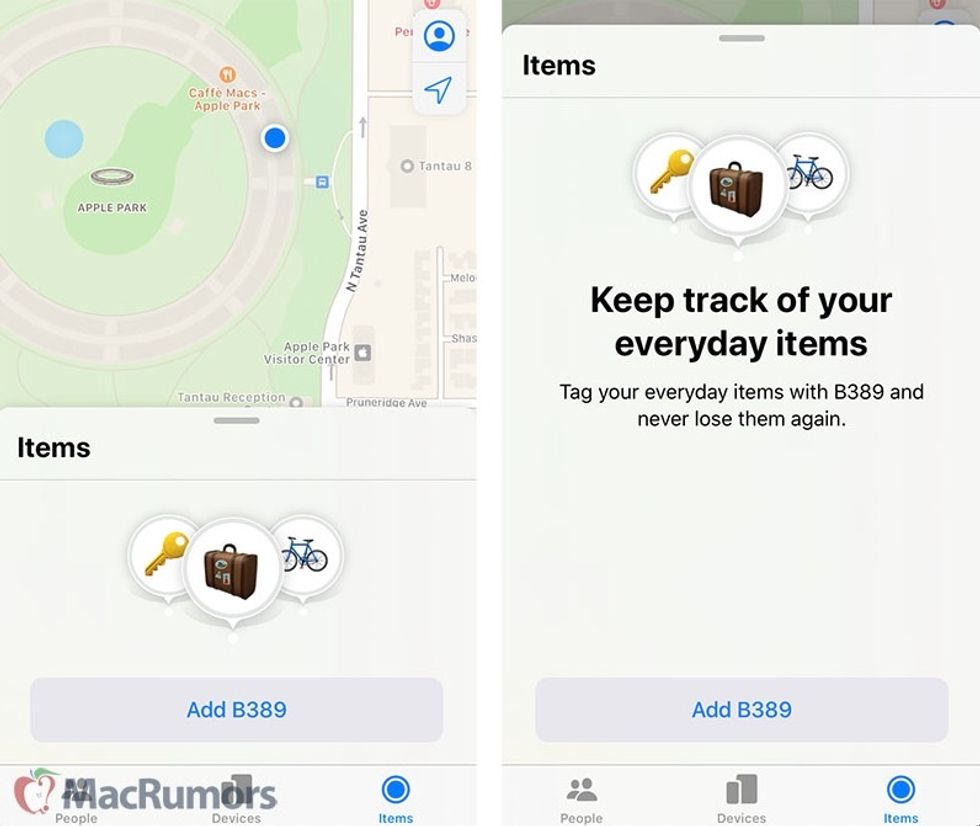 Screenshots claiming to show Apple's new item tracking serviceMacRumors
If this alert shows up because you dropped your keys without realizing, you can then use the Find My app to hunt down the dropped tag. Just like Tile, there is a 'lost mode' which when activated will alert you to the location of a lost tag when another iPhone user is close to it.

It has previously been reported that augmented reality will play a role in helping you find lost items. This is claimed to use a 3D balloon icon to help indicate where your lost item is, when viewing your environment through the iPhone camera. A string of code discovered in iOS 13 states: "Walk around several feet and move your iPhone up and down until a balloon comes into view."
The app will let users set a safe location where they will not be alerted if they leave an item there. For example, you could set your train station as a safe location for your bicycle, so when you leave it there each morning the app won't alert you about it.
These new Apple location tags might not work the same for everyone, as they are expected to make use of Apple's new U1 locator chip, which is currently only available in the new iPhone 11 and iPhone 11 Pro. This could mean that owners of the latest iPhone get greater accuracy when looking for their lost tags, while owners of older models should be able to use Bluetooth, as is the case with Tile.
Finally, like Tiles (and Apple AirPods), the new Apple tags are expected to make a noise on command to help you find them.