Apple latest line-up is here, a melange of new devices, wearables and features that the Cupertino, Ca. unveiled during its September 10, 2019 event.
Read More:
We're updating the story live, so you can hear — as we hear — about the latest iPhone, Apple Watch, iOS and other features and devices Apple is pushing to consumers this year. As we hear about updates, we'll post each one in this story, with the most recent details at the top. Let's get started.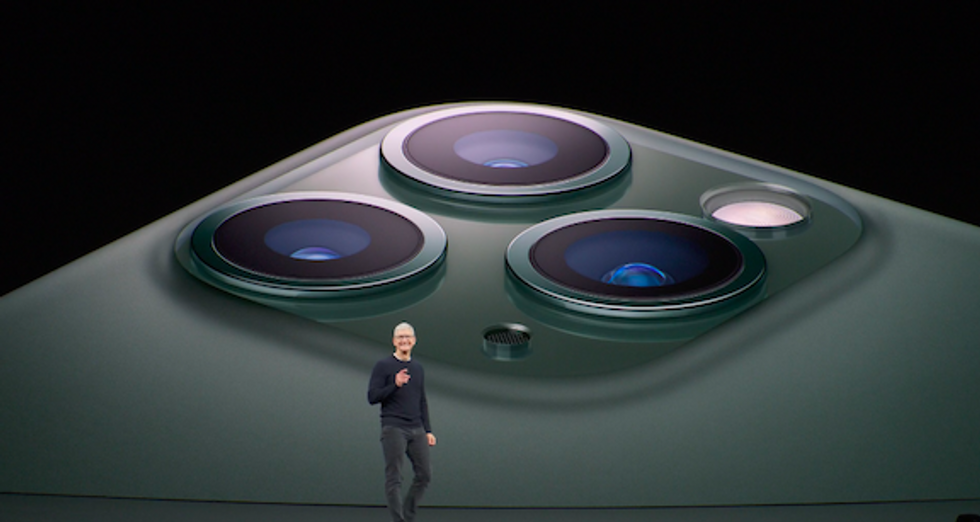 The iPhone Pro 11 goes on pre-sale at 5 am PST on Sept. 13, 2019GearBrain
iPhone Pro 11 and iPhone Pro 11 Max

This is the first phone that Apple has called Pro — the iPhone Pro. It's made of surgical steel stainless steel, and there's a matte texture finish. There are two sizes: 5.8-inches and 6.5-inches. The iPhone Pro has a new OLED panel, 457 pixels per inch. 1200 nits peak brightness, and will be 15 percent more energy efficient.
They're also calling this new screen for the iPhone Pro 11, a Super Retina XDR display. The iPhone Pro 11 comes with a fast charging adapter, but a longer battery life as well, four more hours than the iPhone XS.
The new cameras on the back are definitely sweet — and there are three. There is a a 12MP wide camera, a 12MP telephoto camera and 12MP ultra wide camera with the 120 degree field of view, like the iPhone 11. Apple says these cameras will support pro photography, supporting a 4X optical zoom range.
Deep Fusion technology is a machine-learning technology that is inside the iPhone Pro 11 camera, Apple said, which shoots nine images and in one second analyzes all the images — some shot long and some short, going through 24 million pixels to optimize for noise.
The new video system, where each camera can shoot 4K video up to 60 frames per second, and there are video editing features — part of upcoming iOS 13 — which can be done right from the smartphone. And you can use special apps that take advantage of the multiple cameras.
One app, the upcoming Filmic Pro, when used with the iPhone Pro 11, lets you see each of the rear camera's feed on its own, and actually cut a live video from wide angle shots to close-up shots — all just from the smartphone. You can also record from the front and back lens at the same time.
There are four matte finishes: midnight green, silver, space gray and a new gold color. There are new cases, including clear ones. The iPhone 11 Pro will start at $999, the iPhone Pro 11 Max at $1099. You can pre-order starting at 5 am PST on Friday September 13, and the iPhone Pro 11 and iPhone Pro Max will start shipping on September 20th. The iPhone XR will drop in price to $599, with the iPhone 8 dropping to $499.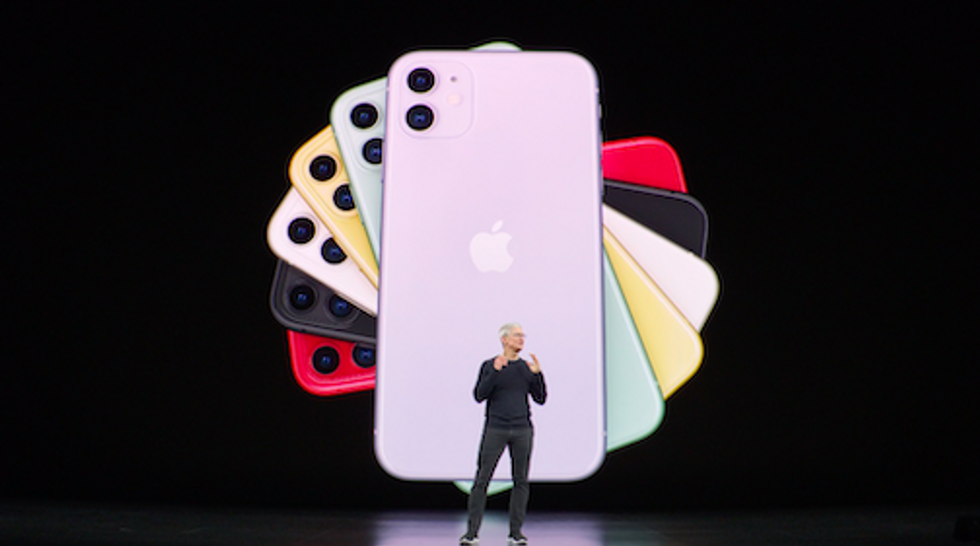 The new Apple iPhone 11 starts at just $699GearBrain
iPhone 11

The new iPhone is beautiful with anonymized aluminum, sculpted 3D and comes from single piece of glass. But the form is very clearly a mirror of the iPhone X, XS and XR — and honestly, aside from some fun video updates, this is not the iPhone that you need to rush out and buy.
There is a 6.1-inch Liquid Retina display, and the iPhone 11 will support Dolby Atmos. There is a dual-camera, with a 12 MP wide camera, and also an ultra wide 12 MP camera, with a 120 degree field of view.
There is a Night Mode feature, created for dim lighting environments, and you can shoot video — switching between both cameras, and even use the zoom wheel to switch between both cameras. It supports 4K video with up to 60 frames per second, even slo-mo, across both cameras. You can also do a quick video, without having to flip to the video mode in the photo app. The front camera is getting updated as well, with 4K video supported, and also slow motion video is now on the front camera too.
The new iPhone 11 comes with new A13 Bionic chip, as expected, what Apple calls the fastest CPU in a smartphone. This is going to be a big impact on gaming, and the iPhone 11 will have an hour more battery than the iPhone XR.

There are six colors: red, black, purple, yellow, white and green. The iPhone 11 will start at just $699 — a remarkably low price point for Apple.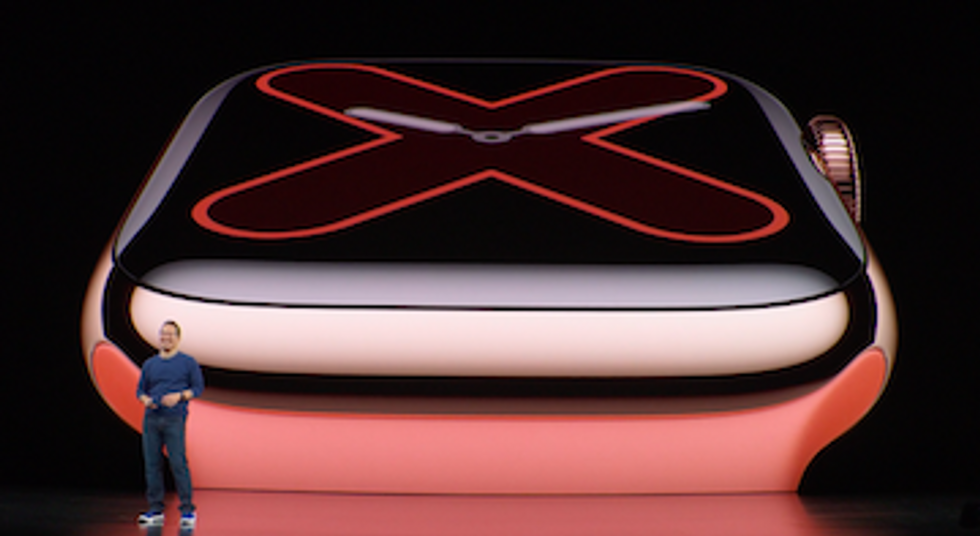 The Apple Watch Series 5 will come in a titanium finishGearBrain
Apple Watch Series 5

The new Series 5 Apple watch has an always on Retina display — that doesn't go dark even when you lower your arm. The display will get less bright, but will never go completely off. The watch will still have an all-day 18-hour battery life. You can also see workout metrics without raising wrists — like if you're at work or in a workout and want to grab a look without having to twist your arm.
There's also a newly built-in compass on the Apple Watch Series 5, which works the way as it does on the iPhone — so you can know which way you're heading. And you can see this on the home screen, and it includes latitude, longitude, elevation and incline.
Every model now has international emergency calling even without having an iPhone nearby, a big safety update. And of course it will work with WatchOS 6.
There are new cases made from 100 percent recycled aluminum, a white ceramic model, stainless steel and now two models in titanium — including one in space black. There are co-branded Apple Series 5 smartwatches too with Nike and Hermès.
The Watch Series 5 will start at $399, with $499 the price for cellular models. They can be ordered today, and will be in stores starting September 20. The Watch Series 3 price is now dropped to just $199 — and can still be bought even with the new launch.
Cook also spoke about the research work Apple is doing in health, with three new studies including one on hearing, which will look at how daily sound exposure impacts long-term heating health and is being run in conjunction with the World Health Organization. Another study will be on Women's Health, looking at menstrual cycles and how these impact a woman's long terms health. The third is one that will study the connection between health and movement and includes the American Heart Association as a parter. Wearers can enroll through the new Apple Research App which launches later this year.
Also, in case you forgot how much people like their Apple Watch, the company started off talking about the smartwatch with a short film on the ECG feature, which went live in 2018. The heart monitor has helped a mom figure out she was having trouble in her pregnancy, and those who were having irregular heart rhythms.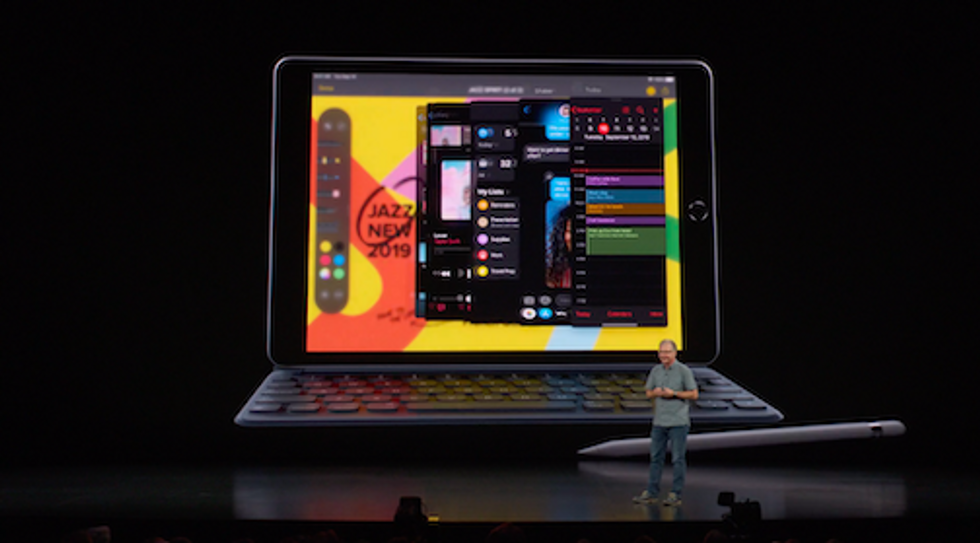 The new iPad has a 10.2-inch Retina displayGearBrain
iPad

This is the seventh generation of iPad launching today. The display is bigger, with a larger 10.2-inch Retina display, with nearly 3.5 million pixels and an A10 fusion chip. You also get a smart connector so you can use a full-size keyboard that also folds into a cover.
The new iPad works with iPad OS, with a new redesigned home screen, new photo filters and effects, plus updates on how to use the Apple Pencil, all of which GearBrain has tested extensively earlier this year.
The entire case is made form 100 percent recycled aluminum, and the whole thing weighs about one pound and will start at $329. Education customers can get it for $249 — and you can order today and it will start shipping later this month.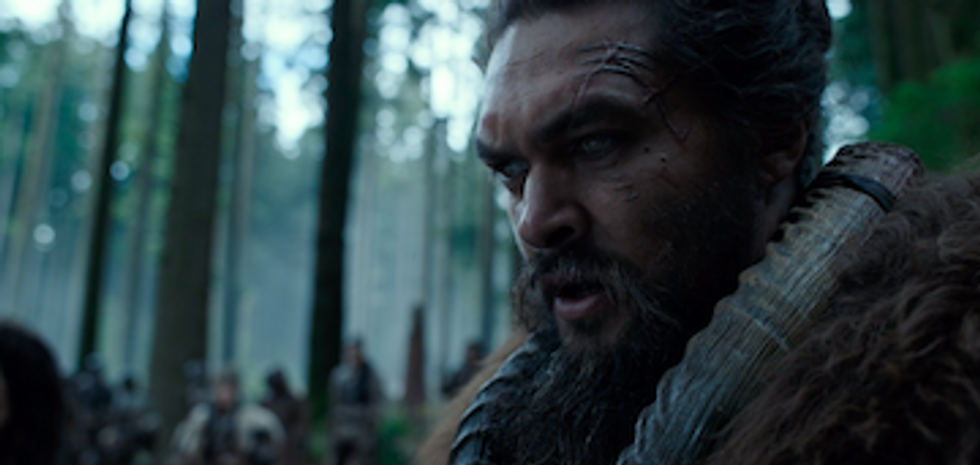 Apple TV+ will launch at just $4.99 a monthGearBrain
Apple TV+

After launching earlier this year, Apple's CEO Tim Cook showed off some more updates for Apple TV+, including the world premiere of Jason Momoa's new show called "See," where human sight has been lost — but is returned with a new generation that has been born. This is an original show developed just for Apple TV+, the company's huge push to complete with HBO, Netflix and other subscription services for TV.
The first shows will go live on November 1, and more shows will be added each month. The service will be available in more than 100 countries at launch, and will be priced for just $4.99 a month for a family. And if you buy an iPhone, iMac, Apple TV or iPad you'll get a year of Apple TV+ for free. (Do we have to say how badly this is going to impact Netflix and others?)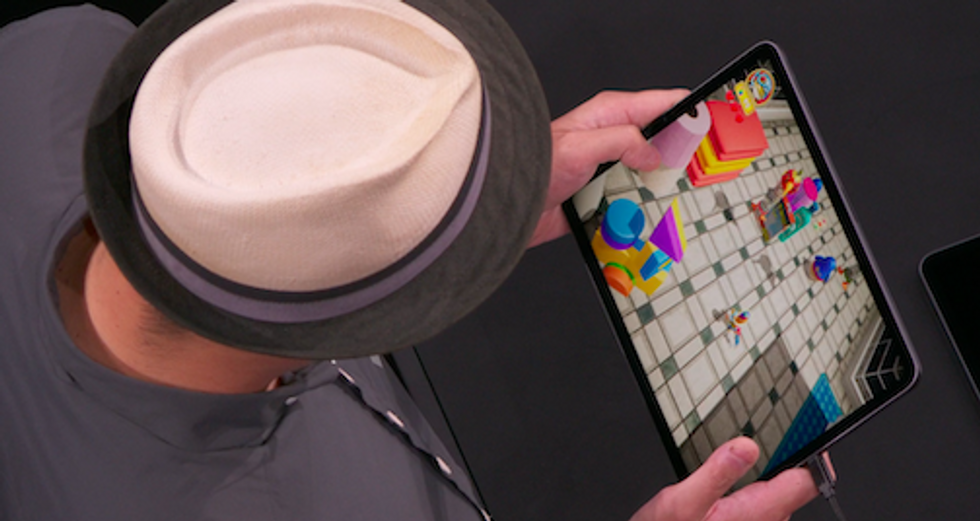 Apple Arcade goes live on September 19GearBrain
Apple Arcade

First up? More than 100 new games iPhone, iPad, Mac and Apple TV are coming to the new Apple Arcade, a subscription service that you'll be able to access through a new tab. This won't be a per download charge, but a monthly fee.
Developers are creating games just for the new Apple Arcade including Konami, with a game called "Frogger in Toy Town," and Capcom launching with a new game for Apple Arcade which turns players into explorers in the ocean depths. Annapurna Interactive, has a racing game, "Sayonara Wild Hearts," with a dark-haired heroine battling while staying balanced a motorcycle in a streetscape scene.
The new arcade will be available starting September 19, in more than 150 countries worldwide. More than 100 games will come on board over the coming weeks at a price of $4.99 a month for an entire family. And yep, you'll get a one-month free trial, the way Apple News+ worked as well at launch.