A driverless, on-demand burger delivery service was in operation in Las Vegas during the CES technology show last week.
Run by a San Jose, California startup called AutoX, the service only served as a demonstration for now, but the technology behind it — from a company just two years old — is impressive.
Read More:
AutoX claims its technology meets the requirements of Level Four autonomy, which means the car is capable of driving itself almost all of the time, and on almost any type of road. Only extreme weather conditions like heavy rain and snow are enough to prevent a Level Four vehicle from navigating successfully.

What's even more interesting is how AutoX makes this claim with a vehicle which relies primarily on regular high-definition cameras, which it blends with Lidar. Other driverless car companies like Waymo, the market leader owned by Google parent Alphabet, rely primarily on Lidar.
AutoX held two demonstrations at CES. The first broadcast a live video stream from one of its cars making burger deliveries across Las Vegas for two hours daily, to a TV screen on the company's booth. A second screen showed what a car on the booth could see in real time, and how it identifies the many humans gathered around it, shown in red in the image below.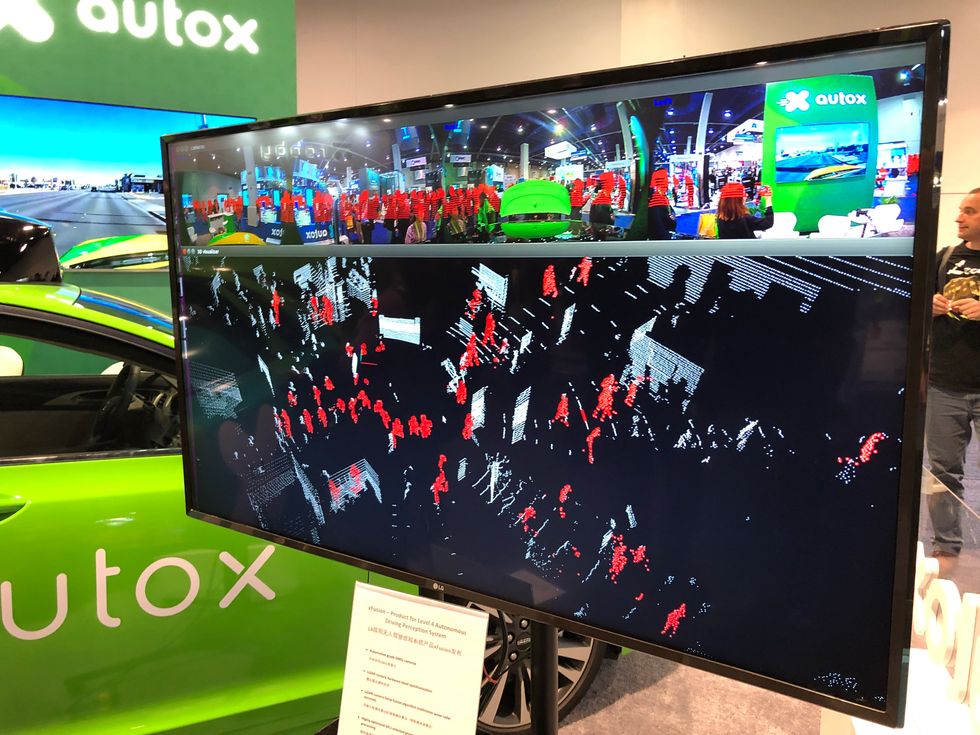 TV shows what the car can see - mostly people on the CES show floorGearBrain
Despite being roughly five times younger than decade-old Waymo, which began offering a commercial autonomous taxi service in late-2018, AutoX is confident in its technology. Speaking to GearBrain at CES, Ke Wang, a computer vision research engineer at AutoX, said: "All our software is made in-house...We have a very strong team of talent, around 60 to 70 researchers and engineers globally, and our CEO [Jianxiong Xiao] used to be a computer professor at Princeton University."
Wang added: "There are a few things that make our software work better [than rivals]. We have developed everything in-house, so we have very strong mapping and localization. We can do HD mapping by ourselves and our localization algorithm is coupled with our own HD map, which can give us very good quality."

AutoX's use of "automotive grade cameras" and how it synchronizes this video feed with data collected from other sensors — thus allowing for a degree of redundancy should any sensor fail or become obstructed — gives it the edge, Wang said.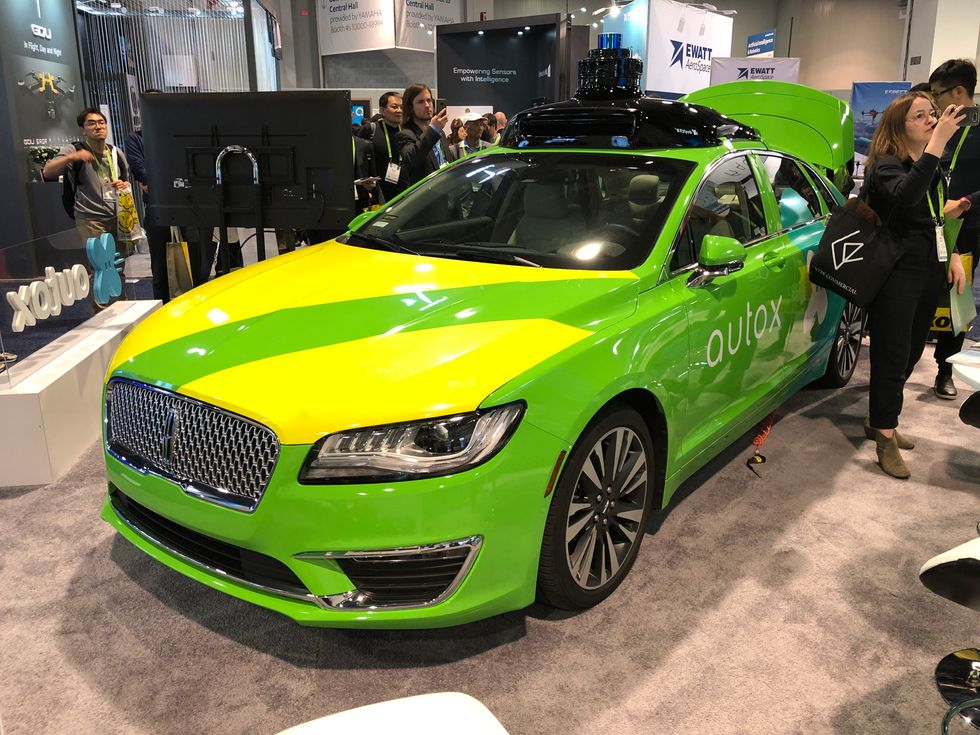 AutoX's car uses AI made entirely in-house to drive itself
The company's vehicles have a safety driver behind the wheel for now, but thanks to a new law in California allowing autonomous cars to be controlled remotely, this person will soon be removed from the equation. In their place, the car's artificial intelligence will alert AutoX if it encounters a situation it doesn't understand, then via a live 360-degree video feed, engineers can remotely drive the car out of difficulty.

"We have done the technical part and are working with the California department of motor vehicles (DMV) to finish the legal part," Wang says. "The DMV can take some time to finish these processes, and we are working very closely with them to get rid of the drivers...We are very confident [in the technology]."
The video below shows an AutoX car driving through Las Vegas during CES:
AutoX's proved its abilities during CES when, during a demonstration broadcast live on NBC, the car encountered a human driver who had run a red light. The safety driver reported how the autonomous car stopped more quickly than they would have managed themselves, Wang says.
The company says it has not altered its AI to deal with Vegas — a place which Wang says a lot of traffic violations, like red light-running and jay-walking, take place. To that end, the AI is able to adjust for different driver attitudes, but needs to be programmed to deal with different laws.

Looking ahead, AutoX is working to launch a commercial food delivery service, but is also talking to a number of (as-yet unnamed) OEMs who are keen to license its autonomous technology for use in their own vehicles.
GearBrain Road Trip Gadget Guide www.youtube.com