Like GearBrain on Facebook
Residents of select areas of San Jose, California will soon be able to have fresh fruit, vegetables and other food delivered to their door by autonomous car.
Driverless technology startup AutoX will begin the service this fall, allowing customers to order the deliveries via a smartphone app.
Read More:
The vehicles, which will include a safety driver sat behind the wheel at first, make use of inexpensive high-resolution cameras to see the world around them, instead of the far more expensive LiDAR systems used by rivals like Waymo and Uber.

This anti-LiDAR approach echoes that of Tesla, where boss Elon Musk believes his vehicles can become fully autonomous (with no human behind the wheel) by using cameras and artificial intelligence instead of LiDAR.
Founded in 2016 and relatively unheard of in the self-driving industry, AutoX's staff includes engineers who previously worked at Google, Apple, Microsoft, Amazon and Ford.
The news comes less than a fortnight after supermarket Kroger began its own autonomous grocery delivery service. This uses modified cars with a safety driver for now, but the goal is to run a fleet of autonomous delivery vehicles built by Nuro, which don't have any space for a driver and are specially built for robotic deliveries.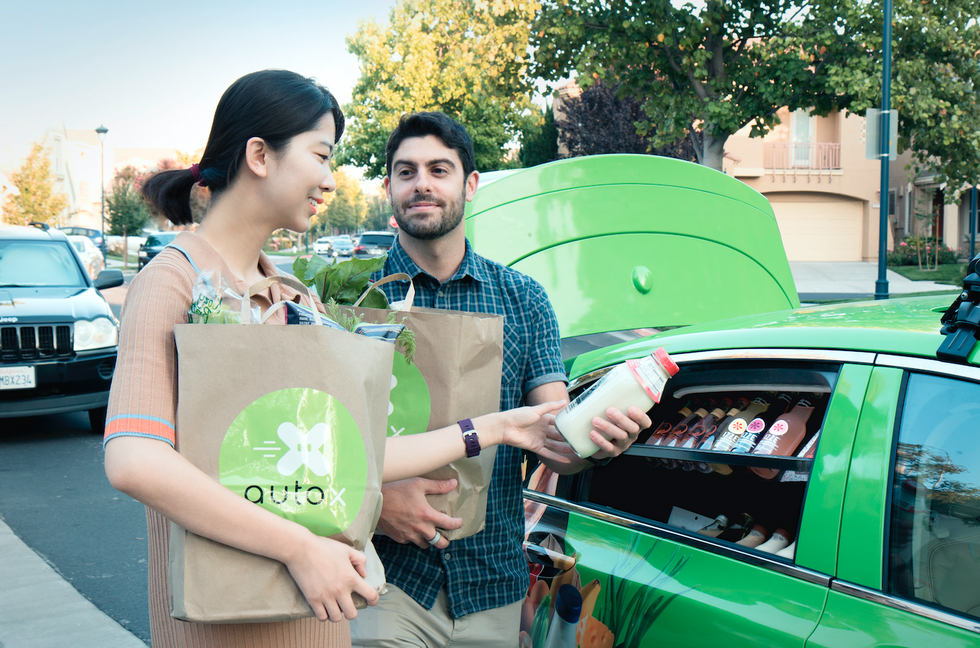 Customers can pick food through the car's window, then pay via an appAutoX
AutoX will offer two services with its autonomous food delivery cars. First, customers can order exactly what they want through the app and have it delivered to their door. The second service will see users request a car, then pick items through the open windows when it arrives, before completing the purchase.
The food is being provided by GrubMarket, which also sells produce at Whole Foods, Blue Apron, Hello Fresh and Chipotle. AutoX says these same groceries will be offered to its customers "at the same price, but with better delivery and shopping experiences." It hasn't been revealed how much the autonomous delivery service will cost, or exactly what will be available to buy.

The company said: "After downloading the AutoX app, users can browse and order items including fresh perishables, vegetables, fruits etc. There is no need to worry about receiving wilted lettuce or less-than-fresh fruit, because groceries will be well preserved in a temperature-controlled environment throughout their driverless ride over."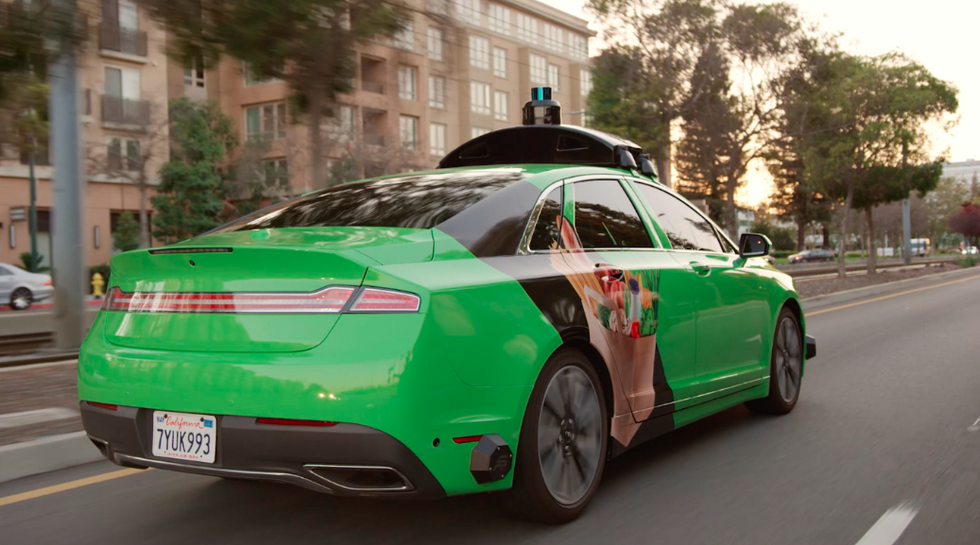 AutoX
Jianxiong Xiao, AutoX founder and CEO, said: "We're very excited to launch the first autonomous grocery delivery and mobile store service in the heart of Silicon Valley with self-driving vehicles on the road. It's a first step of our mission to democratize autonomy, and is a testament to our cutting edge AI, and all its potential capabilities. We believe self-driving car technologies will fundamentally change people's daily lives for the better."
After the San Jose pilot launch this fall, AutoX hopes to expand its service west to the California cities of Mountain View and Palo Alto, and with the promise of more delivery partners coming onboard soon.
Like GearBrain on Facebook