Starting this spring, shoppers in the Greater Boston area will be able to hail a driverless food delivery vehicle from the Stop & Shop grocery store.
The custom-built vehicles, complete with chilled compartments to keep produce fresh, navigate their way to customer's doorsteps, where buyers can remove items and pay for them through a cashier-less system.
Read More:
As well as fresh fruit and vegetables, the vehicles will also carry meal kits and convenience items. Each item has an RFID tag, so the vehicle knows what has been removed and how much to charge the customer, who can pay with a credit card via a smartphone app.
The vehicle have been developed by Robomart, a San Francisco-based startup which has partnered with Stop & Shop for the trial. The vehicles are remotely monitored from a Robosmart facility and can be controlled from afar if they run into difficulty.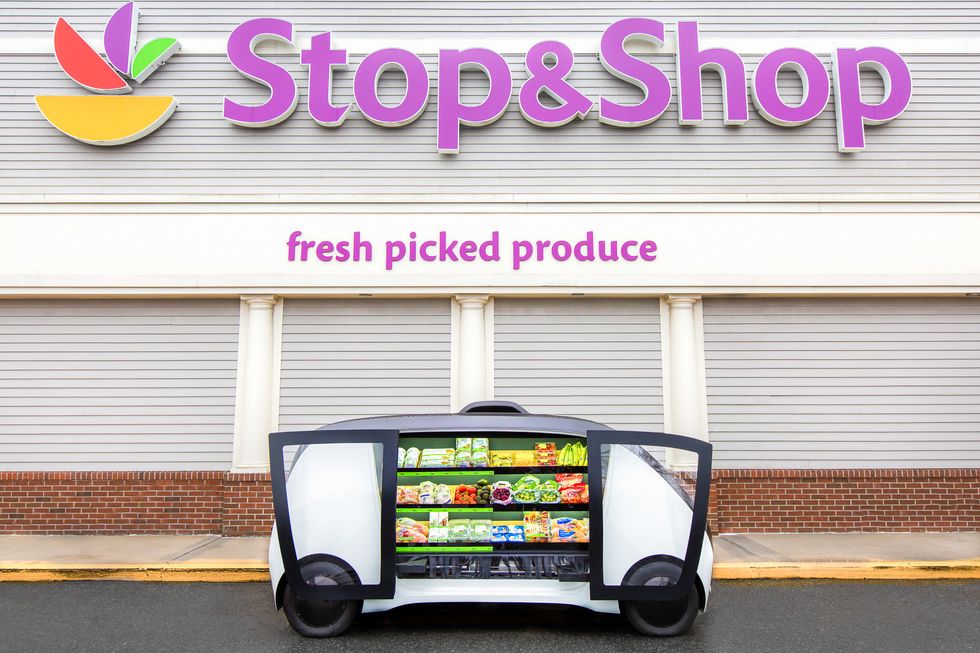 The trial will be limited to the Greater Boston area for nowStop & Shop
"This is one way in which we're leveraging new technology to make shopping easier for our customers - by essentially bringing the store to them," said Mark McGowan, president of Stop & Shop. "We also recognize that many of our customers want the opportunity to make their own choices when it comes to fresh produce, and we're proud to be the first retailer to engage with Robomart to address our customers' needs with their cutting-edge solution."

After hailing the electric vehicle through an app, customers head outside and unlock the vehicle when it arrives at their property. They can then pick out whatever fruit, vegetable and other products they like. Once done, they close the doors and send the vehicle on its way.
RFID tags attached to all products, along with a computer vision system similar to that used by Amazon's cashier-less Go stores, records what customers have selected and emails them a receipt after taking an automatic payment.
Ali Ahmed, founder and chief executive of Robosmart, likened the system to how food and produce like milk used to be sold to consumers. "For decades, consumers had the convenience of their local greengrocer and milkman coming door to door, and we believe that by leveraging driverless technology we can recreate that level of convenience and accessibility."
The news comes just a week after fellow autonomous startup AutoX showed off its driverless delivery vehicles at the CES technology show in Las Vegas. The modified cars spent two hours each day picking up burgers from a local restaurant and autonomously delivering them to the convention center.
In the summer of 2018, grocery company Kroger began an autonomous delivery trial of its own, but is for now only operating close to a single Arizona supermarket.