Luxury British carmaker Bentley has revealed its first plug-in electric hybrid vehicle, called the Bentayga hybrid.
Announced a day ahead of the Geneva motor show, the car is a hybrid version of Bentley's Bentayga SUV, a luxury off-roader intended to compete against the Range Rover, Porsche Cayenne and upcoming Rolls-Royce Cullinan.
Read more:
The Bentayga hybrid is capable of 31 miles of electric-only driving, which means most short journeys should be completed without needing the car's 3.0-litre V6 petrol engine. The hybrid platform is the same as that used by the Porsche Panamera E-Hybrid, which shouldn't come as a surprise given Porsche and Bentley are both owned by the Volkswagen Group.
That family tie will also help out when Bentley launches its first fully electric vehicle, which is said to be based on the same platform as Porsche's Mission E, a four-seat plug-in sports car due on sale by the end of the decade.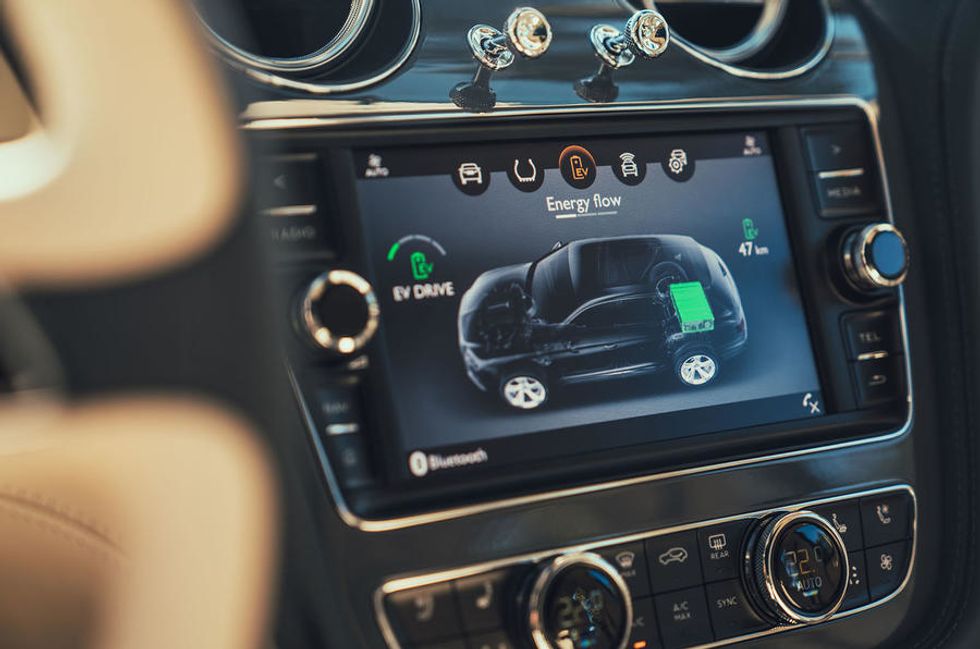 New graphics show how electricity is being produced and deployedBentley
Other than its electric range, performance figures for the car have yet to be revealed. The engine and motor are expected to produce a total power output of around 450bhp.

As with other hybrids, the plug-in Bentayga has three driving modes to help harvest, store or deploy electricity as the driver requires, and the infotainment system has been updated to include information on performance, consumption, electricity production, and whether the car is being powered by the engine, the electric motor, or both.
On the outside, there is little to tell the new Bentayga apart from its V8 and W12-powered siblings, other than subtle copper-colored 'hybrid' badges on the front doors and copper wheel centers.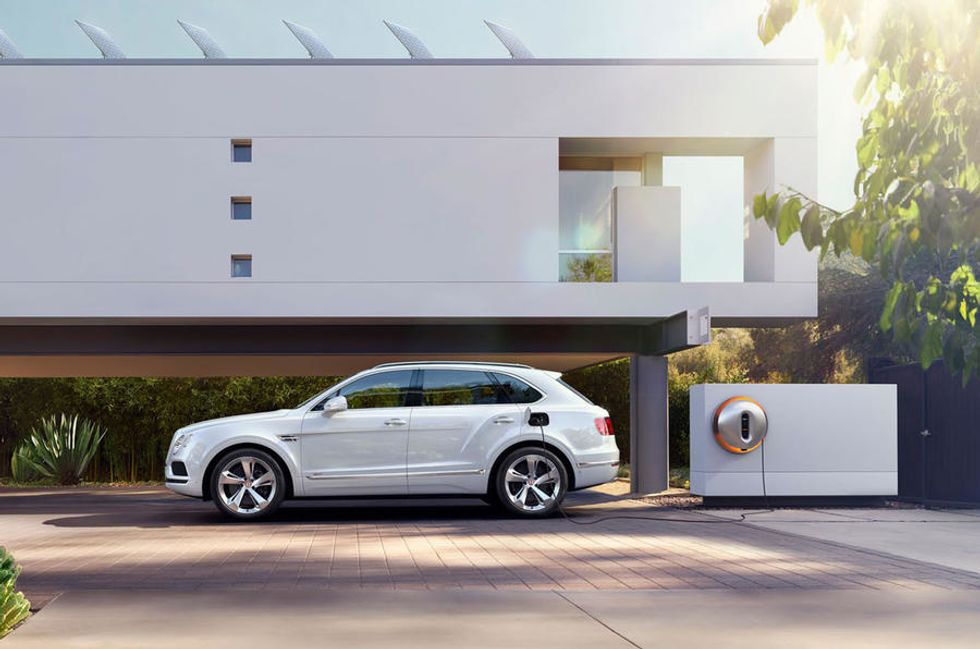 The charger refills to 100 percent (31 miles of range) in 2.5 hoursBentley
Bentley says the battery can be fully recharged from empty in 7.5 hours from a regular wall outlet, or 2.5 hours from a charging station specially installed at home. These stations, Bentley says, have been designed in collaboration with French industrial designer Philippe Starck. The stations have a design which keeps the bulky cables neat and tidy, while also acting as a "functional piece of art".
The company is yet to reveal a price for the Bentayga hybrid, but it is expected to sit below the $235,000 W12 model. Order books will open later this year and the car will be on display at the Geneva motor show from tomorrow, March 6.