Like GearBrain on Facebook
No matter how much effort manufacturers, processor makers and application developers put into making smartphones run as efficiently as possible, it's often hard to get through a busy day without the battery running dry.
Even the casual user will likely see their phone cry out for help and activate its battery-saving mode each and every evening – and it's a similar story with smartwatches and laptops, which also struggle to see out a full working day without being plugged in.
Thankfully, help is at hand via the portable charger, also known as the power bank, or battery pack. These are external batteries which charge up from a wall outlet, then connect to your phone (or almost any other device) via USB, and recharge their battery.
In many cases they are compact in size and easy enough to carry around in your bag or even your pocket. The smallest carry roughly enough energy to charge your phone once, while the biggest and most expensive power banks can power three devices at once, quickly recharge a MacBook or Nintendo Switch via a USB C cable, and even offer wireless charging for when you forget the cable at home.

How to buy the right portable charger for you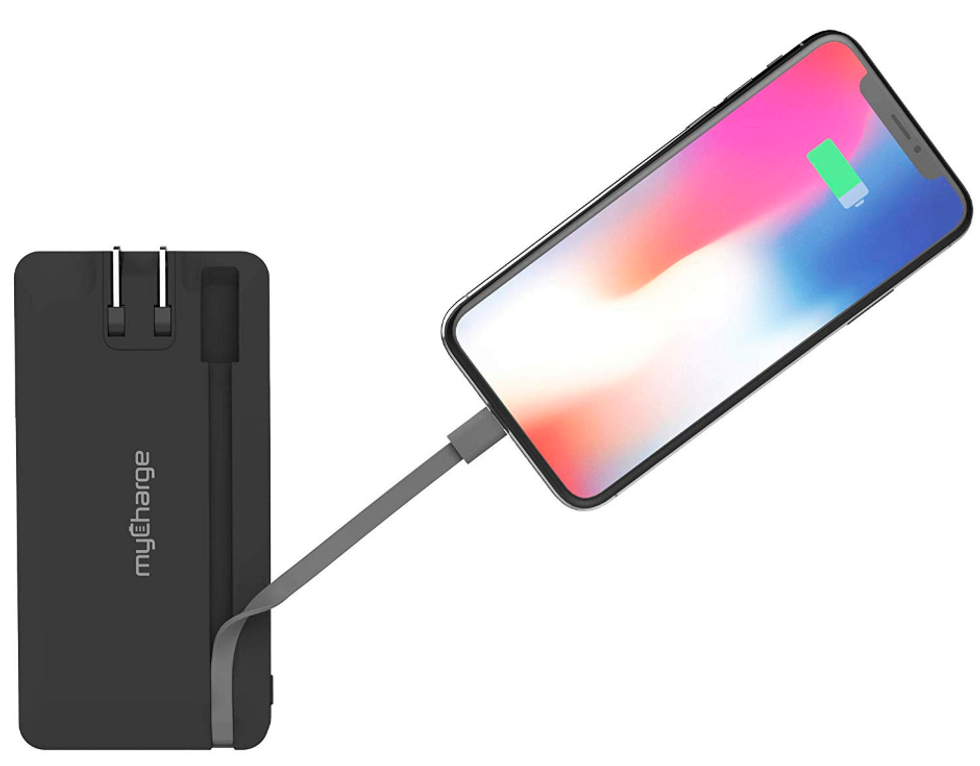 Portable batteries come in all shapes and sizes, with prices to match
myCharge
As you will see from our list below, the prices of power banks vary in line with their capacity. They can also get quite heavy if you opt for a battery with a capacity of around 20,000 mAh, so you will want to bear this in mind if you intend to travel light.
Many of the smaller battery packs (with up to around 10,000 mAh of storage) should slip into a bag or coat pocket almost unnoticed, yet still provide enough energy to recharge an empty smartphone twice.
Then you have to consider what devices you will want to charge. Is it just your smartphone, or will you want to charge a second device like a smartwatch at the same time? In that case you'll want a power pack with two or even three USB outputs.
Next comes USB-C, as used by all recent MacBooks, the current iPad Pro, many flagship Android smartphones, and the Nintendo Switch games console. USB-C devices charge far more quickly, so you might want to pay more for a battery pack with this type of port. These packs can also be charged using a USB-C wall plug, which is much quicker than the normal micro-USB charging method.
Can you take a portable charger on a plane?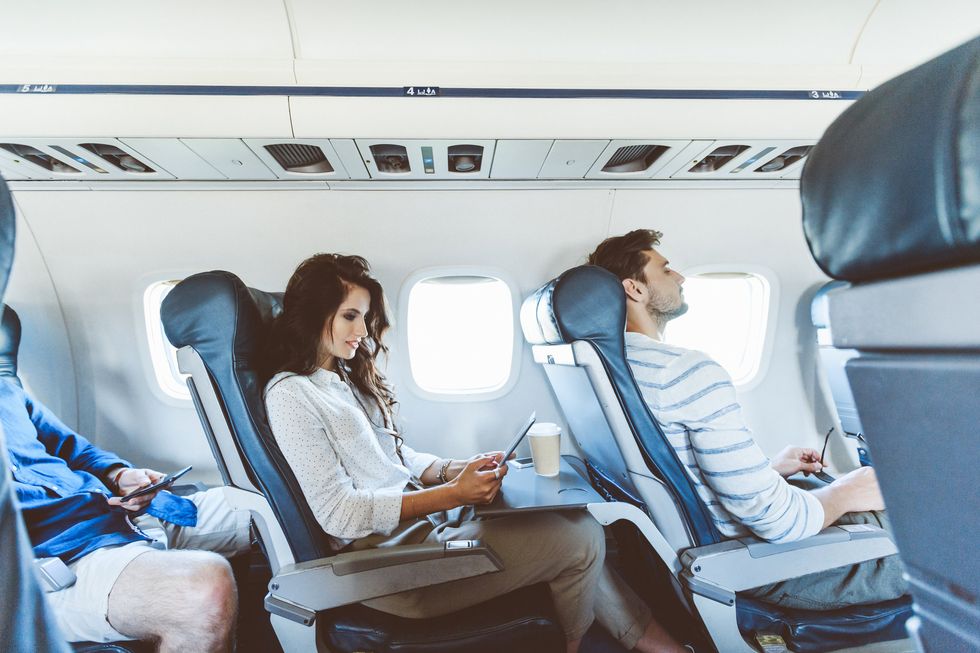 Power banks can be taken onboard, but there are limitations
iStock
The short answer is yes, but there are some limitations you should be aware of. For starters, the FAA (and CAA in the United Kingdom) states that passengers must carry lithium batteries in their carry-on luggage, and not check them into the hold of the aircraft.
This is because batteries can malfunction, potentially causing combustion and a fire. This is extremely rare, but anyone familiar with the Samsung Galaxy Note 7 saga will recall the damage a faulty lithium battery can cause. An exploding battery left unattended in a checked suitcase can down an aircraft, while a malfunctioning battery in the cabin can be dealt with by passengers and crew.
The next important thing to remember is the watt hour (Wh) rating of your battery. The FAA allows all passengers to carry batteries up to 100 Wh — or with between 100.1 and 160 Wh if they have received prior permission from the airline.
While most portable batteries are measured in mAh, you can easily work out the Wh by dividing the mAh figure by 1000, then multiplying by the voltage output of the battery. For almost all portable batteries this is 3.7V. As such, a 26,800 mAh battery is 99.16Wh; this is, generally speaking, the largest power bank allowed on commercial aircraft without prior permission from the airline.
RAVPower USB C Power Bank 26,800mAh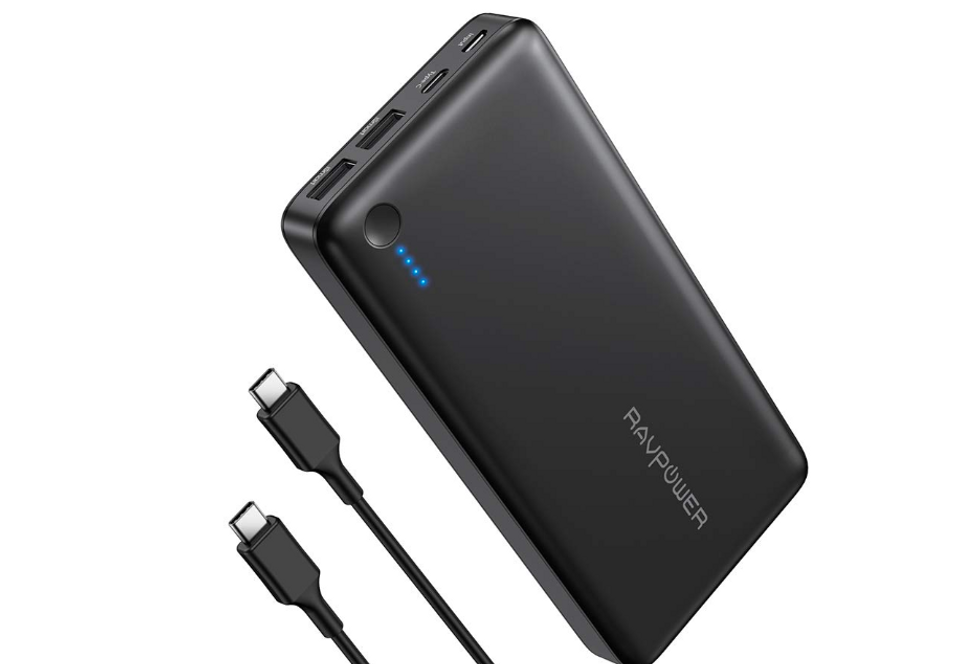 This RAVPower is the largest battery pack you can take on an airplane
RAVPower
This 26,800 mAh battery pack by RAVPower is the largest and most powerful you can take on an airplane without gaining prior permission from the airline. It has two regular USB A ports for charging devices like smartphones, watches and tablets, plus a USB C port for charging more quickly.
The USB C port also means this battery can power a MacBook laptop, a Nintendo Switch, or an iPad Pro, and deliver 30W of charge to these devices. All three charging ports can be used at once, powering a phone, watch or tablet, and a laptop simultaneously.
You can recharge the battery itself either via its micro USB port, or the USB C port, which is much quicker and takes between four and five hours.
At 1.4 pounds, this is a fairly heavy accessory, so might not be suited to everyone. But for those who want the fastest, highest capacity power bank, this is what you should buy.
Anker PowerCore Lite 20,000mAh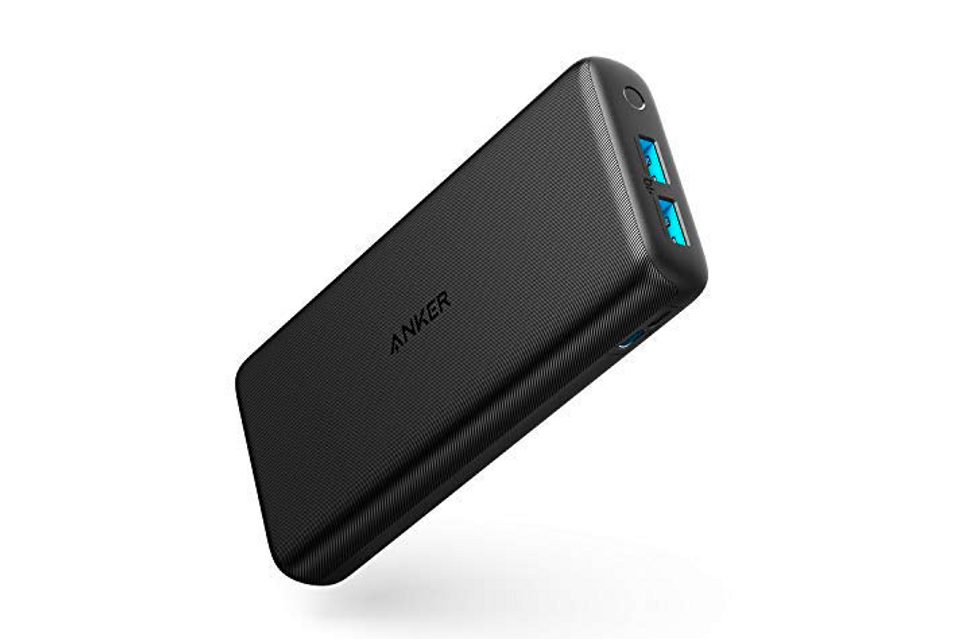 Anker is a reputable name when it comes to power banks
Anker
Along with RAVPower, Anker is a solid name when it comes to battery packs and power banks. This 20,000 mAh model should recharge a smartphone around five times (depending on the exact size of the phone) and it has two regular USB A ports, for topping up the batteries of two devices at once.
This battery has a slightly lower capacity than the previous option, and misses out on USB C charging, but as a result it is a third cheaper, so well worth considering of you don't absolutely need the USB C port.
At exactly one pound in weight, this battery is noticeably lighter than the RAVPower above, but still isn't exactly pocketable. Again, this is a trade-off between power and portability.
myCharge Home & Go Portable Charger 4,000mAh - $30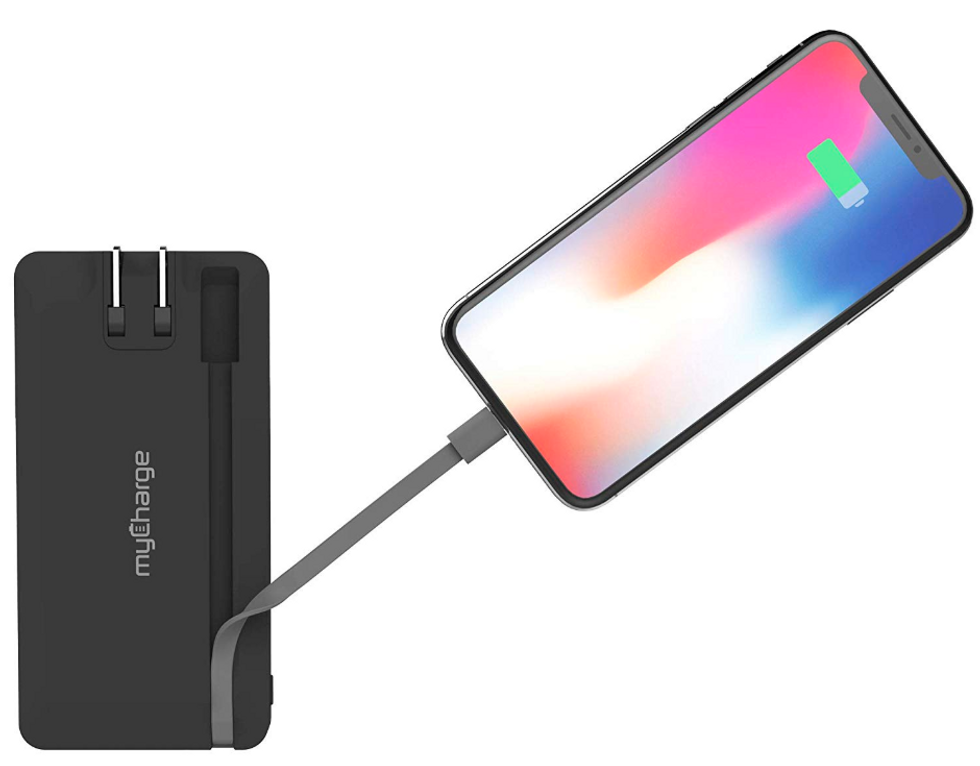 This battery pack includes an integrated Lightning cable and wall plug
myCharge
This power bank includes a fold-out wall plug and a cable-tidy system to help take up as little space as possible. No need to remember any cables - just grab the battery and know you have everything you need to charge your device, and the power bank itself.
The capacity is 4,000mAh, which should be enough to refill most smartphones from empty to full one to 1.5 times.
The battery comes with a Lightning cable for charging iPhones and iPads (apart from the 2018 iPad Pro), but because this connects via a regular USB A port, you can use your own cables to charge any other USB device. At 0.2 pounds, this battery is much lighter than those mentioned above, but it has just a fifth of the capacity.
Cornmi Portable Charger Power Bank 10,000mAh - $22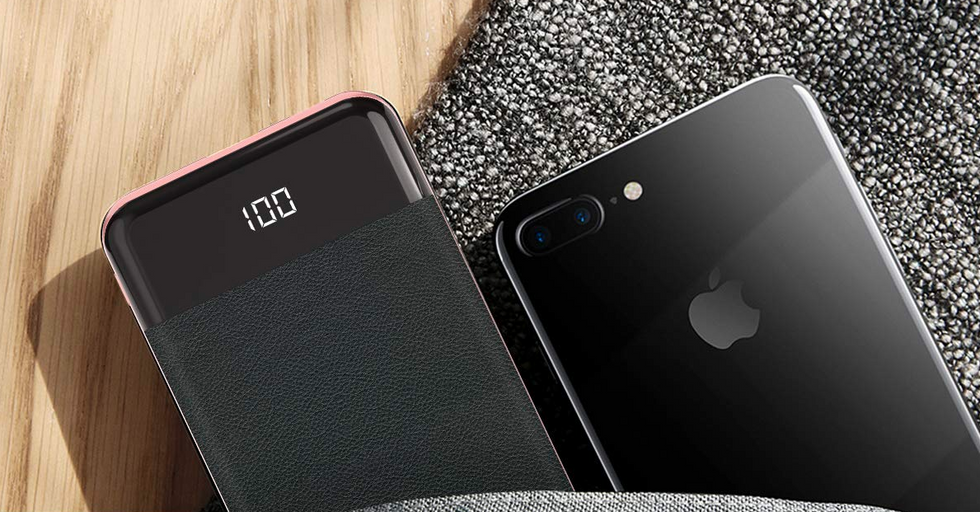 An LED display states how much charge the batter has left
Cornmi
With a 10,000mAh capacity, this battery falls roughly in the middle of the market. It has a slim design and an LED display for stating how much charge it has left. There is a USB A output for charging your devices, plus two input ports - USB C and micro USB - for charging the power bank.
The presence of a USB C port means the battery can be refilled quickly (using your MacBook wall charger, for example) but this is input only, meaning the battery cannot charge devices with its USB C port. Alternatively, it can be charged more slowly via the micro USB socket. Only a micro USB cable is included in the box.
The manufacturer, Cornmi, claims the battery can fully charge a Samsung Galaxy Note 9 twice, or an iPhone XS 3.5 times.
Anker PowerCore+ 26,800mAh with quick charger - $87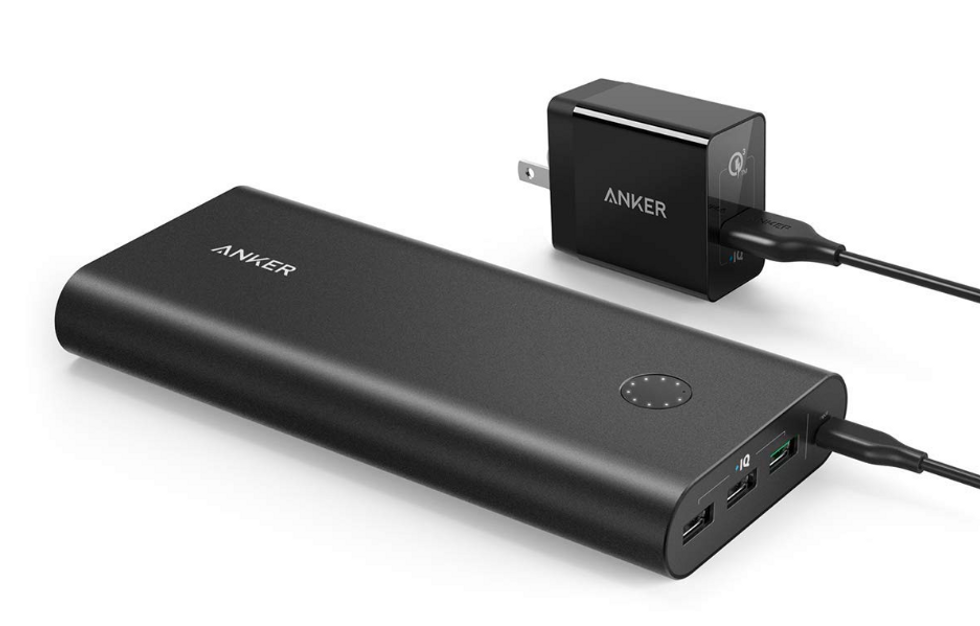 This is the largest size power bank allowed on an airplane
Anker
Another huge battery pack, this 26,800mAh option from Anker is the largest you can carry on a plane without prior approval from the airline.
This charger lacks the USB C output of the RAVPower option from earlier, but can still charge three devices at once via its regular USB A ports. It also comes with a fast wall charger, which is quite rare for a power bank.
Anker claims it has the capacity to refill smartphones between five and nine times, or an iPad Air twice. At 1.75 pounds and seven inches long, this is a somewhat bulky charger, but is among the most powerful on the market today.
Elefulll 30,000mAh portable charger - $28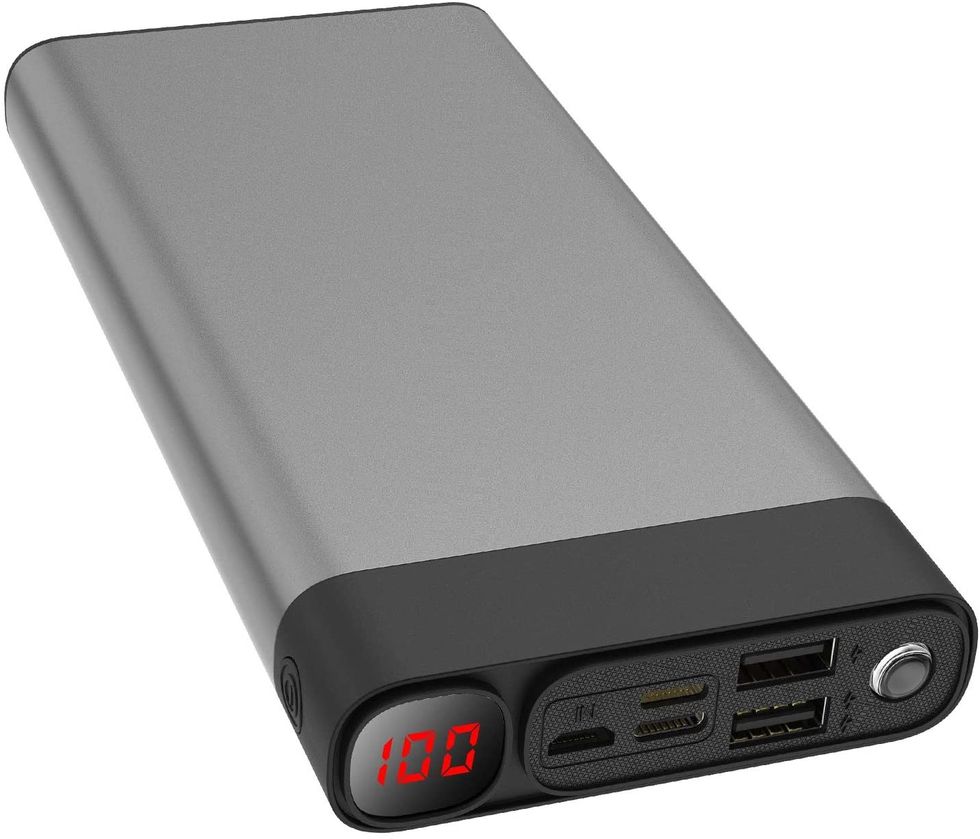 Elefulll 30,000mAh battery pack with USB-C
Elefulll
An absolute bargain, this power bank has a huge 30,000mAh capacity, yet is priced at under $30. There is also a broad range of ports, including two regular USB-A, plus Lightning and USB-C. The battery itself is charged using a micro-USB input, and there's even a digital display showing its remaining charge percentage. and a handy LED flashlight.
INIU 20,000mAh portable charger - $24.99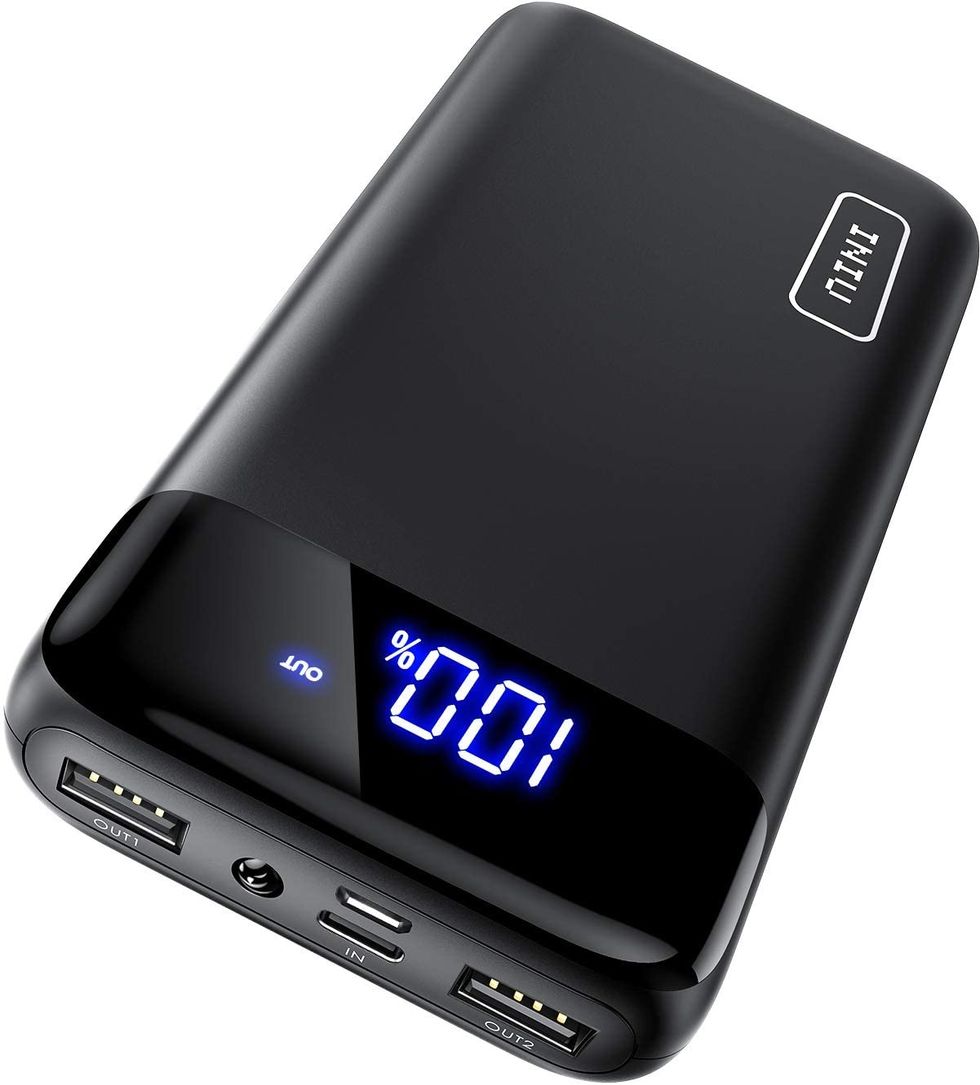 20,000mAh battery pack by INIU
INIU
Another well-priced battery pack with numerous port options, this has a 20,000mAh capacity, plus USB-C input for fast charging of the pack itself, and two USB-A outputs. Note that the USB C port is only for charging the pack itself, not for you devices. The pack also has a digital display for showing what percentage of charge is remaining.
Anker USB C portable charger - $49.99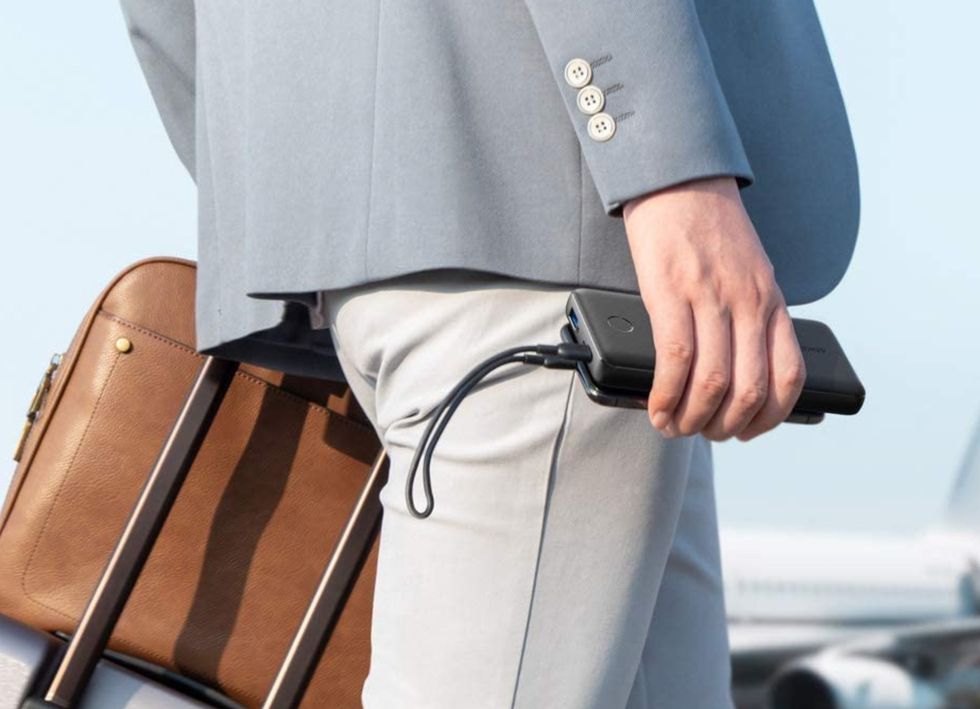 Reduced from $60 to $50, this battery pack by Anker has a large 20,000mAh capacity and USB C input and output. That means the fast-charging standard can be used to fill up the battery, then charge your devices, such as smartphones tablets and even laptops. There's also a USB-A port for powering other products.
From Your Site Articles
Related Articles Around the Web
Like GearBrain on Facebook