Like GearBrain on Facebook
Instead of a device produced to sell in huge numbers, upset Apple or earn its makers as much money as possible, the Galaxy Note feels like a big phone-shaped, stylus-equipped thank-you from Samsung.
It's a thank-you to the company's most dedicated and demanding customers; those who don't blink at the $999 price tag, don't dismiss the S Pen stylus as a gimmick, weren't scared away to a rival brand by the exploding and discontinued Note 7, and always come back hungry for more.
Read More:

Note buyers want everything, but will sooner drop a compact design and good one-handed ergonomics than lose out on the beloved huge screen and all-day battery.
For these buyers, the Note 9 delivers in such a way that they already know they will upgrade from the year-old 8. But what about the rest of us? Let's find out.
Samsung Galaxy Note 9 review: Design and hardware
Like its predecessors, the Galaxy Note 9 is a huge glass slab of a smartphone. Measuring 162x76x9mm (6.37x3.01x0.35 inches) and weighing in at 201g (7.1 oz), the Note 9 will make itself known in your pocket — especially when walking up stairs, when it likes to jab into your leg. It also feels like the kind of phone where a two-handed approach is almost mandatory to prevent it falling from your grasp.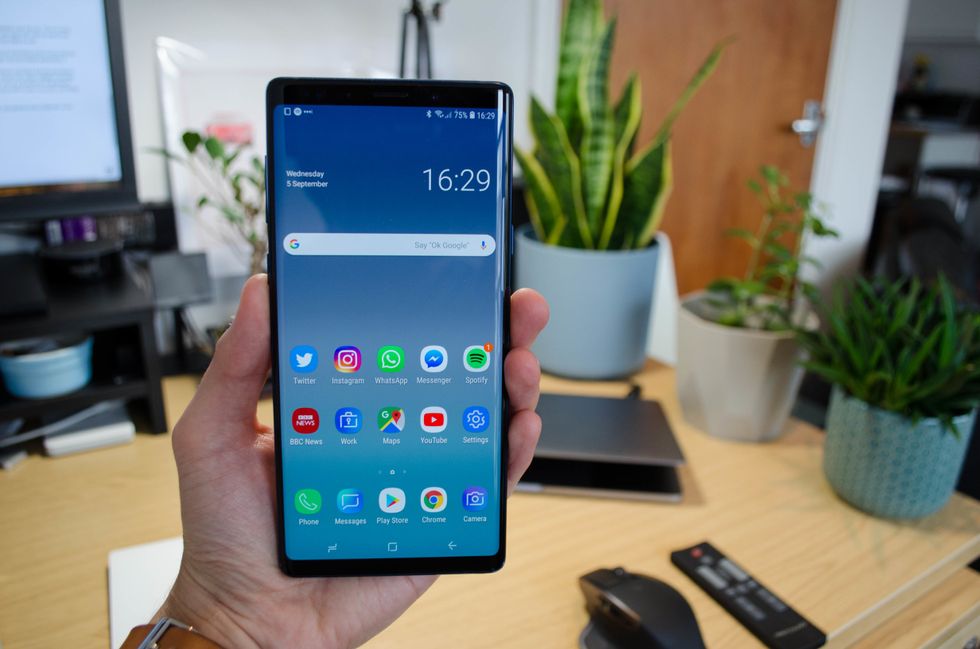 GearBrain
That isn't to say the Note 9 is too big. The smartphone's size just requires you adapt to it — more than with most other handsets. Coming from my iPhone X, the Note's tallness is what I sense first, resting on my outstretched palm, rather than nestling safely inside.

But of course the gargantuan size has its benefits. There's a huge 6.4-inch display, equally large 4,000 mAh battery, and storage for the new-and-improved S Pen stylus.
The rest of the Note 9's design is very similar to Samsung's house style, as deployed on the Note 8 and Galaxy S9. This means glass on the front and back (the latter to allow for wireless charging), and a front panel which curves subtly towards the edges of the metal chassis.

The placement of the rear cameras and fingerprint reader has been adjusted to make the latter easier to touch, and new color options include copper, purple and blue with a contrasting yellow stylus.
The Note 9 ticks the box for those who want everything: It includes a USB-C charging port, a headphone jack, and a microSD card slot for expanding storage by up to 512GB. If you buy the model with 512GB of internal storage ($1,249) — you're looking at the first terabyte smartphone.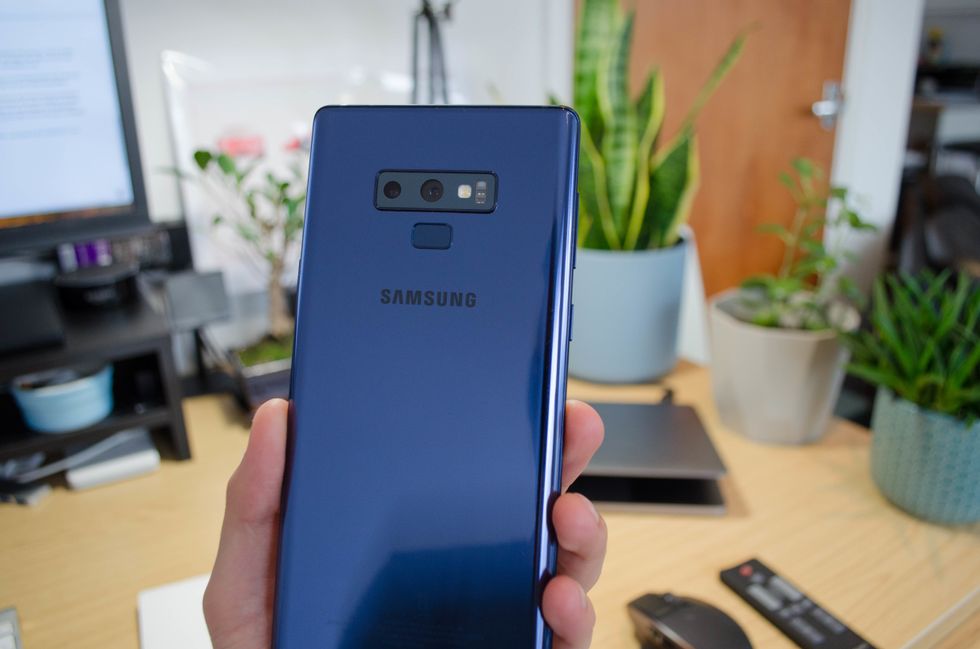 GearBrain
Samsung Galaxy Note 9 review: Display
The Note 9's 6.4-inch display is simply gorgeous. It has a resolution of 1440 x 2960 and a pixel density of 516 per inch (remember when 300 seemed a lot?) but you can ignore the specs and focus on its abilities, because it is one of the very best.
The smartphone takes Samsung's usual position of displaying colors which are cooler than the warmer, slightly more yellow hues of the iPhone X. But it does so without making whites look overly blue. The display's OLED technology means blacks are deep, and colors pop out of the screen with vibrancy without looking artificial.
The screen is HDR10 compliant, meaning such footage (as found on some Netflix and Amazon shows) will look especially good.
Samsung Galaxy Note 9 review: S Pen

The Note's long-standing party trick has been updated for this model, gaining Bluetooth and a rechargeable battery for the first time. For normal use — writing, drawing — this doesn't make any difference, but what Bluetooth does is allow you to use the stylus from a greater distance.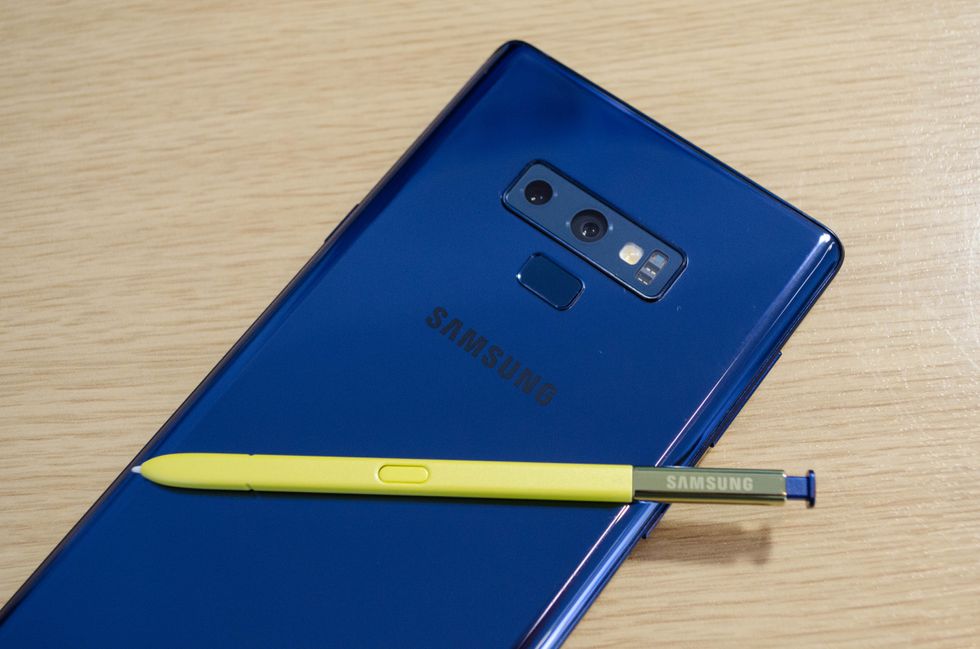 GearBrain
This means the button for the stylus can control certain features of the phone. For example, a long press of the button can be configured to open the camera app, while a single press takes a photo. A double-press switches to the selfie camera — which lets you prop the phone and take a selfie from a distance so more people — or more of the scene — are in frame.
The S Pen's button can also be used to play and pause music, or move to the next slide of a presentation running on the phone. It all works perfectly, but I am left wondering who will use the stylus like this on a regular basis?
Let's say you take a lot of selfies. Will you always remember to grab the stylus before trying to shoot something more creative? I'm also unsure as to why you'd ever press the stylus button to play or pause music. Removing the stylus and pressing its button takes far more effort than pressing pause in your music app, or on your headphones.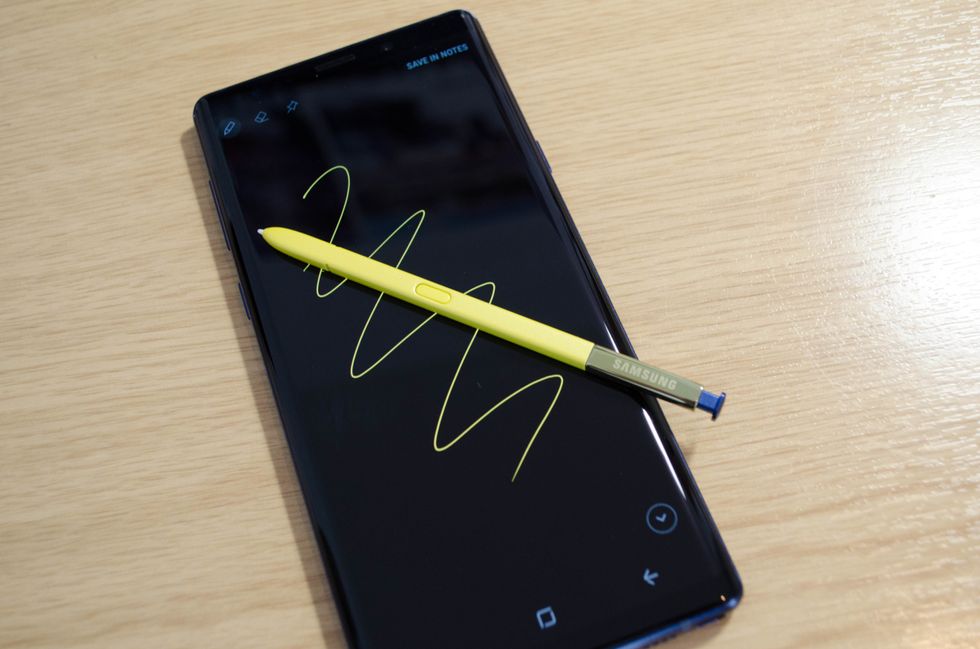 GearBrain
That said, the S Pen's primary function of being able to scribble on the screen remains as good as ever. Writing feels natural, with digital 'ink' appearing on the screen immediately and its thickness changing with the pressure you apply.

I just wish that flipping the stylus around would enable an eraser — something several non-Note owning friends instinctively did when they wanted to remove whatever they have drawn.
Samsung Galaxy Note 9 review: Cameras
If you are familiar with the Galaxy S9 and S9+, then you already know about the Note 9 cameras — they are physically the same.
This means the rear 12-megapixel camera has two lenses and two apertures of f/1.5 and f/2.4. When left in automatic mode, the camera will switch to f/1.5 in darker conditions to let in more light, just as your pupils dilate. In manual mode you can pick which aperture to use, then make adjustments to the white balance, ISO and more.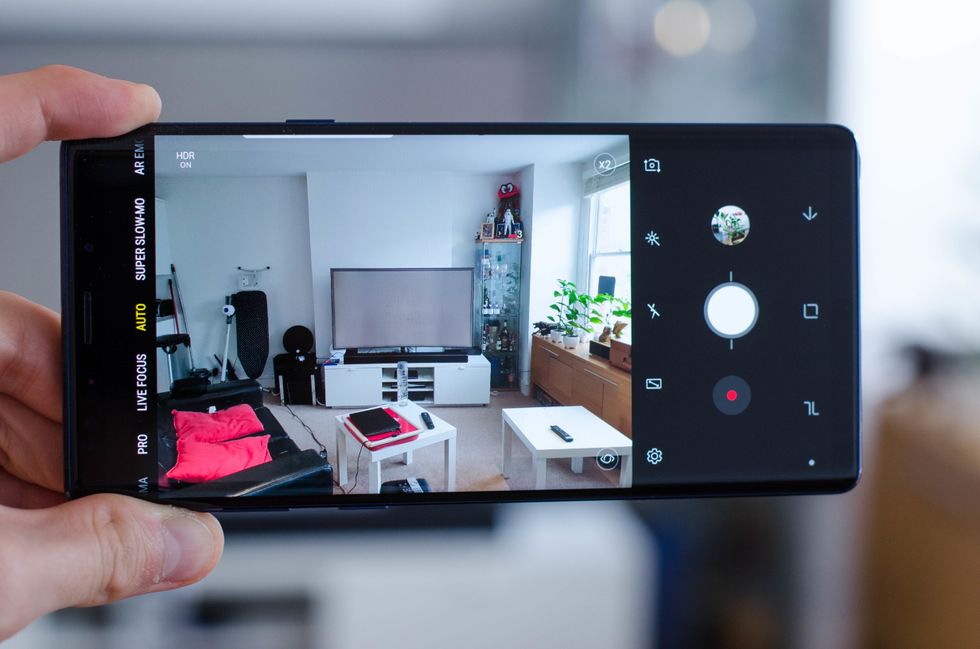 GearBrain
The rear camera also makes use of optical image stabilization to help reduce blur in photos and keep your videos smooth. If you dive into the settings menu, you can record video at Ultra HD (4K) resolution and 60 frames per second, which is impressive.
New for the Note 9's camera is artificial intelligence (AI) which identifies the subject of your photo then quickly optimizes the camera's settings to take the best possible photo. Holding the phone up to one of my desk plants, for example, makes a plant icon appear to let me know the camera has identified the scene and adjusted itself accordingly.
AI also steps in after you take each photo, quickly checking for blur and closed eyes; if it spots anything wrong, the phone will let you know so you can try again.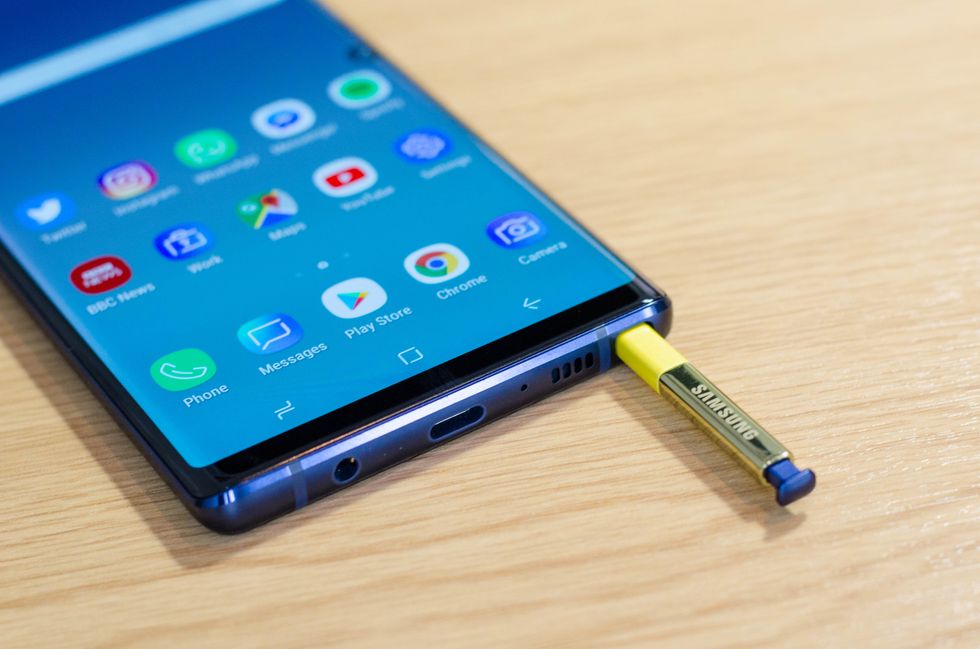 GearBrain
Add all this together and the results are superb. As I found with the Galaxy S9+ earlier in the year, the dual-aperture lens lets in more light than the iPhone X, producing better results in dimly lit environments without resorting to using the flash. In other situations, picking between the Note 9, iPhone X and Google Pixel 2 really comes down to personal preference, with very little to objectively set them apart.
It is a similar story with the Note's front camera, which is the same eight-megapixel offering as used by the Galaxy S9 and takes great selfies — just be sure to switch off the makeup-adding, 'beautifying' filters.
Samsung Galaxy Note 9 review: Performance and software

Comparing the performance of high-end smartphones like the Note 9 is becoming somewhat irrelevant, since at this $1,000+level they boast all the power you will ever realistically need. Lag is non-existent, intense 3D games open quickly and run smoothly, and the Note 9's liquid cooling system (enhanced over its predecessors) stops it from getting too warm under heavy load.
Playing games like PUBG and recording 4K video (which would cripple handsets just a couple of years ago) is no problem for the Note 9, which doesn't get as warm as its rivals.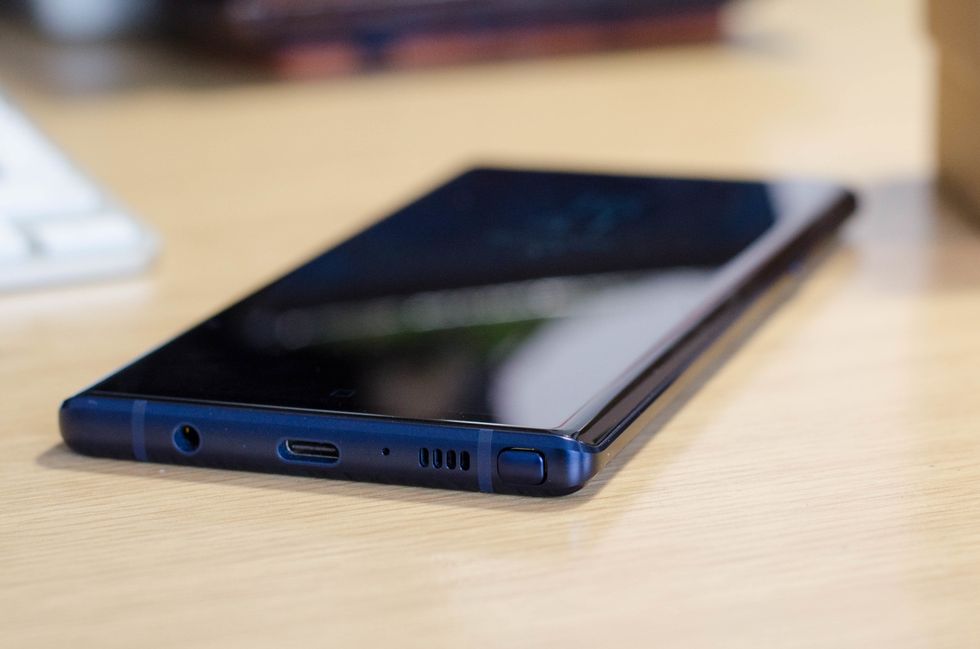 GearBrain
The Note runs Android 8.1 Oreo with Samsung's own user interface over the top. This is mostly fine, but means the phone comes with a folder of Samsung's own apps like Internet and Email which duplicate Google's Chrome and Gmail — the latter being the apps you are more likely to use.
In far more useful news, the Note 9 has a SmartThings app for controlling smart home devices like lights, cameras, locks, plugs and more via a SmartThings hub (purchased separately). The app also lets you control compatible Samsung TVs directly from the phone (no hub required).
Samsung Galaxy Note 9 review: Bixby
Bixby, Samsung's answer to Siri, Alexa and the Google Assistant, returns on the Note 9, and so too does the dedicated Bixby button which cannot be reconfigured to do anything other than summon the virtual butler.
Speaking to Bixby doesn't feel as natural as Alexa and Google Assistant, and the system still feels like it is in its infancy. For example, I asked Bixby how long it takes to fly to New York, but she would only open a list of the next 25 flights leaving London (where I am based) for NY, rather than answer the question. Alexa and Google answered correctly first time, and so did Siri — but then also told me how long it takes light to travel the same distance, for some reason.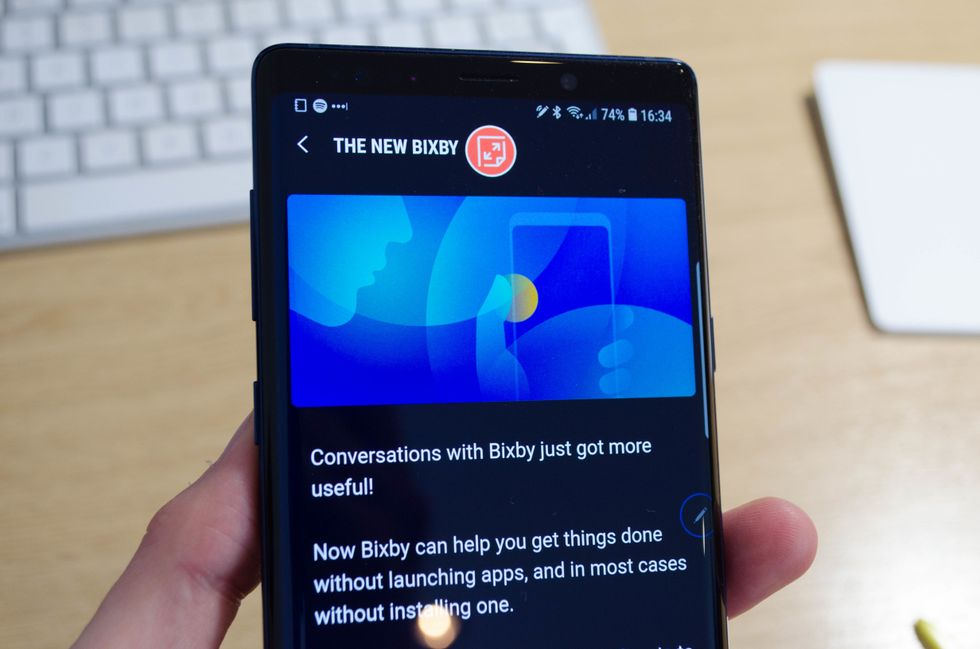 GearBrain
Bixby can be helpful for bringing up a menu page buried deep in the settings app, but you need to have a good idea of what you're looking for before asking. Bixby was able to turn a Samsung TV off when asked, but when I asked her to switch it back on, this didn't happen, even though the assistant said the TV "is now turned on". I asked again, but this confused the system further, making it unresponsive for a moment before saying: "Hmm, that didn't go as planned."

A third attempt proved successful, but without really trying to trick it, I had found a way to make Bixby trip up - and all while interacting with Samsung's own SmartThings system, no less.
For those who want the specs, the Note 9 comes in two versions and there are two processors depending on the region you live in. First, you can buy the phone with either 128GB of storage and 6GB of RAM, or 512GB with 8GB. The processor will be a Qualcomm Snapdragon 845 is you live in the US, Latin America and China, or Samsung's own Exynos 9810 Octa in Europe, the Middle East and Africa.
Samsung has given the Note 9 a large 4,000mAh battery, compared to the 3,300mAh of the Note 8. This might see lighter users through a full weekend without reaching for the charger, but as the Note is designed for power users one full day of heavy use is also possible. As I write this, the time is 5pm and the battery is still at 71 percent, having started the day fully charged.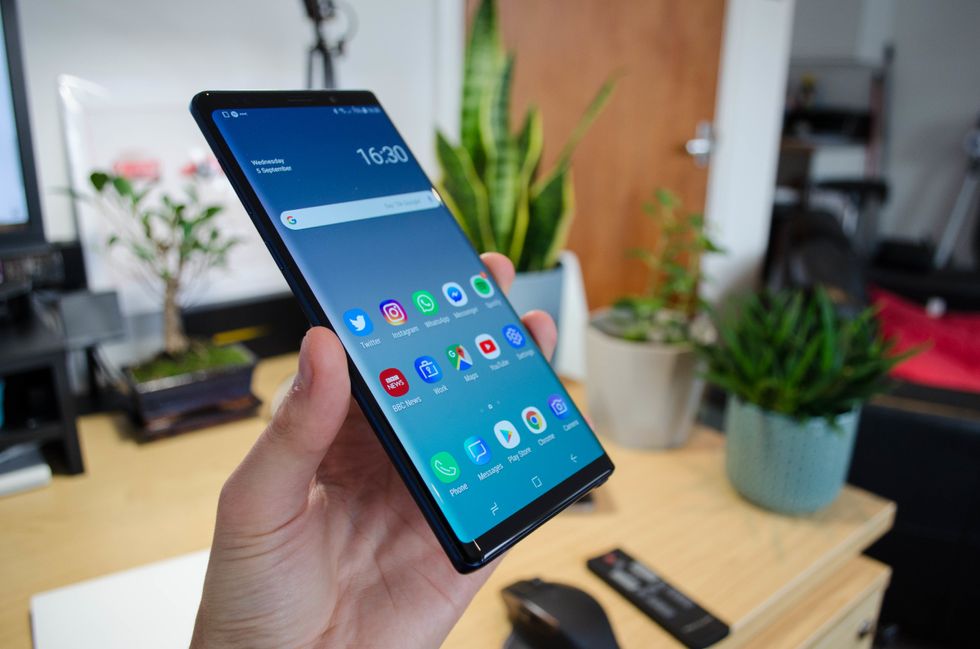 GearBrain
Samsung Galaxy Note 9 review: Verdict
The Galaxy Note 9 is a powerhouse of a smartphone which aims to tick every box and fulfil every demand you have. It has a big, beautiful screen, a powerful processor, a huge amount of storage with the option for adding a lot more, a big battery, a headphone jack, good speakers, impressive cameras, a stylus for those who really want one, and both a fingerprint reader and iris scanner for when you can't decide which form of biometric security to use.
It is not compact, it might not fit into your pocket too well, the glass back collects fingerprints like they are going out of fashion, and it can be cumbersome to use one-handed.
But Note fans already know these are the drawbacks of Note ownership. The Galaxy Note 9 is what happens when a smartphone offers everything at once; it might be large, expensive and a little unwieldy, but it does everything and then some. If the Note 9 were a person, it would pick every single option from the buffet, without a care for feeling uncomfortable afterwards.
Pros:
Beautiful display
Great cameras
Basically has everything
Cons:
Will be too large for some
New S Pen features feel like gimmicks
Expensive
Like GearBrain on Facebook