Electric hire Scooters from Bird now have a skid detection system designed to discourage reckless riding and identify defective tires.
Braking with excessive force can cause the rear wheel of an electric scooter to lock and for the tire to skid. This wears the tire more quickly than normal riding and can reduce the scooter's grip and performance.
Read More:
Bird's new skid detection system has two uses. Once it has detected excessive skidding, it works out whether this is being caused by rider behavior, or if the scooter is skidding because of worn tires or another mechanical fault.
For the latter, the system alerts Bird's engineers who book the scooter in for s service. If the system determines that the skidding is deliberate, the rider will be informed via the Bird smartphone app.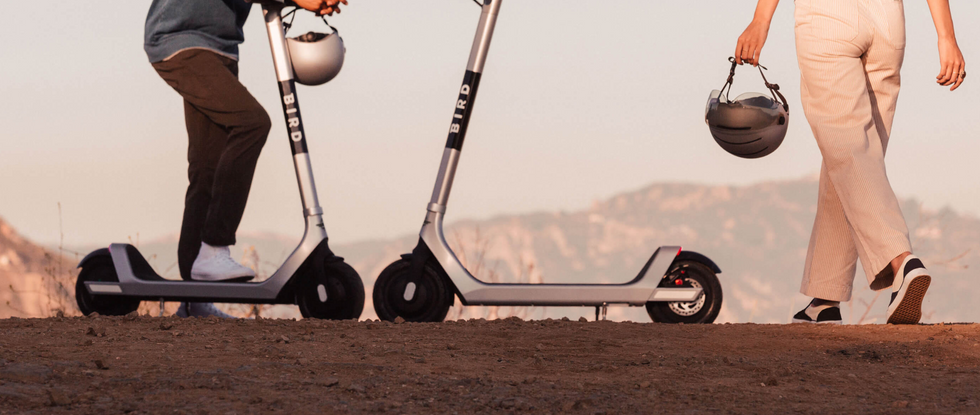 The feature is on the second-generation Bird 2 scooterBird
Bird explains: "Excessive skidding that's determined to be caused by poor behavior will trigger a series of rider communications detailing the dangers of intentional excessive braking. If necessary, Bird can revoke riding access to ensure community safety is respected."

The company adds skidding related to worn tires "will activate a service inspection by our operations team."
Ryan Fujiu, chief product officer at Bird, said: "By identifying vehicles in need of tire inspection early, as well as anyone who may be riding in an inappropriate manner, we can rapidly troubleshoot and resolve these issues before they become more serious problems"
Bird says the system is the first of its kind and works using the scooter's existing sensors, paired with an in-depth understanding of tire physics.
Bird One Electric Scooter w/25 mi Max Range, 18 mph Max Speed, Headlight & Smart App (Electric Rose)