Like GearBrain on Facebook
(Updated February 8, 2018. Also, check out GearBrain's reivew of Bitdefender's newest verision of Box: Bitdefender Box 2 Review: A firewall for everything.)
The Internet of Things (IoT) seems to have an unlimited potential for growth. Our phones and tablets are already starting to look antiquated next to devices such as smart wearables, light control systems, and even our kitchen appliances. The smart people of the world continue to find varied ways for us to become connected. But the more nefarious of them still look for ways to ruin your day by compromising those connections. This is where Bitdefender BOX is hoping to carve its niche in your network.

The BOX is, as you might expect, a small box-shaped device which you plug into your home's router via an Ethernet cord. The sleek white design wouldn't be out of place at an Apple convention. It measures in at about 1.1x3.5x3.5 inches, weighing an unobtrusive 3.25 ounces. The underside of the BOX houses a little LED that changes color based on the current state of the device. It's advertised as plug-n-play and has a mobile app that is used to configure and monitor your connections. Note I said it is "advertised" as plug-n-play. I use that choice of words because there is a chance it will not be that simple.
The BOX works by replacing your home router's DHCP (dynamic host control protocol) abilities. This enables the BOX to filter, and hence, protect your network traffic. If you don't already understand what a DHCP server does, and the BOX's basic setup fails, you're going to have to manually set up the device to work with your router. Furthermore, if you're using a router/modem combo, which are all too common with many Internet Service Providers (ISP) these days, you're likely to run into problems if the setup fails. ISPs rarely make it simple for users to toy with their router's settings, so a manual setup could be tricky. If you do have setup problems, you'll likely end up having to call Bitdefender's tech support, and possibly your ISP's, as well. All that cautionary stuff said, I was fortunate enough to encounter no issues during my setup.

The entire process took about 10 minutes. The majority of that time was dedicated to letting the BOX update itself, through flashing, white LED (Teal = Normal Operation, Flashing Teal = Configuration Mode, Red = Problem). It should also be noted that there is no web interface for the BOX. However, the device does provide protection regardless of whatever operating system you may be running. All configuration is done via the iPhone or Android mobile apps. While your Windows devices will be protected, you won't be able to manage the BOX's settings from a Windows phone or tablet. (Sorry Windows mobile users: The BOX doesn't yet offer an app for you.)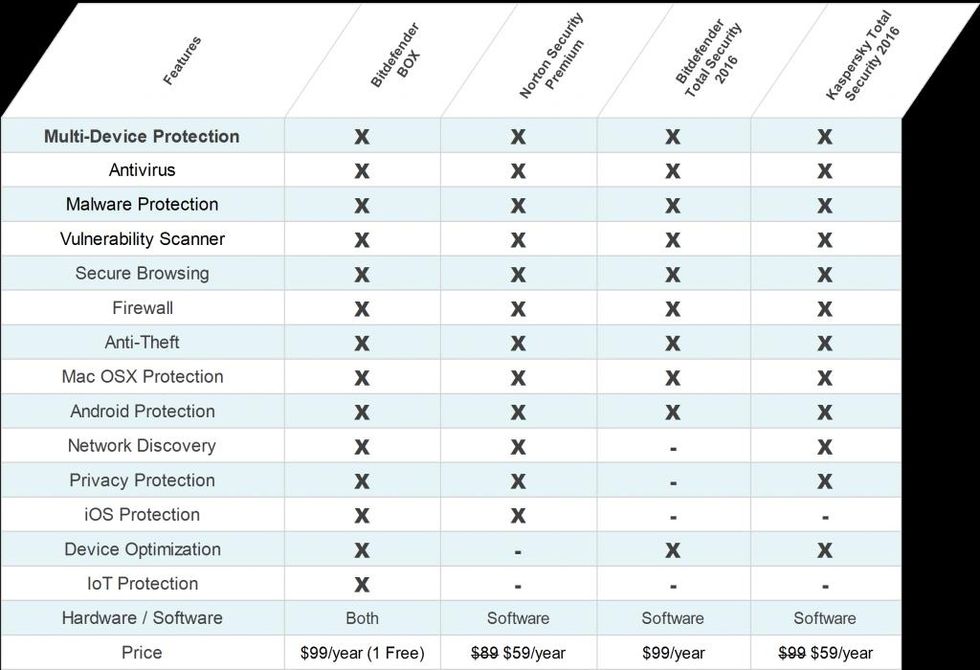 The big question is "Does it work?" As a security solution that targets and protects your IoT devices, it mostly succeeds. The device even offers on-the-go protection for your phones and tablets via a VPN-like agent. This allows you to manage your network from your mobile connection while you're out-and-about. Essentially, the BOX is a network firewall that protects your IoT devices (and other traditional hardware), similarly to how a router firewall protects your PC's connections.
After a week of testing all manner of devices, I had a backlog of notifications on my Android phone which detailed a number of blocked malware attempts. Impressively, it does all of its work completely in the background. Once I had the BOX up and running on my devices, it did its job without much intervention on my part. All you really get is a notification on your phone (or whatever device you use) when something tries to sneak onto your network. Most of my notifications were from self-inflicted malware testing. But the BOX did catch a couple hijacked webpages and phishing emails on its own.
In order to test the BOX, I attempted to download a number of common malware and adware filled files onto my Windows 7 laptop: Don't do this at home unless you know exactly what you're doing. Each file was successfully blocked by the BOX, and I was promptly notified in the Android app of the detection.

One big caveat to all of this is that the BOX does seem to have trouble detecting and preventing packaged malware from infecting your devices. Packed (and repackaged) malware is simply malware that hides or disguises itself as something else, often as a legitimate file or application. It's difficult to detect these kinds of threats because they appear as something "new," which effectively hides their presence from scanners and firewalls. Due to the widespread use of Android mobile apps, malware authors often target, or release their own fake or infected apps. They hope to lure unsuspecting users into downloading, then spreading, infected files and applications.

The BOX does, mostly, work as an IoT security platform. But using it will cost you a pretty penny. Bitdefender's unique security platform is priced at $199 USD. While it does provide protection for an unlimited number of devices, you'll be paying $99 a year for the subscription after your free year runs out. Considering that Bitdefender's Total Security software is $99 a year for only five devices, the same price for unlimited coverage via the BOX is a decent deal.
You may be saying to yourself, "This just sounds like a glorified firewall. Why should I be interested in it?" Well, the key difference between Bitdefender's BOX and your average software firewall is the fact that the BOX protects all of your devices, even your IoT toys which have no access to other protection. In short: The BOX is a single hub built to protect the modern, connected home.
If you're already using—and happy with—Bitdefender's security software but unable to connect all of your devices, due to the five device limitation, then the BOX is an alternative you may want to consider. Not to mention the BOX gives the added benefit of IoT protection, which their software alternative currently lacks. However, if you aren't already using Bitdefender then the $199 price tag (plus $99/year), might be a barrier to entry.
Other problems? Currently, the BOX doesn't support 5GHz wireless networks (or 802.11ac), and this may be a problem for anyone using a modern router. Without the BOX, I averaged about 30 mbps down during peak hours. With the BOX connected those speeds were reduced by about 10-15% (23-27 mbps). Likewise, my upload speeds took a hit of about a 10-15%, as well. These speed decreases will be more (or less) important, depending on how much you value unimpeded wireless connections. However, the lack of 5GHz wireless support meant that my office PC was unable to gain protection from the BOX. My office PC has problems connecting to my router's 2.4GHz band due to its location in the house. Luckily connecting to the 5GHz band solves this problem. For someone like me, who relies on the 5GHz band, the BOX offers no protection.
More problematic than its lack of wireless support is the fact that the BOX doesn't offer anything other than a somewhat unique network firewall. The downloadable app does an admirable job of keeping the task of network security management simple. But it seems like Bitdefender really missed an opportunity for a more robust management system by neglecting power users.

The addition of a web interface, complete with security options to customize network traffic based on user-defined needs (plus app support for Windows phones) would have gone a long way to setting the BOX apart as a unique security platform. This lack of usable tools and customization underscores the overall problem with the BOX. For the price you're paying, you might expect a decent toolset to assist in your network security management. But, unfortunately, Bitdefender's BOX suffers from oversimplification.
I did reach out to Bitdefender regarding their future plans for the device. They were reluctant to provide any details. I did find out that they have a "major" release planned for the end of this spring that includes a "new security technology" and other improvements to the product.
The BOX is an interesting idea and one that is sure to evolve as the Internet of Things continues to expand. If your house simply consists of some PC's and phones, then the BOX's steep price may not justify leaving your favorite old software firewall behind. However, if you're fortunate enough to live in a truly connected home, replete with all manner devices that all talk to each other over your network, then the BOX might be the security solution for you.
Pro: Protects your mobile devices both on and off your home network, as well as giving IoT security.
Con: Overly simplified features and missing Wi-Fi support at an exorbitant price.
Like GearBrain on Facebook