Like GearBrain on Facebook
Bosch, one of the largest parts suppliers in the global automotive industry, has begun producing its own lidar sensors for autonomous vehicles.
The German company certainly isn't the first to do this — lidar sensors have been produced by other firms for several years now, and Waymo has even said it will sell sensors of its own to vehicle manufacturers.
Read More:
But what those firms can't match is Bosch's scale, and therefore its ability to offer sensors at a lower price. This in turn should lead to a noticeable fall in the production cost of autonomous vehicles. Smaller car makers then, that have yet to develop their own driverless systems, may now be able to do so affordably.
Pioneer MVH1400NEX 6.2 inches B07951J34N
Lidar sensors are used by almost all cars with a degree of autonomous driving functionality, apart from Tesla. Working alongside radar and cameras, lidar sensors help create a detailed view of the car's surroundings, enabling a vehicle's system to identify objects like buildings, vehicles, cyclists and pedestrians.

By repeatedly emitting pulses of light, lidar then monitors how the light bounces back. The system uses this to work out the shape of objects around it, and the distance from a vehicle, creating a very high resolution imagery, which can be used over long and short range, and with a wide field of view.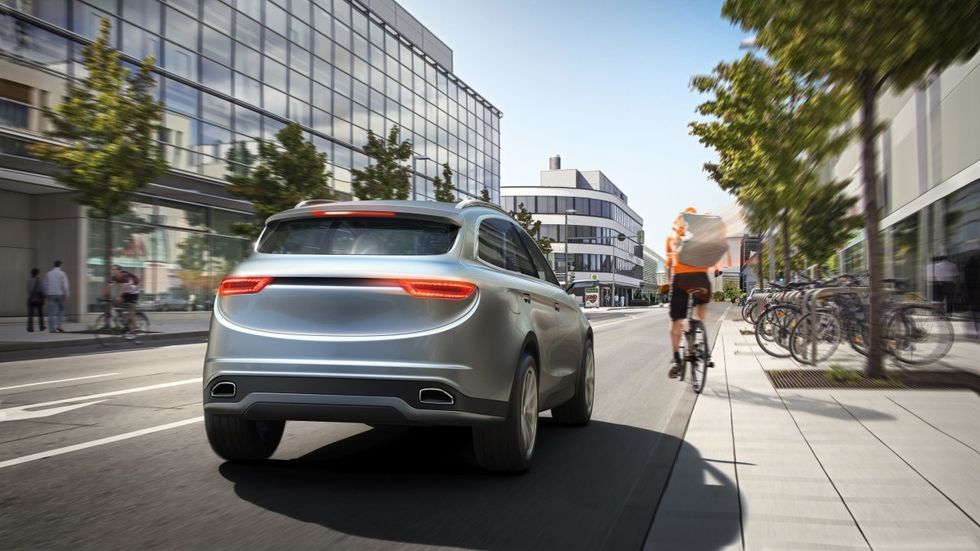 Lidar sensors help vehicles spot objects like cyclistsBosch
Unlike Tesla, which believes it can achieve full autonomy with only cameras and radar, Bosch believes lidar is crucial. "Before safe automated driving can become a reality, a third sensor principle is needed in addition to camera and radar,"said Joern Ebberg, a spokesperson for the company in a post. "This laser-based distance measurement technology is indispensable for driving functions at SAE Levels 3 to 5."

A vehicle capable of Level 3 autonomy can drive itself on some roads, with the driver no longer needing to pay attention in circumstances like highway driving; however, they must retake control when the car asks them to, such as navigating roadworks. No vehicle sold today can legally perform Level 3 driving on the public road.
Level 4 refers to a vehicle that can drive itself on almost any road and in any weather condition. Level 5, which remains theoretical for now, is a vehicle that is completely autonomous, and does not even require a steering wheel or any conventional driver controls.
Echo Auto and 4 months of Amazon Music Unlimited FREE w/ autorenewal
The company explained why it believes lidar is absolutely necessary for autonomous vehicles to work properly.

"If a motorcycle approaches an automated vehicle at high speed at a junction, lidar is needed in addition to camera and radar to ensure the reliable sensing of the two-wheeler," said Bosch's Ebberg. "In this instance, radar can struggle to detect the bike's narrow silhouette and plastic fairings. Moreover, a camera can always be dazzled by harsh light falling on it."
Making the sensors more affordable will help to potentially expand self-driving cars for consumers, a goal, Bosch said, it wants to pursue.
"By exploiting economies of scale, Bosch wants to reduce the price for the sophisticated technology and render it suitable for the mass market," said Bosch's Ebberg.
From Your Site Articles
Related Articles Around the Web
Like GearBrain on Facebook