Like GearBrain on Facebook
Daimler, the parent company of Mercedes-Benz, has begun an autonomous taxi test on the public streets of San Jose, California.
This is according to an unnamed source speaking to Automotive News Europe, who says the German company's autonomous plans have not been put on ice. The claim comes despite Daimler boss Ola Källenius saying last month how the company had suffered a "reality check" in its development of driverless cars.
Read More:
"We have not put the project on ice," the source said. "We are looking at where we can improve efficiency and gain synergies so we don't unnecessarily duplicate or triplicate our development work. This pilot program is about capturing the user experience."
According to the source, Daimler's fleet includes about 30 vehicles, most of which are Mercedes-Benz S-Class luxury sedans. Like many other autonomous vehicles, these cars are fitted with sensor arrays including long-distance LiDAR equipment.
A Daimler spokesman told GearBrain they cannot confirm or deny the report.
Daimler said in the summer of 2018 that it planned to launch a free self-driving taxi service along with Bosch in the San Francisco Bay area, in the second half of 2019. Daimler said at the time that the vehicles would offer "highly and fully automated driving," with Level 4 and Level 5 capabilities.
The former means autonomous driving in almost every situation, while the latter is human-free driving in every circumstance, no matter what road the vehicle is on, and regardless of weather conditions. Level 5 autonomy remains theoretical for now.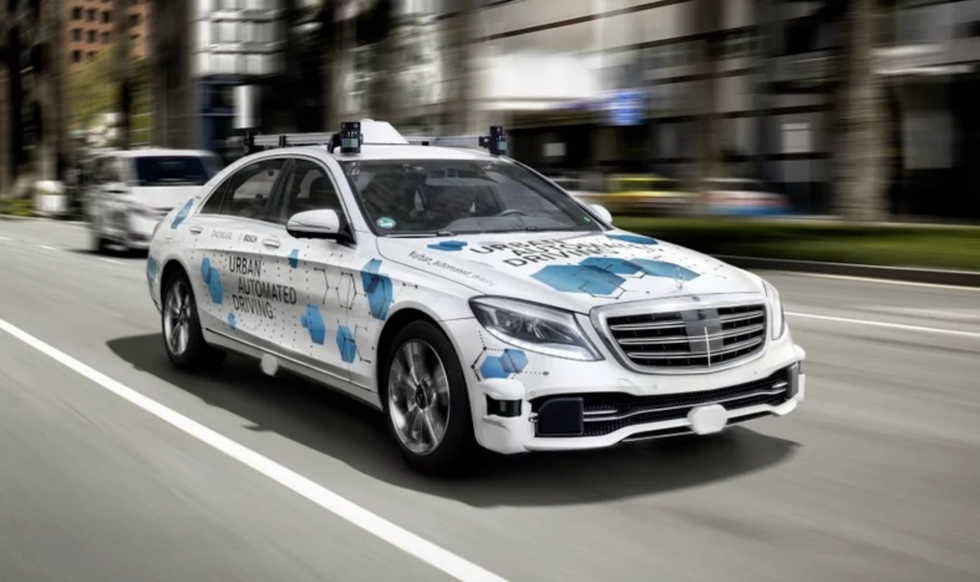 The pilot is said to be taking place in San JoseDaimler
The company has held a permit to test autonomous vehicles on public roads in California, with a test driver behind the wheel, for some time. Mercedes was the second company to be granted such a patent by the DMV, behind Volkswagen and ahead of Waymo, Tesla, Bosch and others. As of November 1, more than 50 companies hold such a permit.

In 2018 Daimler said the automated taxi service would be offered to "a selected user community in the San Carlos / Stevens Creek corridor between downtown and west San Jose."
Much like the service now offered by Waymo in Phoenix, Arizona, Daimler said its robotic taxi service would be free for select customers to use, at least while it is in the testing phase of development. Daimler has since opened an autonomous parking system at the Mercedes Museum in Germany, where visitors can have their cars navigate to spaces and park themselves. This also uses Bosch technology.
But, in November this year, Daimler chief executive Källenius seemingly poured cold water on the company's robo-taxi plans. Speaking at an investor event in London, Källenius admitted that creating vehicles which operate on public roads with zero driver input had been more difficult than expected. "There has been a reality check setting in here," the boss said, before adding that he expects the company's autonomous technology to appear on self-driving trucks first.
However, it now looks like the company is still working to create a self-driving taxi service. It is also working on autonomous trucks, and has been testing that technology on public roads in Virginia.
From Your Site Articles
Related Articles Around the Web
Like GearBrain on Facebook