Like GearBrain on Facebook
Dash cams are an increasingly popular purchase for drivers looking for peace of mind. These compact cameras fit to the windshield and record video as you drive, then save the footage when a collision is detected.
They can also be set up to record video while parked, helping you figure out what happened if your vehicle is damaged while unattended overnight. Some models also use their view of the road ahead to offer driver assistance features like speed and lane departure warnings.
Read More:
Dash cams can start at less than $50, or extend up to $300 or more, and some systems let you install a second, third or even fourth camera to give you a 360-degree view around your vehicle. Some work with smartphone apps, sending footage to your phone, and all record to microSD cards, which are often not included.
Some dash cams fix to your windshield using a suction cup which is easy to attach and remove, but are often large and can come loose. Others use sticking mounts which offer a semi-permanent solution, with magnetic attachments so the camera can easily be removed and stowed when not in use. Finally, some dash cams have their own displays and GPS, while others do not, and some can be hard-wired to your vehicle, giving them constant power whether the engine is on or not.

How to install a dash cam
The first question to ask yourself is whether you want to hard-wire your camera (which usually involves wiring it to the car's fuse box), or if you want to power it from the 12V socket, also known as the lighter socket.
The latter option is easier and gives you the flexibility of quickly removing the camera when you're not driving, or want to use it in a different vehicle. However, the former has the camera switch on as soon as you turn the key, and means you can still use the 12V socket to power something else, like a smartphone charger, Alexa device, or satellite navigation system.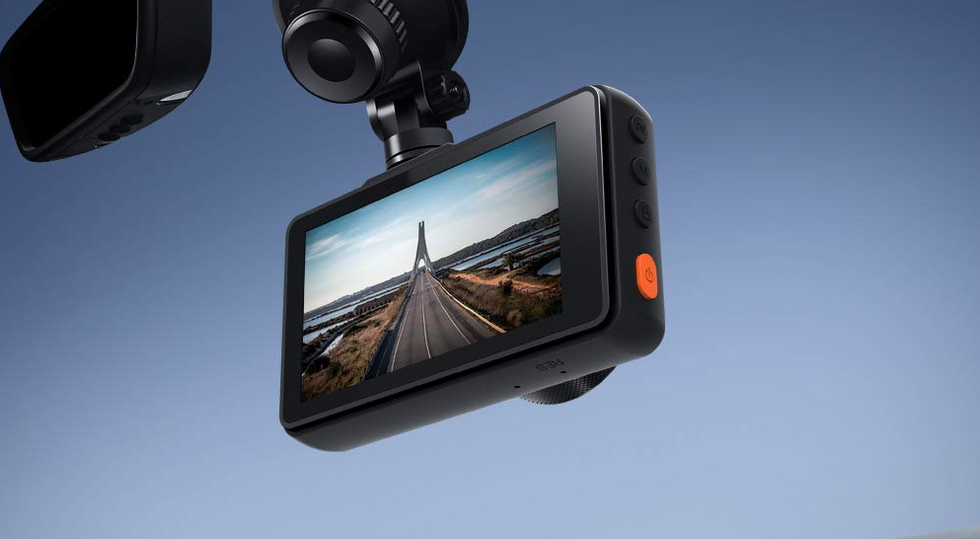 Dash cams should be located at the top of your windshieldApeman
Hard-wiring the camera also means its cables will be neatly hidden behind your vehicle's dashboard. This is usually simple enough to do, and some dash cams come with a plastic tool for pushing the cable between gaps around the dashboard and windshield surround. You can also do this if the location of your car's 12V socket is hidden out of the way.

As an example, I have a 2016 Mazda MX-5 (sold as the Miata in the U.S.), which has a 12V socket buried deep within the passenger footwell. This makes it utterly useless as a phone charger (there are two USB ports elsewhere for that), but perfect for powering a dash cam.
This is because the camera fits neatly behind the windshield rear view mirror, then the cable runs around the top edge of the windshield, down the passenger side between two panels, then behind the glovebox, across the passenger footwell, and into the 12V socket. The cable cannot be seen, but is easy to remove and the installation process required no modification to the car's interior.
Of course, every vehicle is different, so your mileage will vary.
Finally, it is worth us pointing out that, while some dash cams include their own battery, the life of these is often very short and little more than 30 minutes. Unless you are only making a very short journey, it's almost always worth plugging in the camera.
Many dash cams use a capacitor to supply a small amount of power to the camera after the car has been switched off, or if the cable is accidentally unplugged. This gives the camera time to correctly save each and every video, before switching off a few seconds later.
Suction cup or sticking pad?
Next, you will need to decide on how you want to attach the dash cam. Some come with suction cups which can be quickly attached to the windshield and removed again.
Others come with mounts which stick to the windshield with 3M tape. This is tough to remove, making them a semi-permanent option for drivers happy to leave the camera (or its mount, at least) in place all of the time.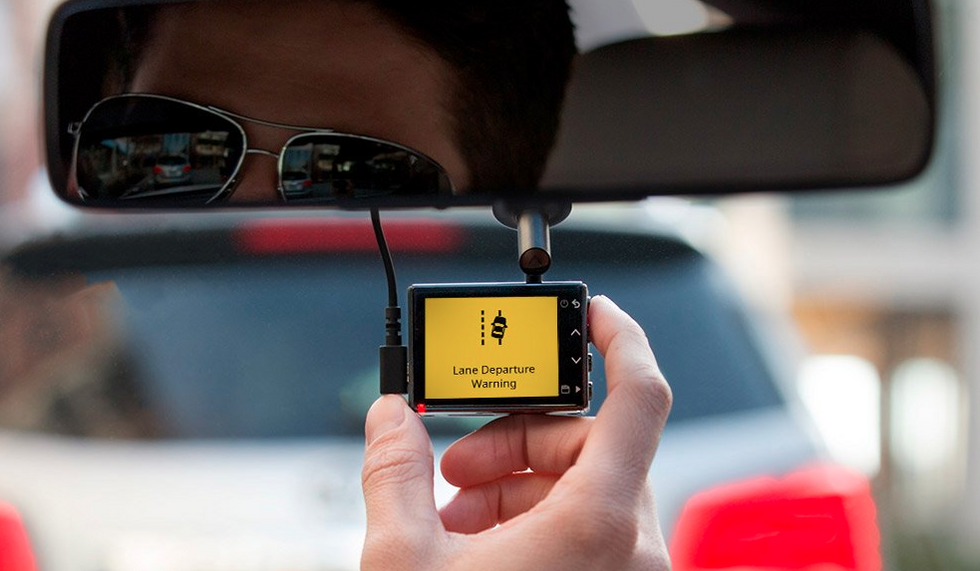 Some dash cams include driver assistance featuresGarmin
The best option I have found so far is from Garmin. The mount has you stick a small coin-sized magnet to the windshield with an integrated sticking pad. The dash cam then attaches to an arm with a ball-and-socket joint, and this is attracted to the magnetic coin on the windshield.

This way, the camera is very quick to fit, and only the coin is left behind when you remove it. Personally, I leave the camera in place all of the time; it is completely hidden from my view by the mirror, and I doubt any passers-by would notice it, let alone bother trying to steal it.
One camera or two? (Or three, or four…)

Your first dash cam should be fitted at the top of the windshield, right in the middle where its wide-angle lens can see the entire width of your car, and of the road ahead. On smaller cars like mine, the video even includes a view to either side of the front fenders, so if someone were to pull out of a junction and hit my car, that should all be caught by the camera.
Do bear in mind that the law often states devices like navigation systems, phones and dash cams cannot be stuck to an area of the windshield cleared by the wipers. As such, you should ensure the camera is mounted as high as possible, ideally behind the rear view mirror, where you cannot be distracted it. So long as it is faithfully recording, you don't need to see the display while driving anyway.
Some dash cams let you wire up a second, often smaller camera for the rear screen. There, it can record footage of someone crashing into the back of you, or if another vehicle hits yours while parking in the space behind. As before, you will want to hide the wire from this camera, which can be tricky in larger vehicles. You may want to pay an expert to do this for you, as routing the cable all the way from the rear screen to the front camera can be difficult to do neatly.
Some systems, like Garmin and its Drive app, let you add up to four cameras, all of which record video to their own microSD card, and connect over Wi-Fi to your smartphone.
Dash cam options to consider
There are a huge number of dash cams on sale at the moment, but here is a handful at various prices to consider.
Apeman C450 - $45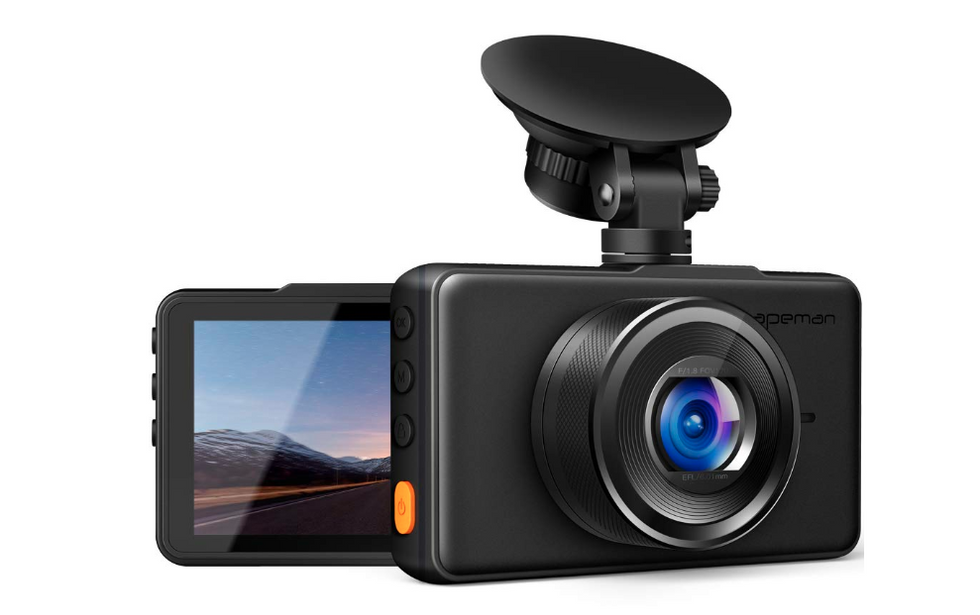 The C450 by Apeman costs just $45Apeman
This low-cost option from Apeman has a 1080p Full HD sensor (some at this price only offer 720p), and shoots through a 170-degree wide angle lens.

There is also a three-inch LCD screen on the back for setting everything up, watching recorded footage, and checking the camera's view is correct. As with all dash cams, a G sensor is used to detect accidents, which then causes the camera to automatically save that section of footage. Otherwise, dash cams record constantly then overwrite old footage once the memory card is full.
This camera also offers night vision and HDR for improved picture quality in low or harsh light. There is also a parking mode, which records footage if a collision is detected while parked as long as the camera is hard-wired to the vehicle.
Garmin Dash Cam Mini - $130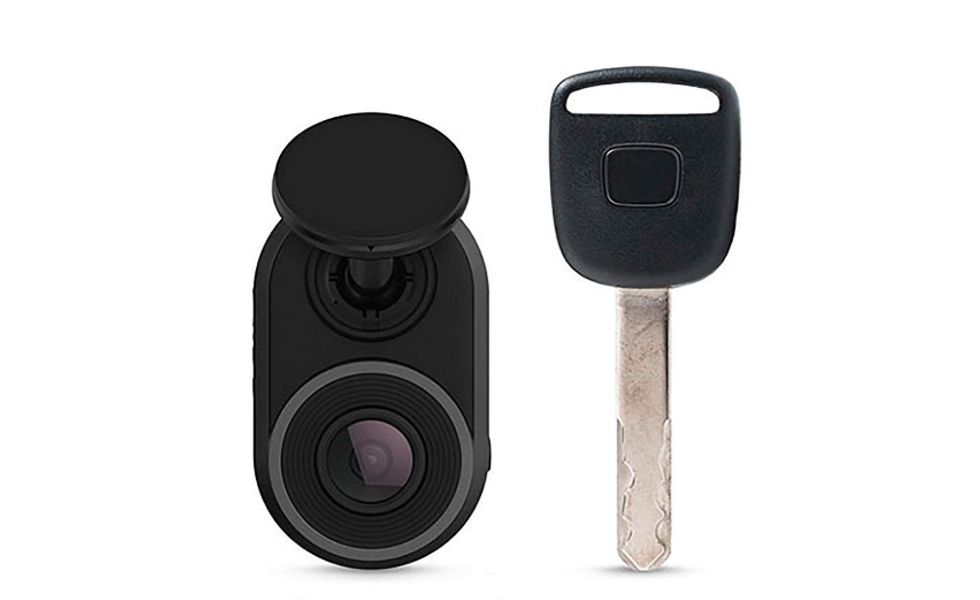 The Dash Cam Mini is one of the smallest on sale todayGarmin
Quite possibly the smallest dash cam on sale today, the Dash Cam Mini by Garmin is around the size of a key and is designed to be as subtle and discreet as possible. There is no screen, so you can tuck it neatly behind your rear view mirror and forget it is even there.

The camera records at 1080p Full HD through a 140-degree lens, and connects to your phone over Wi-Fi for when you want to adjust settings or view video without removing the micro SD cards and slotting that into your computer.
You can fit up to four of these to your vehicle, and the Garmin app will stitch their videos together to create a 360-degree view. This camera comes with a cable and 12V adapter, but Garmin also sells a hard-wiring kit separately for $35.
ThinkWare F800 Pro - $350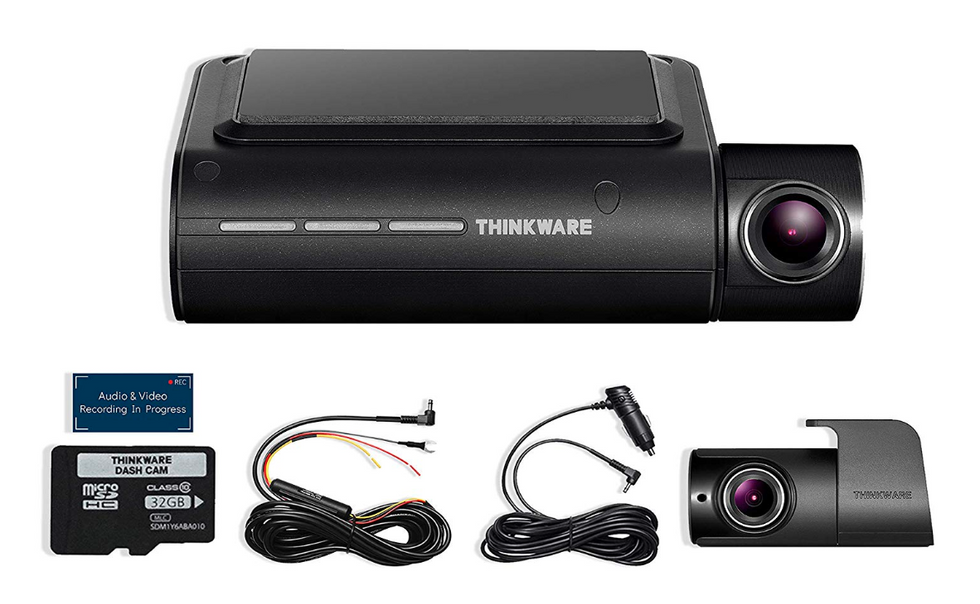 The F800 is a complete, high-quality system.ThinkWare
A high-end option — and perhaps even shockingly expensive compared to some sub-$50 cameras — this system from ThinkWare does everything.
First, the front-facing camera is designed to fit snugly against the windshield and look like a factory-fitted item, preventing anyone from thinking they might break in and steal it. The kit also includes a second rear-facing camera, and a hard-wiring kit.
The latter is important, as both cameras keep recording after you park up, and do so with a five-second buffer. That way, if a collision is detected while parked, footage from five seconds before the impact is saved to the microSD card, along with footage from right after the incident.
Both cameras shoot in 1080p Full HD and use Sony Starvis Exmor R CMOS sensors with 142-degree lenses. GPS is included for adding location data to your recordings, and there's Wi-Fi for transferring files to your phone via the ThinkWave app.
A suite of driver safety systems is also included. This offers lane departure warnings, front collision warnings, and safety camera alerts.
Aukey 4K Dash Cam - $92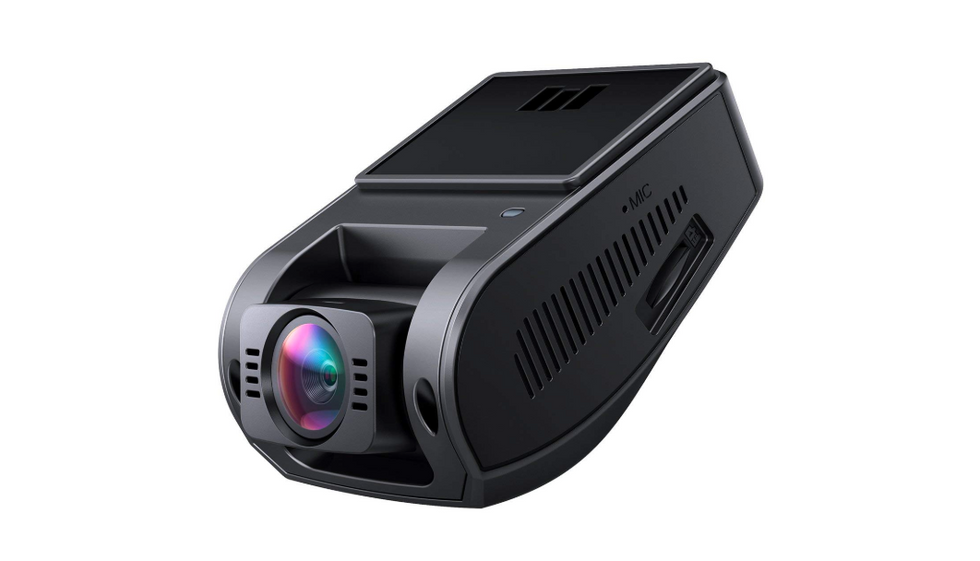 This dash cam shoot in 4K videoAukey
The higher resolution of a 4K image sensor means you can zoom in on sections of video, which could be useful if you need to provide evidence of fault after a collision. It also means details like license plates will be easier to read from a greater distance than with an HD camera.

As well as shooting in 4K, this camera has a 157-degree lens with a large f/2.0 aperture, and a small display on the back for adjusting settings and viewing footage (which can also be transferred to your computer via a microSD card).
Speaking of which, you'll want to buy a big card for this camera, as 4K video take up far more space than HD; the camera accepts cards up to 128GB. Aukey sells a GPS antenna separately to add location data to your video, and a hard-wiring kit can also be purchased separately to record video while parked.
Unboxing in less than 10 Seconds - Owl Car Cam www.youtube.com
From Your Site Articles
Related Articles Around the Web
Like GearBrain on Facebook