Like GearBrain on Facebook
CES has always been about the televisions. Massive screens with millions of blinking pixels, towering over visitors and often combined with a dozen others to form entire walls of digital images. This year, LG created a valley of TV screens for attendees to walk through.
So despite the impressive driverless car tech, audio products, smart home gadgets and the wacky side of CES - Sony dogs, airbags for your hips and robotic strippers, we're looking at you - television tech is where it's at.
For 2018, the likes of Samsung, LG and Sony brought their latest models, concepts and prototypes to wow us in Las Vegas. So what if broadcasters have barely started offering Ultra HD yet? CES, year after year, shows us what's next for television of the future.
LG AI ThinQ OLED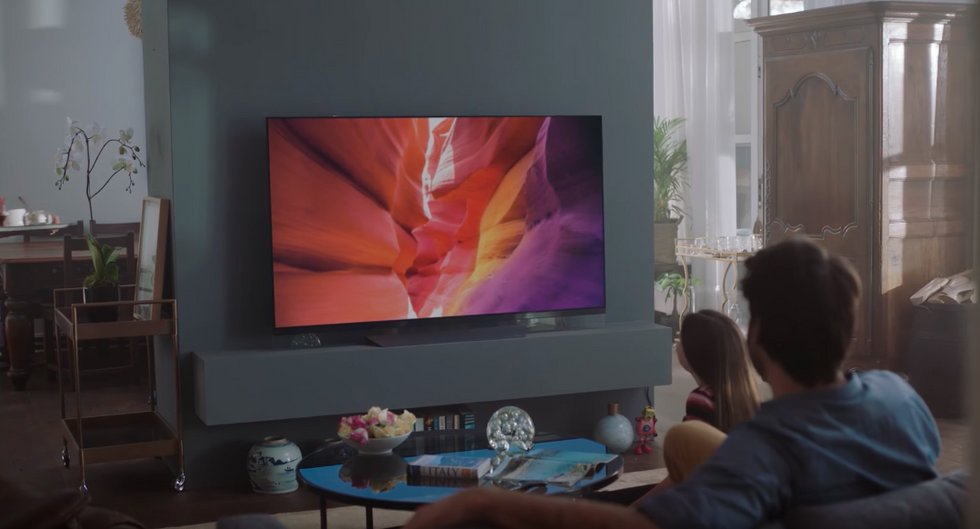 AI means you can ask the TV out loud to show content, instead of searching manuallyLG
If we were awarding a prize for the most acronyms crammed into a product name, LG's AI ThinQ OLED TV would surely win. To break all that down, this is a new television range from LG, called ThinQ, which have OLED panels and artificial intelligence.
The latter is part of LG's broader and equally new ThinQ system, which is a bid to tie together smart home devices like ovens, washing machines, dryers and fridges into one coherent family of appliances, along with the TV. The framework of the system is LG's own, but it leans on the intelligence of Google Assistant, which can be used to control the TV, and also Alexa via a new 'skill' for Amazon's popular AI.
As was the case in 2017, LG's flagship is still the incredibly thin Signature 'wallpaper' TV, which relocates most of its internals and connection ports to a soundbar which sits beneath. LG also used CES to boast about its new Alpha 9 processor for its most expensive TVs, and there is also support in the 2018 lineup for 120 frames per second video, although very little high frame rate (HFR) content exists for now.
LG rollable OLED TV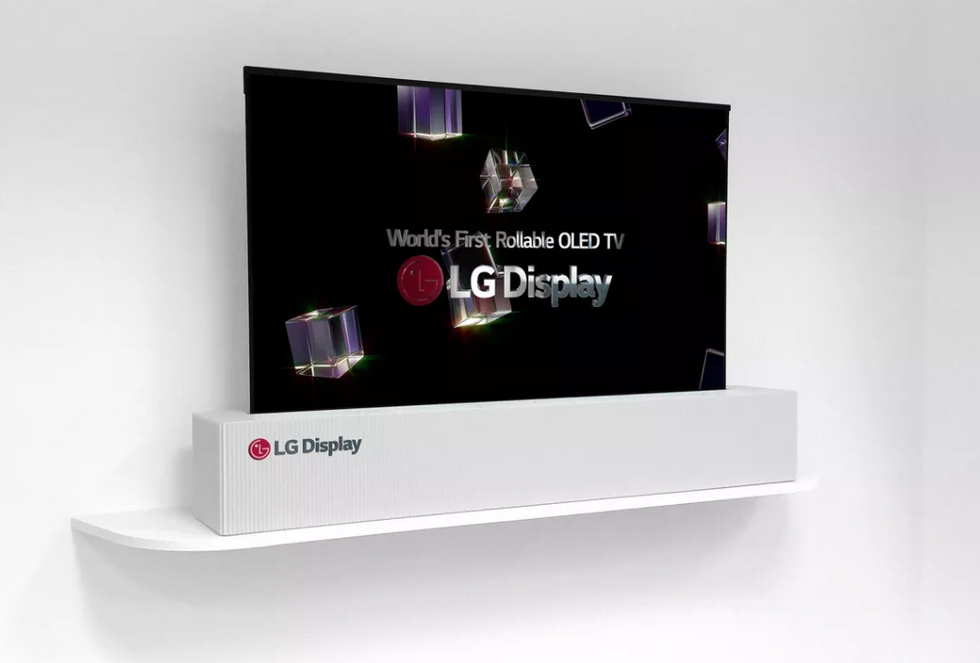 A concept for now, the TV rolls up into its box when not in useLG
LG was on a bit of a roll at CES this year (sorry), because as well as the 2018 lineup, it offered us a glimpse at what the future of massive TVs - and how to transport them - could look like.
Meet the rollable TV. Last year LG showed off an 18-inch rollable prototype, but for 2018 it has gone big, demonstrating a working 65-inch, OLED screen which can be rolled up into a compact box. We think this is great for interior design, especially as the black mirrors in our living rooms grow ever larger, and for safely transporting big, expensive screens.
Separately, LG also showed off a huge 88-inch, 8K television at CES, but without a price or release date.
Samsung The Wall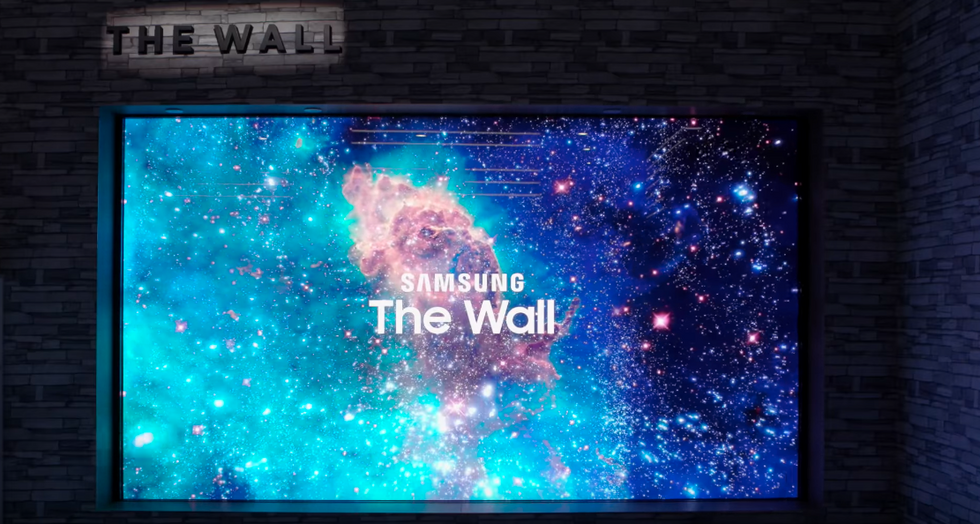 The Wall is a modular TV, meaning it can be made to any sizeSamsung
On first inspection, Samsung's The Wall is yet another huge television - this time stretching 146 inches from corner to corner. But, instead of a product you can actually buy, The Wall has been made to show off Samsung's new modular screen technology, which can make displays of any size - and because movie theatres are its intended customer, 146 inches is the entry level…
The screen uses Samsung's new MicroLED technology, which emits its own light like OLED screens do. This saves on the need for a chunky and heavy backlight, like you get on regular LED televisions. No price, release date, or even the screen's resolution was revealed.
Samsung 8K AI upscaling
Speaking of resolution, remember when Ultra HD felt like the bleeding edge of new tech? Well now it's time for 8K, according to Samsung, which says it will begin selling such a television before the end of this year.
Quiet why, given there is almost nothing to watch in 8K, we aren't quite sure. However, to solve this Samsung claims the TV uses artificial intelligence to somehow upscale even your crummy local TV news into glorious 8K. The AI will apparently learn over time and improve its upscaling ability the more it is used, which makes us hope that one day, while watching a grainy old film, the TV will suddenly know what to do and - bam - it will kick into 8K. We can dream.
Bixby on TVs in 2018
Samsung's Bixby AI assistant had a touch launch in 2017, but for 2018 it will get the chance to shine. Firstly, it will be fitted to the company's new Family Hub refrigerator, and secondly it will appear on some Samsung TVs. Here, Bixby will let users operate the television with voice commands, just as they can with Google Assistant and Alexa elsewhere.
Sony soundbar does virtual Atmos with just three speakers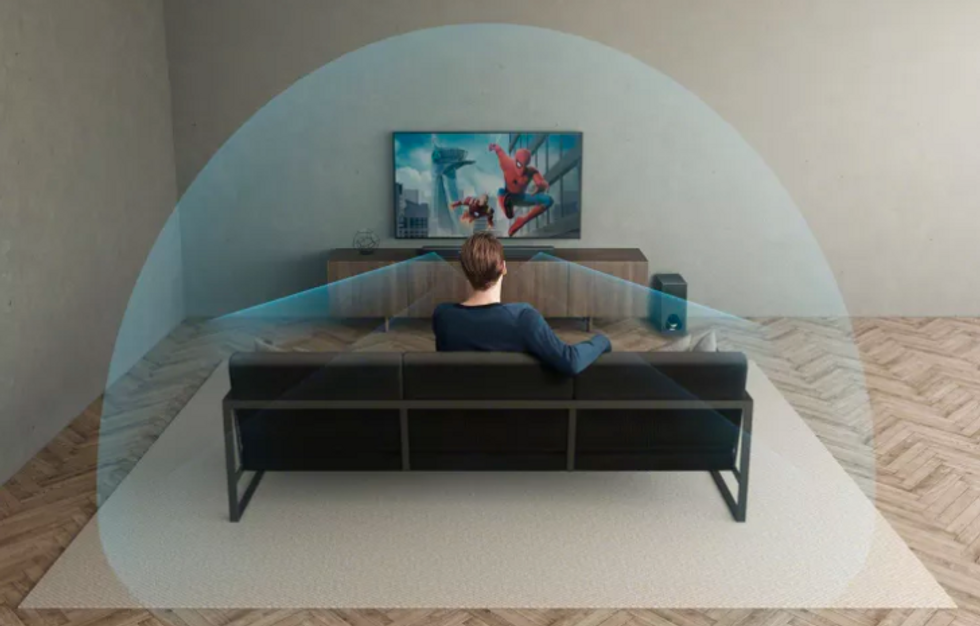 A world-first Sony claims to deliver Dolby Atmos with just three speaker and a subSony
Switching to sound for a moment, and as expected CES had a lot to say about Dolby Atmos. Sony's new HT-Z9F and HT-X9000F are a pair of self-contained soundbars which have no rear or upwards-firing speakers, yet with the push of a button can create virtual Atmos. The sound bars cost $899 and $599 respectively and we can't wait to try them out for ourselves.
Roku gets back into speakers with TCL soundbar
Roku is getting back into the speaker game with its new AI and answer to Amazon Alexa and Google Assistant. Unsurprisingly called Roku Entertainment Assistant, the system will debut on a new soundbar by TCL called the Roku Smart Soundbar.
Voice commands let you turn the soundbar and a connected TV on, then control media playback as you would with Google Assistant via a Chromecast or Siri on the Apple TV. Voice can also be used to search and explore Roku's entertainment selection. TCL says the Roku soundbar will begin shipping in late 2018.
Where was Amazon Fire TV OS?
And finally...something that wasn't at CES, but perhaps should have been. Last year, at CES 2017, Amazon and a number of TV making partners revealed Fire TV OS. It was an operating system for budget TVs which served up all the usual TV stuff - a program guide, picture and sound settings - and a way to quickly get to Amazon's Prime Video content.
It was a move to stop Roku's own TV operating system from monopolizing the budget and mid-range market, but at CES 2018 it was nowhere to be seen. Pushing exclusive Prime Video content into the eyes of users from the moment they switch the TV on seemed like a great idea for Amazon, so maybe the Fire TV OS will arrive later in 2018.
Related Articles Around the Web
Like GearBrain on Facebook