Like GearBrain on Facebook
Where once huge television ruled the roost at CES, it is now the turn of smart home gadgets and appliances to bathe in the limelight.
For 2018, the world's largest tech show played host to a revolution in smart home innovation, as AI assistants like Amazon Alexa and Google Assistant appeared on more devices than ever before.
Here's a quick rundown of the best smart home gadgets we have seen at CES 2018 so far.
LG brings intelligence to everything with ThinQ platform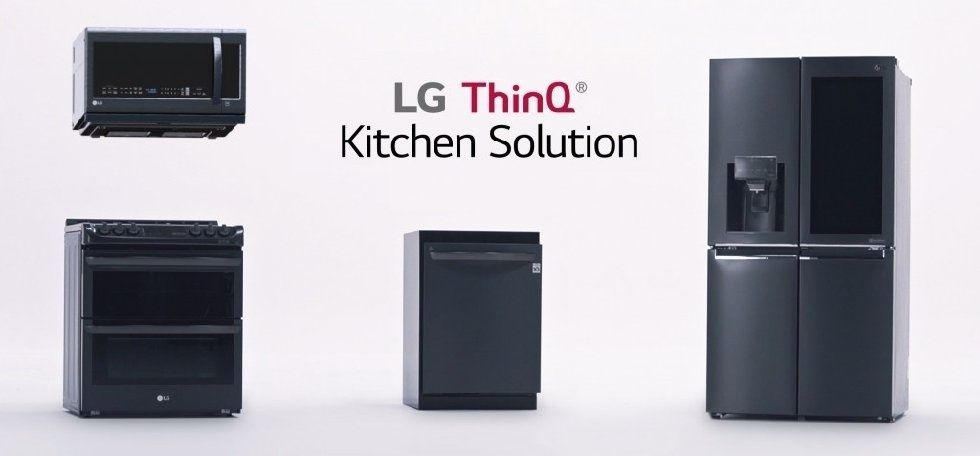 ThinQ is an AI platform shared across appliancesLG
As most manufacturers take a tentative approach to artificial intelligence, installing it on one or two devices to gauge consumer demand, LG has gone all-in. The company's new ThinQ platform is an AI system which leans on both Alexa and Google Assistant to bring intelligence to televisions, fridges, ovens, washing machines, dryers and more.
Read More: CES 2018 - The biggest news from the world's largest tech show
LG's strategy here is a bold one, in trying to offer a seamless AI experiences throughout the household, but one the smart home industry badly needs. Without this direction we are in danger of individual manufacturers going off and doing their own thing, or each implementing Alexa and Google Assistant slightly differently. Hopefully other firms can follow suit and bring some order to the smart home.
However, it wasn't all good news for LG. A live demonstration of the company's CLOi robot (pronounced Chloe) completely failed in front of a room full of journalists and analysts - and a live video stream to the public. Tech hiccups at events like CES are to be expected to some extent, but such a timely misfire makes animated AI robots like the CLOi a difficult sell for now.
iDevices light switch with Alexa built in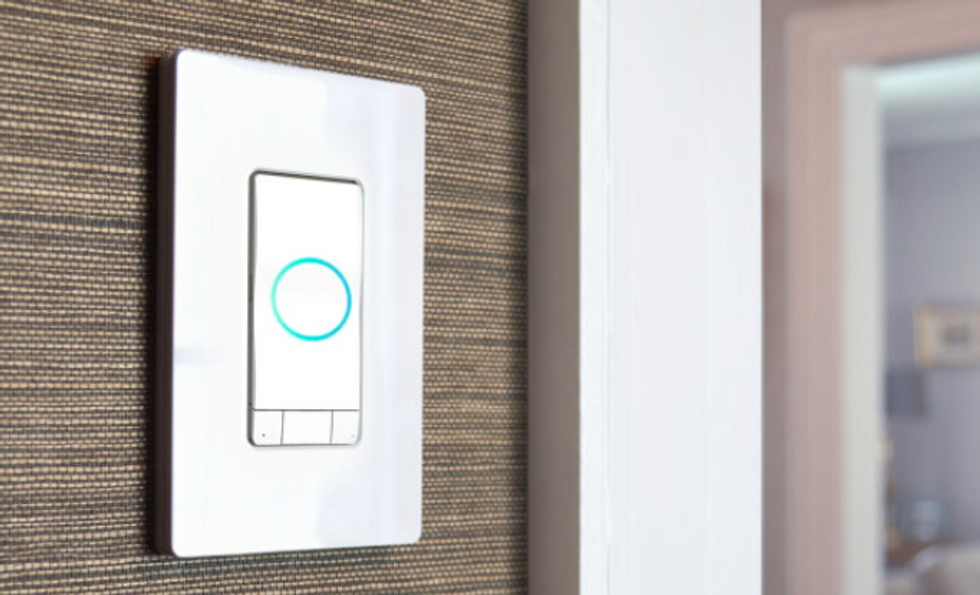 The Instinct light switch is like having an Echo Dot on your walliDevices
If 2017 was the year of Alexa controlling our smart home devices, 2018 will be when she is actually embedded into them. iDevices used CES to announce a new light switch with Alexa built in, complete with blue pulsating light to indicate when she is listening and talking. Called Instinct, the switch could be bought instead of an Amazon Echo speaker and performs the same functions - it even has a speaker for playing music, although you'll probably want to hook up a sound system of your own to improve the quality and boost the volume.
Talking to our light switches might seem crazy, but if assistants like Alexa are to help us everywhere, it makes sense to install them in a device already commonplace across the home - and never out of earshot.
C by GE - Lights and switches with embedded Alexa and Google Assistant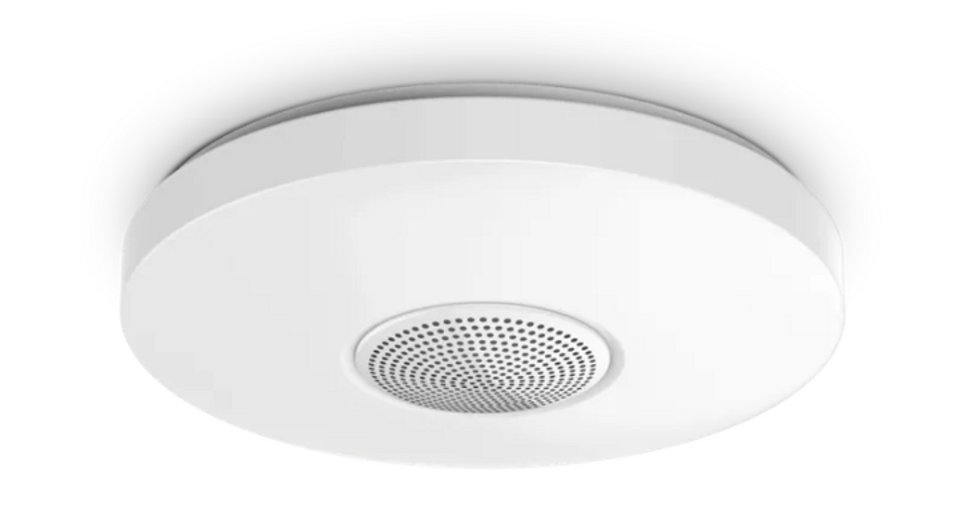 This ceiling light has a speaker, Alexa and Google Assistant built inGE
GE is taking the same approach with its C by GE line of smart lights and switches - only these can control both Alexa and Google Assistant. The range includes a circular ceiling light with embedded microphone and speaker, and Bluetooth bulbs for your existing lamps and fittings.
Although not used for anything yet, the in-wall switches (which can control your existing dumb lights, too) include motion, temperature and humidity sensors, suggesting GE has a smart climate system in the works. Apple HomeKit support for the GE lights will arrive later in 2018, but at this point Apple is barely a player in the smart home race.
Brilliant light switch becomes an Echo Show of its own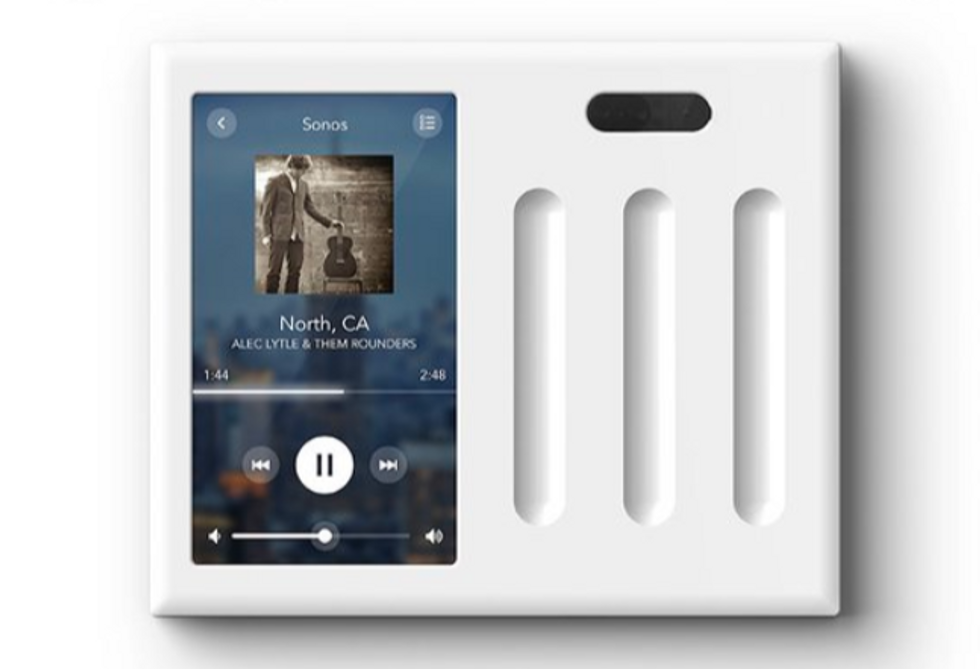 The Brilliant smart switch now includes the Amazon Alexa Show UIBrilliant
The $199 Control smart light switch by Brilliant is one of the first devices to include support for Amazon's Display Cards, turning the touch screen switch into an Echo Show. Alexa is already built in, letting you control other smart home gadgets and media playback with your voice, but now you can see information like the weather forecast, web searches, and everything else available on the Echo Show - just not YouTube, of course.

Milo smart speaker by Hogar has built-in Google Assistant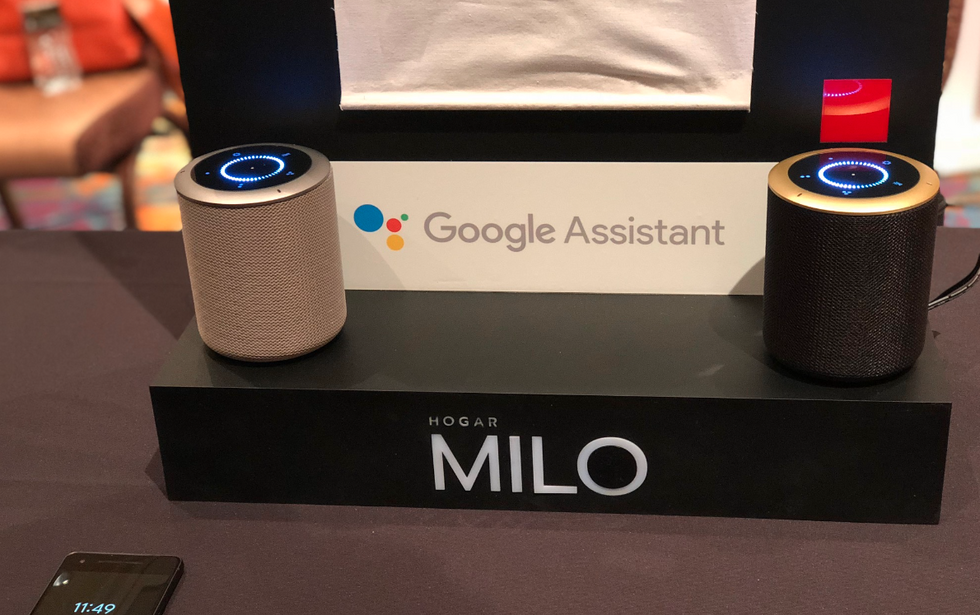 The compact Milo smart speaker integrates Google AssistantGearBrain
Just as Alexa is making itself at home in a range of non-Amazon products, Google Assistant has begun to settle down in third-party devices too. One such example at CES 2018 is the Milo Smart Home Speaker by Hogar Controls.
This compact, cylindrical speaker supports the Z-Wave Plus and Zigbee home automation standards, plus Wi-Fi and Bluetooth connections to control your lights, locks, thermostat, blinds, media and more. Priced at $149 and going on sale at the end of Q1 this year, the Milo has a metal and fabric finish similar to that of the Amazon Echo range.
My Gro garden sensors by Scotts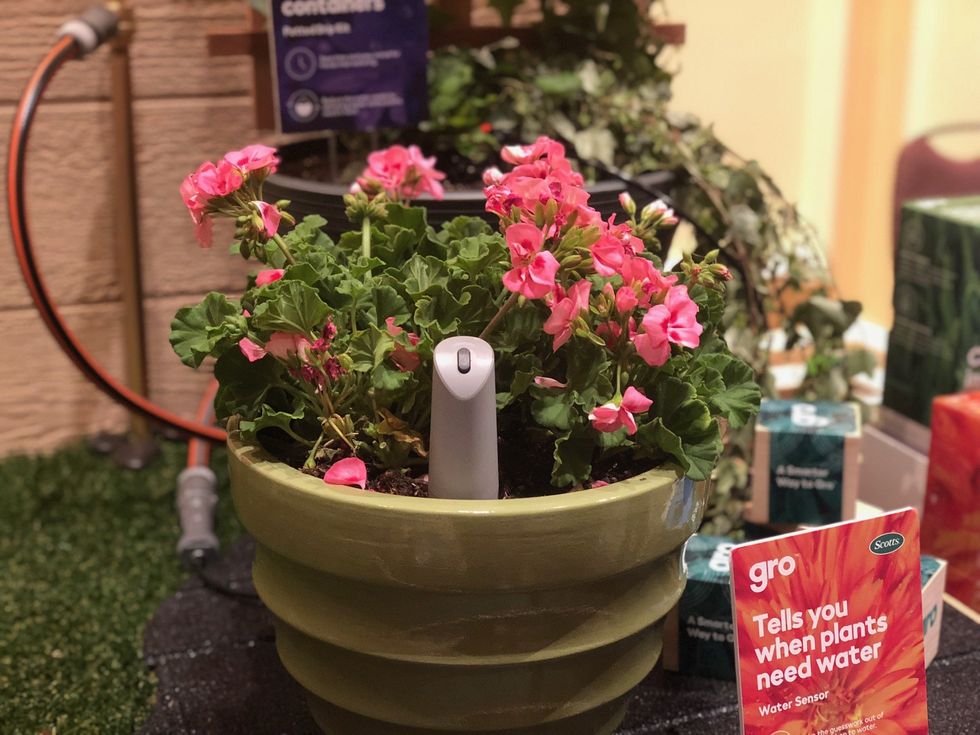 My Gro sensors help water your plants at exactly the right timeGearBrain
Step out into your garden (if only CES had such a thing) and it too will gain extra sensors and intelligence in 2018. The Gro series by Scotts includes sensors which monitor how much water your plants are receiving, then alerts you to any changes via a smartphone app.
Designed for indoor and outdoor use, the system start at $99.99 for one sensor and a hub, with which additional sensors, priced at $39.99, communicate. Scotts also used CES to show off a seven-way ground irrigation system which - as you should really expect at this point - can be controlled with voice commands via Alexa. As well as doing as you ask it to, the system will use sensor data to work out when best to water your plants.
Jodi Lee, brand director of Smart Technology and Irrigation at Scotts Miracle-Gro, told GearBrain: "Low profile sensors are certainly on the horizon".
Samsung Family Hub fridge gets SmartThings support and a Bixby upgrade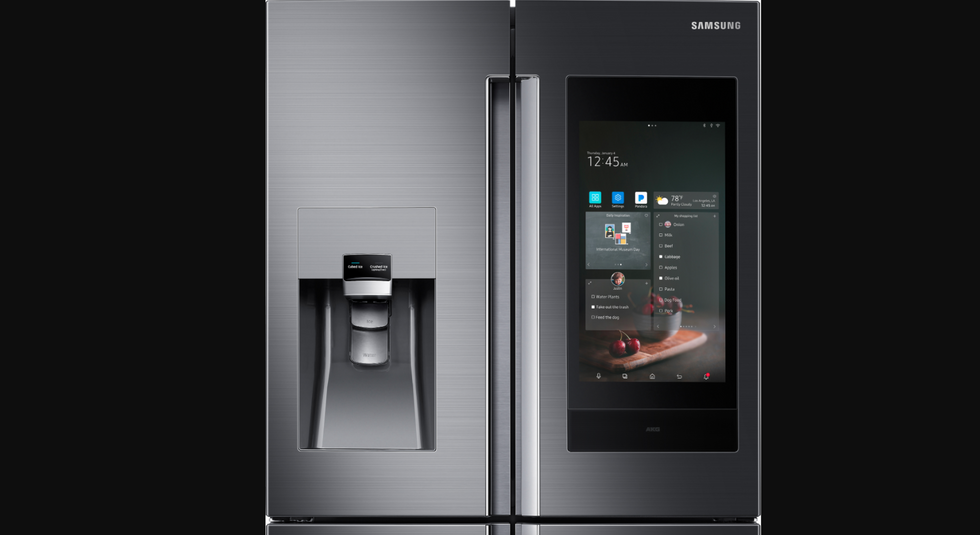 The 2018 Family Hub gets improved Bixby integrationSamsung
Step back inside and head to the kitchen, where Samsung has revealed its latest Family Hub refrigerator. New for the 2018 model is support for SmartThings, meaning the fridge's touch screen can be used to control compatible smart home gadgets like lights, thermostats, security cameras and more.
Buyers must truly feel like they are living in the future when they use a computer screen on their fridge door to dim the lights, adjust the heating and keep an eye on the back door via a connected security camera. There's also a camera on the inside of the fridge, so you can see what's inside without opening the door and letting the cold air escape. What a time to be alive.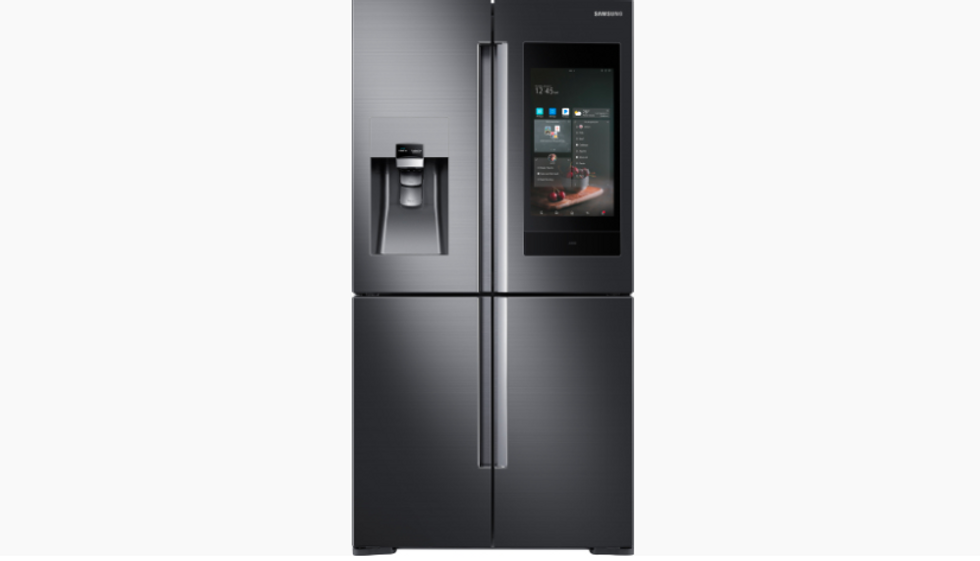 SmartThings devices can be controlled from the touch screenSamsung
Updated Bixby support means Samsung's answer to Alexa and Siri can now tell the difference between the voices of each member of the household. Say: "Hi Bixby, what's new?" and each person will get a different answer depending on their interests and schedules.
The fridge also boasts new speakers by AKG for playing music from a streaming service like Pandora, and there are new applications to help find local supermarket deals and create meal plans. The 2018 Family Hub range arrives this spring, but the inevitably high prices have yet to be announced.
Check out The GearBrain to see which connected devices work with or are compatible with Samsung SmartThings appliances and platform.
Nokia Sleep picks up where Withings Aura left off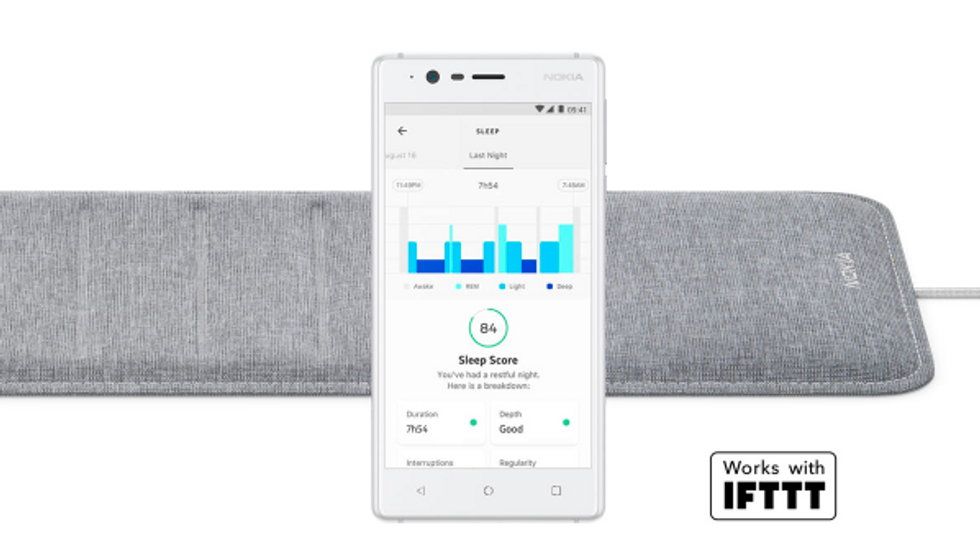 Sleep, snore and heart rate monitoring are all includedNokia
After buying out Withings and canning its Aura sleep monitoring system, Nokia Health has just launched one of its own. Called Nokia Sleep, the system takes the form of a fabric pad designed to slip beneath your mattress. From there, it tracks movement, sleep quality, snoring, heart and respiratory rate and more. It can also distinguish your movement from that of your partner, Nokia claims.
All this data is then sent to the Noia Health Mate app on your smartphone for further analysis.
Additionally, Nokia Sleep is compatible with IFTTT (If This Then That), meaning you can configure the device to switch off the lights when you get into bed, then open the blinds and start a morning playlist when you wake up. Providing your smart home gadgets are all Wi-Fi enabled and IFTTT compatible, of course.
Nokia Sleep costs $99.95 and will ship later this quarter.
Google Assistant gets a screen, takes aim at Amazon Echo Show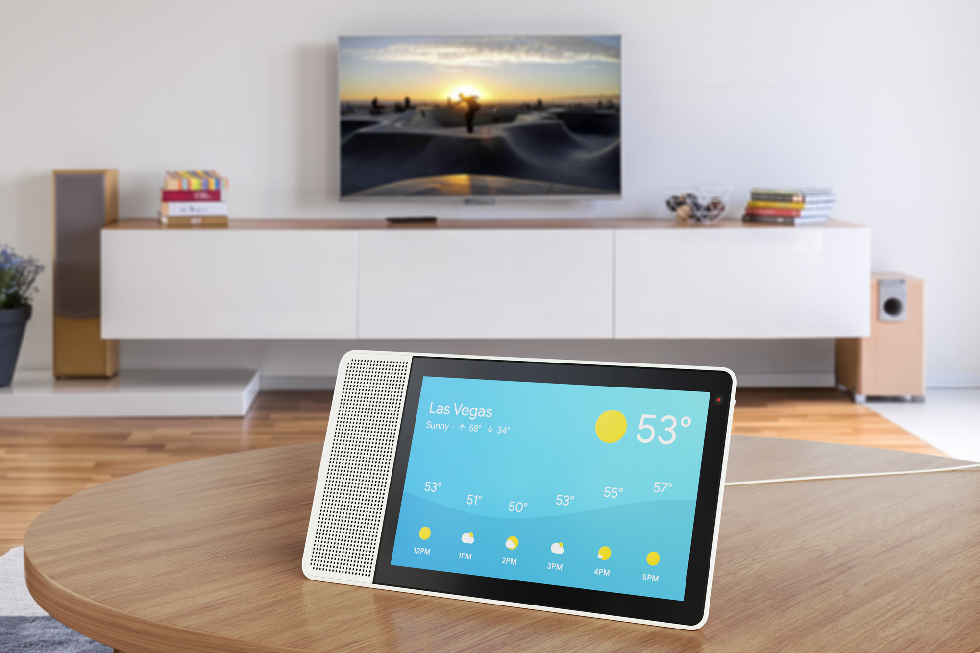 Google Assistant's first screen appearance is on the Lenovo Smart DisplayLenovo
Just as Alexa expanded from audio to visual with the Echo Show, Google Assistant has just made the same move. Google announced at CES how its AI assistant is featured on the new Lenovo Smart Display and JBL Link View.
Both have an eight inch screen, while a larger 10-inch version of the Lenovo is also available. An HD resolution on all models makes them perfect for watching YouTube videos, which can be summoned by asking Google Assistant. They can also perform all of the same smart home tasks as the Google Home and Home Mini smart speakers, and can show extra information when you perform Google searches.
Front-facing cameras mean they can be used for video calls via the Google Duo app, which also works on iOS and Android smartphones. When not in use, the Assistant screens can be set to act as a digital photo frame, scrolling through images stored in your Google Photos app. Prices start at $199.99 for the 8-inch Lenovo and shipping will begin in the summer.
You can visit GearBrain's What Works with Amazon Alexa to see the connected devices that work with Amazon Echo and Alexa enabled devices. And if you own a Google Home or Home Mini, visit What Works with Google Home or Home Mini page.
Like GearBrain on Facebook