One of the first smart devices — aside from your phone — was the connected coffee maker which let you use an app to set a timer and brew the perfect cup of joe. Today, new smart appliances are filling our kitchen from refrigerators to ovens and now, yes, even gadgets that promise to prepare a cup of chai tea, that spicy, milky beverage served hot. Chime has entered this popular market, with a chai beverage brewer you operate from your phone over Bluetooth. We made a few cups to see what we thought of the device.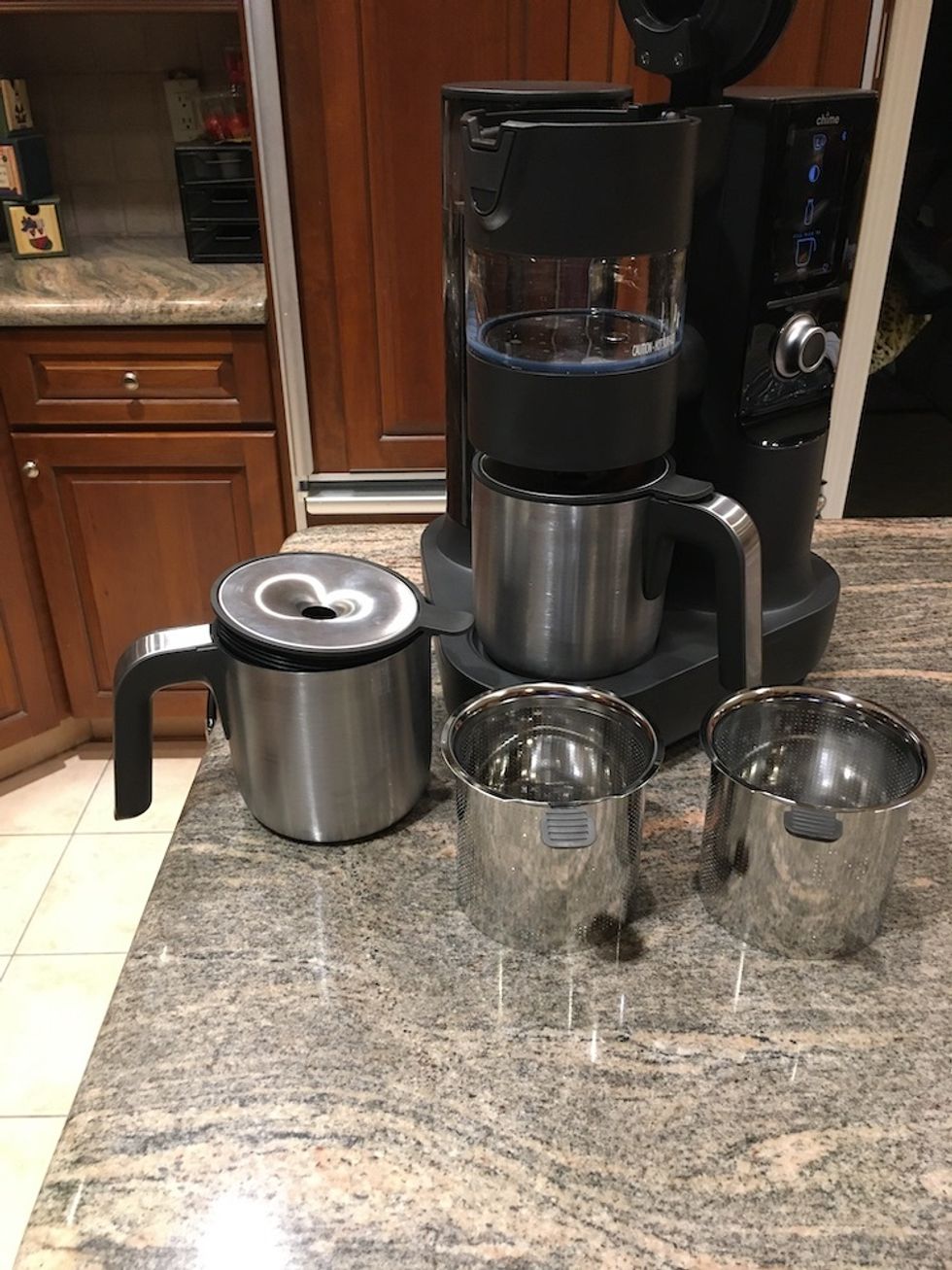 ChimeBrew is a smart chai tea brewer which comes with milk carafe and
What is Chime?

Chime's new chai tea maker is available in the U.S. and Canada, and is controlled with your smartphone via Bluetooth within 30 meters of the brewer. It works similarly as a Keurig coffee maker but can make chai or regular tea. You can personalize the size, strength, milk and froth ratio using the Brewchime app, and also choose either a regular (8 oz. or 225ml) or a large (12 oz. or 175ml) cup.
We found Chime to be a rather big appliance for any kitchen counter, at 15 pounds, and standing 13.5 inches high by 11.25 inches wide and 10.5 inches deep. The device is taller than Keurig's K-Café Coffee, Latte and Cappuccino maker but not as wide. Keurig's unit measures 12.5" x15.3"x11.7" (HxWxD)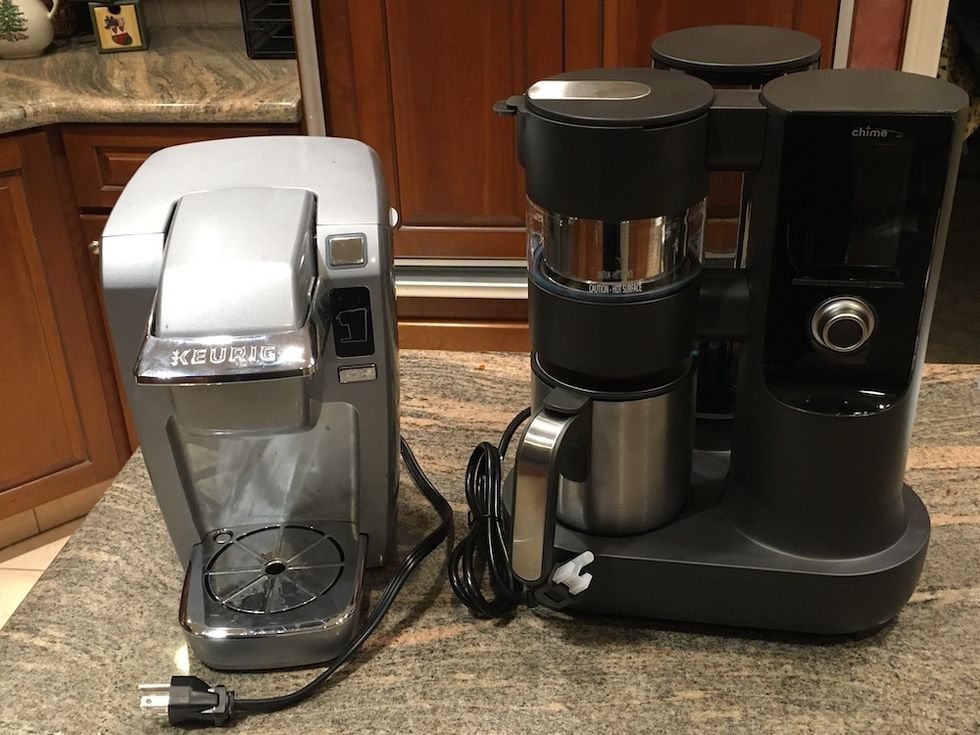 ChimeBrew is much bigger than Keurig one cup maker.GearBrain
Setup is easy. You'll take the unit out of the box and plug it into a wall outlet. Then, take out the milk carafe and water tank from the box and wash them before using. Once those are clean, fill the tank with water and download the BrewChime app, which is available for iOS and Android smart devices. Once you download the app, place the clean milk carafe on the heater and you are ready to start your first recipe.

When making your first cup of chai tea, you can use your smartphone or the display on the Chime device. Select the chai cap with the flavor you want to brew, which come in five varieties: Assam, Cardamom, Ginger, Cardamom Ginger, and Masala. Place the cap on the top of your Chime and close the lid. You can now begin the brewing process by selecting the cup size, strength, adjust milk ratio and frothiness. You will see a number appear in the measuring cup on the display or in your app. This is the amount of milk you need to place inside the milk carafe before the brewing begins.
Inside the milk carafe, you will see numbers from one to seven. Just fill the milk to the displayed number. (i.e. '4' or '6') and then hit the button to brew. Water will fill up the upper brewing chamber as it brews the tea, as the milk in the carafe is being heated. When tea is fully brewed, it pours into the milk carafe, and combines to create the cup of chai. Total brew time is about three minutes depending the strength of your tea.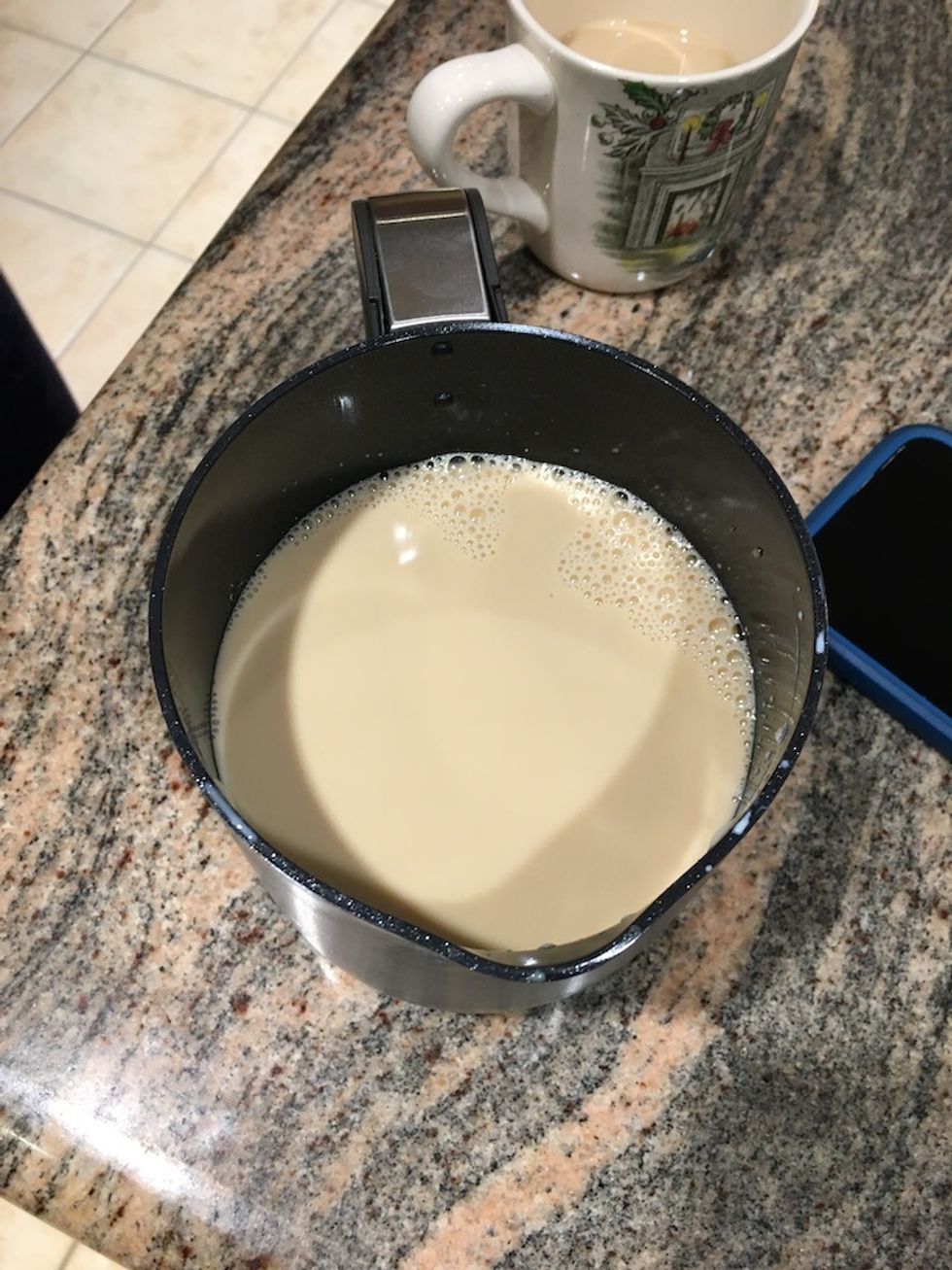 Chai tea brewed in ChimeBrewGearBrain
Cleaning your Chime is simple. Just remove the cap and brewing compost from the top brewing chamber. The inside chamber is removable which will allow you to rinse and remove the tea compost. Chime has two cleaning cycles for you to use, with one called Rinse Cycle or one called Full Clean.

Rinse Cycle cleans the upper chamber. Before you start, make sure you remove and clean the stainless-steel sleeve, and that there are no tea leaves in the chamber. Then press the Menu button and use the Start/Select push dial to select Rinse Cycle. It will take about 30 seconds for the cycle to clean the top chamber.
The Full Clean cycle will clean your entire Chime. Take the special cleaning cap and place it in the top chamber, making sure the sleeve is cleaned. Then push the start button and select Full Clean. This cycle takes about 5 minutes to complete. It is recommended you do a full clean every 50 to 60 cycles or brews.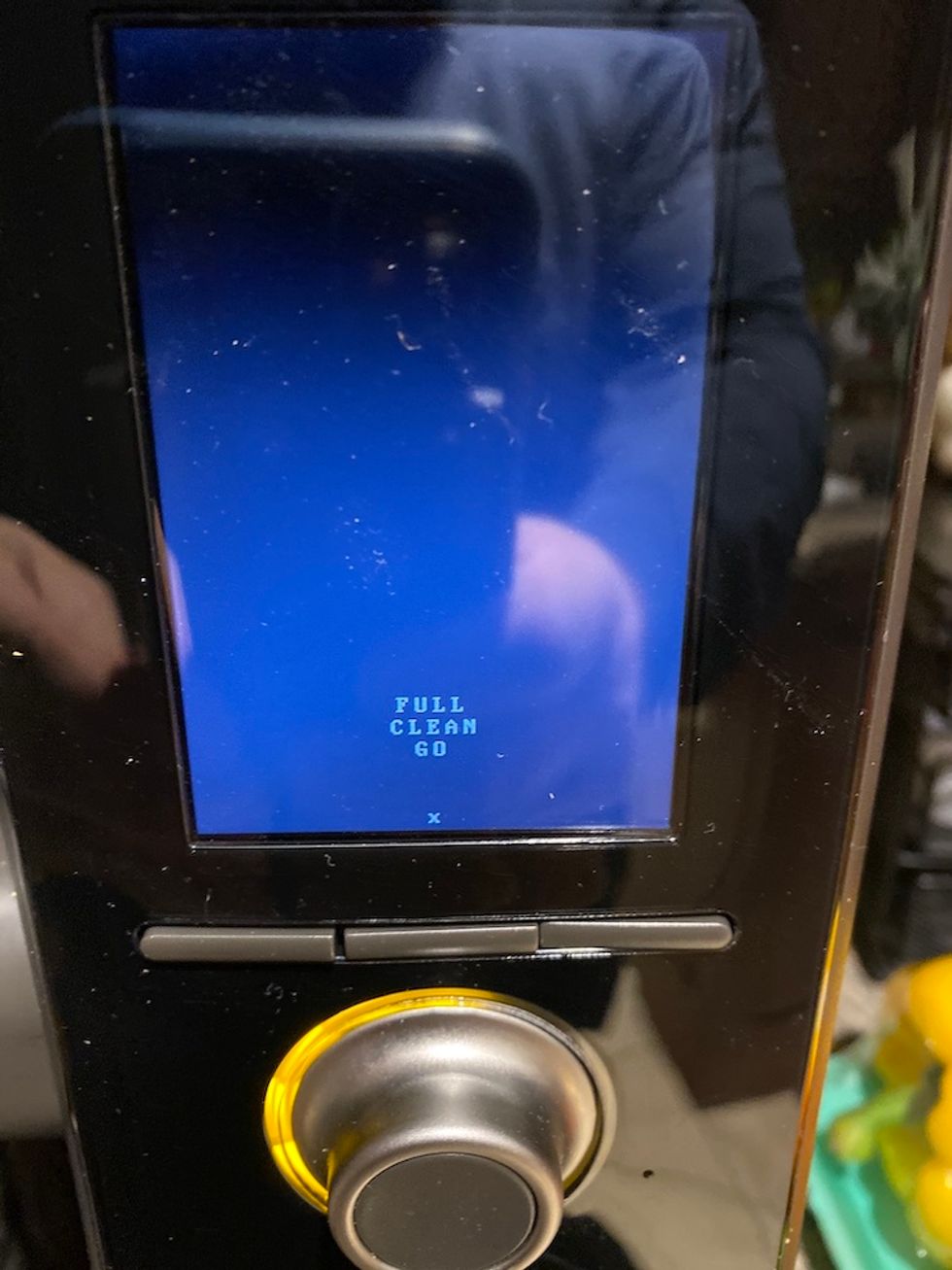 Chime in full clean mode.GearBrain
Cost

Chime costs $199 and comes with free shipping. It's currently available on Indiegogo for pre-order. You can also pre-order Chime caps on the Chime site or through the Chime app. If you order from the Chime app, you will also get notifications when you are running low. The cost of the caps vary based on the variety, with a pack of 10 ranging from $9.95 to $11.95 — or about $1 to $1.20 for each serving.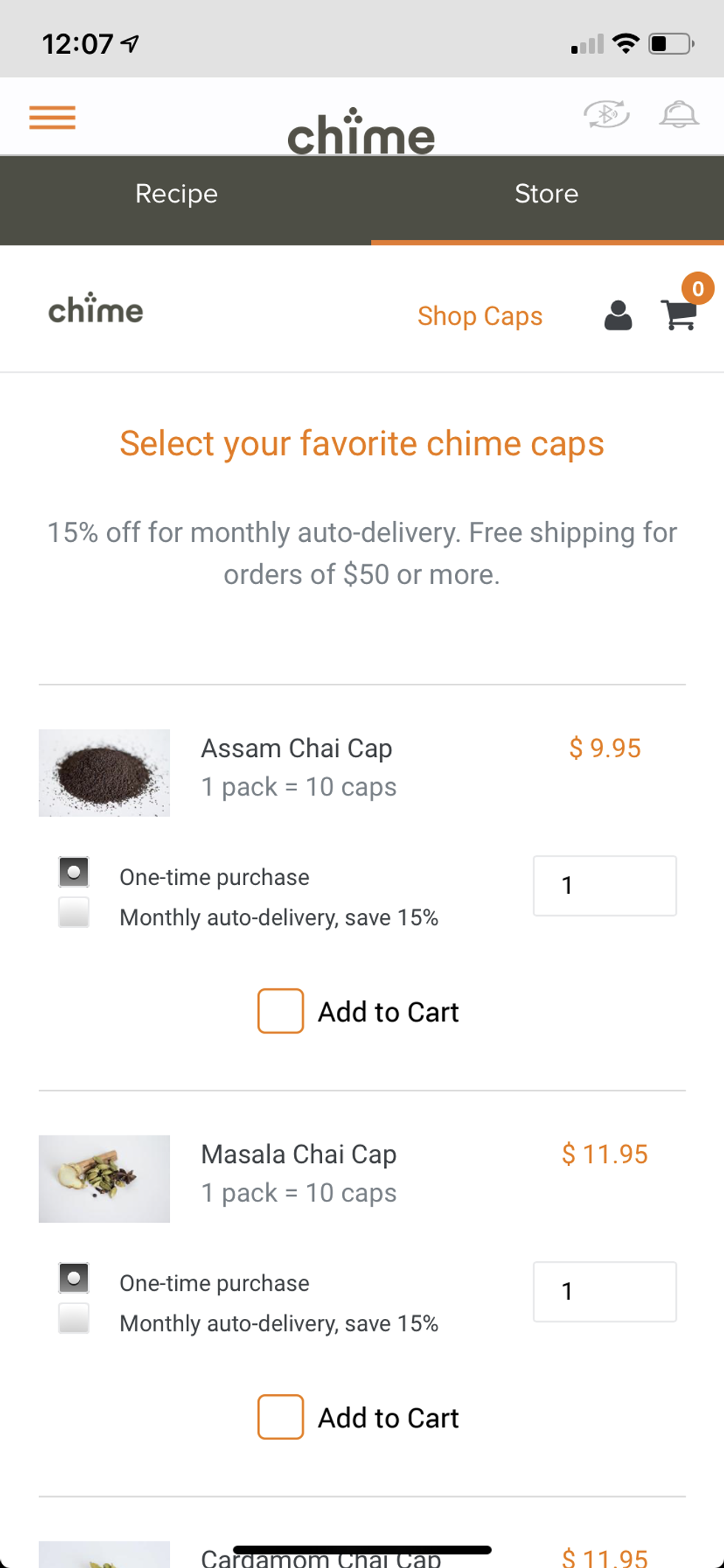 Order Chime caps on Chime site or through their app.GearBrain
Performance
We tested Chime with a number of chai tea lovers, and even brewed a few test cups of plain tea without the milk. Testers found the chair tea tasty, but not as sweet as other cups they've had a popular chains. Chime claims it uses fresh spices with a combination of water and milk, rather than a mix that chains likely use, that are likely sweeter.
We had a difficult time matching the varieties of tea to the caps, as we couldn't always match the colors to the varieties. We do wish the caps were better labeled. We also felt Chime was rather loud when it was brewing, especially compared to Keurig's we've tested. The unit is also big, and did require substantial counter space.
Regarding connectivity, our smartphone linked easily with Chime, and setting up the app was easy and fast. You do need to be within Bluetooth range (30 meters) to connect to your Chime via your smartphone, you also can't get a cup brewing in advance remotely as you have to use milk. There also currently isn't a timer — although the company is looking to add this — so setting this up at night, to have a cup of chai in the morning is not something you can do right now.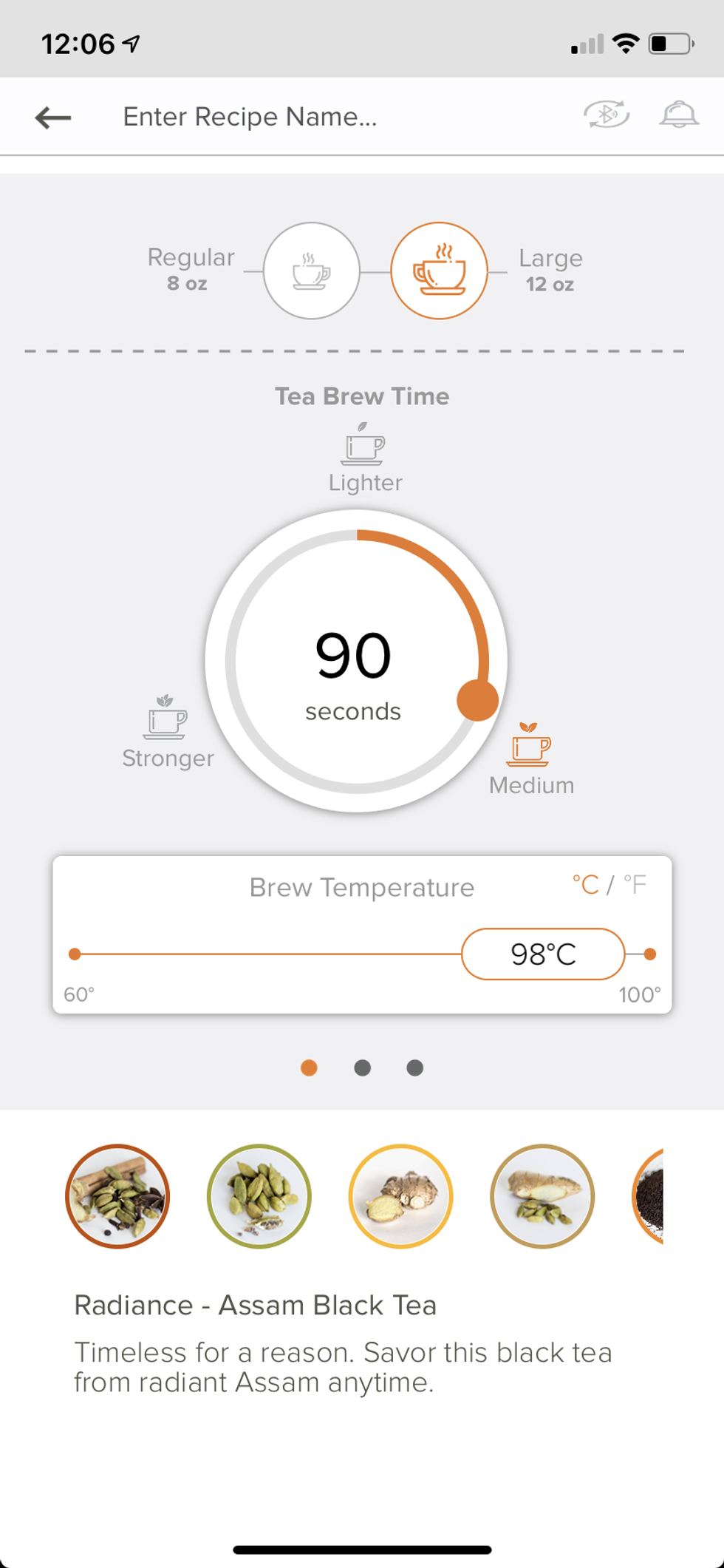 Chime mobile app connects to your Chime via Bluetooth connection.GearBrain
Summary

Chime is the first smart device we've seen to help you brew chai tea or even regular tea. However, you'd better have a lot of counter space and height from counter to cabinets to store your Chime, as it's wider and taller than other coffee makers we've seen like those from Keurig.
We also found the cost of the Chime to be rather high. The most expensive smart coffee makers are around $150-$175. Plus Chime's pods are on the expensive side, priced at about $10 to $12 for 10, as compared to a pack of 24 coffee pods you can pick up for $15.
If you are a chai tea lover — and have room for this smart appliance — Chime may be a fun device for your home, using fresh spices and milk to make your customized cup of chai tea.
Pros
Control and easily share recipes
Nice variety of chai teas
Easy to use, and comes with cleaning modes
Cons
Size of the unit
Brewing mode can be loud
Cost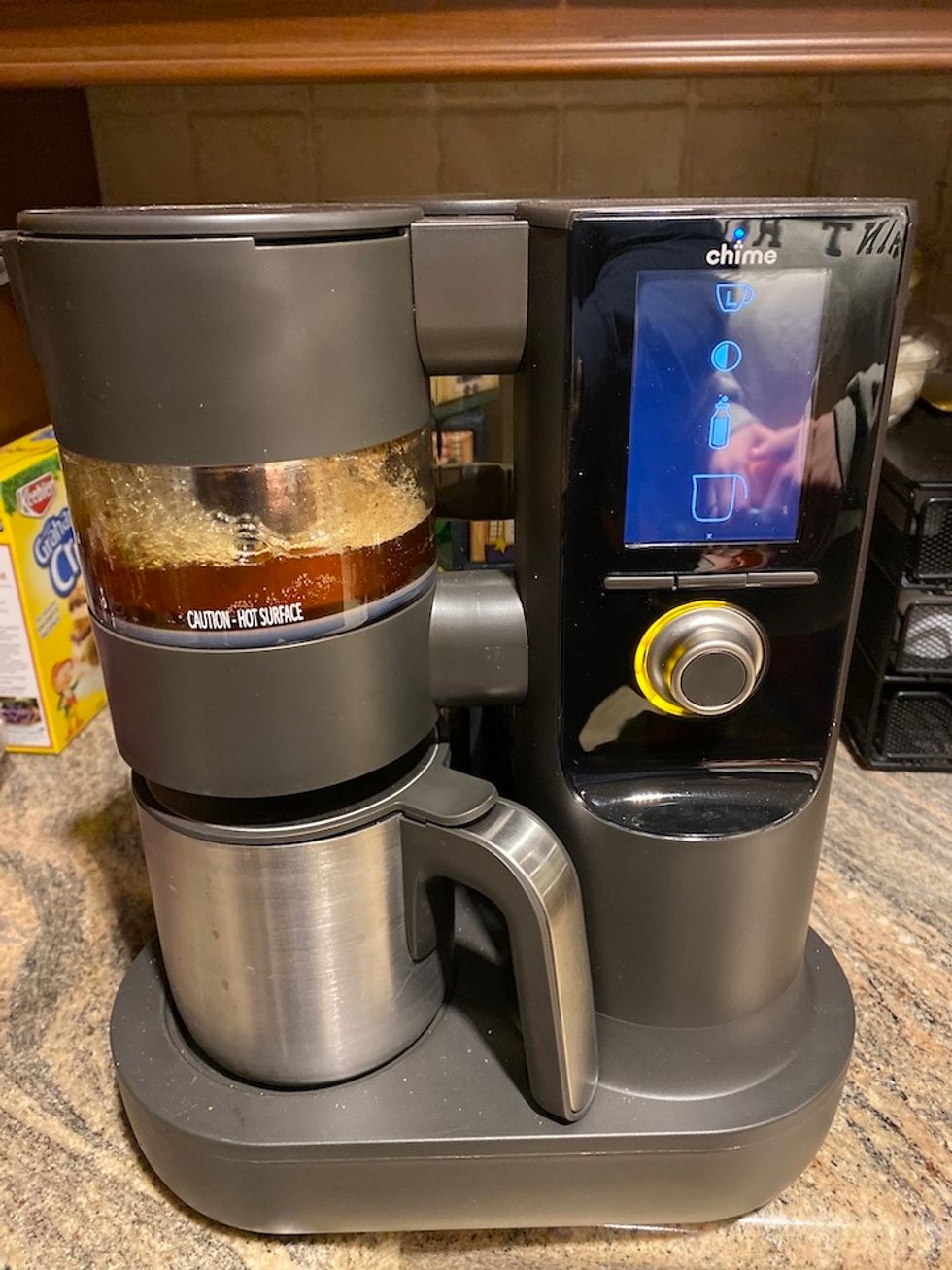 ChimeBrew brewing chai tea GearBrain