With smart speakers, lights, vacuums, cameras, thermostats, flower pots, kitchen devices, doorbells, and security cameras the average household has dozens of devices constantly accessing Wi-Fi networks. But while Wi-Fi allows data to flow freely like water, it also provides a handy access point for digital break-ins from malware and hackers — with valuable data and information at stake.
That's why Comcast is launching a security service as part of its Xfinity xFi TV bundle called xFi Advanced Security to 15 million homes on Tuesday. The service uses artificial intelligence provided by Cujo AI to monitor Wi-Fi traffic in the home and stop suspicious activity in real time.
"As the digital world gets more complex, we wanted to make it simple and easy for our customers to protect their home networks," said Fraser Stirling, Senior Vice President of Digital Home, Devices and AI, Comcast Cable.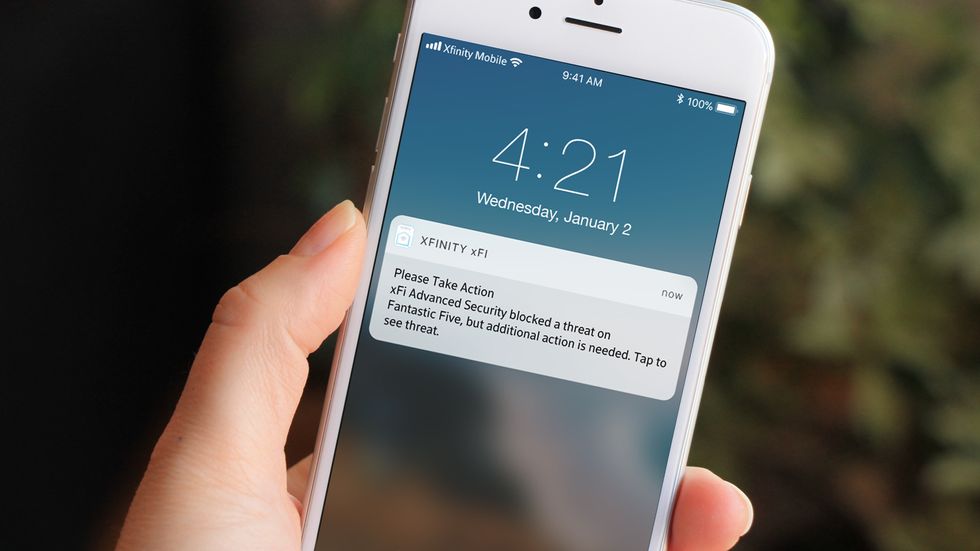 The new xFi Advanced Security will automatically block activity that looks suspiciousComcast
Cisco estimates that by 2020 there will be more than 13 connected devices per person in North America, many of which with dubious onboard security and many with no screens of their own to monitor. Meanwhile, attacks against internet-of-things devices exploded 600 percent according Symantec.

Just last week hackers exploited router vulnerabilities to take control of an estimated 72,000 Google Chromecast devices, and forced them to play PewDiePie videos. While that sounds like a nightmare, those folks got off relatively easy.
Comcast is adding the security as part of its Xfinity xFi smart Wifi network system that gives users a dashboard to monitor who's doing what online as well as set limits on the time and types of content that can be accessed. It's a handy edition for families, and the "dinner time" button that pauses all devices is a handy feature.
At the end of the day, cable companies like Comcast are facing a lot of competition in broadband providers and streaming services, and pricing pressure from cord-cutters who opt out of the profitable TV-phone-broadband bundle to cobble together their own systems. They'll offer xFi Advanced Security as a $5.99 per month add-on for some subscribers, and as part of the package for others.
So Comcast and other cable providers are trying to offer a better internet — and give you more reasons to stay inside the profitable bundle.