Like GearBrain on Facebook
Comcast customers now have an easier way to check in on their pets at home through a special filter designed for the Xfinity home security camera. Using artificial intelligence (AI), the camera reads through video recorded by the device, to hone in and specifically pull up pet footage.
That's a plus for pet owners, as two out of three use a camera to check in on their pets every day, with almost half — 44 percent — check in more than four time a day.
Read More:
While nearly 75 percent check on pets through their cameras while on vacation, more than one-third also tap into their footage while on work. Further, 94 percent admit that checking in on how their animals are doing is one of the best parts of their day, according to a Comcast survey of 1,000 adults ages 18 and older.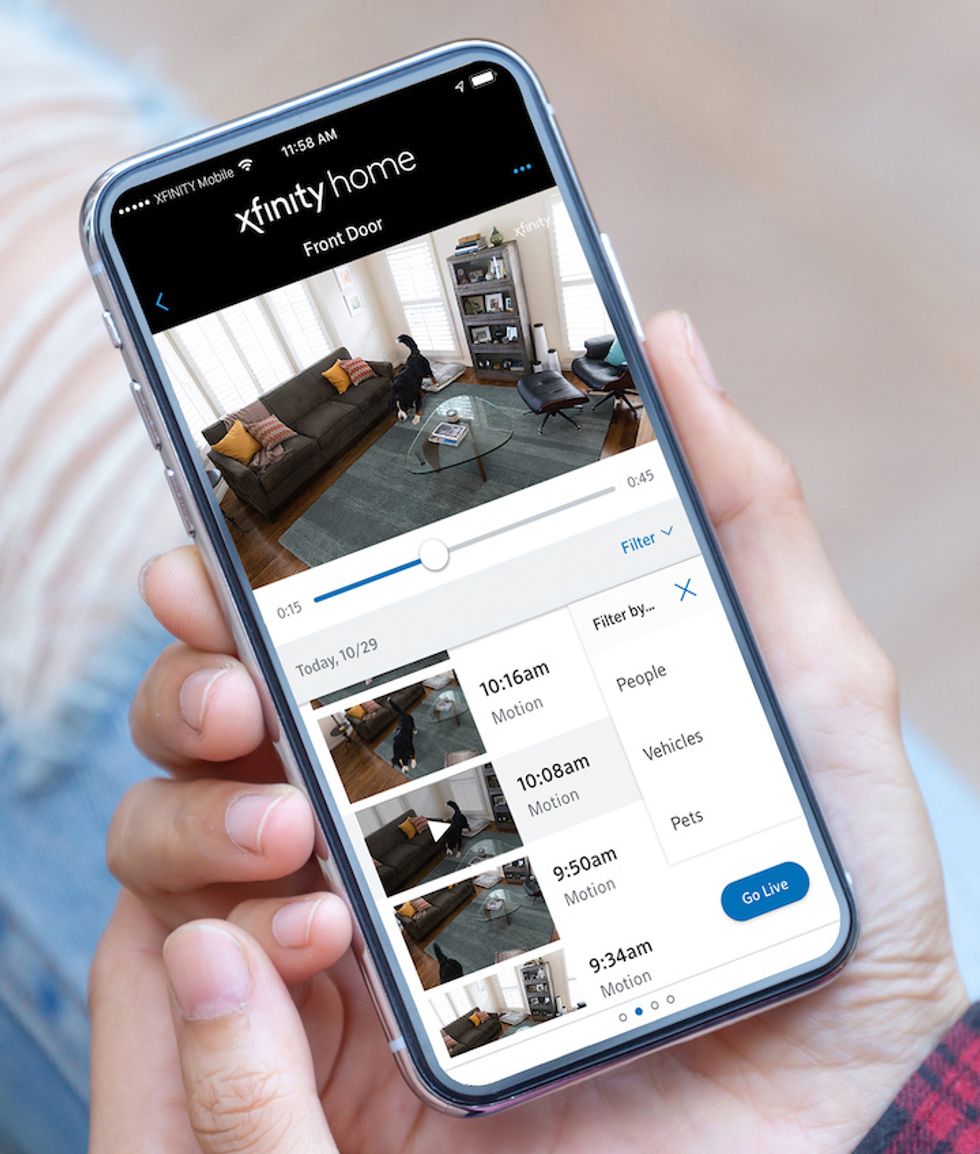 Comcast
How much do people love their pets? Two-thirds actually said that it was more of a hassle to search hours of video clips just to find their pets than not even having that option if they only had a live feed. And four out of five — 80 percent — say they share video clips of their pets on social media.
Comcast built the feature by viewing hundreds of thousands of home security camera clips that were donated by the company's employee testers. The goal? Create an algorithm that could detect a pet — even as it was racing across a living room floor — and know it was different from a person.
"Detecting a dog photographed from five feet away, standing still in perfect lighting isn't the same as detecting one running across the backyard 30 feet away, and we needed an algorithm that could do both – so the cameras could reliably spot … Spot," said Matt Zelesko, Comcast chief technology officer.
For those who don't have a Xfinity Camera, but are Xfinity Internet or Home customers, they can buy the device, and then opt-in to the continuous video recording option. That feature allows them to pull up seven to 10 days of video history (the market determines how long they have access to the history) and then create a smart thumbnail of their pet and view it later. It's just the latest update to the camera which last year got an update which detects movement shifts in cars, vehicles and now pets.
"We developed this feature to help our customers quickly filter motion-triggered events by people, vehicles, or pets because we wanted to bring them the video clips that matter most even faster," said Dennis Mathew, Vice President and General Manager of Comcast's Xfinity Home in a statement. "It's an intelligent home security solution that enables our customers to easily check in on their loved ones from anywhere, anytime."
From Your Site Articles
Related Articles Around the Web
Like GearBrain on Facebook