As anyone who has lost important files to a corrupted hard drive will attest, creating backups is a crucial part of modern computing. And while photos and messages from our smartphones are regularly backed up to the cloud, making a physical backup is still highly recommended, especially for professionals working with digital files.
Read More:
Before thinking all backup drives are broadly the same, note that there is a wide range of options to consider, each with different features, designs and prices. At their simplest, these devices are used to make a copy of everything created and saved on a computer, whether it be written documents, presentations, images, videos, or anything else.
Mac users can plug in any large external drive and use it with Apple's own Time Machine software, while Windows users can set up Windows File History, or pick from a range of third-party backup services. Genie Timeline, CrashPlan and Veeam are popular options to consider if you are a Windows 10 user.
Why create a physical backup?

With series like iCloud and DropBox, there is less need than ever to worry about creating physical backups of files. But what if you decide to shift from one of these services, or if a service is bought, goes out of business, or is the victim of a hack? In those situations having a personal backup is a safer bet.
It is also much quicker to restore large files (or large quantities of files) from a hard drive attached to a computer with a cable, than to download everything from a cloud-based backup service. And of course, there is no monthly charge for creating a personal backup.

Backup drives also act as useful places to dump large amounts of data if a computer is getting full. Say someone wants to clean up a USB stick or a camera's SD card, but doesn't have time to go through everything and pick what to save and what to delete. Dropping its entire contents into a new folder on a backup drive, then coming back to it later, is very simple, and quicker than uploading it all to the cloud.
Hard disc drive or solid state drive?

Generally speaking, there are two types of backup drive to consider. These are both described as 'external' as they plug into a computer with a cable instead of fitting inside it. The two options are a hard disc drive (HDD), and a solid state drive (SSD).
The former stores data on a spinning disc inside the drive's housing. These drives offer more storage for less money, but are slower than solid state drives (which contain no moving parts), and are more susceptible to data loss due to damage caused by knocking or dropping the drive, especially while it is in use.
Although more expensive per gigabyte or terabyte, solid state drives are generally seen as more reliable, tougher, and faster.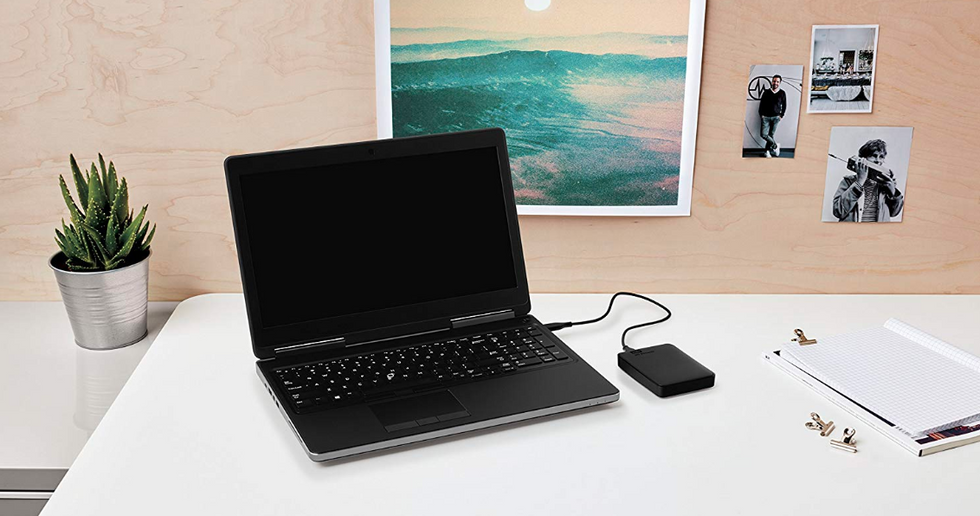 Western Digital
Connectivity options

The simplest backup drive may offer just a single USB-A port for connecting to your computer or laptop. This is generally fine, as backups don't need to be done quickly (they can be set to take place in the background while you works on something else), but when it comes to retrieving data, a USB-A port is fairly slow.
Most drives offer USB 2.0, while higher performance drives have USB 3.0 for faster data transfer speeds. USB-C is faster still, but your computer also needs a USB-C port to take advantage of the extra speed on offer.
Some of the larger external drives need plugging into a wall outlet for power, but for many this is no longer the case as they can draw enough power from their USB connection.
Is wireless worth it?
A wireless backup drive is also worth considering, like the Western Digital My Passport Wireless Pro. This backup drive contains a 6,400 mAh battery and Wi-Fi, so it can be taken out on the road, keeping a laptop backed up, completely wirelessly. Naturally, backing up this way is slower than using a cable, but for tablet users this can make for a practical, cable-free compromise.
Expect to pay a hefty premium for wireless backups, with Western Digital (one of the largest and most trusted makers of hard drives) charging roughly the same for a 2TB wireless drive ($135) as it does for an 8TB wired alternative.
Durability and portability

If you are buying a backup drive to sit next to your computer and never move, then durability shouldn't be a primary concern. However, there's a huge market for portable drives that are designed to shrug off a tougher life. These are generally larger and heavier than their office-dwelling relatives, but their rubberized cases mean they can survive being used out in the field (or taken to the cafe in a backpack). If you plan to move the drive around often, perhaps in a bag, you shouldn't definitely look at a solid-state drive (SSD) instead of a hard disc drive (HDD), as the former has none of the fragile moving parts found inside the latter.
What size is best?

This refers to both the physical size of the backup drive, and also how much storage space it offers. With hard disc drives, there is a close correlation between the amount of storage and the size (and price) of the device. With SSDs, more storage can be packed into less space, but the price is higher.
As a general rule of thumb, purchase as much storage as you can afford. The fastest SSDs (like the highly-regarded Samsung T5) start at 500GB for around $90, which is the minimum space we would suggest anyone buys.
Meanwhile, larger consumer-grade HDDs head north of 4TB pretty quickly, and a 8TB drive from Seagate starts at around $145. Anyone who has bought a backup drive before will see just how quickly prices have fallen — and storage space has increased — in just a handful of years.
Generally speaking, we would say that a drive with 2TB to 4TB is plenty large enough for most average users. For those who work with video or large Photoshop files for a living, then of course you'll want more space — and perhaps a professional-grade raid array for extra reassurance and multiple backups of every file.
That said, for those who want a fast and compact option but don't need masses of storage, Samsung's T5 is available with 1TB of storage for $120 (down from $250 a couple of years ago), or 2TB costs $215 at Amazon, down from the $280 list price, which itself was over $400 just a couple of years ago
Ultimately we would say that, while the SSDs offer huge speed and compact size, they are still too expensive for many consumers to consider for now. For those who need to transfer files quickly for work (like photos or video) then drives like the Samsung T5 make a lot of sense. But backup drives don't need to be all that fast, and they don't need to be portable, as they will spend most of their life on your desk, probably hidden from sight, quietly backing up.
For now, we think your money should go on a circa 8TB HDD from the likes of Seagate, Western Digital, SanDisk, or Toshiba.
Options to consider

With all of that in mind, here are some backup drives to consider in 2021:
Western Digital 2TB Elements Portable Hard Drive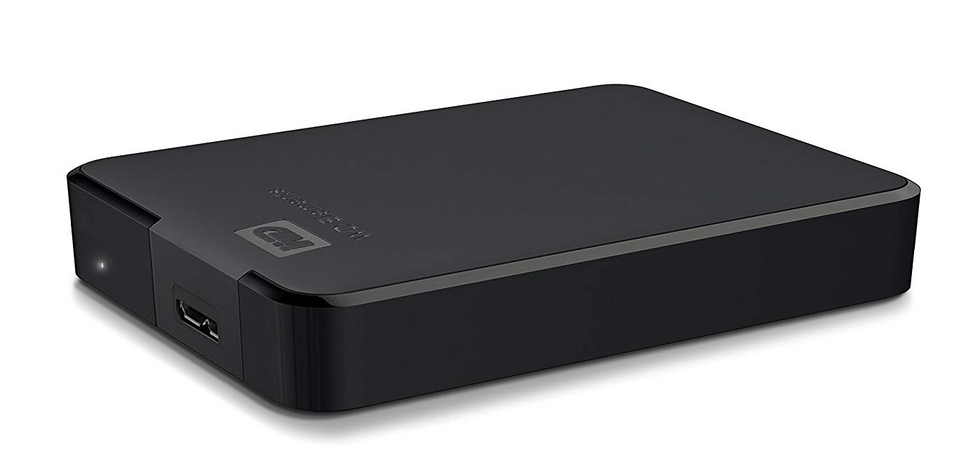 The Elements drive offers good value with 2TB for $60Western Digital
This hard drive is around the size of a deck of cards and is powered by a USB 2.0 or 3.0 connection to a computer. There is no backup software or encryption software included, so all someone is getting is a large pocket-size drive to do with whatever they'd like.
Larger 3TB and 4TB options are priced at $80 and $100.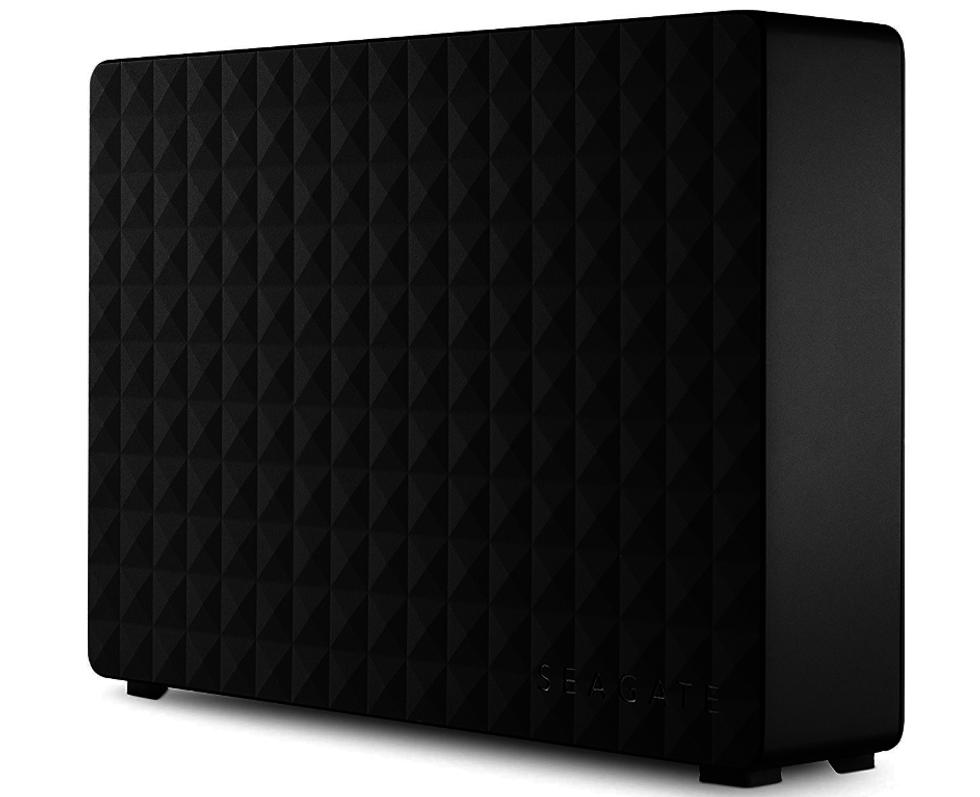 The Expansion offers 8TB of storage for $140Seagate
The Expansion Desktop by Seagate can be bought with between 3TB and 10TB of storage. It connects via USB 3.0 but also requires plugging into a wall outlet with the included 18-inch power cable.
The drive is designed to work primarily with Windows, but can also work with Mac once it has been formatted — something that can be done with the Disk Utility app on a Mac.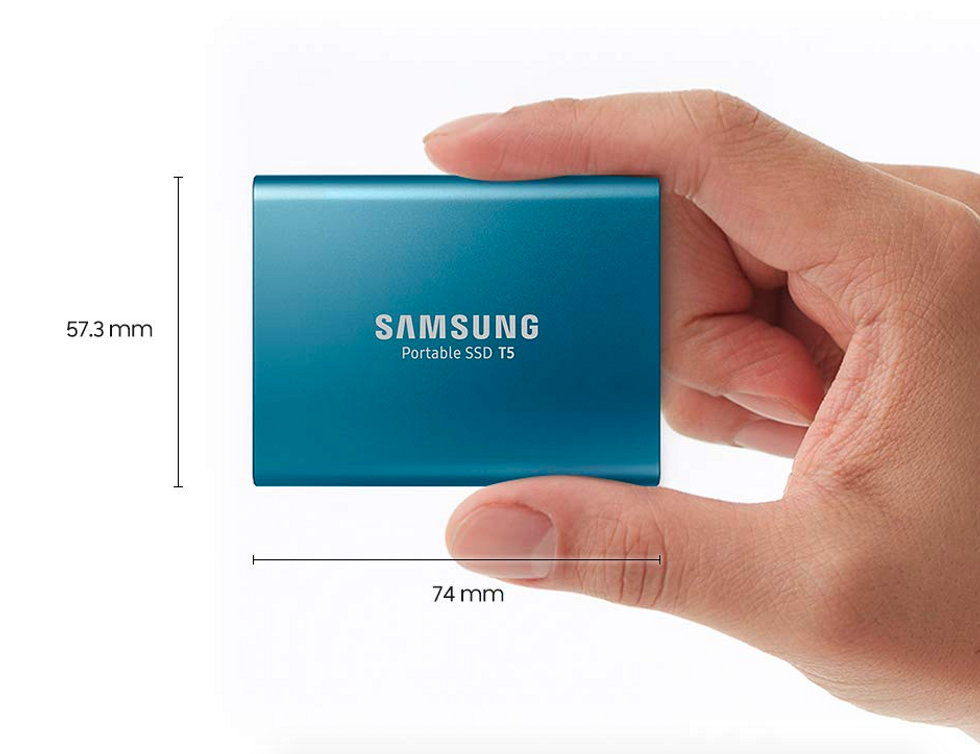 Tiny but pricey, the Samsung T5 offers 2TB for $215Samsung
If speed and portability is what someone needs, then the Samsung T5 certainly delivers. Being a solid state drive, data can be transferred to and from the T5 around four to five times faster than an equivalent hard drive drive.
The T5 is available with 500GB, 1TB or 2TB, and color options include blue, gold, red and black. The drive is designed to work with Windows, Mac and even Android devices running version 4.4 or higher.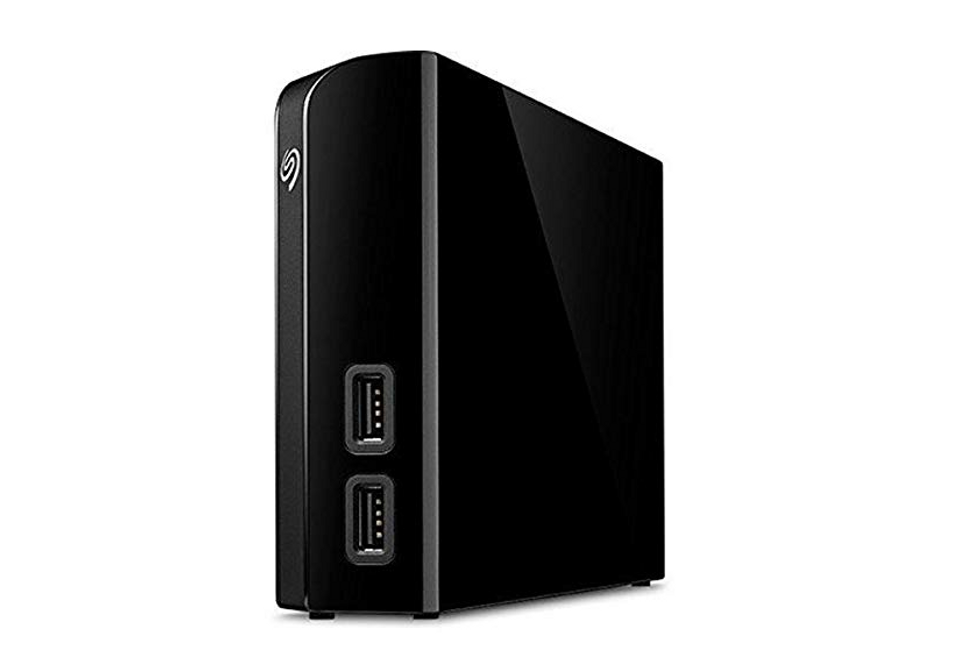 The Backup Plus Hub has two USB ports on its front for data transfer and charging devices like smartphonesSeagate
Seagate's Backup Plus Hub is available with 4, 6, 8 or 10TB of storage, and includes a pair of USB 3.0 ports. That way, someone can plug the drive into a computer for backups, but also connect a smartphone for charging, or a USB thumb drive or camera for transferring data onto the drive.
The drive is configured to work with both Windows and Mac, and is powered from a wall outlet with an included cable. A 10TB version is priced at just $205, which is excellent value for money.
Western Digital My Passport Wireless Pro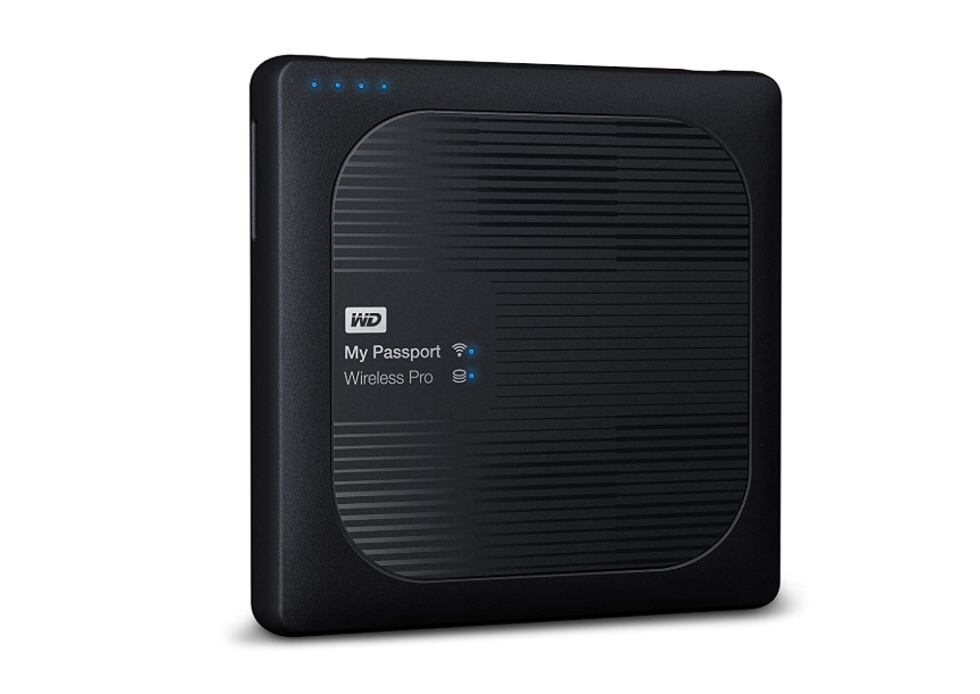 This drive is wireless and includes an internal batteryWestern Digital
This hard drive offers wireless backups and data transfer with a direct Wi-Fi connection between it and a device, plus an SD card slot.
The drive also has its own battery which is claimed to offer 10 hours of life on a charge — that way, a photographer could take it out for a day's work and back up to it without needing a computer or a power supply.
The 6,400mAh battery can also be used to charge a USB device, and there's a microUSB port for connecting other devices like video cameras.
If someone needs a quick and simple way to back up data while on the road — from a camera, for example — then this drive is a good, flexible option.
Western Digital My Password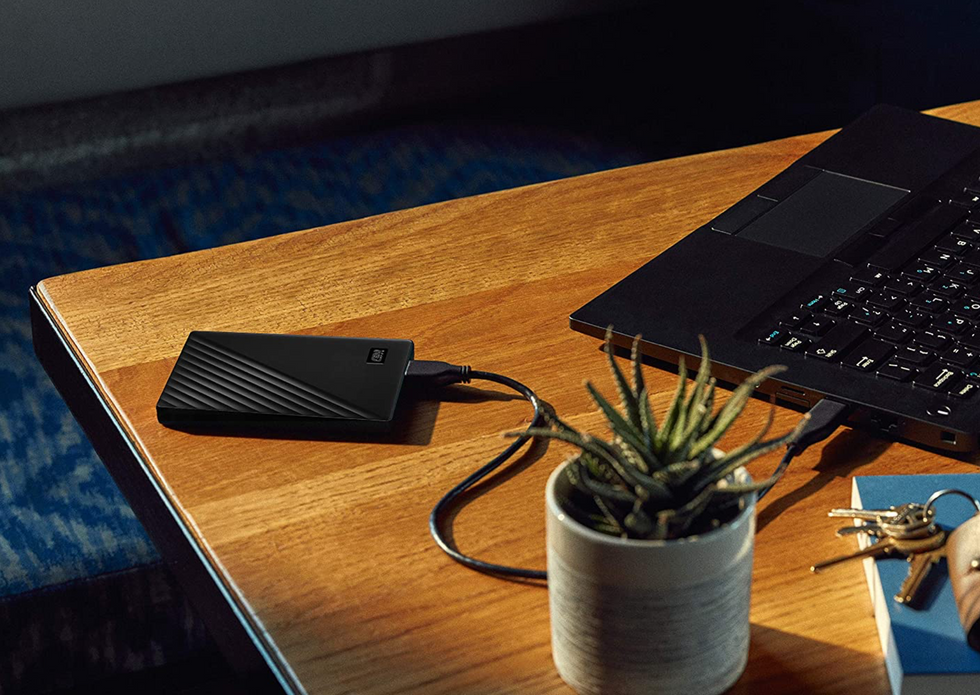 The My Passport portable hard drive by Western DigitalWestern Digital
Perhaps the gold standard of portable hard drives, the My Passport by Western Digital has been around for many years. The latest generation offers storage options one 1TB, 2TB, 4TB and 5TB, with their respective prices being $50, $63, $90 and $109. These really are great value for money, and they are even available in three colors of black, blue and red – which is less of a gimmick than you might think, as different colors makes drives easy to identify if you have several.