The newest digital tablet from the Oslo, Norway-based reMarkable is thinner, works longer, has double the RAM and uses E ink. This is the second generation of the digital tablet, the first launching in 2017.
Digital writing tablets are available from companies including Rocketbaok, turning anything written on their surface into digitized versions which can stored online, in a cloud or shared among others. Other companies, like Moleskine, have ways to transfer hand-written notes on paper into digital formats.
The new reMarkable 2 is — according to the company — the world's thinnest of these digital devices, hitting 4.7 mm or .19 inches deep. It's also faster than the first tablet — with just 21 ms of latency compared to about 40 ms for the original version. You'll operate it on Wi-Fi and it supports dual-bands, both 2.4 GHz and 5 GHz.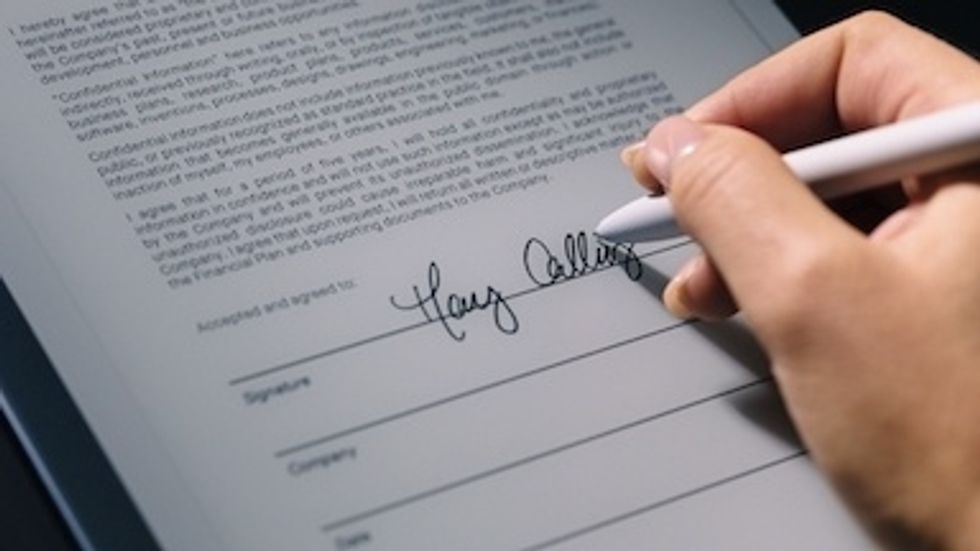 A larger battery holds a charge on the reMarkable 2 digital tablet for up to two weeksreMarkable
The tablet runs on a 3000 mAh battery, charged through a USB-C cable, which will keep it powered for about two weeks, but that includes 90 days of standby time. The tablet works by changing handwritten script and writing into text which canteen be shared. And the company also has its own cloud service, which can be tapped for accessing these notes from both desktop and mobile devices.

The reMarkable 2 can also be used a digital reader through a Google Chrome plug-in, making articles online more easy to read. Each device has 8 GB of internal storage, able to hold about 100,000 digital pages.
Available for pre-order now for $399, the reMarkable 2 will start shipping in June 2020. There are add-ons that can be added to pre-orders now as a bundle or can be purchased separately after the tablet starts shipping in June.
A $49 Marker and a $69 Folio, a cover or sleeve for the device, is included in every pre-order placed, but both can be bought on its own later this year. Additional accessories include a Marker Plus is $99, which has a built-in eraser at its end, and a $99 Book Folio, which is a cover that attaches to the digital tablet, but flips open so the reMarkable 2 can be used at the same time.