Like GearBrain on Facebook
Alexa has a useful feature where it can keep you updated on the delivery status of your Amazon orders.
However, this also means Alexa could reveal the names of items bought as gifts in the run-up to the holiday season. In the worst case, someone in your household could easily ask Alexa about upcoming deliveries, and the assistant would unwittingly reveal what's on the way.
Thankfully, there is an easy way to switch this off. Just follow these instructions:
Open the Alexa smartphone app
Tap on More in the lower-right corner
Tap on Settings, then Notifications, then Amazon Shopping
On this page you will be shown all of the ways Alexa can help out with information about your Amazon deliveries. With everything switched on, the voice assistant will speak up to say when items are out for delivery, and when they have been delivered. Alexa can also be set to read out recommendations and deals.
With these settings switched on, asking the assistant: "Where is my stuff?" will have Alexa say what items are on their way.
To switch this off, look at the 'say or show item titles' section at the top of this screen of the Alexa app. Turn the first toggle switch off to stop Alexa from speaking out about any items ordered from your Amazon account.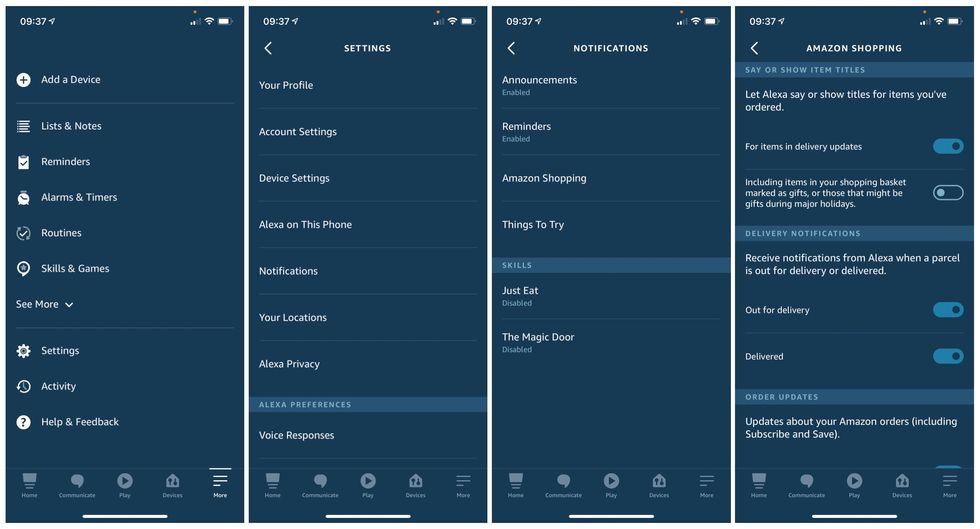 Disabling Alexa's Amazon delivery notificationsGearBrain
Or, turn off only the second toggle switch to prevent Alexa from giving updates on items you have bought and specifically marked as gifts, or which Alexa thinks are intended as gifts, and which have been bought in the run-up to major annual holidays (not just Christmas).

Changes made here will affect the Alexa of every device your Amazon account is logged into, so if you manage an Echo smart speaker in the kids' room, it's an easy way to make sure Alexa keeps your deliveries private. Instead when anyone asks "Where is my stuff?", Alexa will give the expected delivery date for your orders, but will not say what the item is.
In previous years Amazon has enabled this setting by default in December, but those who have already started shopping for gifts (especially with Black Friday just around the corner) will want to switch it on manually.
We would hope that Alexa is smart enough to spot the difference between gifts and regular orders, even if they aren't marked as gifts by the buyer. But if you are concerned that the assistant might still give the game away, we recommend switching off the 'for items in delivery updates' function until all of your gifts have been delivered. You can also check on their delivery status on the Amazon website or through the Amazon shopping app.
Check out The GearBrain, our
smart home compatibility checker
to see the other compatible products that work with
Amazon Alexa enabled devices.
All-new Echo Dot (4th Gen) | Smart speaker with Alexa | Charcoal
See How Amazon Alexa Can Save You Money on Your Grocery Bill www.youtube.com
From Your Site Articles
Related Articles Around the Web
Like GearBrain on Facebook