Like GearBrain on Facebook
Amazon Echo smart speaker owners are familiar with the blue light ring, signifying when Alexa is listening, speaking and thinking. But what about when the ring turns yellow?
If the Echo Dot starts displaying a yellow light throughout the day, it's not a bug, or a sign that Alexa is listening when it shouldn't — it's actually a tip that there's a notification or a message waiting. To retrieve them, though, you'll have to ask.
Read More:
Unfortunately, the same yellow light is used for both notifications and messages. If the Echo is illuminated, and you ask "Alexa, what are my messages?" the assistant might reply there are none. But if the light is still lit, you'll need to ask specifically about notifications, which is likely what's waiting for you.

These notifications are linked to your Amazon buying history. Alexa will inform you, for example, on the day something you have ordered is due to arrive, and still send the email Amazon pushes out stating exactly the same information.
Yes, we admit, this is one of Alexa's less useful skills. We also found Amazon switching on this feature, at random, wasn't the smoothest approach to take, as it left us wondering if the yellow light meant the Echo was malfunctioning.
Initially we thought the yellow light indicated a network error or a problem requiring our attention. A spinning yellow light — as opposed to a solid one — does indeed mean the Echo is trying to reconnect to Wi-Fi, a sign of a fault or incorrect password.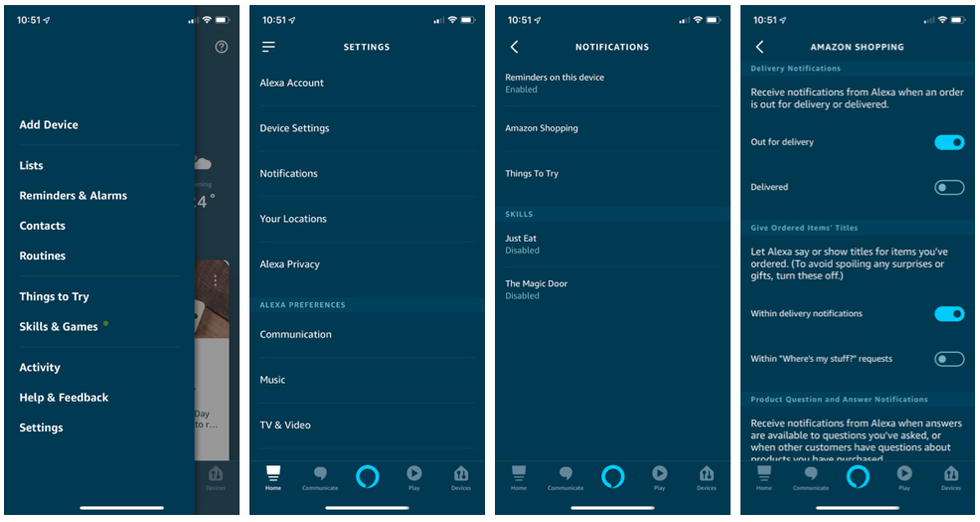 How to switch off Alexa's Amazon delivery notificationsGearBrain
Asking Alexa to read out the notification, the assistant will say more than when a next package is due to arrive, but also what it contains. When the holiday season arrives, this feature is something worth noting — you'll want to be careful if a package includes a surprise gift for someone in your home as Alexa will happily give away the contents of your Amazon orders to anyone who asks: "Alexa, where's my stuff?"

How to switch off the Alexa yellow ring notification
If you don't want Alexa constantly reminding you of Amazon deliveries through the Echo device— or you don't want your children finding out about presents ordered — you can switch each of these features off in the Alexa smartphone app.
To do this, follow these instructions:
Open the Alexa smartphone app
Tap the menu icon in the top-left corner
Tap on Settings
Tap on Notifications, then Amazon Shopping
On this page you can switch off the 'out for delivery' Alexa notification, as well as the notification for when an Amazon delivery has been completed. Further down the page, you also can stop Alexa from revealing the contents of an order when asked about their delivery status — handy to avoid spoiling those surprise gifts.
Check out The GearBrain, our
smart home compatibility checker
to see the other compatible products that work with
Amazon Alexa enabled devices.
See How Amazon Alexa Can Save You Money on Your Grocery Bill www.youtube.com
From Your Site Articles
Related Articles Around the Web
Like GearBrain on Facebook