Ever wonder what it's like to interact with your favorite Disney cartoon characters? Well, look no further than Magic Bench, an augmented reality project from Disney that lets you see virtual creatures without a headset or device.
The Magic Bench incorporates both mixed and augmented reality to create an immersive experience where the user can play with a computer-generated character. Basically, you sit on a bench and watch the screen in front of you as virtual creatures hang out.
One of the main ideas behind the Magic Bench is to create an augmented reality without the restriction of a headset. Usually, we would have to look out into the world through our phones or a device. With Disney's new creation, you are in a third person POV storyline where you can freely interact.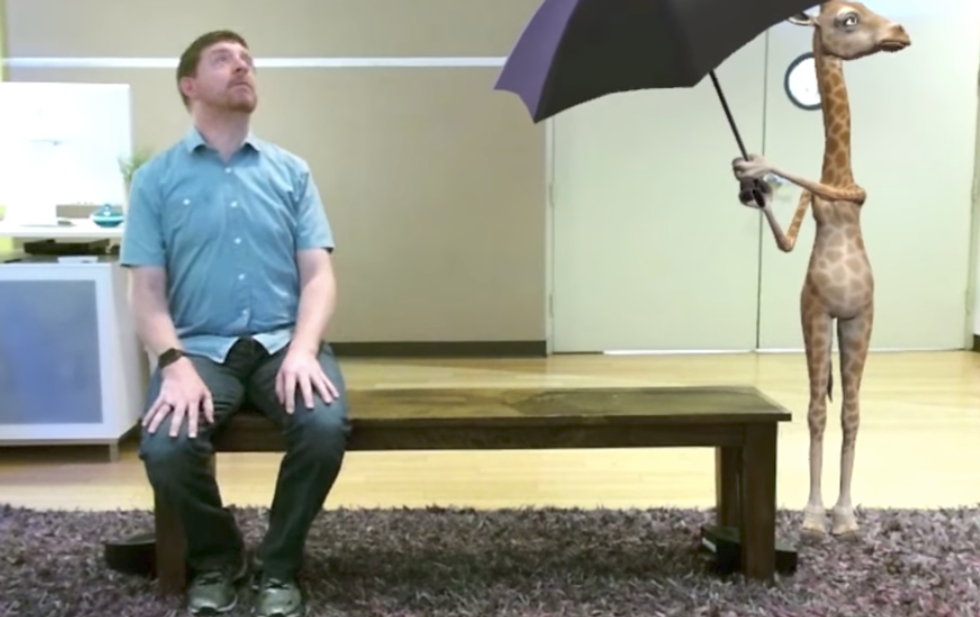 When a giraffe show up with an umbrella in the rain you say 'Thank you.'
Another idea behind the Magic Bench is its lack of need for expensive and bulky equipment — no tablets, smartphones or headsets needed here. Simply walk up to the bench, sit down and wait for a character to approach you.
But it's not just a computer animation you're seeing — users can feel the weight and movements of the character on the bench through haptic actuators and speakers underneath. In Disney's video, users can actually feel raindrops as they fall onto the bench — with the only relief to scramble under a giraffe's umbrella. (Of course.)
The Magic Bench also utilizes color and depth sensors from Kinect device to reconstruct a 3-D image on screen. Since the cameras can't capture spaces behind objects and people, the engineers behind the bench found a way to layer a 2-D image behind the 3-D space, creating a seamless reconstruction of the space in front of them.
Another experience that's worth noting is the elephant with the glowing orb. As a user reaches forward and grabs the orb, the object transfers from the elephant to their hand.
Still, there are limitations to this interactivity. A user reaching over to grab the orb, won't actually feel anything in their hands — which threatens to pull people out of the "magic" of the experience.
Still, the possibilities are really endless. Imagine a Magic Bench in the "Avatar" world or at one of Disney's amusement parks — the potential to bring kids the joy of talking to, and playing with, their favorite characters while also immersing adults in a world of nostalgia.
- GearBrain app reviewer Amber Wang last write about Niantic's augmented reality app Ingress.