U.S. Drone National Qualifier Registration just opened for the next Drone Nationals qualifying race at the Triple Creek RC Club in Florida on June 25th. The Royal Palm Drone Race will be run one day before the LAFPV Drone Nationals Qualifier on June 26—both part of the races leading to the Drone Nationals, August 5th in New York and then to Drone Worlds—October 17 to 22 in Hawaii. Nine U.S. drone pilots already make up the top 25 in the world today. Will you be one of them?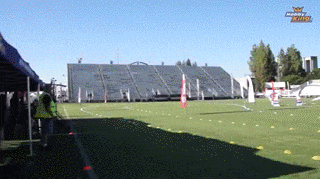 IoT Eyewear Revenue Spike Devices worn over the eyes, like Microsoft HoloLens, are expected to be just 10 percent of wearable shipments in 2020—but a full 40 percent of wearable revenue, says a new report from IDC. The reason? These wearables are priced much higher than others, such as smartwatches, which are far more affordable.

Fast Dallas Google is looking to link the Texas city of Dallas with Google Fiber—the same high-speed Internet connection that the company has brought to Austin and working to bring to San Antonio. Google Fiber is already up an running at five cities in the U.S., including Austin, with six cities on their way.
GM To Autonomous Cars: Thumbs Up GM believes that self-driving cars, as well as car-sharing services, have enormous potential for growth, particularly in cities, and for GM as well. So said GM's North American CFO John Stapleton during a conference in Boston this week. GM has invested in autonomous cars, and also launched a car-sharing service, Moven. (Via The Detroit News)
Businesses Take Flight Want to know how drones can help your company grow? Beyond the buzz around deliveries by drone, industries from real estate to sports franchises are using drones. GearBrain has details on how firms can adopt drones to build their bottom line?