Like GearBrain on Facebook
Drone fix All 16 races of the Drone Racing League (DRL) 2017 season are now on air, starting on ESPN 2 for the next 16 weeks. The first race aired last night, the Semi-Finals in Miami, at the Hard Rock Stadium, with the final race, the 2017 Allianz World Championship Race, in London at the Alexandra Palace, airing July 28 at 10 pm ET on ESPN . (Mark your calendar.) DRL signed Allianz as the its new sponsor earlier this year for the races.
This season will feature 16 drone pilots and more 600 racing drones, and is timed to DRL's recent closing of $20 million in funding, plus the signing of Amazon as another DRL sponsor, as well as Swatch, the U.S. Air Force and Forto Coffee Shots. The full line-up is below.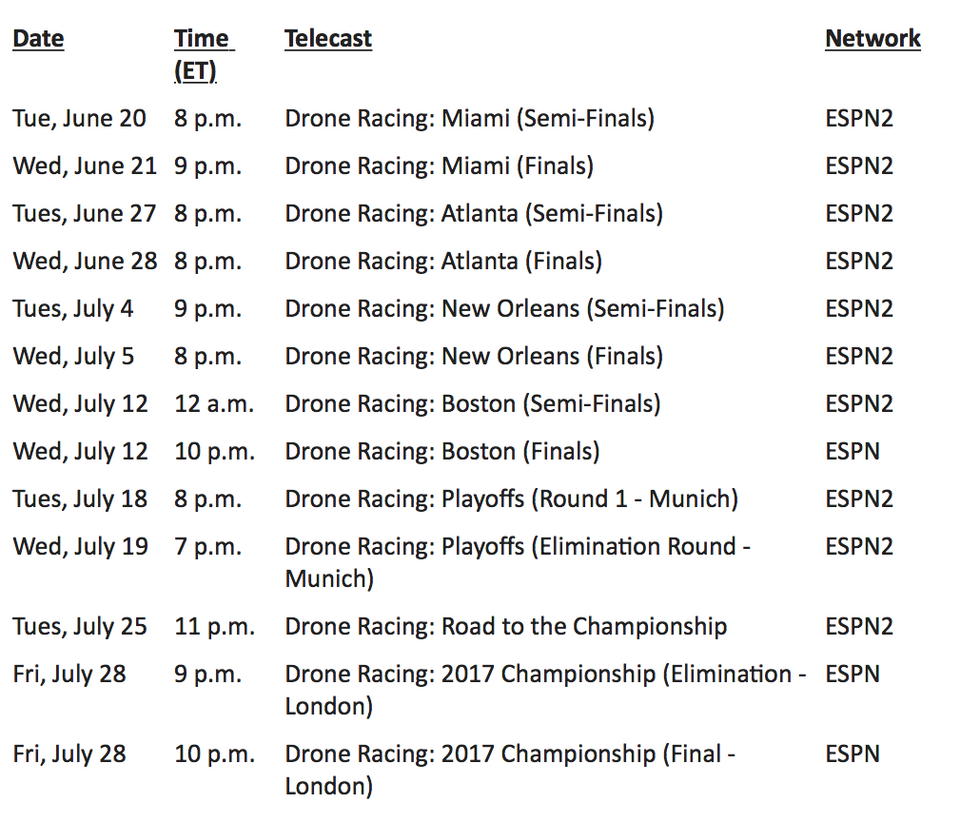 Uber tipping Unlike Lyft, Uber has not allowed riders to tip their drivers in the app. Cash tips—not a problem. But one of the big lures to Uber is the promise of a cash-free experience. But Uber is undergoing a bit of a facelift (in more ways than one) and is now allowing users to add tips to their rides in the app, starting in Houston, Seattle and Minneapolis. The feature will expand to all cities, and all drivers, by the end of July. One negative for riders though is they now have just two minutes to cancel their ride—as opposed to the five minutes they had before.
Robot dog Buying a robot dog is way too easy. Build your own? That's the spirit. We did just that with the help of UBTECH's Jimu BuzzBot & MuttBit Kit. The entire experience was fairly easy and while the finished product never barked, we were able to run a few tricks. Here's the scoop .
Like GearBrain on Facebook