Drones can cause more damage to aircraft than a bird strike — so says a new study from the Federal Aviation Administration (FAA).
At the same weight, and traveling at the same same as birds, a drone "...caused greater structural damage than bird strikes for equivalent impact energy levels (i.e. equal mass and impact velocity)," says the regulator. Takeoff was the most dangerous time as well, because of how fast fans are moving in a plane's engine.
The FAA specifically looked at small unmanned aircraft systems — or sUAS — in its study, to determine how to regulate them as the adoption of these hobbyist vehicles in airspace grows.
Researchers from four U.S. universities spent 12 months looking at more than 180 different simulated scenarios for potential hazards from smaller drones. They worked together through the FAA's Alliance for System Safety of UAS through Research Excellence (ASSURE). The team looked at drone hits at different speeds from 100 to 365 knots, weighting drones and bird alike at 2.68 pounds, 4 pounds and 8 pounds.
""While the effects of bird impacts on airplanes are well documented, little is known about the effects of more rigid and higher mass sUAS on aircraft structures and propulsion systems," says Mississippi State University's Marty Rogers, the Director of ASSURE, in a statement. "The results of this work are critical to the safety of commercial air travel here in the United Statesand around the world."
Smaller quadcopter drones seemed to produce less damage to an engine's fan than fixed wing drones — with batteries, cameras and motors causing the most, noted the study.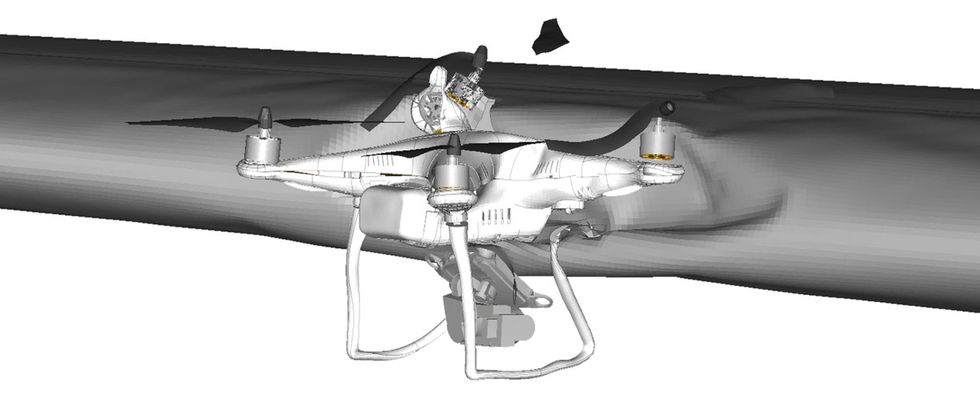 Researchers put drones through 180 simulated scenarios to see the danger they posed to aircraft.ASSURE/FAA
However, drones traveling at low-speeds still produced a danger, noted researchers, with a drone battery lodging in the plane and starting a fire. And even minor damage was considered by ASSURE as it can produce "... a significant economic burden to aircraft operators: due to downtime and repairs."
Companies looking to use drones for their businesses are also concerned about the impact drones might have and the damage they can cause. Amazon, which is currently testing drones in England as a delivery method, just patented a way for the UAVs to potentially self-destruct in mid-air should they detect something malfunctioning. The concern for Amazon, for now though, seems to be about people on the ground rather than other flying vehicles in midair.
More tests are coming from ASSURE — but the group did strongly note that sUAS manufacturers should be adopting geo-fencing or detection technology for all of their drones "...to reduce the probability of potential impacts with other aircraft in the [national airspace]"