Tesla boss Elon Musk claims his company is "very close" to achieving level 5 autonomy, where a vehicle can drive itself in all scenarios with no human involvement.
Theoretical for now, level 5 is the highest level of autonomy and is used to describe a future vehicle that has no conventional controls and can drive on all types of road, in any weather, day and night. The vehicle would simply be told where to go, and navigate itself there with no help whatsoever.
Read More:
Currently, Tesla's Autopilot driver assistance system sits somewhere between level two and three autonomy, as it is capable of controlling the accelerator, brakes and steering, and make lane changes to overtake and follow the navigation system on highways. But it requires constant attention from the driver, and the current version of Autopilot available to the public cannot handle the complex roads of towns and cities.
Speaking in a video message at the opening of Shanghai's annual World Artificial Intelligence Conference on Thursday, Musk said: "I'm extremely confident that level five or essentially complete autonomy will happen and I think it will happen very quickly. I think at Tesla, I feel like we are very close to level five autonomy."
Musk added: "I remain confident that we will have the basic functionality for level five autonomy complete this year. There are no fundamental challenges remaining. There are many small problems, and then there's the challenge of solving all those small problems and putting the whole system together."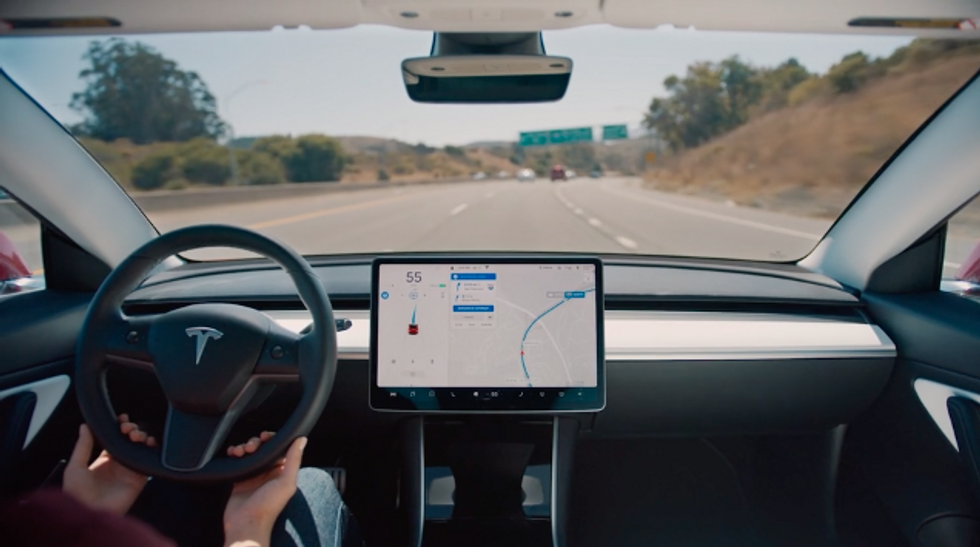 Tesla Autopilot is somewhere between autonomy levels two and three Tesla
The year 2020 has long been held as a target for full autonomy. Numerous technology firms and car manufacturers have over the last decade claimed 2020 would be the year when the self-driving taxi became a reality. However, commitment to this claim has waned in recent years, as automakers come to terms with just how difficult it is to make a truly driverless vehicle.

Musk himself claimed in 2016 that Tesla's Autopilot system would be sophisticated enough to drive itself right across the United States before the end of 2017. This was delayed in 2018, and now seems to be on indefinite hold.
The only firm offering a true driverless experience is Waymo, the Google sibling that is developing autonomous technologies via a self-driving taxi service. Some of its vehicles operating in Phoenix, Arizona pick up passengers with no driver on board, but are restricted to routes they already know well. A level five car should be able to go anywhere, at any time.
It remains to be seen exactly what Musk means by the "basic functionality" of level five autonomy. Musk has previously said he hopes that Tesla cars will one day act as driverless taxis, earning their owners money while they sleep, are on holiday, or at work. Musk first spoke of this taxi service in 2016, then said in 2019 that it would be available from mid-2020, but has said nothing more since.
As ever, no matter how good Tesla's technology is, we are likely still a long way off from fully autonomous cars being legal on public roads nationwide.
Echo Dot (3rd Gen) Charcoal with Echo Auto