Like GearBrain on Facebook
Elon Musk is "full of crap" in claiming Tesla cars made today already have the hardware necessary for full autonomous driving, says General Motors' autonomous vehicle director.
Speaking to Australian media, Scott Miller, who is the director of autonomous vehicle integration at GM, said he has issues with Musk's claim that all new Teslas "already have the hardware needed for a full self-driving capability", which is known in the motoring industry as Level Five autonomy, where a human is not required for any part of the car's journey.
"I think he's full of crap," Miller said, adding: "If you think you can see everything you need for a Level Five autonomous [car] with cameras and radar, I don't know how you do that," reports News.com.au.
Miller's claim is that Tesla cannot see everything around a car, and accurately gauge the speed of approaching vehicles, with just radar and video cameras hooked up to the Tesla's computer.
All Tesla cars, including the Model 3, Model S and Model X, are sold with the hardware required to drive to Level Five standards, Tesla claims. Customers can activate the self-driving system, called Autopilot, when they buy their car. Otherwise the hardware remains inactive. Unlocking Autopilot's current skillset costs $5,000, while another $3,000 will ensure drivers will get Level Five autonomy once it is available.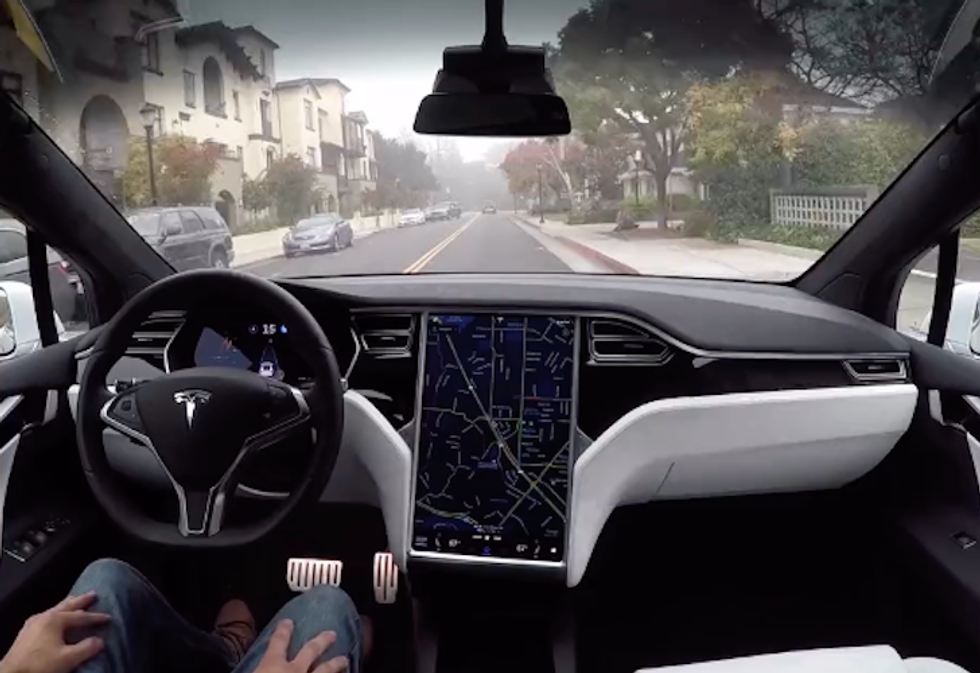 Tesla claims its cars will soon be capable of driving themselves anywhereTesla
Miller believes Lidar, as used by other autonomous cars from Ford, Uber and Google's Waymo division, is a necessity in achieving Level Five, which for all companies remains a theoretical goal for now. Musk claims his cars have the hardware to achieve Level Five, but are waiting on software updates to make it possible.
Lidar works in a similar way to radar, bouncing light from a laser off objects to detect their location. Tesla believes the technology is not needed to achieve full autonomy.
Miller said Musk's claims that current Teslas will one day be able to drive themselves without a human behind the wheel are irresponsible. "We put the customer in the middle of everything; we think it's irresponsible to say [a car can drive fully autonomously] at this point...I think you need the right sensor and the right computer package to do it. We have lidar, radar and camera [on GM test vehicles]. The reason we have that type of sensor package is...to be deeply integrated into Level Five, you should have some redundancies."
Focusing on the Tesla system's lack of redundancies - backup sensors to take over in case one malfunctions and mis-reads traffic - Miller said: "Do you really want to trust one sensor measuring the speed of a car coming into an intersection before you pull out? I think you need some confirmation."
He concluded: "Could you do [Level Five] with what's in the current Model S? I don't think so."
We have contacted Tesla for a comment and will update this story once we receive a reply.
From Your Site Articles
Related Articles Around the Web
Like GearBrain on Facebook