Like GearBrain on Facebook
As useful as Alexa can be around your smart home, there are often times we feel she should say less. For example, we don't need her to say 'Okay' every time she successfully switches on a light or a smart plug.
Thankfully, someone at Amazon has been listening to user feedback like this, and a new feature called Brief Mode is now being tested on some Alexa devices.
The update comes after Amazon has repeatedly changed its mind over whether Alexa should reply with words to simple commands, or not. At first she said 'Okay' when switching on lights, then a few months later this acknowledgment was removed. Some users complained that now they didn't know if Alexa had understood or not, so the 'Okay' returned.
Now, finally, Amazon has created a compromise that will hopefully please all users. When enabled, Brief Mode replaces Alexa's constant 'Okay' response with a beep.
How to enable Alexa Brief Mode
Although Brief Mode hasn't been made available for all Alexa users just yet (I haven't got it on my Echo Dot or Sonos One, but the UK is always late to Amazon's party), you can check, then enable Brief Mode, like this:
Open the Alexa smartphone app
Tap the menu icon in the top left corner
Tap on Settings
Scroll down to the General section
Tap on the new Alexa Voice Responses menu
Switch Brief Mode on or off by tapping the toggle switch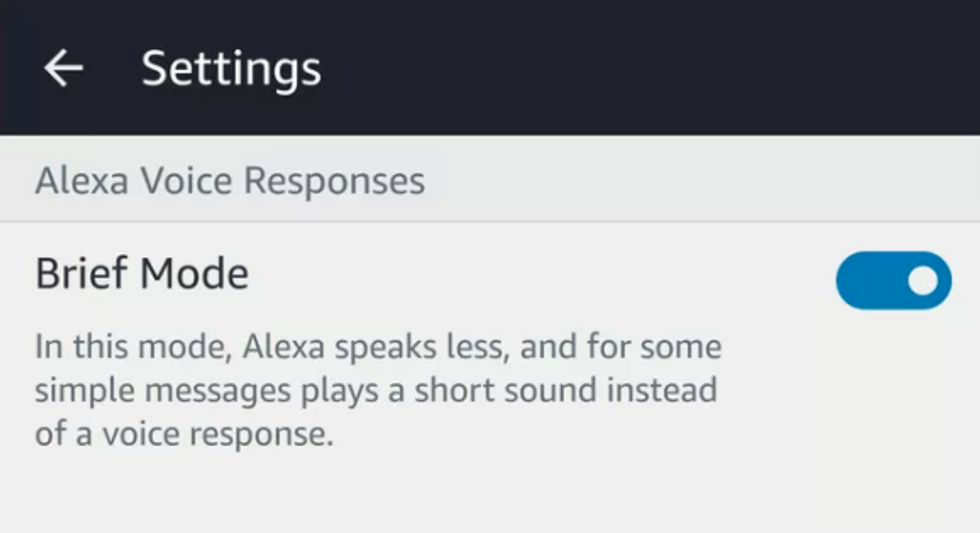 Brief Mode is found on a new settings page called Alexa Voice ResponsesAFTVnews
This will remove the 'Okay' phrase from all of your Alexa devices, replacing the word with a beep.
Hopefully Amazon will add more settings to this feature soon. For example, we'd like to see a way to switch between 'Okay' and a beep at different times of day (a quiet beep at night, for example), and a way to change the setting on each Alexa device individually. A way to pick between 'okay' and beep for different kinds of actions would also be useful.
The way Amazon has created an entire new section — Alexa Voice Responses — for this one setting suggests more options will be added here soon.
We'd also like Google to learn from this. While we feel Google Assistant is better than Alexa, its responses quickly become annoying; for example, when asking Google to switch on a light it will say phrases like "Okay, switching on the kitchen light."
Sometimes less is more.
And don't forget to check out The GearBrain: What works with Amazon Alexa.
Like GearBrain on Facebook