It might seem strange to group smartphone apps by season, but the summer and its warm weather bring up opportunities to install apps you wouldn't use for the rest of the year.
Tracking UV levels for example, or being notified about a high pollen count, local droughts, and what the local surf's like. Summer nights are also the best time to stargaze and look out for the International Space Station - so, yes, there are apps for that too.
Here are some of our favorite summer smartphone apps for iOS and Android: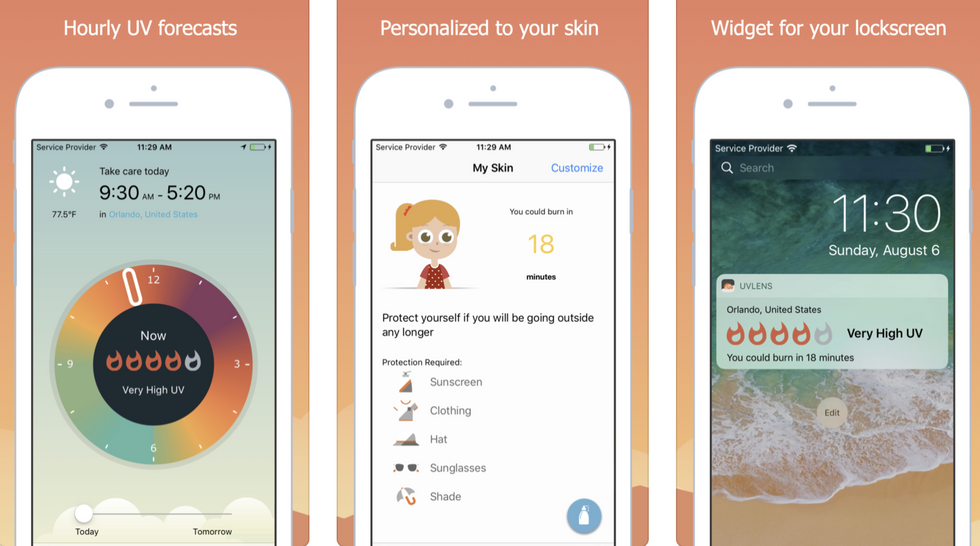 Track sun exposure with UVLens appSpark 64 Ltd
We all know we should apply sunscreen through the summer months, but knowing how much to use, and how often to apply, is often guesswork.
To try and help, the free UVLens app asks you to share details about your complexion — including skin tone, eye and hair color, and amount of freckles — to estimate how often you should apply sunscreen. The app also suggests how many minutes it will take you to burn without any protection, then notifies you to re-apply after you tell it you've used a certain factor of sunscreen.
As well as this, the app displays the current UV strength in your location, and how that will vary through the course of the day and proceeding days.
Read more: These devices say they monitor the UV rays on your skin
Sensio Air, Pollen & Pollution - iOS and Android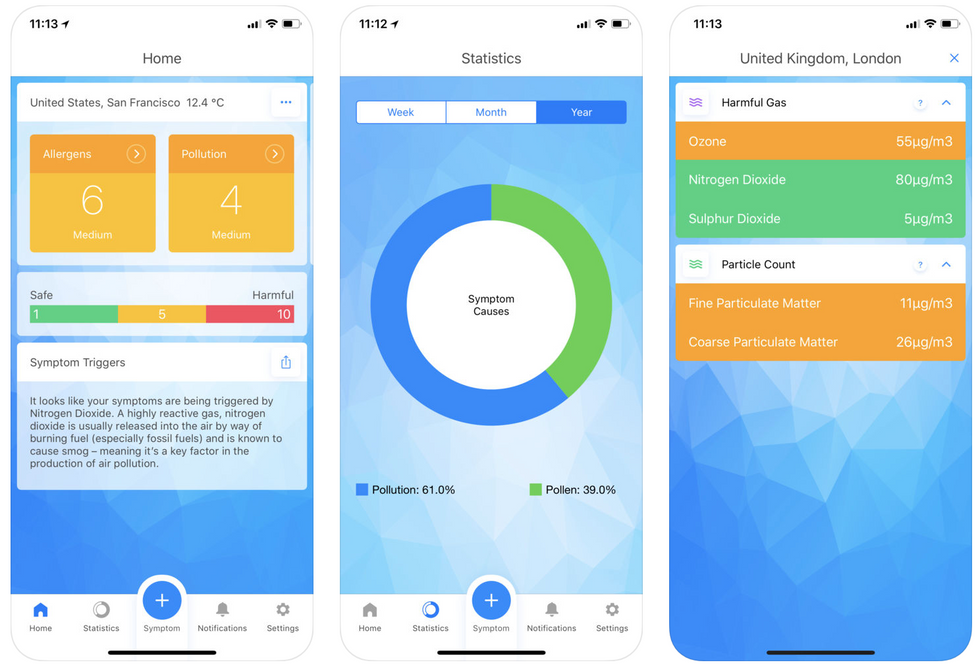 Sensio app helps you read allergens in your areaWLAB Ltd
Not to be confused with a smart home app of the same name, Sensio is an app for tracking local allergens and air pollution. A useful tool for hay fever sufferers, Sensio can be used to log your daily symptoms — itchy eyes, runny nose, sneezing, wheezing etc — and how severe they are. The app then tries to work out what's causing your allergies.
You can add new symptoms at any time, while the app gives a live report of local grass, tree and weed pollen levels, plus gas and particle count pollution. All of these metrics are color-coded from green to red to make reading the data simple.
SkyView Free - iOS and Android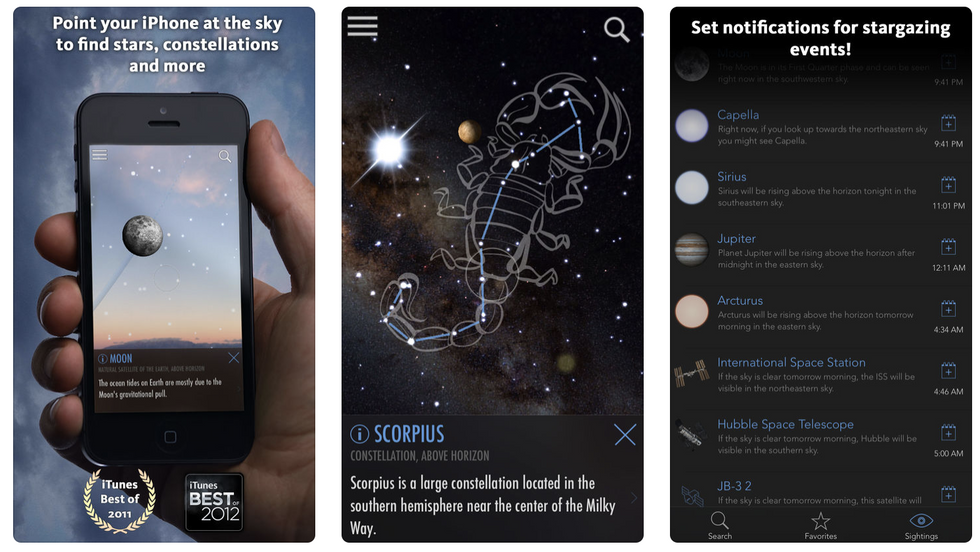 Stargazing is one of the classic summer activities, and apps like SkyView Free can tell you what you're seeing in the night sky.Terminal Eleven LLC
There is a wide range of stargazing apps on both the iOS App Store and Google Play, but SkyView Free is one we have reviewed before here at GearBrain. We awarded the app four stars and praised its great graphics, useful facts and accurate star placement.
As well as stars and constellations, the app shows planets and manmade objects like the Hubble Telescope and International Space Station, and their trajectory through the night sky.
Read More: SkyView Free review
Sunrise Sunset Times - iOS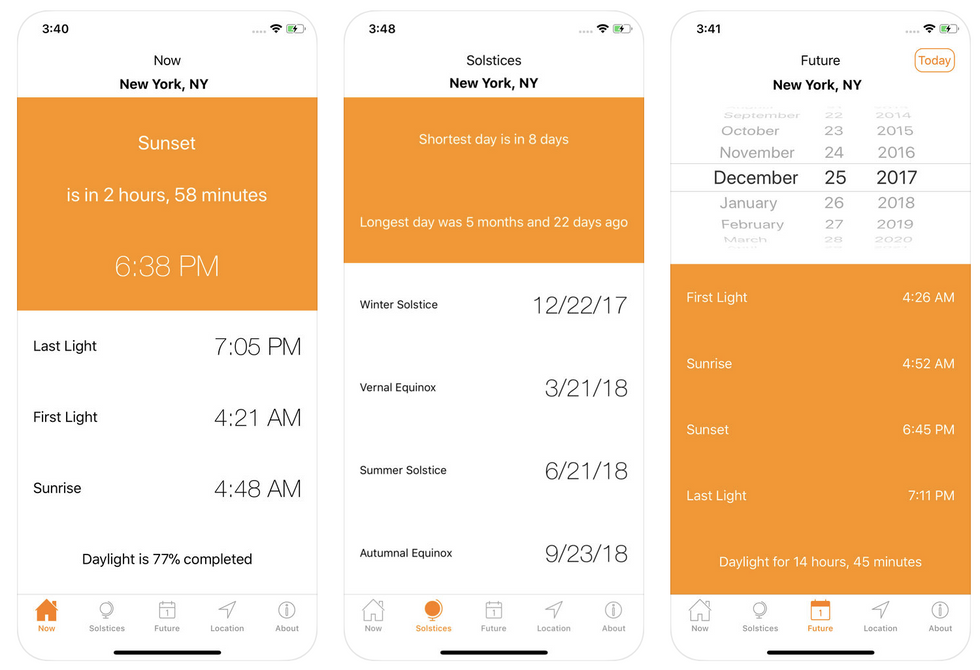 The Sunrise Sunset Times app can help you make the most of summer days Peter Smith
Your iPhone's pre-installed weather app already shows the sunrise and sunset times each day, but apps like Sunrise Sunset Times offer more detail. For example, this app includes times for last light and first light, which could be useful given how first light can arrive around 25 minutes before sunrise.
The app also states precisely how much daylight there will be, and gives the dates of the two annual solstice and equinox days. For an Android equivalent, try the free Sunrise Companion.
Cocktail Flow - iOS and Android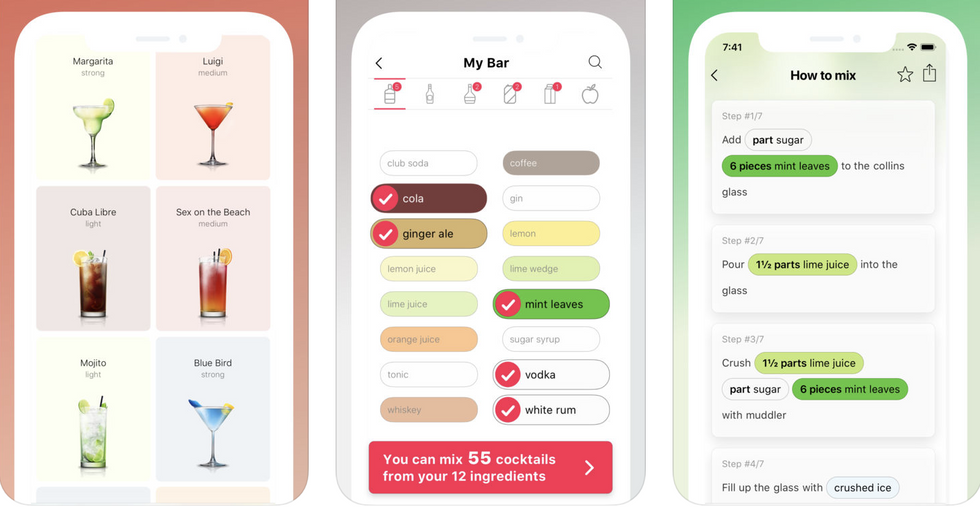 Summer cocktails are almost a warm weather requirement, and the Cocktail Flow app puts drink recipes right in the palm of your hand.Cocktail Flow
Sunny, summer's afternoons and cocktails go together like, well, gin and tonic. But if you fancy a change to your usual order, Cocktail Flow is an app which suggests cocktail recipes based on what you've already got in stock.
Tell the app about everything you have — all spirits, mixers, fruits, even spices and dairy products — then the app will serve up pages of suggestions. Cocktail Flow is easy to navigate, with simple instructions for each drink, and cocktails can be ordered by base spirit, strength, nationality, color, occasion and more.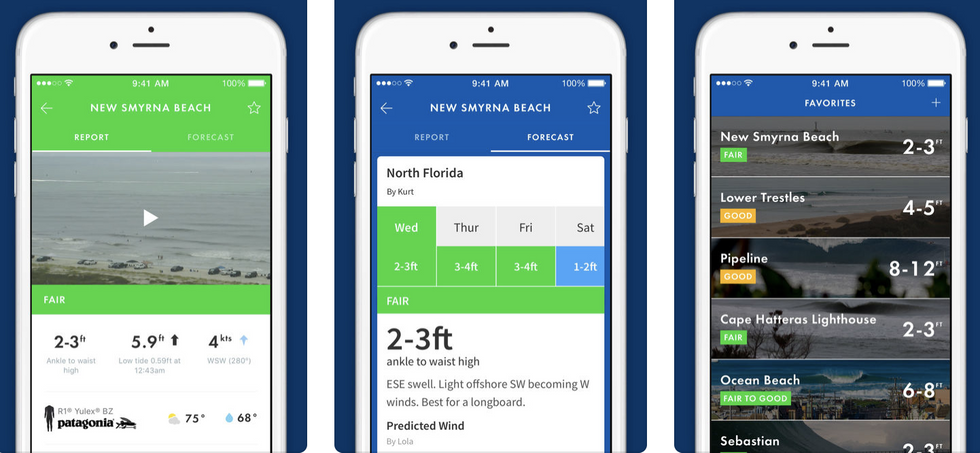 Surfline is the Hang Ten app of the summerSurfline / Wavetrak
One for surf fans, this app gives swell and marine weather forecasts for thousands of spots worldwide.
Using a global network of human reporters, Surfline provides daily AM and PM updates, plus over 300 live, high definition beach and surf cameras which stream 24 hours a day. There is also a catalogue of surfing content, including pictures, videos and articles for surfers to read.
Disaster Alert - iOS and Android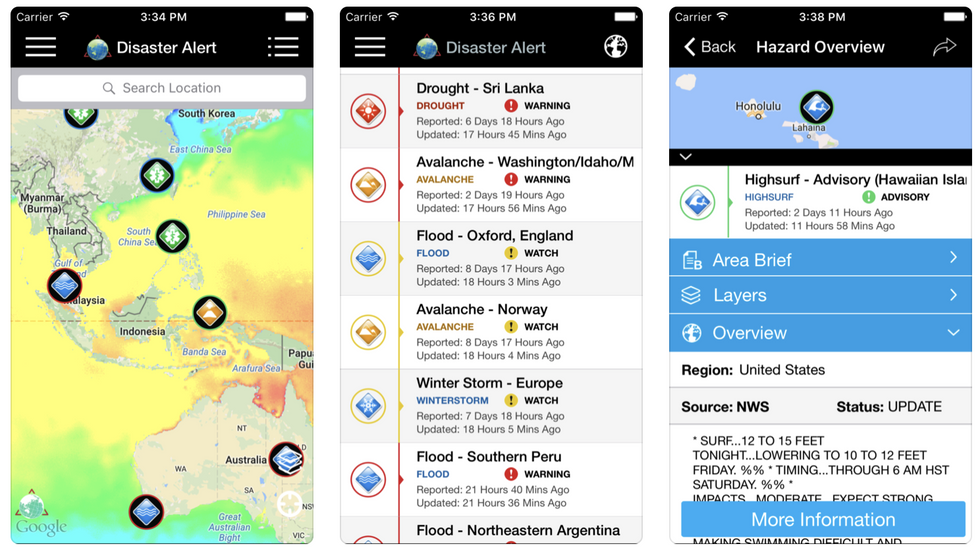 Stay abreast of any summer storms coming your way with the Disaster Alert app Pacific Disaster Center
You might see the name of this app and think it's a little out of place here, but hot summer weather can cause droughts and storms, and knowing where these are can be important. The app is from the Pacific Disaster Center, but includes data on weather events all over the globe.
Events included in the app include the aforementioned droughts and storms, but also avalanche, earthquake, extreme temperature, flood, landslide, tsunami, volcano, wildfire and more.