Like GearBrain on Facebook
Naturally, a flood sensor isn't something every household needs. However, if you are looking for such a smart home flood sensor or water leak detector for your ecosystem, you could do a lot worse than the Fibaro Flood Sensor. It doesn't matter if you're an Apple user or not — as Fibaro provides versions of their flood sensor for both HomeKit and Z-Wave. So you can use the sensor with both Apple iPhones and Android devices. For this review, I took a look at the HomeKit version.
Design and Features

Fibaro's Flood Sensor is a round device that's just shy of 3 inches across, and boasting the minimal, white design we've come to expect from Apple HomeKit gadgets. About the size and shape of a compact, the sensor runs on a single CR123A 3V battery.
Unlike more traditional moisture sensors, which often sit slightly above the ground, Fibaro's comes with three legs that contact the surface. Once two of these gold-plated sensors detect water, the device sends an alert to your HomeKit controlling device (iPad, iPhone, etc.), and sets off an alarm.
This design has the benefit of a wider field of coverage, as well as providing a false-positive buffer. Since two of the three sensors must detect water, you're less likely to get a false alarm. On top of this, the device also has a tamper sensor which can alert you if it is removed from its location. A final feature of the Fibaro Leak Sensor is its temperature sensor, which could be useful if you need to monitor the environment of your flood-prone area.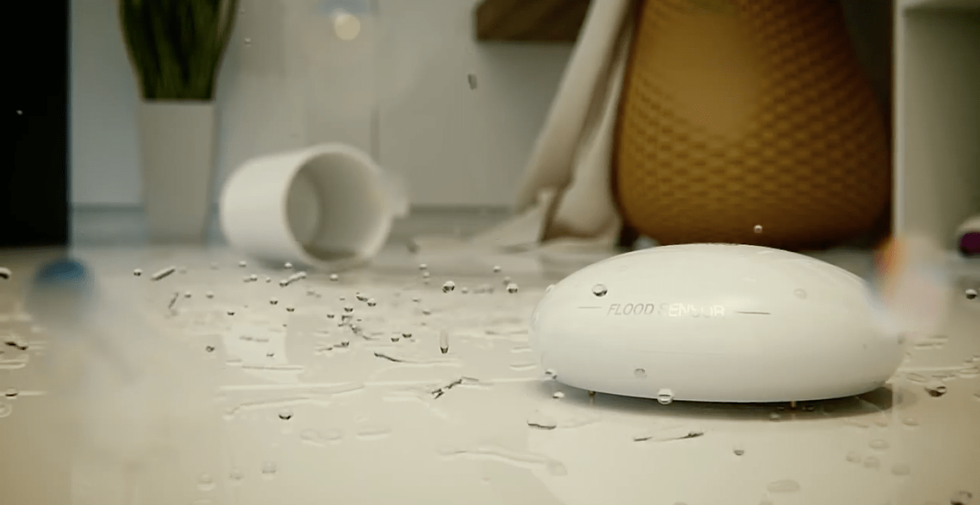 Fibaro sits on the ground with three legs, which happen to be the device's sensorsFibaro
Setup
As with all HomeKit devices, the setup is very straightforward. Inside your flood detector's box, you'll find a code to snap for automatic setup. Fibaro provides users with their own app (that you can grab from the app store) to give you information related to your other HomeKit devices. Once integrated into your ecosystem, you can assign your device to a specific room, include it in scenes/automation, tweak settings, and monitor the sensor on the fly.
Placing the devices is as simple as setting anywhere you're expecting a leak — just make sure that all three telescopic sensors are contacting the ground. As long as the surface isn't completely asymmetrical, you shouldn't have any problems.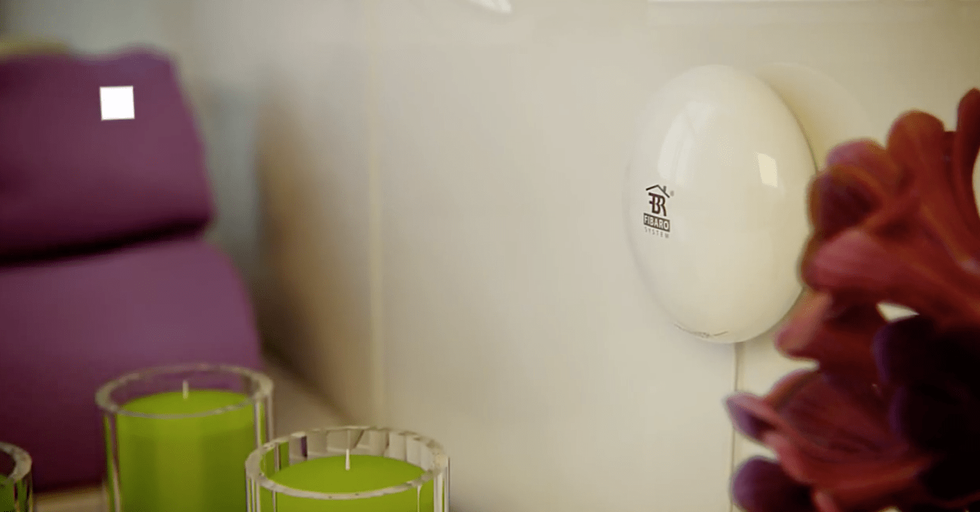 You can also place the Fibaro sensor on a wallFibaro
Quirks and Potential Problems
While the flood detector absolutely worked — and worked well — Fibaro's little device did have a couple of quirks.
For starters, the tamper sensor only works if the device is tilted. I could literally slide it all the way across the floor, and as long as it didn't turn over, the alarm would never trigger. So, if it somehow gets nudged out of the way — potentially out of range of your flooding area — the tamper sensor might not alert you.
Another potential issue is that the sensor's HomeKit code is not stamped, stuck, or otherwise labeled on the device itself. So, if you lose the manual with the code, and have to re-sync the detector, you're going to need to make a tech support call.
Finally, an oddity that I discovered by chance is that the flood sensor goes haywire on aluminum surfaces. During my testing, I set the devices down on my kitchen's aluminum counter, and the alarm immediately went off. I tested it out on other locations on the counter and got the same result. Even the aluminum portions of my refrigerator set off the alarm. However, all other surfaces I tested from wood, tile, ceramic, plastic, and carpet all worked exactly as intended.

Fortunately, it's probably unlikely you'll need to be monitoring an aluminum surface.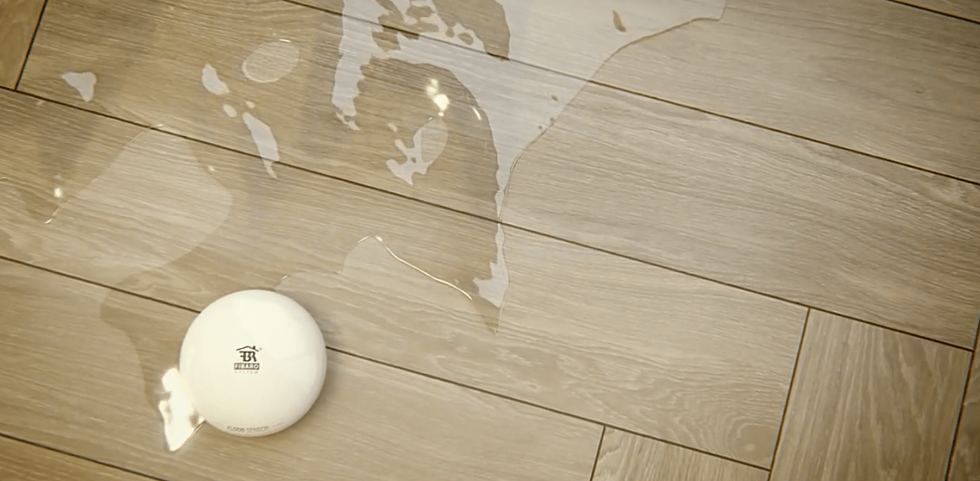 Fibaro Flood Sensor did give off false readings when on an aluminum surfaceFibaro
Final Thoughts

Fibaro's Flood Sensor is a cleverly designed and perfectly functional detector for your needs. While the tamper sensor, HomeKit code, and aluminum surface issues are all something to be aware of, the core of the device is as solid as its competition. In fact, Fibaro's elegant design might even have a leg up on its peers.
As with many smart home devices, the price always a relatively major factor when considering a purchase. Unfortunately, Fibaro's Flood Sensor pricing is all over the place. Depending on where you're looking, and at which version, the sensor runs from about $32 to $69. At $32, the device would definitely be worth looking into if you're in the market for a leak detector for your budding smart home. However, at $69, it's hard to recommend the purchase, despite its competency. Still, $69 could be worth it in the end, if you need to monitor an area with recurring floods. (Fibaro Flood Sensor for HomeKit is available at NewEgg for $69.)
You can visit GearBrain's What Works with Google Home or Home Mini page if you own a Google Home or Home Mini.
Pros: Open space design gives more coverage and less false positives, easy to set up with HomeKit and there is a Z-Wave version for non-apple users, temperature and tamper sensors.
Cons: HomeKit code not on device, temperamental tamper sensor, aluminum surface false positives and pricing is all over the place.
Like GearBrain on Facebook