Over the past few years, smart home living has been expanding from inside the home to outside. With the extension of your Wi-Fi signal and outdoor outlets, outdoor living has become easier to setup and manage. However, some devices still have some challenges to overcome. One of those devices is a smart TV. We have seen a few new outdoor smart TVs come to market recently and their biggest challenge is dealing with the sunlight. Depending on how the sun shines in your backyard or on your patio or porch, the glare of the sun can be a big problem for viewers. Today, Furrion is helping to solve this problem with their new line of smart outdoor televisions which can work in any kind of daylight, including fully sunny areas.
For those of you who have not heard of Furrion, they are a leader in the outdoor living category and a brand shaping the future of outdoor living, announces the latest addition to their portfolio of premium outdoor televisions: the Aurora Partial Sun 4K Smart LED Outdoor TV, the Aurora Full Shade Smart 4K LED Outdoor TV, and the all-new Aurora Full Sun 4K Smart LED Outdoor TV. All TVs now run on the WebOS smart platform, include the new RangeXtend external antennas for stronger Wi-Fi signal, and both the Full Sun and Partial Sun TVs come with XtremeShield IK08-rated tempered glass screen for protection against impacts and scratches. Inspired by the outdoors, Furrion's outdoor televisions not only offer an excellent viewing experience but are also built to last featuring a weatherproof design that withstands some of the harshest conditions. All three televisions provide excellent viewing capabilities for a range of outdoor settings and lighting.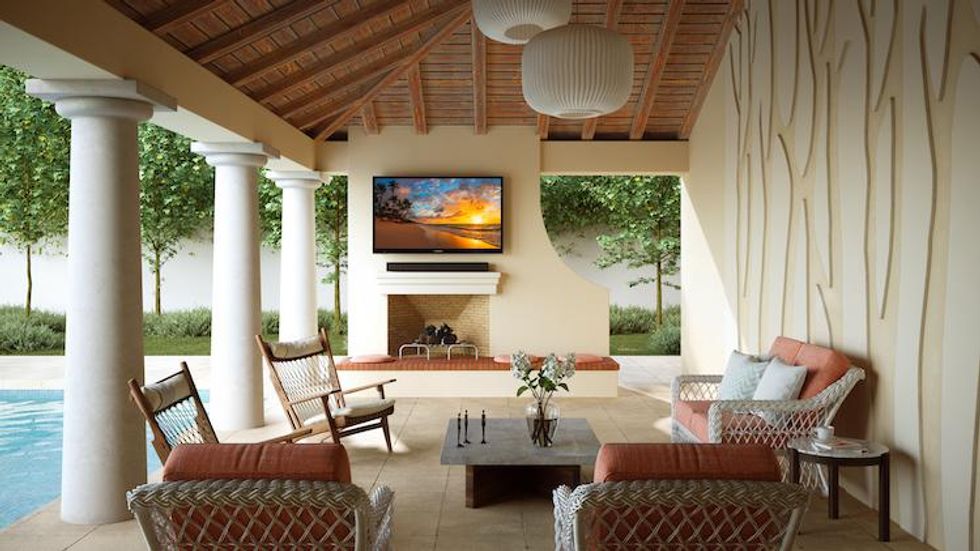 Furrion Partial Sun 4K Smart LED Outdoor TVs work in full sun or shade.Furrion
"With more interest than ever in outdoor living and consumers looking to upgrade or expand their living spaces, our new Aurora lineup brings an additional element of luxury without compromising consumers' budgets," said Grant Olafson, Vice President of Furrion's Consumer Division. "Building on last year's TV lineup, we decided to expand product offering by introducing a Full Sun option - which was designed with both home-use and outdoor businesses alike. Our outdoor focus - in marine, mobile living, renewable energy, and more - means we're always designing from that foundation."
With options for either full sun, partial sun, and full shade televisions, the Aurora line of outdoor TVs make your outdoor entertainment experience an extension of your home. Whether entertaining guests in your gazebo or watching a game on the deck, Furrion makes a television that fits your outdoor entertainment needs.
Furrion Aurora TVs are weatherproof in all conditions, and are engineered to withstand the harsh effects of UV rays, rain, snow, dirt, insects, and humidity. Their weatherproof housing and IP54 rating means Aurora is built to last, and the weather-resistant media bay offers even more protection for inputs and outputs. Additionally, the Full Sun and Partial Sun TVs feature a XtremeShield IK08-rated tempered glass screen.
Furrion designed the Aurora TVs with an exceptional outdoor viewing experience in mind. Brightness levels are tailored for sun or shade your TV is exposed to, moment to moment. The new Aurora lineup brings HDR10 for vivid colors and deep, rich contrast.
New this season is the addition of the WebOS smart platform, allowing easy access to your favorite apps and content. Along with top-notch picture quality, built-in speakers bring the full TV package, making the Aurora the perfect all-in-one outdoor entertainment solution and perfect for outdoor movies, sports, and entertainment.
Here is a brief description for each new Furrion Model:
The Aurora Partial Sun 4K Smart LED Outdoor TV, the Aurora Full Shade Smart 4K LED Outdoor TV, and the Aurora Full Sun 4K Smart LED Outdoor TV are available for purchase beginning in April on Best Buy and Amazon, and regional retailers including PC Richard & Son, RC Willey, Brandsmart, Electronic Express, Nebraska Furniture Mart, ABC Warehouse, B&H Photo, Walt's TV, World Wide Stereo, Crutchfield and more.
GearBrain will be testing one of Furrion's new outdoor smart televisions in the coming weeks. We look forward to seeing how their new outdoor smart TV handles fully sunny areas outside our smart home. And based on what we see so far, it looks like Furrion can provide a nice outdoor viewing environment no matter what time of day it maybe in your smart home's backyard or porch.
Also, check out The GearBrain, our compatibility find engine for smart devices. You can use it to find other smart outdoor TVs as well as smart devices compatible with Furrion Aurora 4K Smart LED Outdoor Televisions.
How to Find Products in The GearBrain, Our Compatibility Find Engine for Smart Devices www.youtube.com