We talk a lot at GearBrain about smart home devices like lights, thermostats, locks and speakers. But as summer arrives and the weather finally improves, it's time to think about making the garden smart too.
Although the smart garden market isn't as large as it is for indoor tech (and not everyone has outdoor space of their own), there are some interesting and intelligent products which aim to save you time and money. These devices range from robotic lawn mowers which work like Roombas for your grass, to Alexa-controlled sprinkler systems, outdoor smart lights, and even a social network exclusively for sharing photos of your garden.
Here are some of the essentials you'll need to make your garden as smart as your home.

Robotic lawn mower
If you've already got a Roomba or similar for your carpets and floors, you'll want a robotic mower for the lawn.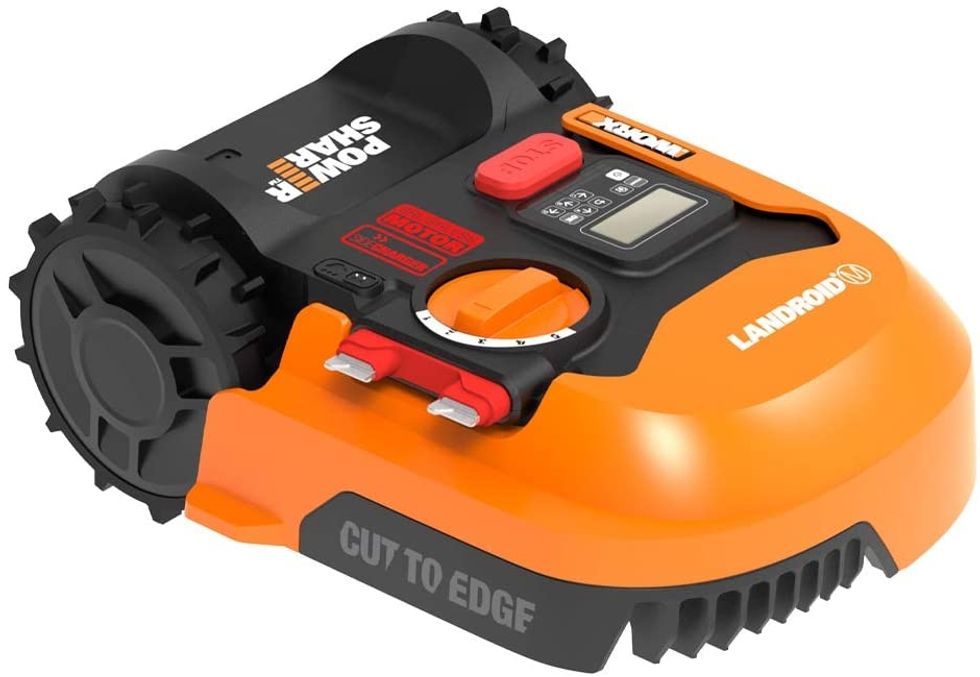 The Landroid is like a Roomba for your lawnWORX
At the lower end of the scale is the WORX WG794 Landroid, which costs $916 and promises to cut lawns up to 0.25 acre in size. The mower can cut grass to any length between 1.6 and 4.0 inches, and it can trim evenly over inclines and declines of up to 20 degrees.

Like a Roomba, the Landroid gently feels its way around your garden to help it navigate complex sections and drive through narrow passages. When the Landroid runs low on battery power — or when it detects rain — it returns to base, charges, then continues once its battery is full and the rain has stopped.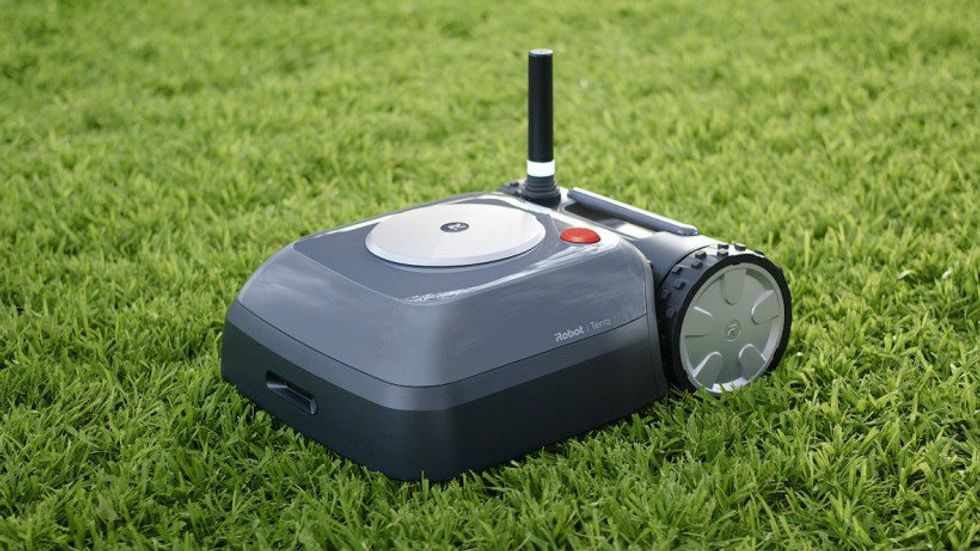 The Terra is made by the manufacture behind Roomba robotic vacuums iRobot
Announced at the start of 2019, the Terra is a robotic lawnmower from iRobot, the company which makes Roomba robotic vacuum cleaners and Braava motorized floor mops.

To understand the shape of your garden — and to learn where the lawn ends and flowerbed or fish pond begins — the Terra relies on a set of wireless beacons. These are stuck into the ground around the perimeter of your garden, helping the mower to navigate around your lawn.
iRobot says the Terra is built to work in the rain, and just like the Roombas it will return to its charging station when finished, or in need of more power. However, on that note iRobot is keeping its cards close to its chest — we don't yet know what the Terra's battery life is, or how long it takes to charge, or how much cut grass it can hold before getting full.

iRobot is also yet to mention how much the Terra will cost, and after a trial in Germany the mower's launch was put on indefinite hold in April 2020. We'll update this article wen we hear more.
Husqvarna sells a wide range of robotic lawn mowers for consumers and professionals alike. This is the mid-range Automower 300, which can mow an area of up to 0.25 acres, has an adjustable cutting height of 0.8 to 2.4 inches, and can typically mow for up to 70 minutes on a charge.
At the top of their consumer range Husqvarna has the Automower 435X AWD, which costs $5,200 and can mow a 0.9 acre piece of land for up to 100 minutes per charge.
Smart irrigation system
While robotic lawn mowers are mostly fun (and expensive) gadgets, a smart sprinkler system will save you money and help prevent water wastage.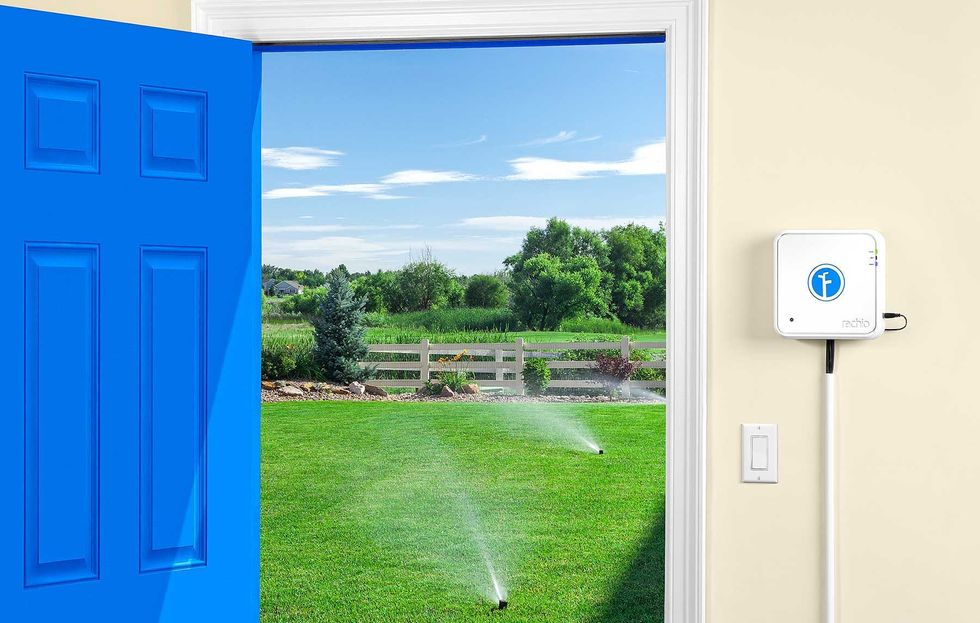 Automated garden sprinklers can save you moneyRachio
Once installed and set up, this automated water system can reduce your outdoor watering bill by up to 50 percent. The Rachio adapts its schedules based on local weather, so if rain is forecast it will hold off and save you money - and save your yard from being flooded.
Tell the system what type of soil each area of your garden has, how much shade it receives, and which plants are growing there, and it will deliver the right amount of water, at the right time. Tested by GearBrain, the Rachio can be controlled manually through its smartphone app, and of course there is Alexa support for when you want to water with voice commands.
Alternative systems include the $100 Orbit B-hyve — also tested by GearBrain — the $230 GreenIQ Smart Sprinkler Controller, and the $210 Spruce Irrigation.
Read More:
Plant soil moisture sensor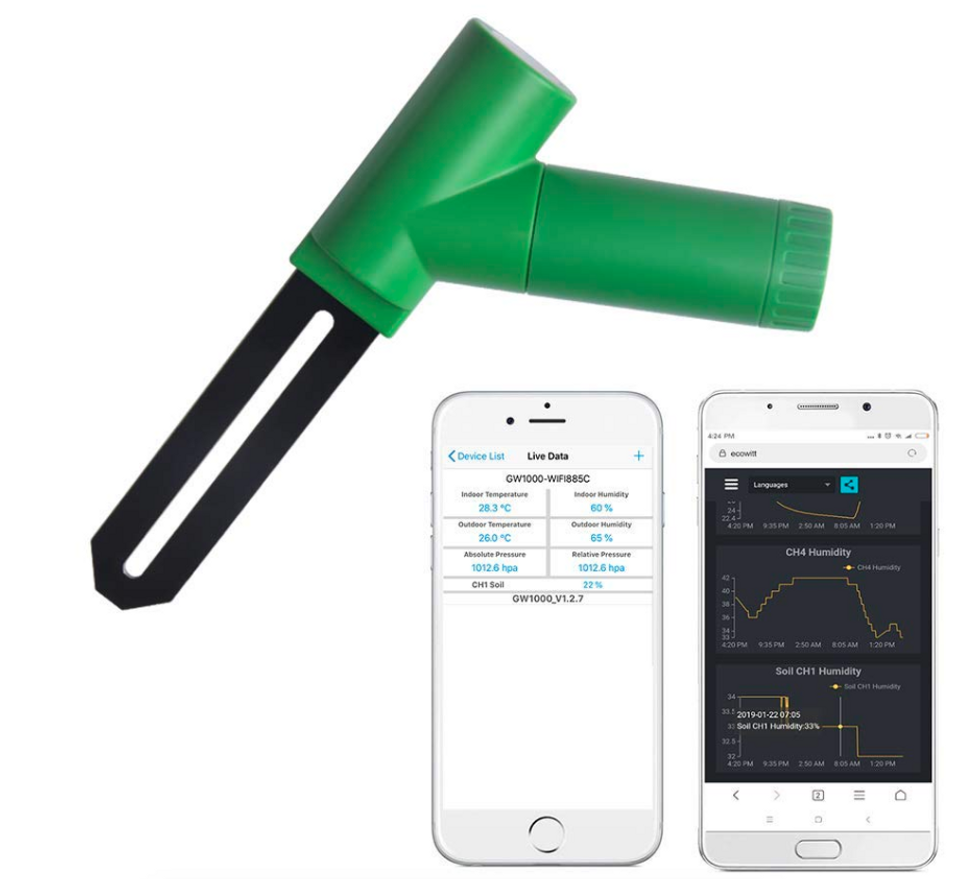 A soil sensor lets you know the moisture levels of your soilEcowitt
The $19 Soil Moisture Sensor by Ecowitt slots into a plant pot, then connects to a Wi-Fi gateway (sold separately) and sends its findings to a free smartphone app. The sensor takes around 70 seconds to take a reading, then lets you know how damp or dry the soil of that pot is.

The waterproof sensor can be used with indoor or outdoor plants, and several can be added to the same network to keep an eye on numerous plants at once.
Weather station

Any keen garden will know the important of keeping an eye on the weather. Temperature, wind and rainfall all have significant effects on your plants and how they grow, so installing your own weather station — which is simpler than it sounds — can be a great idea.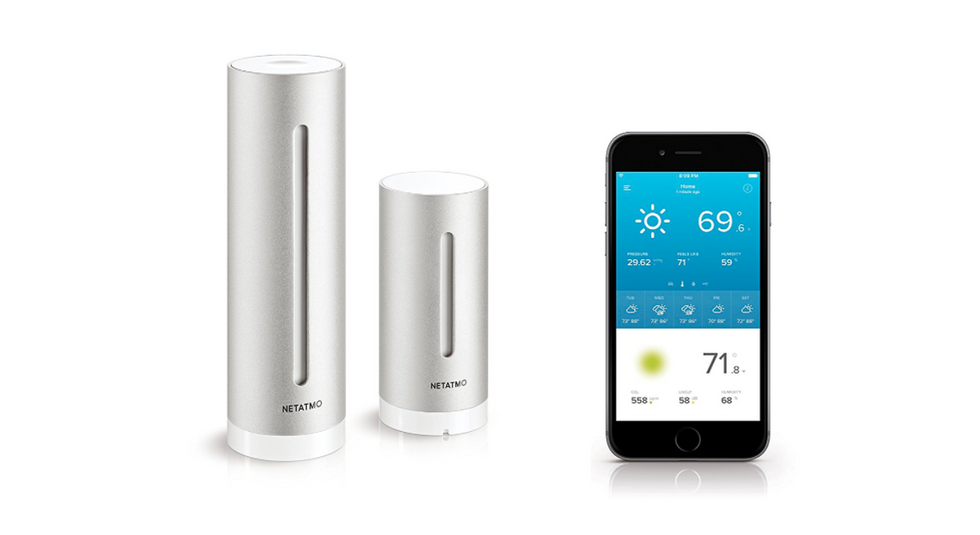 Keep tabs on indoor and outdoor weather with this systemNetatmo
The conveniently named Weather Station by Netatmo keeps tabs on both indoor and outdoor environments at once, and can be added to your existing Netatmo equipment — such as the company's security camera and air quality monitor. The weather station sends real-time updates to your smartphone, such as when it's time to air out your home, or when it's raining in the garden.
Alexa integration means you can ask the Amazon assistant about the current outdoor temperature and more. The outdoor sensor measures temperature (plus a 'feels like' rating), humidity and pressure, and is completely waterproof. The indoor sensor measures temperature, humidity, CO2 and sound levels.
The system can be expanded to include a rain gauge for $79 and a wind gauge for $100.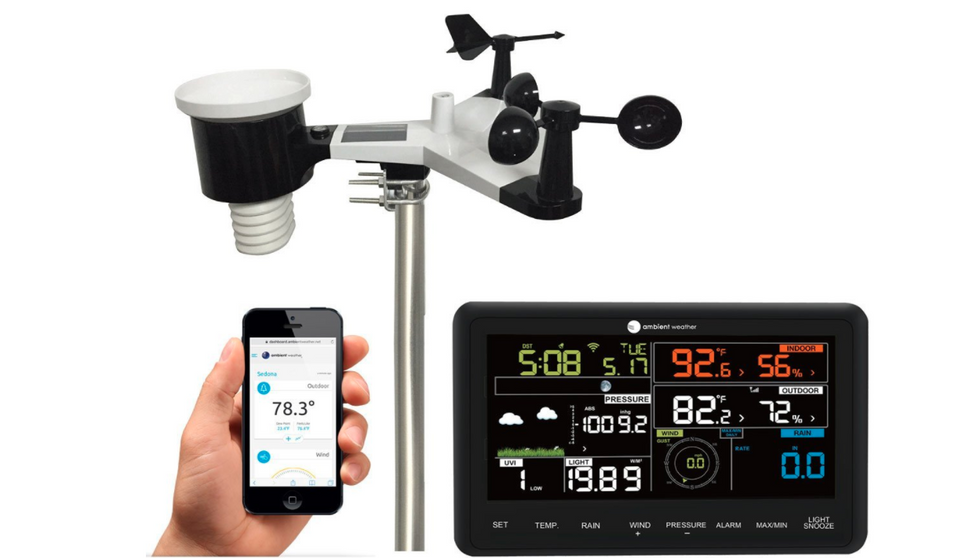 One for the garden and weather geeks, this system monitors almost everythingOsprey
Alternatively, the Ambient Weather WS-2902 with Alexa is a piece of professional-grade equipment which measures wind speed and direction, rainfall, outdoor temperature and humidity, solar radiation and UV light, plus temperature, humidity and pressure. Using this data, the system can also calculate dew point, wind chill and heat index.
This system can be integrated into a range of If This, Then That (IFTTT) applets, triggering other smart home devices into action when the metrics reach predefined figures, and there is Alexa control for asking for a comprehensive weather report.
Smart lighting

Smart lights among the simplest but most effective ways of making your home smarter, and now there are options for illuminating your garden, patio and driveway too.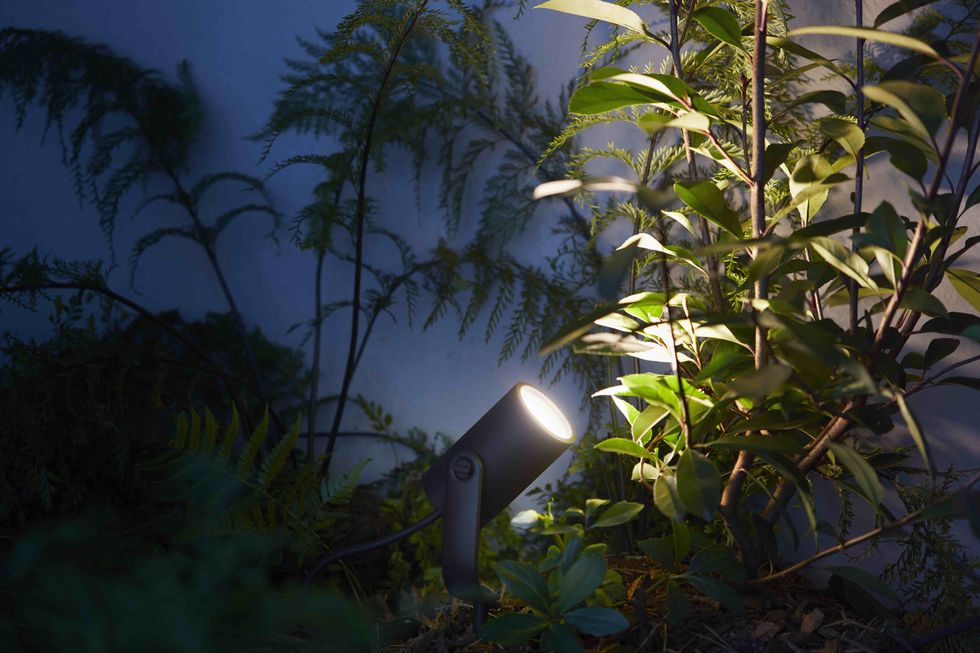 Outdoor smart lights can add life to your gardenPhilips
Philips Hue are among the best smart lights for your home, with millions of colors, several different fittings, LED light strips and a host of special features. And, since summer 2018, Hue has extended into the garden with a range of weatherproof outdoor smart lights.

The range is waterproof and includes LED light strips, spotlights for casting light on your flowerbeds, and several different lights that can be mounted to walls and fences. Extension cables are also available to make it easier to extend powered light right across your garden.
The lights work can be controlled by Alexa and Google Assistant, and the range includes individual bulbs for $30, wall mounted lights for $50, and illuminated bollards for $130. A starter pack, which includes three outdoor lights and the Hue Hub for connecting to your router, costs $280.
Remember, you'll need to connect these wirelessly to the Philips Hue Bridge. If you already have one plugged into your router, then you can control any outdoor Hue lights from that.
Read More:
Outdoor television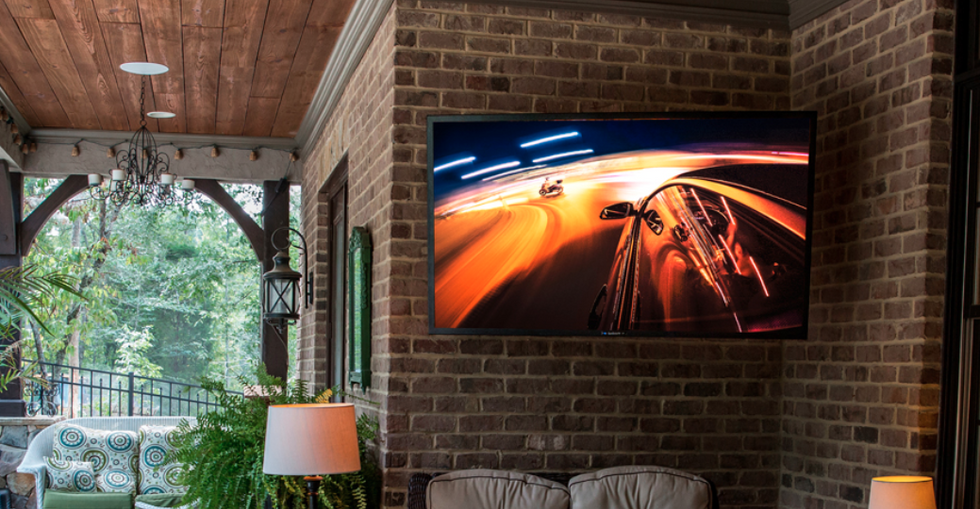 Weather-resistant televisions bring entertainment to outside spacesSunBrite
SunBriteTV sells a range of television designed specifically to be used outside. The company's Veranda range is designed to work outside (so is weather-resistant) but in full shade, while the mid-range Signature screens can be viewed in partial shade, such as on the wall of an outdoor entertainment space. The flagship Pro range is up to three times brighter than a regular television, waterproof, and designed to be seen clearly even in full sunlight.

Prices range from $1,500 for the 43-inch Veranda, through $5,745 for the 55-inch Pro model, then all the way up to $10,000 for a 75-inch version of the Pro screen.
Garden projector
Although these aren't designed specifically for the garden, projects make a great - and often cost-effective - alternative to investing in an outdoor TV. They cover a huge range of prices, from under $100 to over $1,000, and are easy to setup in the back yard for a movie night under the stars.

Read More:
Weatherproof outdoor speakers
Sticking with the entertainment theme, there is also a wide range of weatherproof speakers for installing in your garden, above the patio, or around the pool area. These range in price from well under $100 to over $500, but all work in a very similar way. Being passive speakers, they don't require a connect to a wall outlet, and instead just need wiring to an amplifier or sound system in the normal way.
Read More:
Indoor plants

For those living in apartments or without access to a garden of their own, there are still ways to bring some smart horticulture into your life.
Click & Grow has a wide range of smart indoor planters. This option is designed for holding herbs like basil and is designed to keep plants alive all year round, no matter what the lighting conditions are like.
All you have to do is drop the pre-seeded plant capsule into place, fill the reservoir with water, plug the planter into a wall outlet, and let it grow. The planter will light and water your plants as required, and a special type of soil with so-called 'nano-tech' is said to accelerate growth.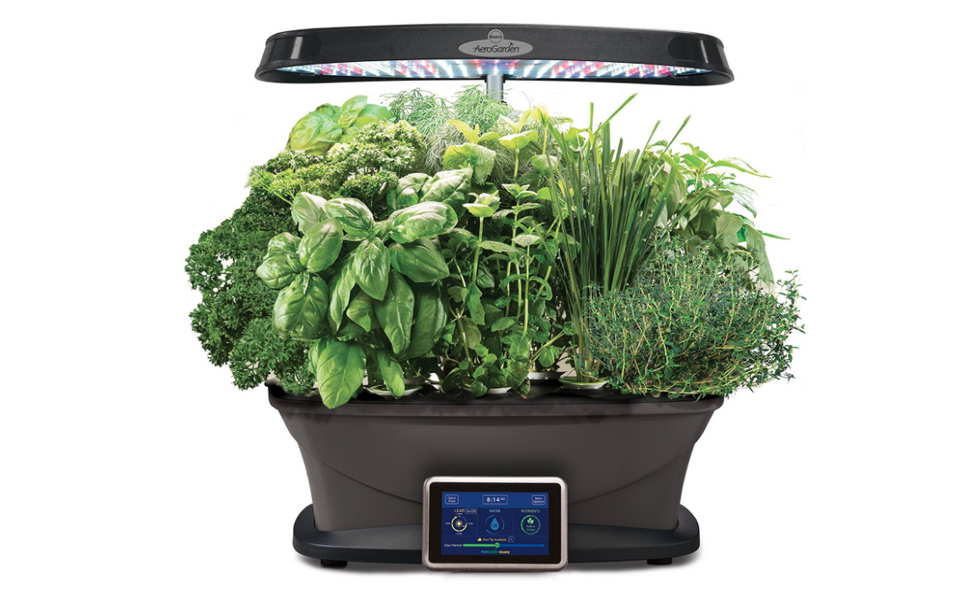 Space for nine planters at once means you'll never be short for herbsMiracle-Gro
A pricier but larger option is this AeroGarden by Miracle-Gro, which has space for nine planters at once. A touch screen control panel tells you when to add more water and nutrients to the planter, and for the green-fingered among you the default light and water settings can be altered to your preferences.
App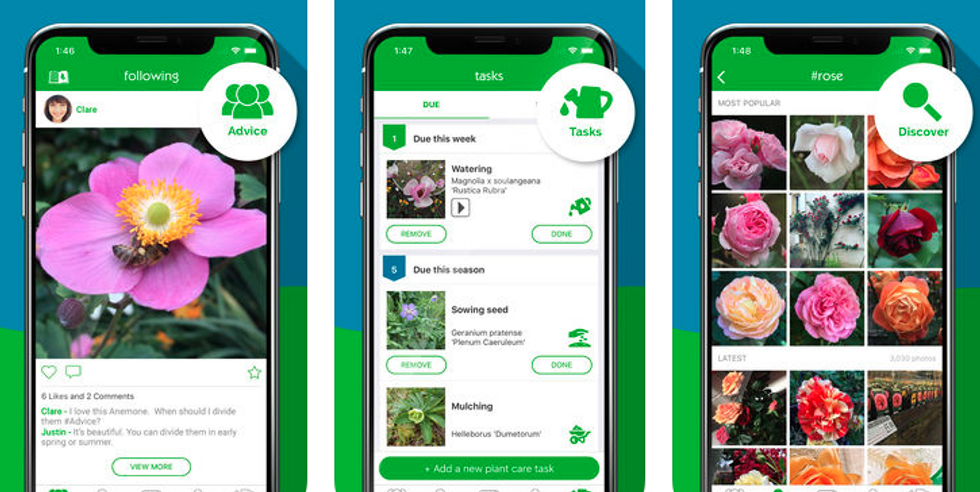 This is basically the Instagram of gardening4D Media Limited
Finally, how about an app built specifically for gardeners to show off their plants, herbs and lawns? That's where GardenTags come in, which acts like an Instagram for horticulture. The free app includes Instagram-style social networking, while a premium subscription includes video tutorials, a reminders system for garden tasks, and advice on getting the most out of your yard.