Samsung has announced a new television designed to be installed outdoors, with weatherproofing and a bright display for combatting sunlight.
Called the Terrace, the new TV is available in sizes of 65 and 75 inches. Both models have an Ultra HD 4K resolution, just like the screen you might already have indoors.
Read More:
But what sets these apart – and goes some way to justify their respective $5,000 and $6,500 price tags – is their IP55 resistance to water and dust resistance.

They also have a peak brightness of over 2,000 nits, making them brighter than indoor televisions, and an anti-reflection coating. The display also adjusts automatically based on ambient lighting, so there's no need to lower the brightness as the sun sets.
Samsung also this week announced a matching sound bar, called the Terrace Soundbar (of course). This also has an all-metal body and is IP55 rated for protection against water and dust.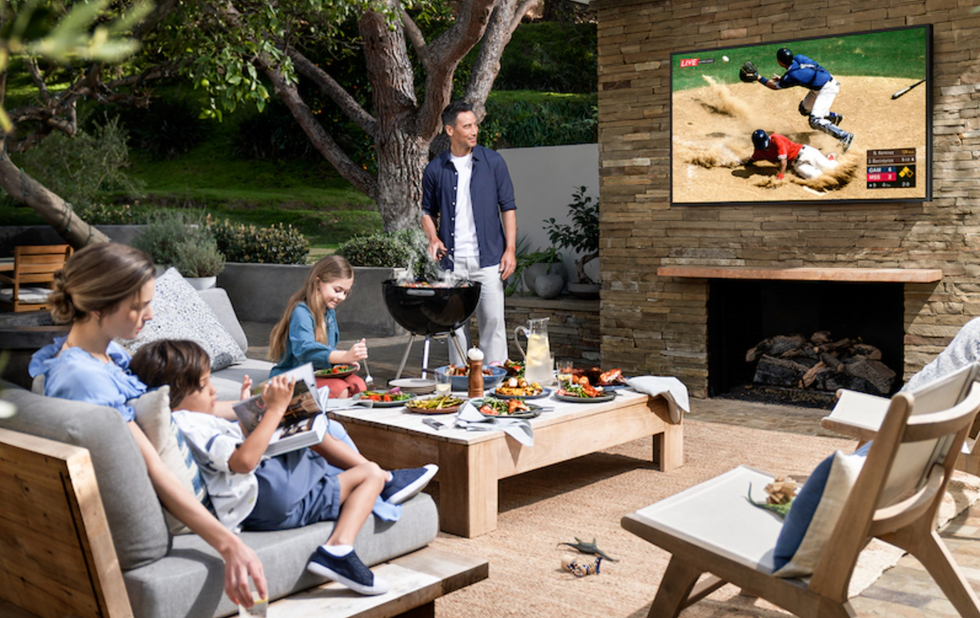 The TV is IP55 rated for water and dust resistanceSamsung
Aside from their weather protection and brighter displays, the solid metal Terrace TVs work much like any other. They run Samsung's Tizen operating system and have Wi-Fi for connecting to streaming services like Netflix, Amazon Prime Video and Apple TV.

Like other Samsung TVs, the Terrace can be configured to show artwork or photos when not in use, helping it blend into its surroundings and not looking like a huge black mirror on the garden wall.
They may seem incredibly expensive compared to indoor televisions, and are even more expensive than Samsung's flagship 8K displays. But they aren't too far off the mark, as outdoor TV leader SunBriteTV charges $3,500 for its 65-inch model, while a 75-inch TV comes in at $10,000, a full $3,500 more than the Samsung of that size.
Samsung says the Terrace TV is available in the US and Canada now, and will come to Germany, Australia and New Zealand later in 2020.
Samsung 65" LST7 QLED Terrace 4K UHD Smart TV QN65LST7TAFXZA 2020