Like GearBrain on Facebook
Buy almost any television today and there is a very strong chance that the TV will include Wi-Fi or Ethernet for connecting to the internet, along with streaming content from apps like Netflix.
Gone are the days when a so-called 'Smart TV' commanded a price premium over unconnected TVs, as the latter is now almost extinct. Even televisions priced at just $120 come with Wi-Fi connections, as well as the most popular streaming apps.
Read More:
This all begs the question, why would anyone buy a television full of streaming apps, then spend more money on a streaming box or dongle, like the Apple TV, Google Chromecast or a device from Roku? There's a lot of duplication here, with the box or dongle likely providing access to the same apps as the TV itself.
So what should you do? The answer depends on personal preference, but also on what your smart home system currently looks like, what other devices you have in the home, what your budget is, and what price you put on experiencing the best video and picture quality.
To start with, let us look at televisions on their own — and without a streaming box or dongle.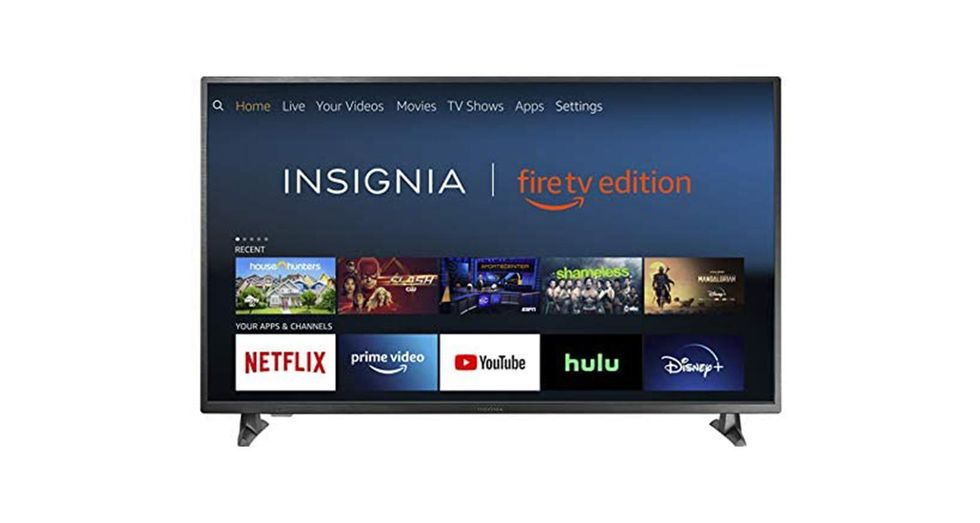 Televisions with streaming apps can cost as little as $120Insignia
As we alluded to above, televisions costing as little as $120 now come with streaming apps fed by Wi-Fi and/or Ethernet connections. For that price you can buy this 32-inch TV from Insignia. It runs Amazon's Fire TV operating system, which includes Prime Video, Netflix, YouTube, Apple TV, Hulu, Disney+ and many others.
Televisions with Fire TV have a wide range of streaming apps, including internationally-available ones like those listed above, plus regional catch-up and on-demand services from national and local TV stations. They also include music apps like Spotify and Amazon Music.
This particular Insignia TV only offers 720p HD video resolution, which is down on the usual standard of 1080p, but for the price that is to be expected and at 32 inches the LED-backlit panel should still look good.
Upping your budget to around $500 will see larger options from Samsung and LG, all with 4K picture quality. This Samsung TV is 4K with HDR and even has Alexa built-in, plus the usual selection of smart TV apps.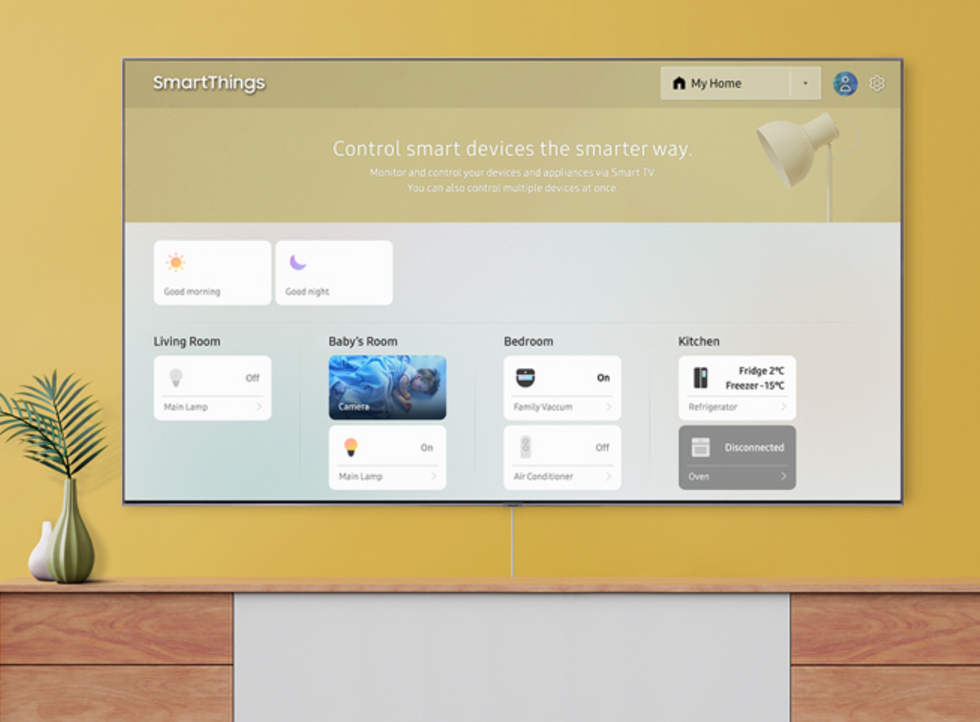 Samsung TVs include the SmartThings smart home systemSamsung
Samsung TVs run the company's own Tizen operating system, which has access to almost all common streaming apps. And because the TV has a 4K display, you can stream 4K content through these applications — although some, like Netflix, require a premium subscription to access content in the higher resolution.

Tizen is generally considered to be a solid streaming platform, along with the webOS system used by LG televisions. However, there are some limitations. The Apple TV app (and the company's AirPlay 2 system) isn't available on all Samsung televisions, especially older models.
How well the operating system works can also depend on the performance of the TV. A cheaper model with a less powerful processor won't always offer the slick and speedy interface you likely want. But spend more and you'll get a fast system with added extras like voice assistants and smart home integration, via systems like Samsung SmartThings.
The argument for streaming boxes and dongles

Given the above, you might think that a streaming box or dongle is largely superfluous, given the apps already installed on televisions. However, TV operating systems can lack the smoothness and performance of a dedicated box, like the Apple TV, or a dongle like the Google Chromecast. They also make a great add-on to an older TV that may have aging software, or lack streaming apps altogether — and the same goes for computer monitors that tend not to have their own apps.
To be clear, streaming boxes and dongles work in exactly the same way. They plug into an HDMI port of your television, draw power from a wall outlet (or sometimes the TV's own USB port), and connect to your Wi-Fi network to stream content; they only differ in their physical appearance.
Some cheaper boxes and dongles are limited to Full HD resolution, while others work at 4K Ultra HD with HDR. Some have support for Dolby Vision and Dolby Atmos, while cheaper options do not. Some, like the Roku Streambox, also double as a soundbar to give your TV a sound upgrade as well as a new content streaming system.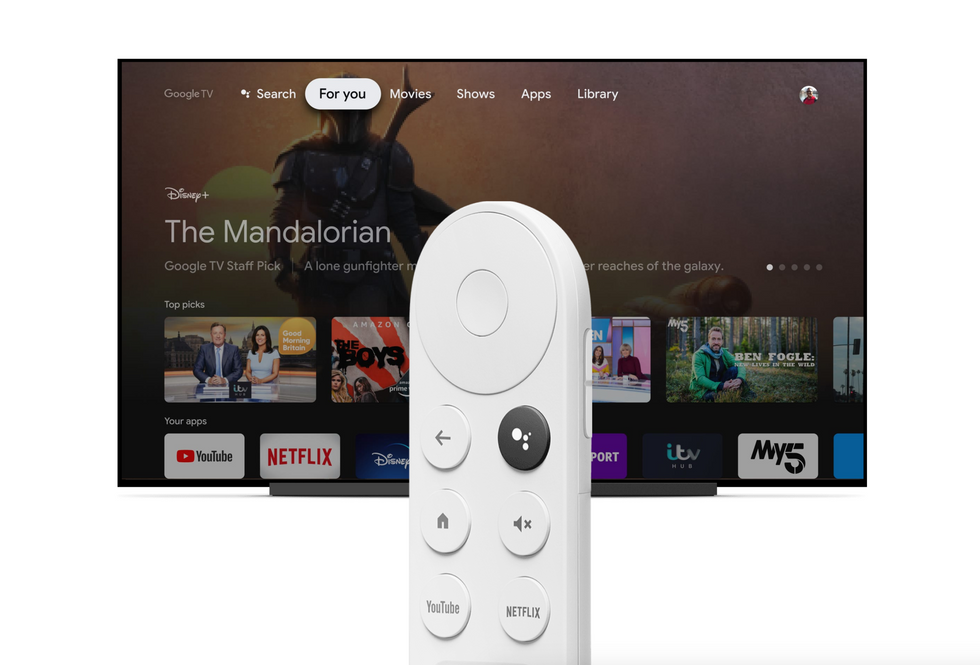 Google TV comes on the new Chromecast, which has a remote for the first time Google
Picking a streaming box or dongle to use instead of your TV's own apps is often a point of convenience. If you live in an Apple ecosystem, the Apple TV 4K plugs neatly into that and can act as a hub for your Apple HomeKit smart home system.

Similarly, streaming devices by Amazon and Google tap into their respective smartphone apps, smart home ecosystems and voice assistants — the latter meaning you can control them by speaking to Amazon Alexa or Google Assistant.
There is a real sense of synergy here, with your streaming device, smartphone, voice assistant and smart home system of choice all working together in harmony. It's something that lower-priced televisions with their own operating systems can't match.
Furthermore, streaming devices offer extra uses like gaming. The Chromecast Ultra (and soon the latest Chromecast with Google TV) work with the Google Stadia video game platform, streaming console-quality games to your TV.
The Apple TV also has a decent selection of games to play on the big screen, but these are closer to iOS in terms of quality and scale, not fully-fledged consoles or gaming PCs.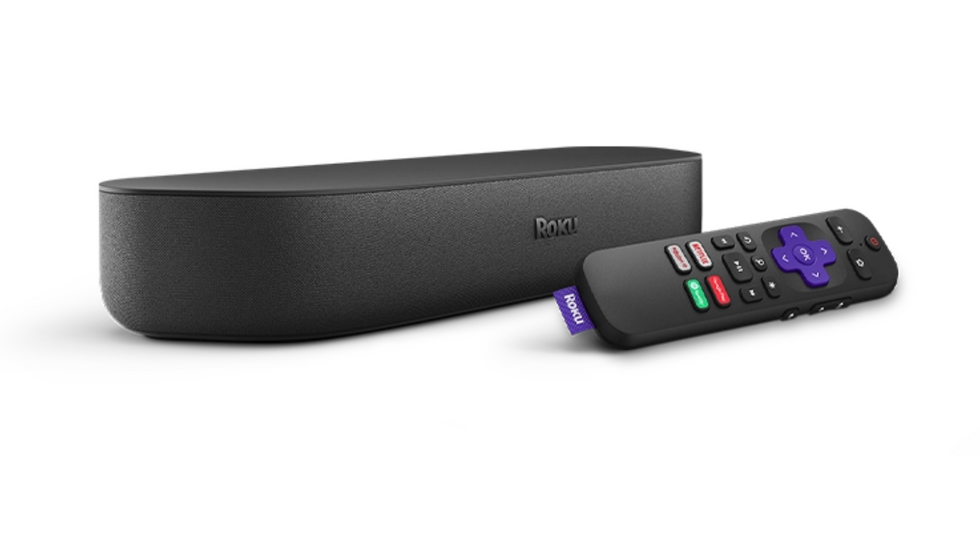 The Roku Streambar also doubles as a sound bar Roku
Making the right decision for your smart home

Your decision here will mostly be led by budget, as spending more on a television and streaming device will give you a more complete experience with a better user interface and access to additional features and games.
But if you want to spend less, you really aren't missing out on much when buying a simple TV with its own apps. You can still log into Netflix, Hulu, Amazon, Spotify and more, and watch whatever you like.
Similarly, if you want a flagship Samsung or LG television, its own operating system and apps might well be all you ever need, and even act as a smart home hub. A streaming box or dongle would only then be needed if you wanted the extra features they offer, like gaming via Google Stadia or the HomeKit hub credentials of the Apple TV 4K.
You could also consider a game console instead. Xbox and PlayStation consoles both have a good selection of streaming apps, while also doubling as a top-notch gaming system, and a 4K Blu-ray player (apart from the Xbox Series S, which lacks a disc drive).
Roku Streambar | 4K/HD/HDR Streaming Media Player & Premium Audio, All In One, Includes Roku Voice Remote, Released 2020
Like GearBrain on Facebook