Are you one of those people who likes a good hot cup of coffee or tea in the morning, but always seem to get interrupted and end up with a half full cup of cold brew? How would you like a smart mug that could always keep your tea, coffee or whatever your hot drink of choice is at the perfect drinking temperature for hours? Glowstone Technologies has a product for you. It's the Glowstone Smart Mug 2 and we got to test it recently. Here is how it did.

What is Glowstone Smart Mug 2?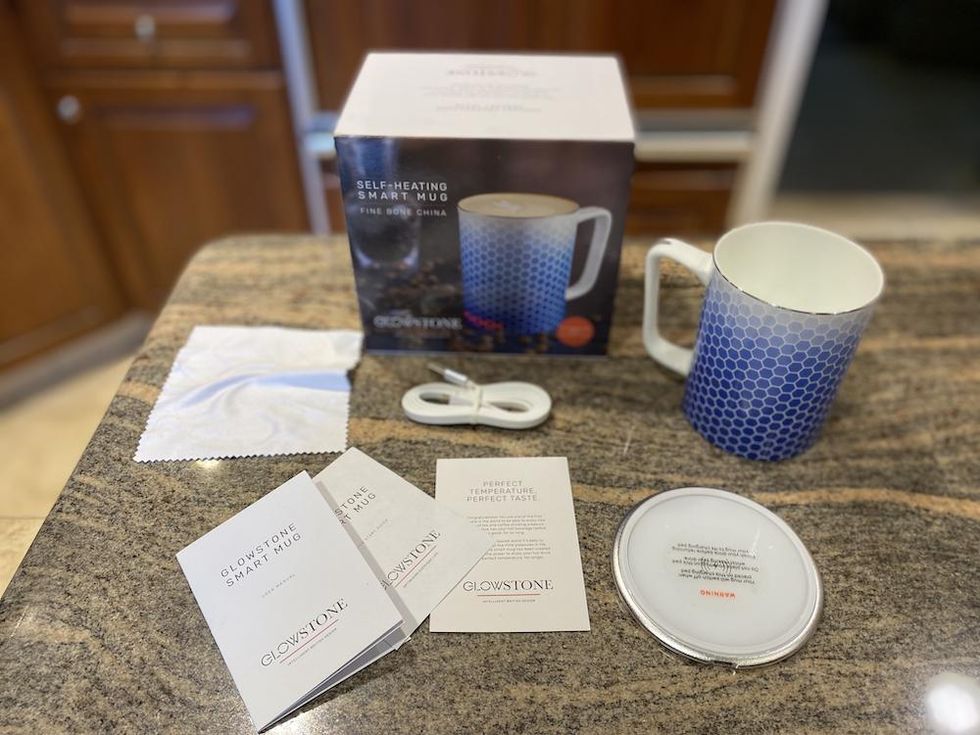 Glowstone Smart Mug 2 unboxed
GearBrain
The Glowstone Smart Mug 2 is a tea or coffee mug that can automatically keep your beverage hot until the last drop. The mug is made of fine bone china and beautifully designed. It is also dishwasher safe, stain and scratch resistant and can hold up to 12.5 fluid ounces.
The Glowstone Smart Mug 2 comes with a heating unit which is a QI wireless charging coaster. Just place your smart mug on the coaster and it will charge it up in no time. But keep in mind the coaster is only to be used for charging. It should not be used as a coaster or when your smart mug is filled.
What makes this smart mug unique is its ability to keep your drinks at a temperature between 140 degrees Fahrenheit (60 degrees C) and 150 degrees Fahrenheit (65 degrees C). The company spent three years researching and developing a way to keep your hot beverage at the ideal drinking temperature longer than a normal mug. They also found a way to have your mug turn itself off when you finish your drink.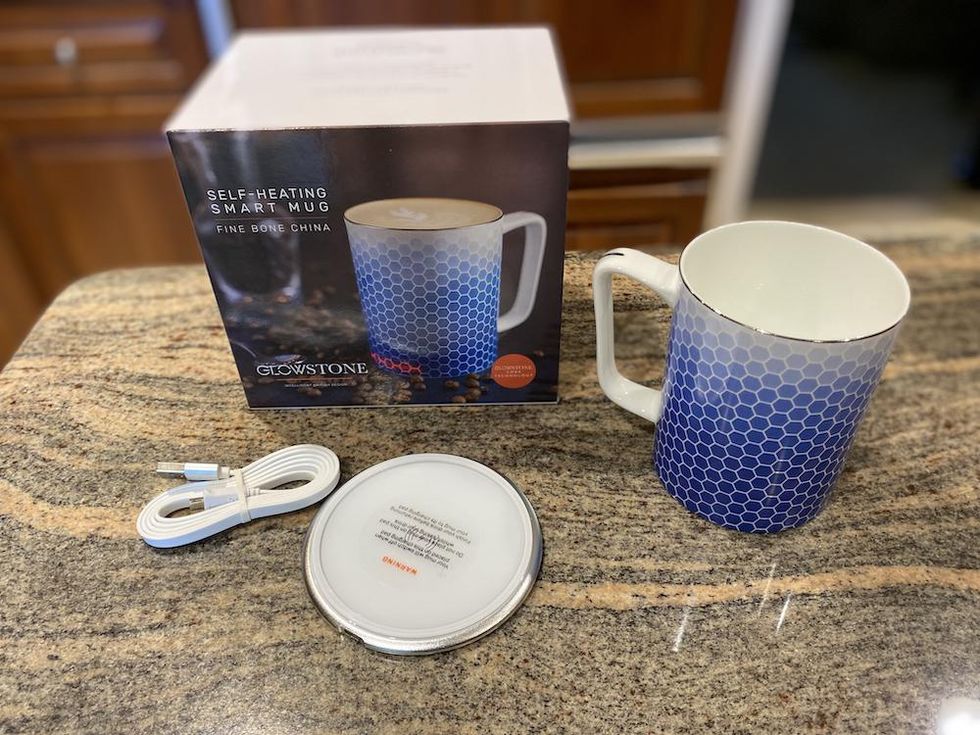 Glowstone Smart Mug 2 comes with a QI wireless charging coasterGearBrain
How to Setup Your Glowstone Smart Mug
Setting up your Glowstone Smart Mug is quick and easy. You could call it "a plug and play smart device" since it simple to get up and running. The first thing you need to do is unboxed your smart mug and charge it using the Qi wireless charging coaster. This will take a few hours.
When placing your smart mug on the charging coaster, look for a blue light. This blue light indicates your charging coaster has detected the mug. Next the mug will flash 3 times. This means your mug has successfully connected to the charging coaster and has begun the charging process. Tip: Always charge your smart mug prior to using. According to Glowstone, "the fuller the batteries, the hotter your drinks." We would also recommend you wash the Glowstone smart mug prior to usage.
Once your smart mug is all charged up, you are ready to pour your hot beverage of choice into this smart mug. When pouring your drink into the smart mug, look for flashes from the light bar at the bottom of your smart mug. When the light bar flashes twice, this means the mug has recognized your drink. When the light bar flashes only once, this means your drink is hot enough to turn on the mug's warming capabilities. If you see 4 flashes and then the light bar stays on, this means your drink isn't hot enough to be heated to the optimum temperature. 5 flashes mean your smart mug has detected the mug is empty and will turn off. And 8 flashes mean your batteries have run out of charge and you need to place the smart mug on the QI wireless charging coaster.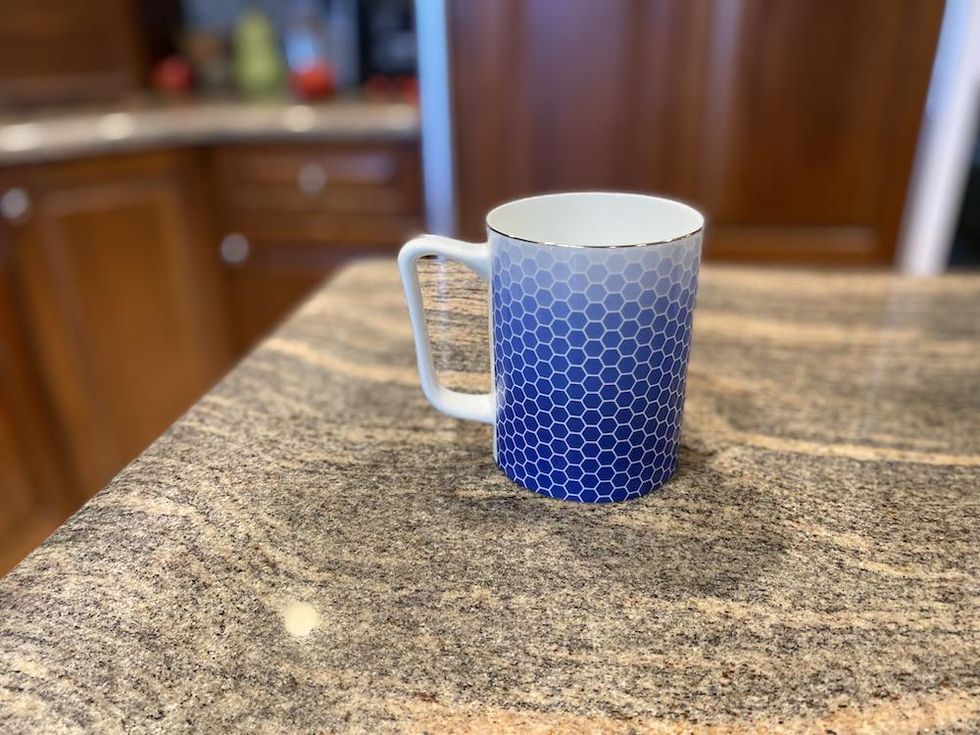 Glowstone Smart Mug 2GearBrain
How much does the Glowstone Smart Mug 2 cost?
The Glowstone Smart Mug 2 is available in the US, UK and Europe. The smart mug retails for $170.80 in the US and comes in five different colors: classic white, classic blue, soft pink, stone and honeycomb. You could also buy a twin pack which costs $303.20 and a four pack which retails for $528.28.
Glowstone Smart Mug 2 can be purchased on the company's website as well as Amazon.com.
Results from testing Glowstone Smart Mug 2
After a few months of testing this smart mug, we found it to be easy to operate, lightweight and well designed. The size of the mug was OK, but we would like to see a wider selection of mugs, maybe one that is slightly bigger and another that is a little rounder (like those big round coffee mugs you get at coffee shops.) One interesting feature we enjoyed was the light bar at the bottom of the smart mug. It was nice to know when our mug reached its optimal temperature. We want to see if there is a way to build into the smart mug the ability to slightly adjust the temperature.
Finally, the Glowstone Smart Mug doesn't show you the mug's battery life. It only lets you know when the mug has run out of battery power (the light bar flashed 8 times.) For some, this will be a little bit of a hassle to have to recharge their smart mug prior to every cup they drink but that is the trade-off for using a smart mug.
Other features that stood out for us included how the mug is dishwasher safe and comes with stain and scratch resistance. I know my current tea mug is always getting stained from the black tea I drink. There is nothing worse than pouring your tea into a stained cup. It feels sometimes that I am using a dirty cup. We did not have this experience during testing of the Glowstone Smart Mug 2.
Lastly, we found it odd that the coaster should only be used when charging your smart mug. We have been trained to use coasters on tables with cups filled with a beverage. With Glowstone Smart Mug 2, you only use it to charge the mug and they explicitly say don't charge the mug with anything inside or use it when your smart mug is filled. So, if you want to have a coaster underneath your Glowstone Smart Mug 2, just make sure it's not the QI wireless charging coaster.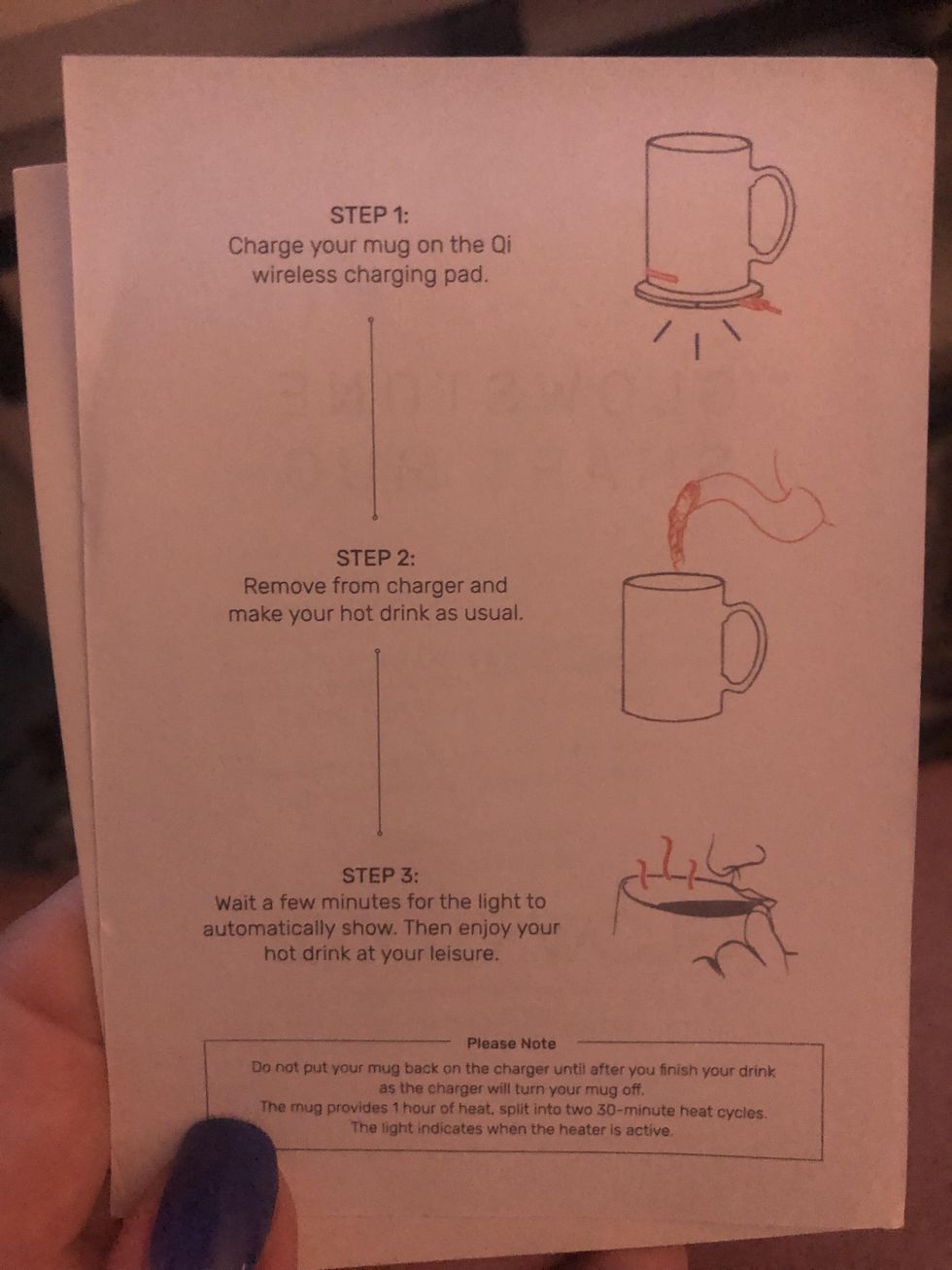 Instructions for Glowstone Smart Mug 2GearBrain
Summary
Overall, the Glowstone Smart Mug 2 is a nice addition to any smart home kitchen, office or wherever you have your hot beverage these days. Though you can't adjust the mug's temperature settings and there is only one size, this smart mug does deliver on its promise of always providing the perfect temperature for a cup of tea (or coffee) every morning in a beautifully designed fine bone china mug.
So, if you are one of those individuals who is constantly getting interrupted at home or at work and don't like having to come back to a cold cup of tea or coffee, Glowstone Smart Mug 2 is the smart mug for you. It will not only solve your problem but help make your day a little more enjoyable.
Pros
Easy to setup
Nice design
Lightweight
Warming Light indicates when cup is in use.
Cons
Can't adjust temperature settings
Price
Only one mug size (would like to see more cup sizes and designs – rounder)
NEW Glowstone Smart Mug 2 - 1 hr Continuous Heat, Fine Bone China, 12.5 Oz, Dishwasher Safe, Wireless Charging, Self Heating - Fully Automatic Heated Coffee Mug – Improved Design (Honeycomb)
Check out The GearBrain, our smart home compatibility find engine to see the find other smart mugs and compatible products that work with Google Assistant and Amazon Alexa enabled devices.
How to Find Products in The GearBrain, Our Compatibility Find Engine for Smart Devices www.youtube.com