Like GearBrain on Facebook
You probably spend more time with them than your actually family, so it's time to treat your office colleagues to a little gift or two.
There's no need to spend a fortune, of course. But you can still pick up some useful smart gadgets to make their lives a little bit easier. We're talking about small smart speakers, Bluetooth trackers, chargers, cable organizers, a smart planter and a connected light bulb for their desk lamp - and a self-heating coffee mug for you.
Here are our top picks for gifts for your office colleagues this holiday season.
Tile - From $25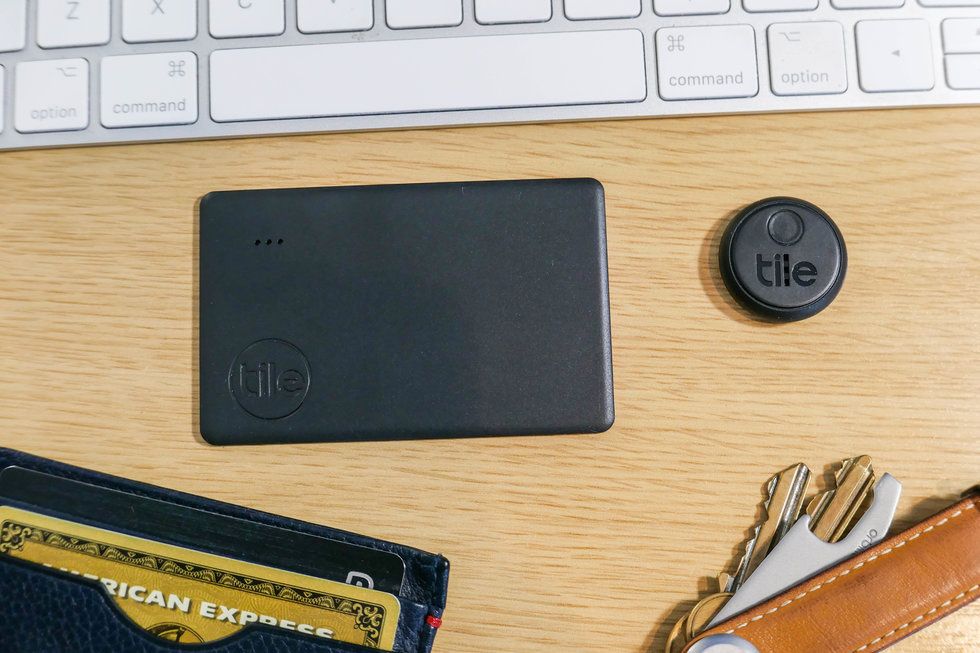 Tile Slim and Sticker GearBrain
Tiles come in all shapes and sizes iles come in all shapes and sizes , ready to be slipped into a wallet or purse, or stuck to just about anything. They use Bluetooth to share their location - and therefore the location of whatever it's stuck to - with your smartphone.

If you lose a Tile-connected item, just tell the smartphone app, and if the lost Tile falls within Bluetooth range of the phone of any other Tile user on the planet, you'll be told its approximate location. Head over there and use the app to make the Tile beep loudly until you find it. The perfect gift for that colleague who keeps losing their possessions.
New Tile Mate 4-pack - now over 35% off!
Smart planter - $39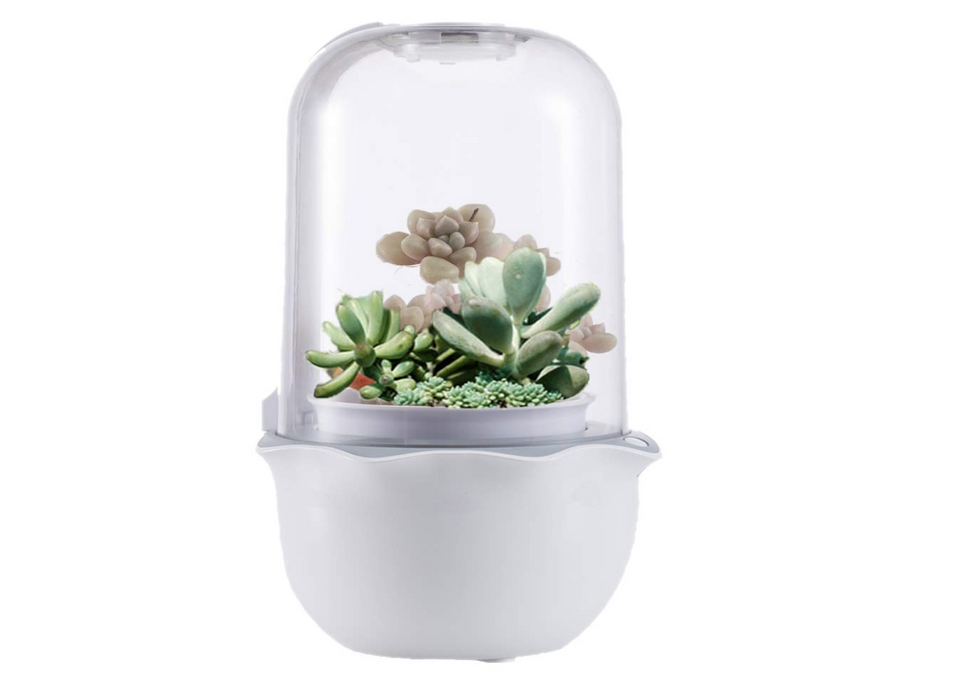 This planter has an integrated light and fan Superegrow
No office desk is complete without a plant. But some offices don't offer enough light for plants to thrive, so to improve the situation this planter includes an integrated light. There's also a fan to help circulate air around the plant, drawing in carbon dioxide for the plant to feed off, and pushing the oxygen it produces out into the office.

Both the light and fan can be set on a timer, and the planter is about 4.5 inches wide, making it perfect for growing small succulents and cacti, before transferring them to a larger pot when they are more established.
E SUPEREGROW Succulents Smart Grow Pods Planter Box Home Office Tabletop Garden with LED Plant Smart Grow Light and Timer All-in-one Smart Succulents Planter Indoor Gardening Kit
Amazon Echo Dot with Clock - $60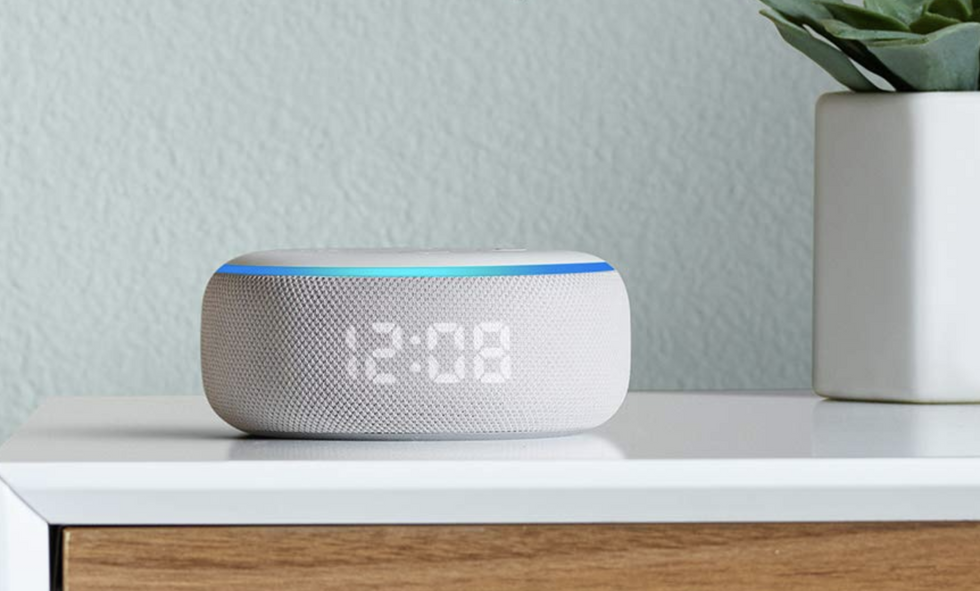 The new Echo Dot with clock costs $60 Amazon
The new Echo Dot is a smart speaker with Alexa include and an LED clock on the outside. The latter might sound like a very small upgrade, and you'd be right, but we like the way it looks. Those LED lights can also be used to show the weather forecast when asked, and what's left on any countdown timers you've sent using the voice assistant.

Naturally, you'll want to check that smart speakers are allowed in your workplace, given their habit of always listening for their name. But if that's fine - or if your colleague has their own office - then you're good to go. We find the Echo Dot is a pretty good desk radio too, producing decent enough sound quality when kept at a low, office-friendly volume level. (Check out The GearBrain, our smart home compatibility checker to see the other compatible products that work with Amazon Alexa enabled devices. )
All-new Echo Dot (3rd Gen) - Smart speaker with clock and Alexa - Sandstone
Smart bulb for desk lamp - From $8
Desk lamps can be given new life with a smart bulb iStock
The next logical step after a smart speaker is a smart light bulb for your colleague's desk lamp. Lifx or Wyze are great options here, as they connect directly to the Wifi instead of to their own hub, like Philips Hue does. This keeps the cost and complication down, and means a single bulb can be bought (or gifted), plugged in and used right away.

Both Wyze and Lifx bulbs are controlled via their own smartphone app, where you can adjust the temperature and brightness, and set the bulb to go on and off (or switch to different pre-set modes) at set times during the day.
LIFX A19 Mini Wi-Fi Smart Led Light Bulb (Latest Generation), Dimmable, Warm White, No Hub Required, Works with Amazon Alexa, Apple HomeKit, Google Assistant and Microsoft Cortana (Renewed)
Charging dock and desk organizer - $29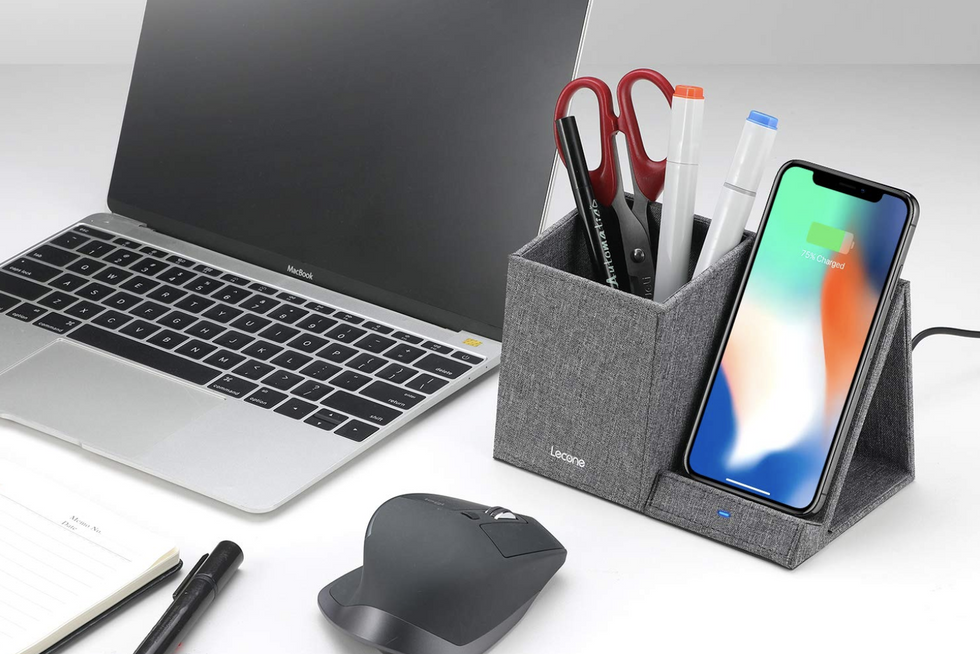 This desk organizer includes a wireless phone charger Lecone
There are lots of options here, but we were drawn to this model by Lecone. For under $30 you get an attractive fabric-covered desk organizer with a pocket for your pens and other items, along with a wireless charging dock for your smartphone.

Tilted upwards, the dock charges your phone while holding it at a comfortable viewing angle - an angle where its face unlock system will work without you having to lean over it awkwardly.
There are also options like this , which includes space for charging a couple of tablets and holding more office essentials, too.
Lecone 10W Fast Wireless Charger with Desk Organizer Qi Certified Fabric Induction Charger Stand Pen Pencil Holder Compatible iPhone 11/Xs MAX/XR/XS/X/8/8, Samsung S10/S9/S9+/S8/S8+/Note 10, Grey
Cable organizer - $10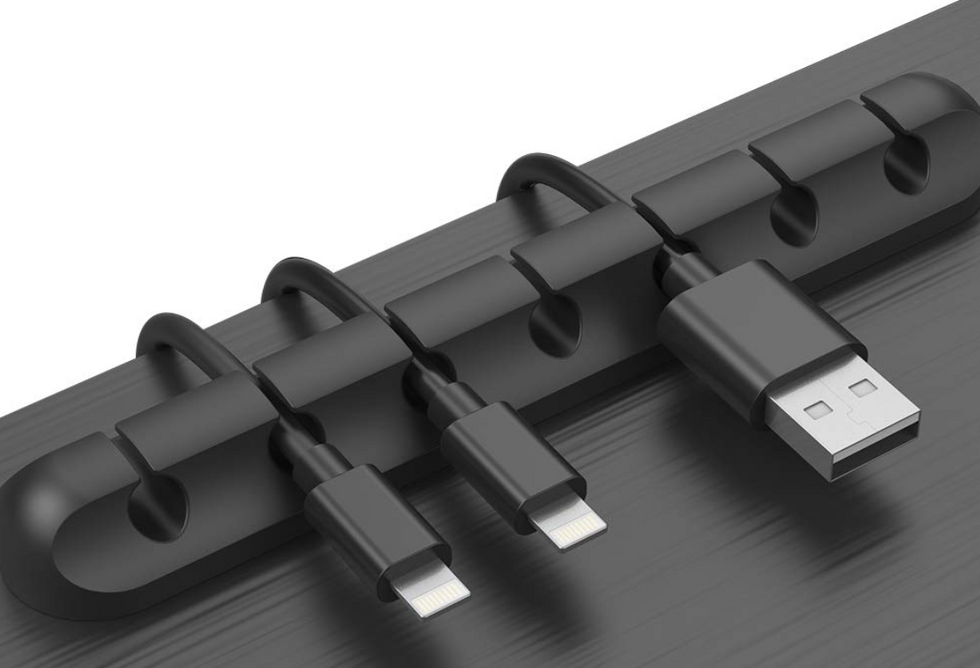 Simple but useful, this cable organizer costs under $10 Baskiss
Another simple tool for keeping your colleague's desk tidy, is this $10 cable organizer. Just stick it to whichever surface you like - the edge of your desk, for example - and the cut-outs will hold all manner of cables in place, ready to be used instead of tying themselves in knots on the floor.

Cable Clips Cord Management Organizer, 3 Packs Adhesive Hooks, Wire Cord Holder for Power Cords and Charging Accessory Cables, Mouse Cable, PC, Office and Home (7, 5 and 3 Slots)
Ember Smart Coffee Mug - $79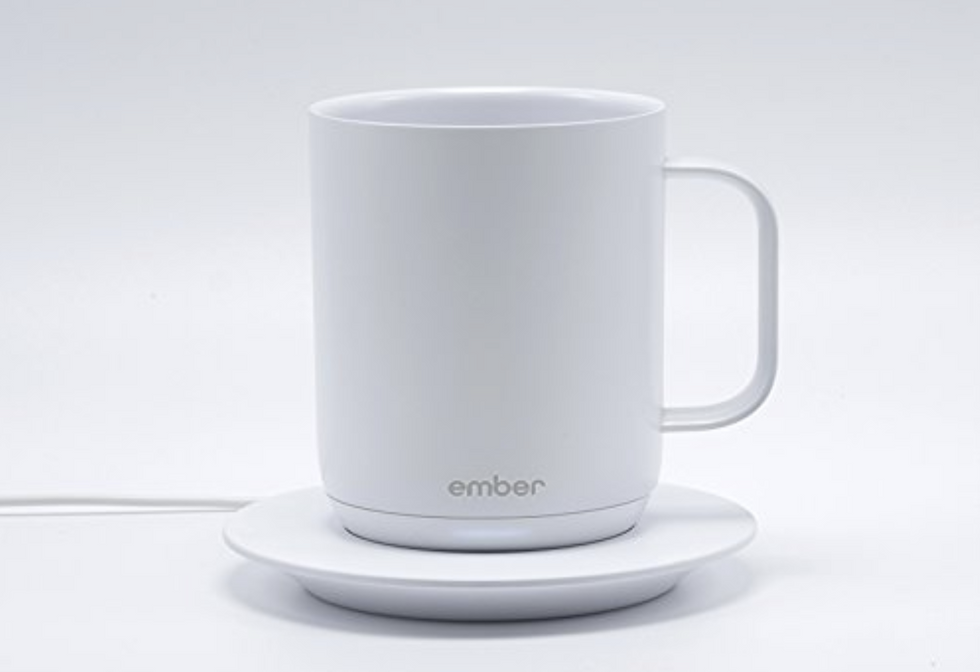 The Ember mug sits on a heated pad controlled by an iPhone app Ember
And now, a gift for yourself - a smart coffee mug which uses an iPhone app to stay at exactly the right temperature. This is the perfect office accessory if you're forever being dragged away from your desk, leaving your freshly brewed coffee to go cold.

That's because this mug plug into a wall outlet and uses a heater at its base to keep your drink at a constant temperature, between 120 and 145 degrees Fahrenheit. There's an iPhone and Apple Watch app to set the temperature just so, and the ceramic 295ml mug is available in black and white.
Ember Temperature Control Smart Mug, 10 Ounce, 1-hr Battery Life, White - App Controlled Heated Coffee Mug
Like GearBrain on Facebook