Google is rolling out several updates to its Fit health and exercise app, bringing a new home screen and more to iOS and Android.
The company is also bringing new health, fitness and wellness tiles to its WearOS smartwatch system, and a new bunch of sleep-tracking products from other companies can now share their data with the Fit app.
Read More:
Rolling out from mid-November onwards, the update's biggest change is the Fit home screen. Now the Fit app shows key information like your weekly goals, recent workouts, heart rate, blood pressure and most recent weight measurement as soon as you open the app.
The data shown here is drawn from whichever connects apps and devices you use, like a smart scale from Withings for example, or activity data collected from a Fitbit.
Speaking of third-party devices, Fit can now import sleep data from a range of products, like the Withings Sleep Analyzer, smart rings by Oura, and the Fossil Gen 5E smartwatch.
Sleep data collected from a smartphone app like Sleep As Android and Sleep Cycle can also now be automatically imported into the Fit app, which shows nightly sleep stages and lets you set goals to improve your bedtime schedule and sleep habits. Google promises more sleep-tracking devices and apps will be added to Fit soon.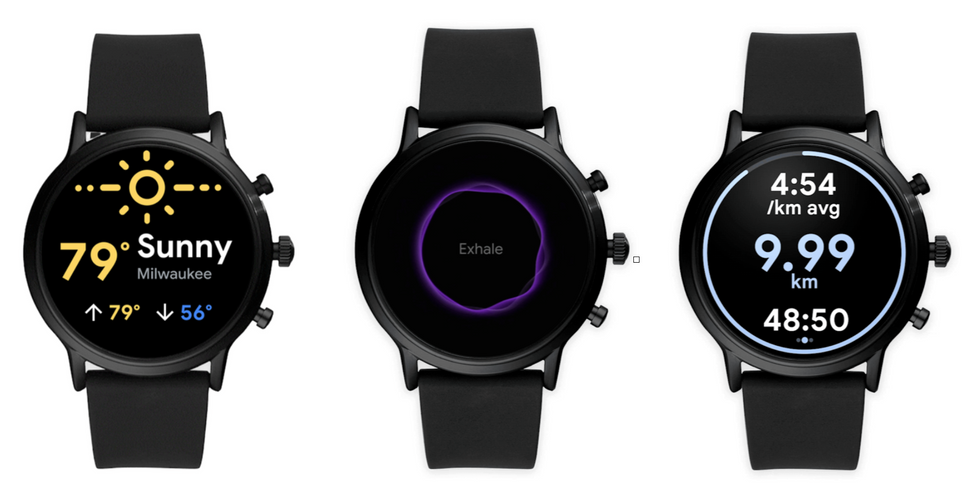 Updated interface and West OS appsGoogle
Fit's appearance on Wear OS smartwatches is also getting a refresh this month, with updates to the Workouts tile to take you to your most recent workouts with a tap. Say you regularly do the same few workouts; they will now appear on the tile, ready to be tapped.

When exercising, all of your metrics will now appear at once, including distance, time and average pace when running, for example. Google says you can now also set goals for your workouts and receive pace alerts to know if you're staying on track.
Unrelated to Fit, but still useful for runners, is an update to the weather app of Wear OS. The new design is bolder and easier to see at a glance, showing the current weather (as an icon and working), plus the temperature, your location, and the expected highs and lows for the day. Precipitation and weather alerts can also be created.
Finally, a new Breathe tile for Wear OS helps you access a guided breathing and meditation class with a tap of your Google smartwatch. Google says all of these updates will be rolling out in the next few days.
Fossil Unisex 44MM Gen 5 Carlyle HR Heart Rate Stainless Steel and Silicone Touchscreen Smart Watch, Color: Black (Model: FTW4025)