Like GearBrain on Facebook
The Polar Ignite is a fitness-focused smartwatch where tracking your latest run, swim or bike ride is as important as sleep tracking and delivering data to explain how much you recover each night.
The sheer quantity of data this wearable produces could well be intimidating for anyone used to the simplicity of something like a Fitbit, or the tracking abilities of a hybrid smartwatch. But for those who want it, the Polar Ignite logs a huge amount of data, while proactively recommending types of exercise depending how you recovered overnight.
Read More
Polar Ignite review: Hardware and design
The $230 Polar Ignite has a 43mm plastic and metal case. It weighs just 35g including the rubber strap, and looks subtle enough to not draw too much attention to itself. In that sense, it could be worn all day, every day, and isn't the type of sports device relegated to your gym bag after each workout. Also helping here is how the straps have industry-standard quick-release lug bars, so can be swapped out depending on your outfit and personal preferences.
The touchscreen display is circular but with a flat lower edge, under which sits the Polar logo. There is a single button at the seven o'clock position that is used in tandem with tapping and swiping at the screen to interact with Polar's in-house operating system.
Water resistance is rated at 30 meters, so taking the watch swimming is absolutely fine — and actively encouraged, given it tracks heart rate, swimming style, distance, pace, strokes and rest time while in the pool.
The rear of the watch houses a magnetic connection for the including USB charging cable, and an always-on optical heart rate sensor. So far, so very simple. But when you start using the Polar Ignite — and especially after a couple of days once it calibrates to your exercising and sleep routine — a mountain of data comes flooding in, but more on that later.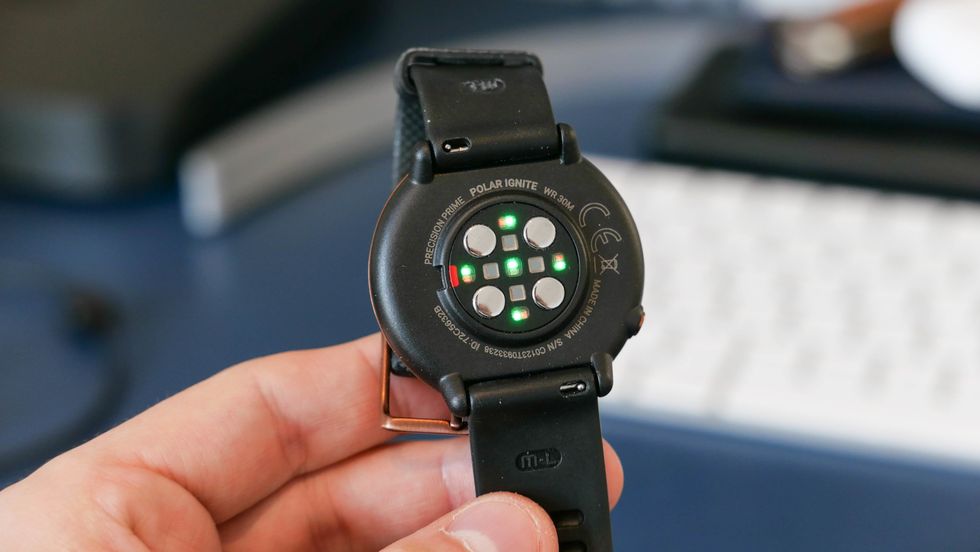 Heart rate monitor of the Polar IgniteGearBrain
Polar Ignite review: Software

As said above, the Ignite uses Polar's own operating system. There is no app store and no way to install new apps onto the watch. There is also no way to store music, or stream tracks to headphones. Instead, the focus here is purely on fitness and sleep tracking.
That said, the Ignite can alert you to notifications as they come through to your phone. But there is no way to choose which apps send notifications to the watch and which don't, so after the 20th WhatsApp group chat alert buzzing your wrist in as many minutes, you'll want to switch notifications off again.
There are six watch faces to swipe between. All show the time and date, then surround that with other data, such as daily step count, current heart rate, sleep data, your last training session, and a suggestion for what exercise to do next, based on how you recovered last night.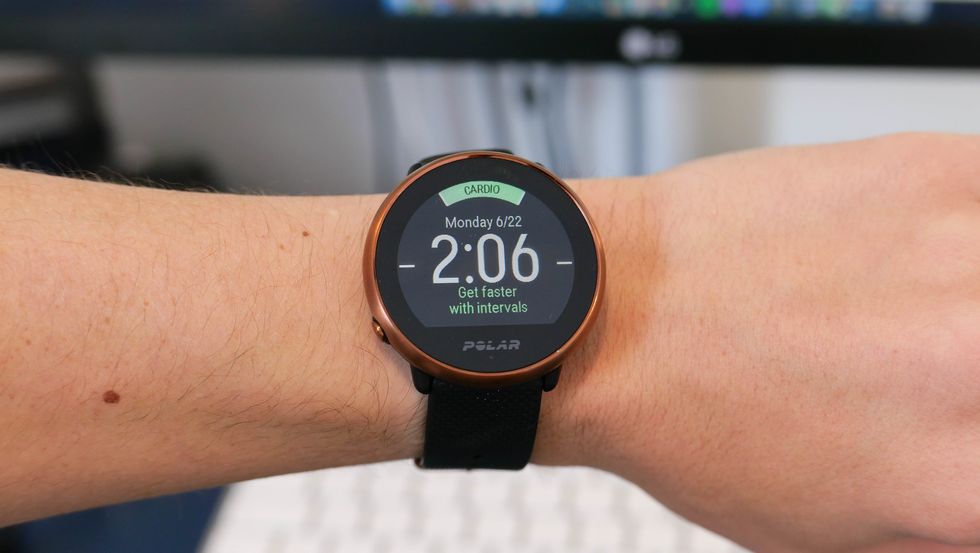 Exercise recommendations appear dailyGearBrain
Press the button to pick a type of training session (walking, running, cycling, swimming, strength training, etc), set a timer, take a general fitness test to estimate your VO2max, and open Serene, which is Polar's guided breathing exercise.

The Ignite connects to your iPhone or Android over Bluetooth and to the free Polar Flow companion app. This is where the masses of data collected by the watch can be viewed and digested, in the form of stats and graphs, but also with written explanations and suggestions. This includes advice on how you slept last night, and what type of exercise your body is sufficiently recovered for today.
Polar's interface is clean and simple enough once you have spent a day exploring what's on offer, but the display isn't all that sharp, with visible pixels and jagged edges to elements of the interface. It isn't as sharp and colorful as Polar shows in its marketing material, but it mostly does the job.
I was more disappointed by the watch's detection of wrist movement. Despite the five-day battery life (or 17 hours of constant exercise tracking), there is no option for a permanently-displayed time. Lifting your arm should light up the screen, but I found this far less reliable than with other smartwatches; sometimes the watch required an exaggerated movement, while other times it took a second too long for the time to appear.
Also frustrating is how the display brightness cannot be adjusted. I found this especially annoying at night, when the display could light up brightly — bright enough for me to notice with my eyes closed.
Polar Ignite review: Exercise tracking
There is a huge amount to digest here. First, the Ignite has integrated GPS so it can track your outdoor runs with your phone left at home. It can also record over 100 different sports, track your heartbeat all day and night, estimate burnt calories and your VO2max, and count daily steps. That last metric feels far more accurate than some other wearables, which too often mistake general arm movement for dozens or even hundreds of steps per day. The Ignite doesn't fall for this, as proven by some days where I'm shamefully reaching just 20 percent of my activity goal (during Covid lockdown, I hasten to add…).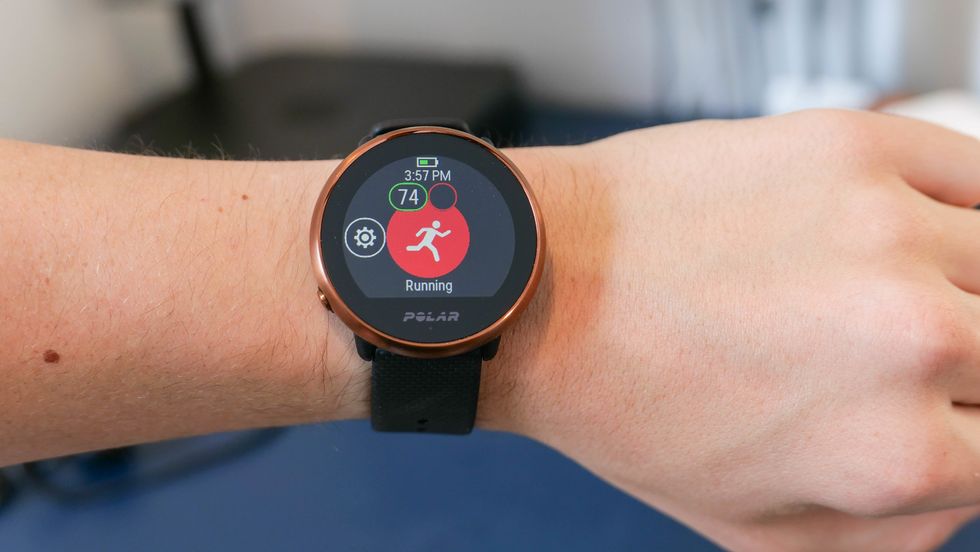 Over 100 sports and exercise types can be trackedGearBrain
A press of the button opens the main menu, then just tap 'Start Training' scroll to the exercise you want to do, and tap on it to get started. An interval timer can also be started, if that's how you like to work out. After that, one press pauses tracking and a long press ends the session. It's all very simple and intuitive.

Each training session is logged in a section of the Polar Flow app, where you can view the session duration, plus your minimum, maximum and average heart rate, fat burn stats, and a graph showing your heart rate over time. You can also rank the difficulty of your session, helping the watch better understand your fitness level and ability.
A short written summary is produced to explain how the exercise session matched your recovery – in other words, you'll be praised for doing a shorter session after a bad night of sleep, but also for pushing harder for longer when you recovered more fully the night before.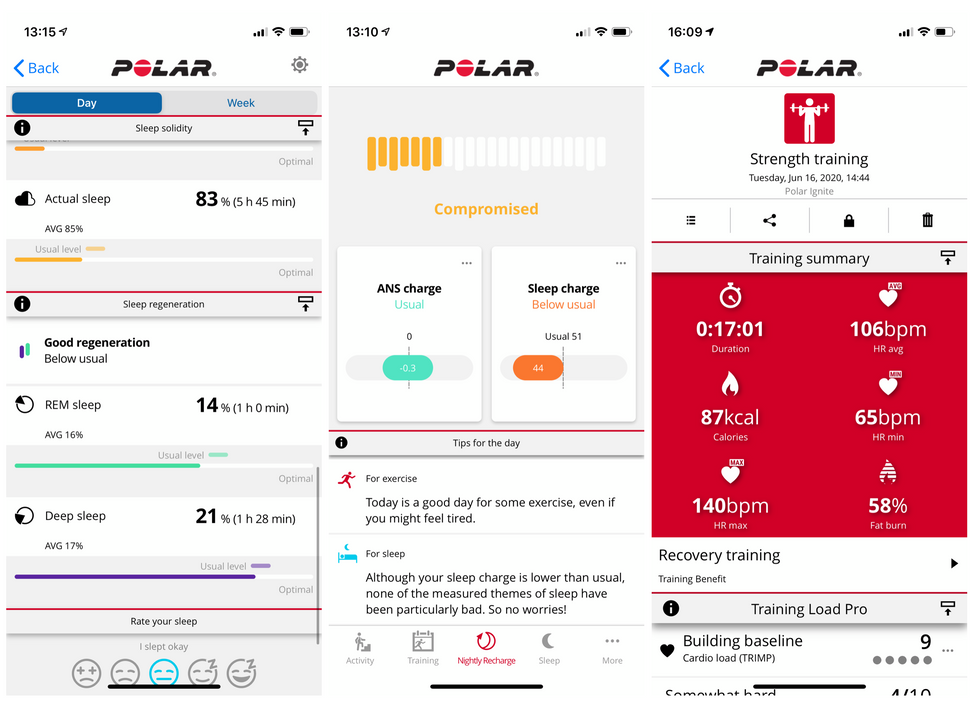 Sleep and exercise tracking in the Polar Flow appGearBrain
Based on your recent fitness and sleep, the watch will suggest a training session for you. These include aerobic and strength training sessions, complete with instructions and simple diagrams for each exercise. Between two and four workout options are presented by the watch each day, based on what other exercise you have done that week, your fitness level, and your recovery and readiness, as determined by sleep analysis.

General activity tracking includes steps, distance, time active and calories burned per day. This is all collected automatically and sent to the Flow app for further analysis.
Polar Ignite review: Sleep tracking
The Polar Ignite offers some of the most detailed sleep analysis I've seen from any wearable, and even collects more data than dedicated sleep trackers. Your sleep cycles are recorded, with graphs showing your transitions between light, deep and REM sleep over night, plus any interruptions during the night.
Each night is then scored for its amount of sleep, solidity of sleep and energy regeneration. All of this adds up to give the night a rating, plus a figure for ANS (autonomic nervous system) charge and a sleep charge. It's...complicated. There's a huge amount of data here, and it all feels somewhat overwhelming at first. For example, the app doesn't explain the difference between sleep solidity and sleep continuity.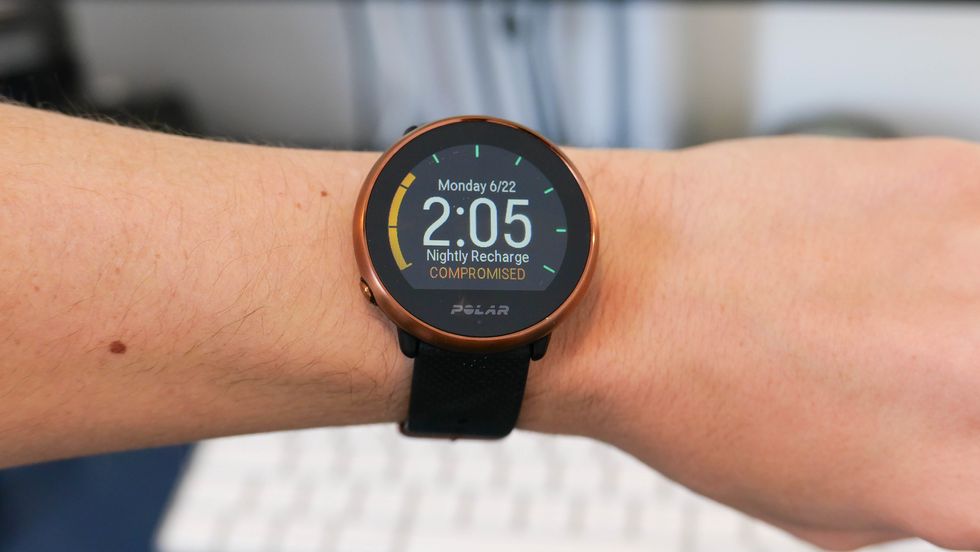 How much you 'recharge' at night is described on the screenGearBrain
More helpful are the written summaries for each night. After a poor night's sleep, the app will suggest you "respect your body's need for recovery and keep your training light. Resting is also okay."

The trouble is, I have a hard time believing some of the Polar Ignite's sleep data. For example, it claimed I didn't get to sleep until almost 3am on two consecutive nights, yet I have no recollection of this, and the Withings Sleep Analyzer under my bed said I was asleep by around 11:20pm.
On other nights, their estimates for when I fell asleep were within a minute of each other, but my wake-up time differed by around 45 minutes.
Sleep tracking is hard to get right, but some stats recorded by the Ignite made me question its accuracy, despite the breadth of data it produces. I also struggled to sleep comfortably with the Ignite on my wrist, but that's down to personal preference, and changing to a different strap would likely help.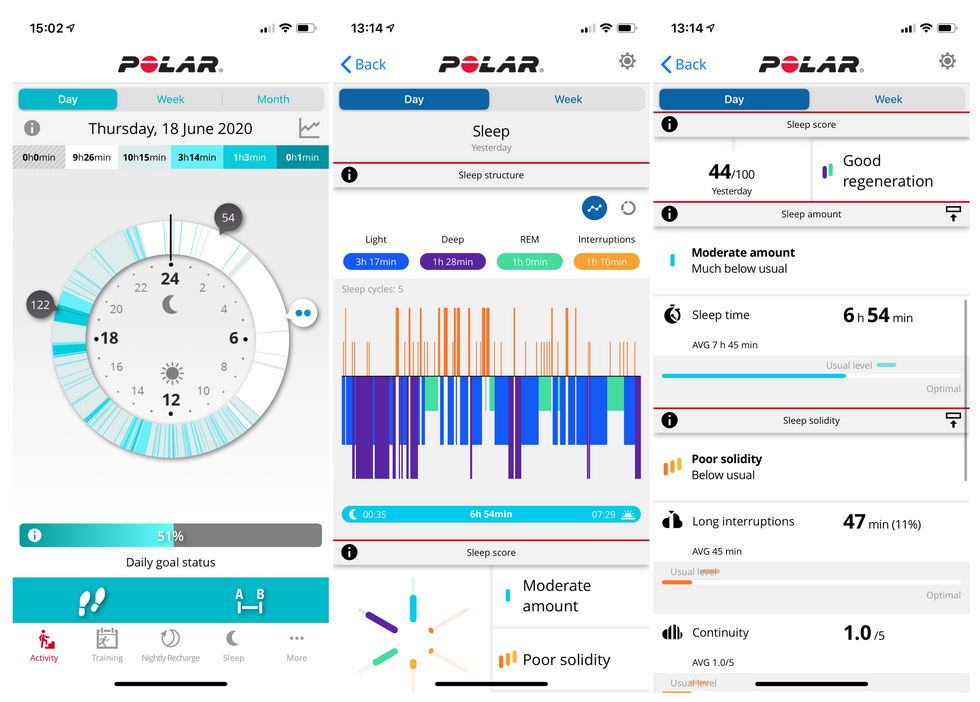 Activity and sleep tracking with the Polar Flow appGearBrain
All of the data collected by the Ignite is displayed as a circle in the Polar Flow app, representing a 24-hour day. Each level of activity, from sleeping, to sitting, light exercise, moderate exercise and intense exercise, is given its own color and plotted around the circular timeline. It's a nice way to show how active or inactive your day was at a glance.
Polar Ignite review: Verdict
As you will no doubt have gathered by now, there is a lot to digest with the Polar Ignite. Stepping up from a regular fitness tracker or mainstream smartwatch from Apple or Samsung, to a dedicated fitness watch, will mean being exposed to a lot more data. Some of it is neatly presented — and the written summaries are particularly helpful – but some take a little more effort to fully understand.
There are plenty of wearable options for those who want an at-a-glance summary for their overall health, sleep, or how much they are active each day. The Apple Watch has its activity rings to close, and the Withings Sleep Analyzer scores you out of 100.
But if you want more, watches like those by Polar are here to help. What the Ignite does well, is take your sleep data and actually do something with it, by using it to estimate recovery and suggest suitable exercise the following day. Many other devices lack that extra step.
I also like the long, five-day battery life and the design is nice and subtle. It is also excellent value for money, at around $230. If you know you'll make use of all that data, the Ignite is a very affordable way to get it.
But it isn't perfect. The screen failing to switch on reliably at the flick of a wrist is annoying, and so too is how bright the display remains at night. I also have some doubts about the accuracy of its sleep tracking. I feel the long-term tracking of sleep data is reliable, as long as you don't mind overlooking the occasional anomaly (like that 3am sleep time).
Ultimately, you will struggle to gather more data for the money — just make sure you really do want it all before investing.
Pros
Huge amount of data collection
Subtle design
Great battery life
Cons
Data can be overwhelming
Sleep tracking felt occasionally inaccurate
Display brightness lacks adjustment
POLAR IGNITE - Advanced Waterproof Fitness Watch (Includes Polar Precision Heart Rate Integrated GPS and Sleep Plus Tracking)
Like GearBrain on Facebook