Like GearBrain on Facebook
In one form or another, the Withings sleep tracker has been with us since 2014. Back then it was called the Aura Sleep System, but has since changed names when Withings was bought by Nokia, switching it name to the Withings Sleep, as we reviewed in 2019.
Now for 2020, the product has been updated and has a new name — the Withings Sleep Analyzer.
Read More:
Still an under-mattress sleep tracker that monitors your heart rate and sleep cycles without you needing to wear anything, the Sleep Analyzer's major new feature is sleep apnea detection.
Sleep apnea is when your breathing briefly stops and starts again while unconscious, multiple times per hour. It is a condition that is estimated to affect one-in-five adults, with 80 percent unaware they even have it. Sleep apnea can cause fatigue due to interrupted sleep, but in more serious cases it can cause high blood pressure, arrhythmias, stroke and even heart failure.
Withings Sleep Analyzer review: Hardware and Setup

The Sleep Analyzer for 2020 is almost exactly the same as its predecessor, the Sleep. That means its hardware sits inside a soft fabric pouch that fits neatly under your mattress, ideally below your chest while sleeping, and it plugs into a wall outlet using an included USB cable and plug.
Setting up the Sleep Analyzer is very simple. Like all Withings devices, it works in tandem with the free Health Mate smartphone app, available for iPhone and Android. If you are new to Withings, download and install this app, then follow the instructions to create an account.
Once the Sleep Analyzer is plugged in and the app is running on a nearby smartphone, the app will automatically detect the sleep tracker, and begin the brief setup process. The app explains how the Sleep Analyzer works, and where best to place it under your mattress.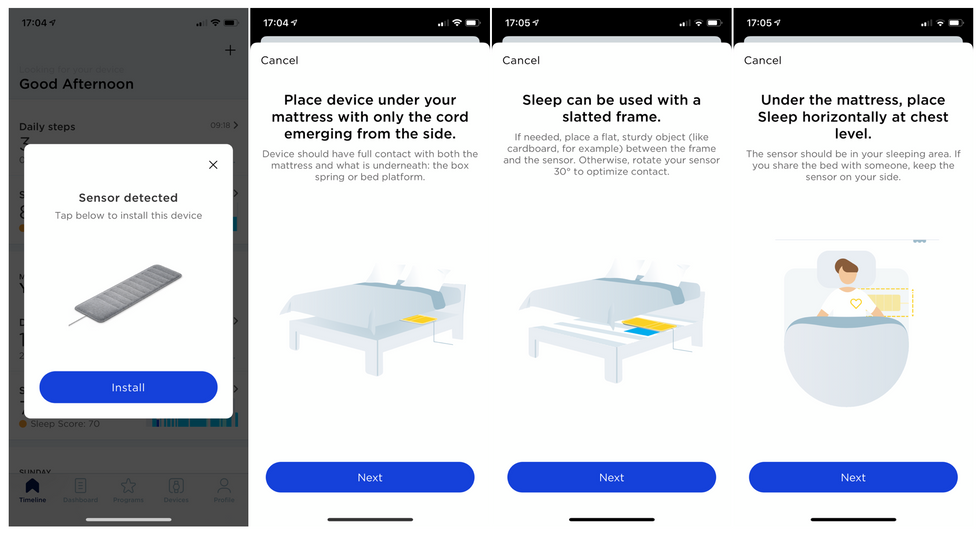 Withings Sleep Analyzer setupGearBrain
If your bed has a slatted frame, the app recommends sitting the Sleep Analyzer on a flat and sturdy object, like a piece of cardboard. Failing that, you can rotate the Analyzer by about 30 degrees, increasing how much of it is in contact with the slats.

You then need to leave the sensor for a few minutes, while it calibrates to your bed frame and mattress. After that, it is ready to use and will automatically gather sleep data every time you lie down, spotting the difference between a daytime nap and a nighttime sleep. It really is a case of set-it-and-forget-it.
If you share your bed with a partner, you will want to position the Sleep Analyzer towards your side. Or, if you both want to record your sleep data, you'll need to buy and install a second Sleep Analyzer, with each person getting their own account in the Health Mate app.
Withings Sleep Analyzer review: Software and Features
As I mentioned during the setup process, everything is handled by the Health Mate app. It's clean, simple and easy to use, but gathers up a vast amount of useful data — especially if you use it with other Withings products like a smartwatch or smart bathroom scale.
The free app presents you with a daily 'Sleep Score' out of 100, plus a brief description, such as "restful night." The app also rates the depth and duration of your sleep, states how many interruptions you had during the night (resulting in you waking up), how long it took you to get to sleep, and how long you remained in bed after waking up in the morning.
Tapping on each of these metrics reveals more information, such as the exact times of the interruptions, the total time you spent in each stage of sleep (deep, REM, light), and how your stats compare to the average among Withings Sleep users.
A color-coded graph shows your sleep cycles over time, clearly highlighting when you were in REM, light and deep sleep, and when you woke up during the night, if at all.
A new metric for breathing disturbances was added via software update in early 2019. This goes some way towards helping diagnose potential snoring issues and breathing irregularities.
The new Sleep Analyzer uses more advanced hardware and software to take this a step further and provide what Withings claims to be medical-grade sleep apnea data. The result is a daily report of sleep apnea, to go alongside the time you spent asleep, your sleep cycles shown on a graph against time, an overall score out of 100, your average heart rate, amount of snoring, the depth of your sleep, how many times your sleep was interrupted, and how long it took to get to sleep.
There's a lot of data here, but it is presented neatly and in a way that is easy to digest and understand. It is also easy to spot trends over time, which could help determine degrading or improving sleep quality over the weeks and months.
Withings Sleep Analyzer review: Performance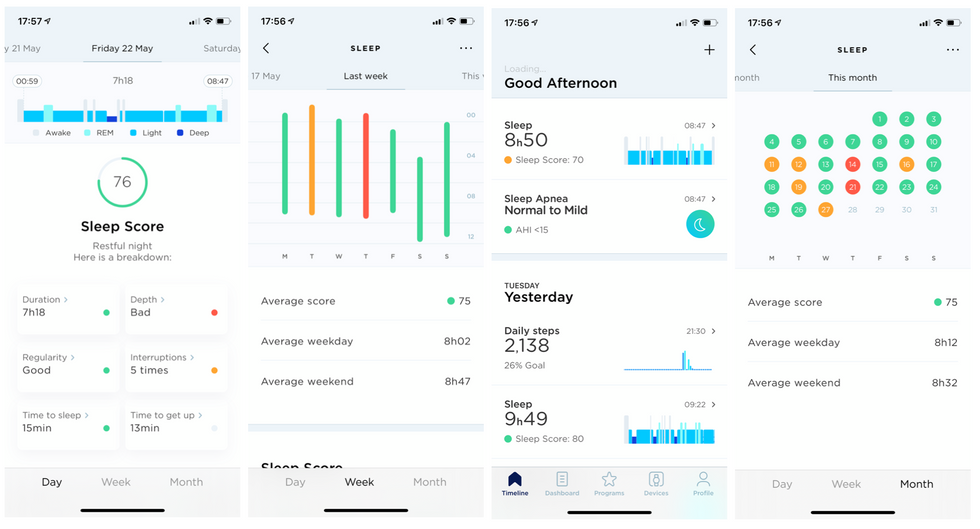 Data collected by the Withings Sleep AnalyzerGearBrain
As I said earlier, the Withings Sleep Analyzer is completely automated. You don't need to tell it when you get into bed, because it knows, and when you open the Health Mate app the next morning, your sleep data is right there waiting for you.

For the most part, working automatically is great, however it can't always tell the difference between lying in bed watching TV or reading a book, and being asleep. Likewise if I wake up early but stay in bed for a while (we are in lockdown, after all), the Sleep Analyzer will sometimes think I am still soundly asleep.
Even when it understands that I am in bed but awake, the score for the night will include a negative stat saying it took me ages to fall asleep. In truth, I was reading for an hour then fell asleep quickly, but the Sleep Analyzer didn't pick up on this. You can edit nights to fix this, telling the Health Mate app a more accurate time for when you fell asleep and woke up if you believe it was wrong.
I also wish the Sleep Analyzer had a form of alarm. Knowing what stage of sleep you are in, it's the perfect device for triggering a dynamic alarm, which could be set to wake the user up when they are least asleep. Sleep-tracking apps on phones, smartwatches and wearable fitness trackers do this, so it's a shame Withings hasn't added a smart alarm to its app, triggered by the analyzer.
Those small issues aside, the Sleep Analyzer is an impressive device. It feels like a better solution than sleeping with a smartwatch on my wrist or smartphone next to the pillow - especially as wearables tend to become uncomfortable and disrupt my sleep.
All of this is the same as the Withings Sleep, which we reviewed in 2019. What's new is the Sleep Analayzer's sleep apnea detection, which I'll cover in the next section.
Withings Sleep Analyzer review: Sleep apnea
When setting up the Sleep Analyzer, the Health Mate app explains in detail what sleep apnea is, and why monitoring it is important. As with the other sleep metrics logged by the app, episodes of sleep apnea are presented on a scale ranging from green, through yellow, to red.
Green represents none to mile apnea, which means you experience less than 15 episodes of interrupted breathing per hour. This range, according to the app, is considered normal and should not be cause for concern.
A yellow warning is triggered when you experience between 15 and 30 episodes per hour. For this, the Health Mate app states: "We recommend that you consult a doctor if you have moderate sleep apnea or if you experience symptoms or have any concerns."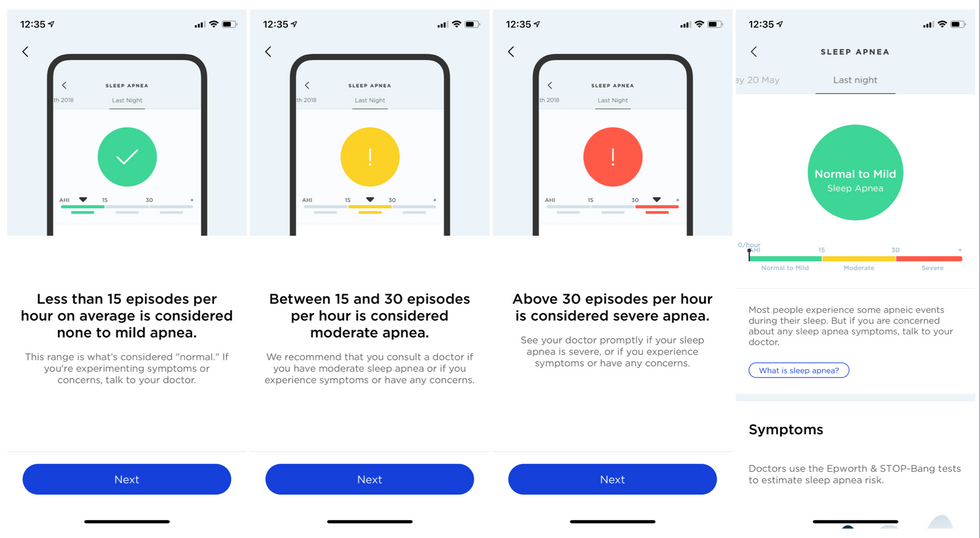 Withings Sleep Apnea reportsGearBrain
A red warning is shown if you have over 30 episodes of sleep apnea per hour. For this, the app states: "See your doctor promptly if your sleep apnea is severe, or if you experience symptoms or have any concerns."

Thankfully, every night with the Sleep Analyzer has returned a green reading for me. But more than that, the app says exactly how many episodes I have had per hour during each night. This figure is almost always zero, but sometimes reaches one, two or three per hour, demonstrating the device's apparent accuracy, and how sleep apnea can vary from one night to the next.
If you are concerned about sleep apnea recorded by the Sleep Analyzer, the Health Mate has two industry-standard tests to take. These are called the Epworth Sleepiness Test and the STOP-Bang Screening Test. Both work by you answering questions delivered by a chat bot within the app, with the aim of helping you better understand your symptoms and potential condition. There are also a number of articles on sleep apnea to read within the app.
Verdict

As with the Withings Sleep that I reviewed last year, I feel the Sleep Analyzer is a great option for those who really want to dig deep into their sleep data. Receiving a score and breakdown of each night can be useful for spotting trends, such as a lack of deep sleep, which can then be researched and acted upon.
The data is presented in a clear and understandable way, and I really like how it is all gathered by a completely unobtrusive device. Being under your mattress, you don't feel a thing. All you need is a nearby wall outlet (probably next to the one you plug your phone in each night) and you're good to go.
Some may argue that sleep data is fairly useless, given you're unconscious and unaware of what's going on when it is being recorded. But if you read around the science of sleep, seeing trends (like a lack of deep sleep) can point you in the right direction to make improvements.
The addition of sleep apnea detection is also an important one. Many sufferers don't know they have it, so to be told they regularly stop breathing during the night, potentially dozens of times an hour (while certainly alarming at first) could potentially lead to a diagnosis and treatment.
The Withings Sleep Analyzer is available from June 2020, priced at €130 in Europe and £120 in the UK. Pricing in the U.S. is to be confirmed, as the divide is awaiting regulatory approval from the FDA. The Sleep, which does not have dedicated sleep apnea detection, is currently priced at $100, with the Sleep Analyzer likely in the region of $130.
Pros:
Automatic sleep tracking
Great app
Sleep apnea detection
Cons:
Lacks a smart alarm
Could be data overload for some
Sometimes inaccurate while awake in bed
Withings Aura - Smart Sleep System
Like GearBrain on Facebook