Like GearBrain on Facebook
The new Moto 360 is a smartwatch that follows in the footsteps of the original Moto 360 — but with a significant twist. The original was one of the first smartwatches to be genuinely attractive, and not resemble a computer strapped to the wrist. The new Moto 360 mirrors that design.
But this is a smartwatch that is not made by Motorola, nor even Lenovo which owns the Motorola brand and Moto smartphone range. Instead, it's the first to come from an outside company — eBuyNow, headquartered in Canada. Still, it feels like a Moto 360 from Motorola — in all but the name.
Read More:
For this new model, eBuyNow has stuck with Google's Wear OS software, which means it works with both Android handsets and iPhones. Now at $270 instead of its initial (and somewhat optimistic) $350 launch price, it is a little more expensive than some other Wear OS smartwatches, but is a comfortable $130 cheaper than the entry-level Apple Watch Series 5.
Moto 360 review: Design and hardware
eBuyNow has clearly taken the design of the first-and second-generation Moto 360, and run with it. This is a sound move to make, given the widespread praise given to their design, and fits the growing trend for smartwatches to look like regular timepieces (Apple Watch notably excluded).
The new Moto 360 measures 42.8mm across the case, making it slightly larger than the average men's timepiece, but it doesn't feel unnecessarily large, even on slimmer wrists. Handsome and sturdy thanks to its stainless steel construction, the Moto 360 is available in black, silver and gold. Each comes with a pair of interchangeable straps, one made from leather and the other a sweat-friendly silicon sports strap.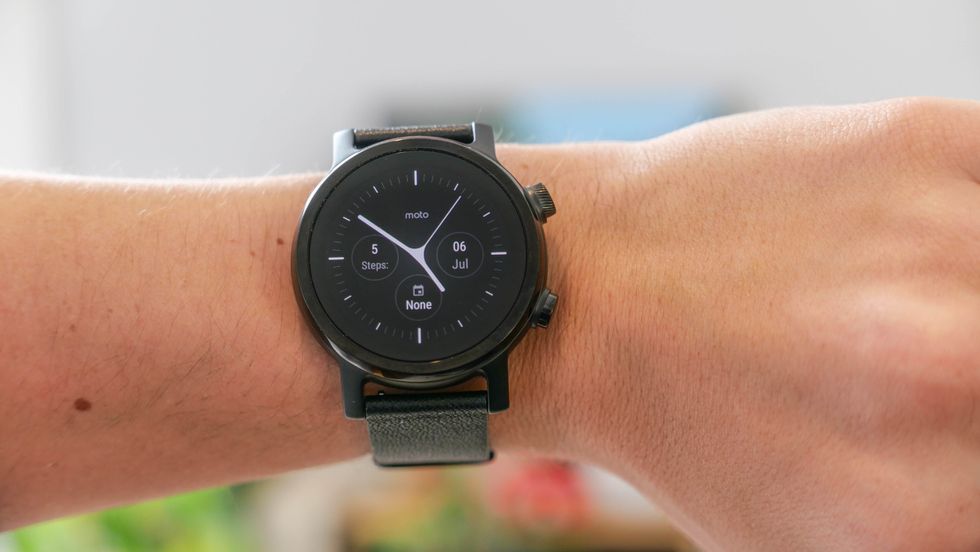 The Moto 360 has a 42.8mm diameter stainless steel caseGearBrain
It's a great move by eBuyNow to include a pair of straps in the box, and quick-release 20mm lug bars make it easy to switch between the two, or add another other you fancy thanks to the bars being industry-standard.

A pair of push buttons sit at the two and four o'clock positions, with the upper button also rotating to scroll through content displayed on the 1.2-inch AMOLED touch screen (resolution 390x390). A long press of the upper button launches the Google Assistant, while the lower button can be configured to open any app you like with a press.
The display is bright and crisp, and is constantly lit so the time can always be seen.
The rear of the case houses a heart rate monitor and pins for connecting to the magnetic charging dock. The Moto 360 doesn't have wireless charging, so you'll need to always use the included dock to fill the battery. The dock connects neatly with magnets, but then the watch doesn't sit flat on a table, and is instead designed to be sat up on its side, acting as a bedside clock. It's all a little bit awkward and feels like a better docking solution could have been found.
Otherwise, I really like the design of the latest Moto 360. It's a good-looking smartwatch that feels like a regular timepiece, is a good size, has interchangeable straps, and seems like it is built to last.
Inside, you will find GPS (so you can track outdoor runs while leaving your phone at home) and NFC for contactless payments with Google Pay.
Although the dock could be better, my only real aesthetic complaint is how a small gap between the case and Gorilla Glass front attracts bits of dust and dirt that are tricky to remove. It's a small problem, but one which draws attention to itself, especially on my all-black review sample.
Also disappointing is how the watch is only water resistant to 3ATM. This broadly means splashes and wearing it while washing the dishes is fine, but regular swimming isn't a great idea. As such, swim-tracking is not an option with the Moto 360.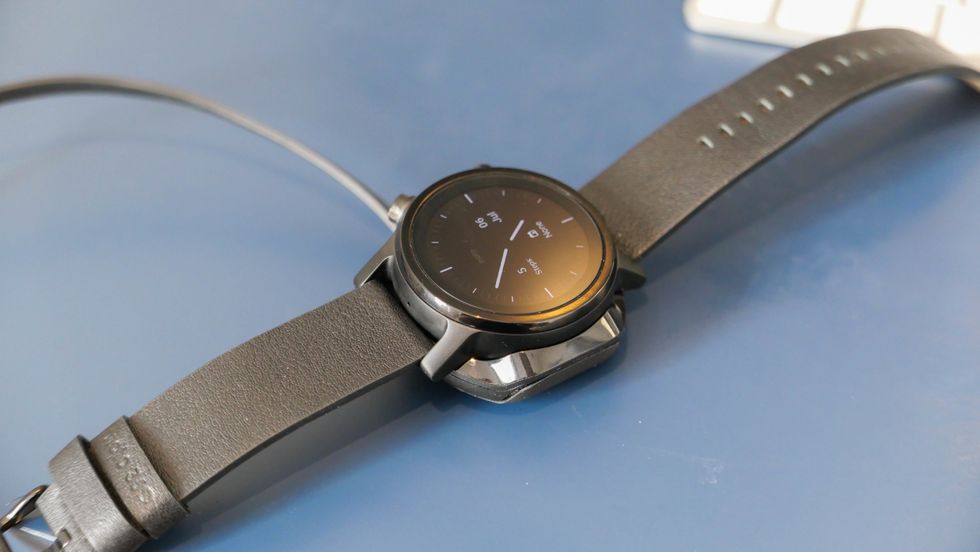 The Moto 360' slightly awkward charging dockGearBrain
Moto 360 review: Software and performance

As mentioned earlier, the Moto 360 runs Google's Wear OS software, formerly known as Android Wear. The watch works with Androids and iPhones, and does most of what you would expect a smartwatch to do. Notifications are sent from phone to watch (you can filter out which to save battery life and your patience), your heart rate is taken throughout the day, and the comprehensive Google Fit health tracking app is pre-installed.
The Fit Workout app can be used to log a wide range of exercises, including walking and running, but also cycling, weight training, boxing, circuit training, dancing, and a huge range of other sports. There are even non-sport options like gardening, using a kick scooter and yoga.
The accuracy here is impressive. Set to weight training, the app automatically detects what exercises you are doing (a bicep curl, for example) then counts your reps and sets. Add the weight yourself, and a log of your workout is saved on the watch and your phone.
The Fit application suite also includes Fit Breath, a guided breathing app, Fit Heart Rate, and Fit Goals, which counts your steps, tracks your heart rate and awards 'Heart Points' for your daily activity.
Navigating the Wear OS system and its apps is done by tapping and swiping at the display, and by pressing and rotating the button at two o'clock. However, the rotating doesn't work everywhere, so sometimes you are forced to swipe at the display. I would like to have seen the rotate command made universal throughout the watch's software.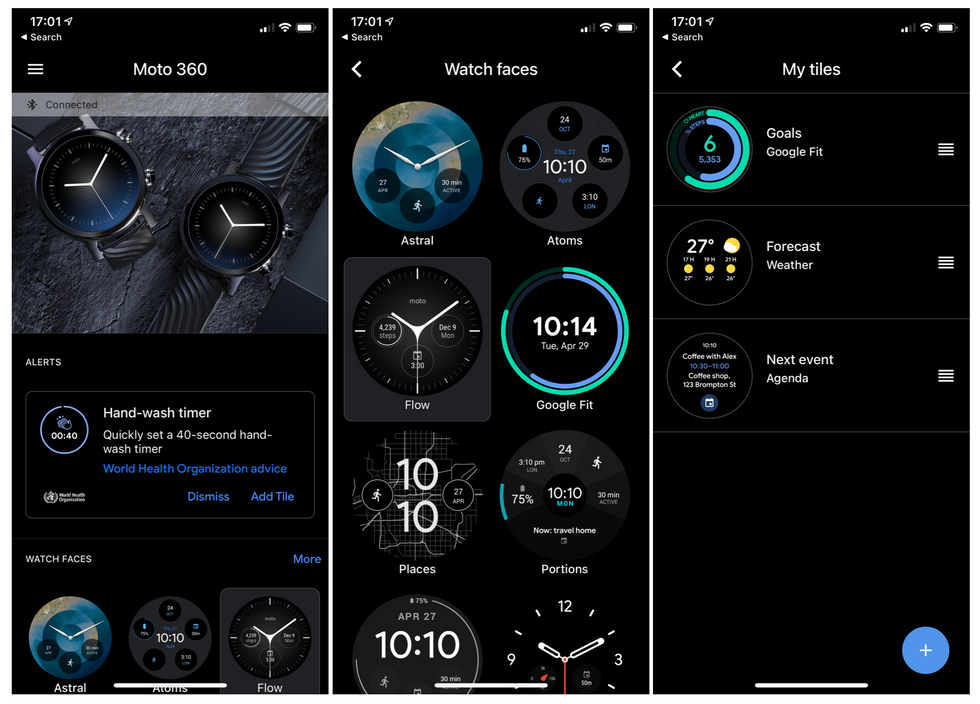 Google's Wear OS smartphone app for smartwatchesGearBrain
As with other Wear OS watches, the Moto 360's face can be changed. A dozen or so watch faces are available at first, with each offering a range of customization options. More can be installed using the Wear OS app on your smartphone.

Powered by the Snapdragon Wear 3100 processor with 1GB of RAM and 8GB of storage, the Moto 360 runs smoothly and is responsive to touch inputs. The watch stuttered slightly through its initial setup procedure, but has been fine since.
As for battery life, I usually have between 30 and 40 percent left by the end of each day. This of course means the Moto 360 can manage a full day of regular use, including an exercise session and regular notifications from key apps like WhatApp, without concern. But sleep tracking will require some planning, in the form of charging the watch for a little while during the day, perhaps during lunch or dinner.
In any case, I would suggest anyone who really wants to track their sleep to invest in a dedicated fitness tracker, a smart ring like the Oura, or a sleep tracker like the Withings Sleep Analyzer. The Moto 360, although an attractive smartwatch, feels too chunky to be worn in bed.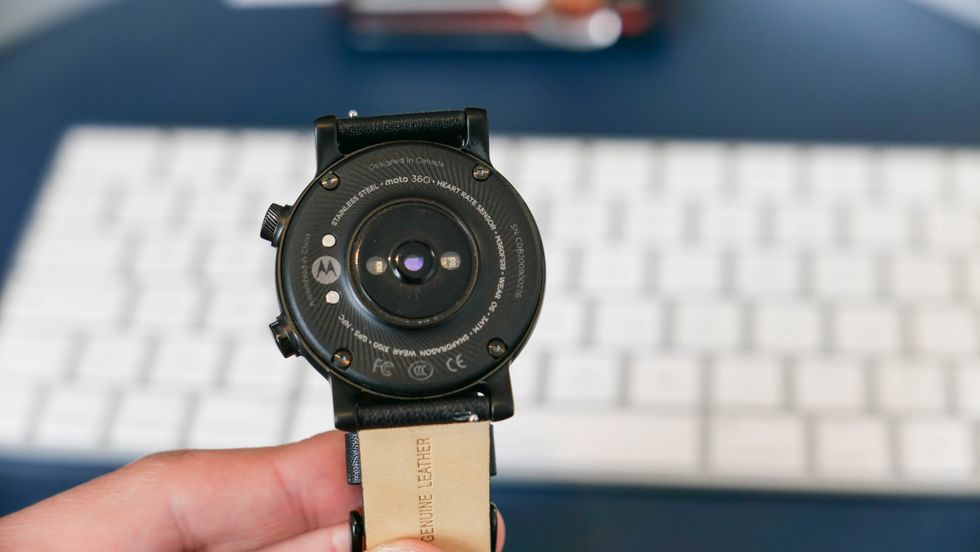 The case back houses a heart rate monitor and charging connectionGearBrain
Summary

The latest Moto 360 is a handsome and seemingly well-made smartwatch that looks great in all three different color options and performs well. It is around the average size of a regular men's wristwatch, while offering a good suite of health and fitness tracking apps, attractive digital faces, a good quality, always-on display, and interchangeable straps.
The watch's software will be familiar to anyone who has used a Wear OS wearable in the last few years, and it works just fine on iPhones as well as Androids.
Not as impressive is the less robust waterproofing compared to many others, a slightly high price, and an awkward USB dock in place of wireless charging. Battery life is only just adequate, as daily (or nightly) trips to the charging dock will be required for most users.
Those interested in the Moto 360 should also check out the equally-priced Samsung Galaxy Watch Active 2, or the wide range of Wear OS smartwatches from a whole bunch of tech, fitness and fashion brands. Some of these are cheaper than the Moto 360 and offer a very similar experience.
But if the Moto 360 fits into your budget and expectations, then you shouldn't be disappointed. It might not break new ground, but it looks and feels great.
Pros:
Attractive, quality design
Comfortable and well made
Broad fitness tracking options with Google Fit
Cons:
Awkward charging dock
Mediocre battery life
Minimal water resistance
From Your Site Articles
Related Articles Around the Web
Like GearBrain on Facebook