Like GearBrain on Facebook
Just seven months after Facebook was engulfed by the Cambridge Analytica privacy scandal - and mere days after it admitted up to 90 million user profiles may have been compromised - the social network has announced two new video-chatting devices with cameras and always-on microphones. (Check out GearBrain's review of Portal and Portal Plus from Facebook here.)
The pair of devices - the first hardware products to carry Facebook's name - are called Portal and Portal+, and enable users of the social network to have video chats with their friends and family, without the need to hold up a smartphone or gather around a laptop.
Read More:

They use the Facebook Messenger platform and also make use of two voice assistants. One, summoned by saying "Hey, Portal" is used to start video chats through Facebook Messenger; the second is Amazon Alexa, which can be used to look up information online and control your smart home devices.
The smaller of the two Portal devices looks similar to the Amazon Echo Show, which also features a display and uses Alexa to start up video conversations. Both also have a similar design to the Home Hub, a smart speaker with touchscreen display that Google is tipped to be launching tomorrow, October 9.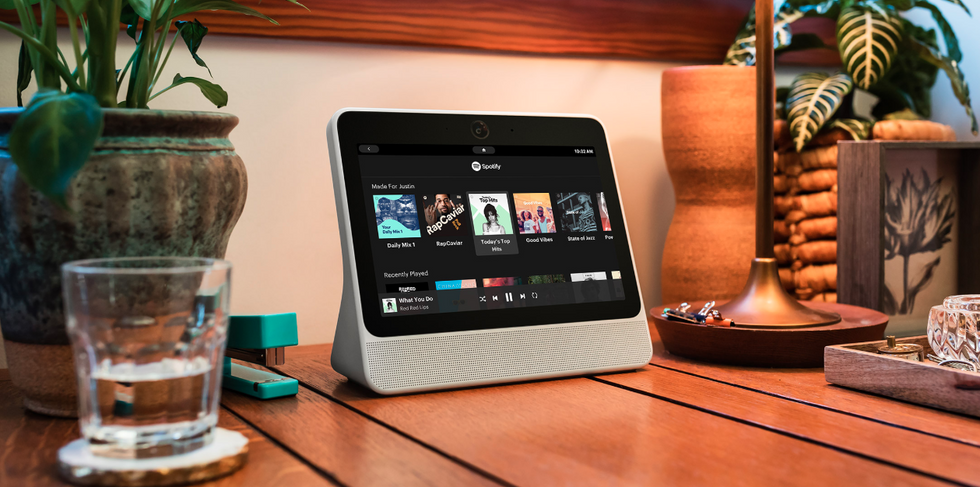 The smaller 10.1-inch Portal costs $199Facebook
On privacy, Facebook says: "We want to be upfront about what information Portal collects...Facebook doesn't listen to, view, or keep the contents of your Portal video calls."
In addition, Facebook says video calls on Portal are encrypted, and the camera "doesn't use facial recognition and doesn't identify who you are." Like Alexa and Google Assistant devices, Portal sends your commands to Facebook's server after you say "Hey Portal", and these recordings can be listened to and deleted from your Facebook Activity Log.
But cybersecurity expert were quick to have their say on the new products. In a message aimed at Facebook boss Mark Zuckerberg, computer security expert Graham Cluley tweeted: "Buy a Facebook Portal? I'm sorry Zuck, I can't do that."
The larger Facebook product, called the Portal+, costs $349 and has a 15.6-inch screen with a resolution of 1920 x 1080, which can be rotated to sit in either landscape or portrait. The smaller 10.1-inch Portal has a resolution of 1280 x 800 and costs $199. For a limited time, Facebook is knocking $100 off the cost of purchasing two Portals (for a total of $298), in a bid to get people chatting with them right away.

Facebook describes the Portal products as "a new way to connect that makes you feel like you're in the same room, even when you're miles apart."
What sets Portal apart from the Amazon Echo Show (and what we have seen of third-party Google Smart Displays) is how its camera zooms and pans to keep you in frame as you move around the room. The camera will also widen its shot to fit in multiple people, or zoom in to focus on your face if you are the only person there. So-called "smart sound" focuses in on your voice and helps to filter out background noise.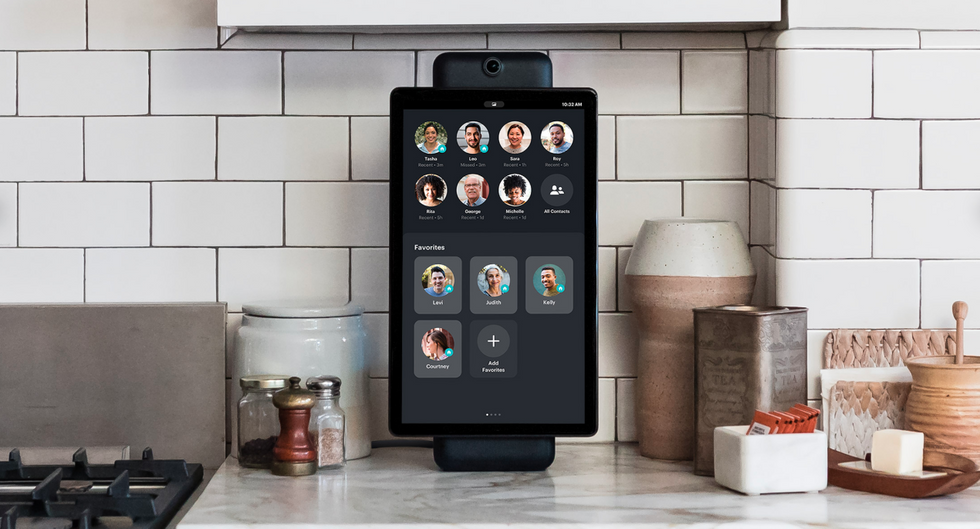 The larger Portal+ has a 15.6-inch screen and costs $349Facebook
In a bid to appease customers who are concerned over privacy issues - not least given the year Facebook has had - both version of the Portal have a button for disabling the microphone and camera. Going a step further, they also include a removable cover which can be used to physically block the camera. The latter is something no Amazon Echo product currently has.
When not used for a video call, Portal plays a slideshow of your Facebook photos and videos, reminds you of upcoming events, displays notifications, and can be used to show information like the weather forecast when you ask Alexa. Video and music are also part of Portal, with services offered by Spotify, Pandora, iHeartRadio, Food Network and Facebook Watch.
Despite them being owned by Facebook, WhatsApp and Instagram are nowhere to be seen, and regular Facebook Messenger messages - even video recordings - cannot be sent using the Portal.
The Portal's embedded Alexa assistant can be used to control your smart home (such as dimming the lights), just as it can on an Amazon Echo device.
Check out The GearBrain, our smart home compatibility checker to see the other compatible products that work with Amazon Alexa.
Like GearBrain on Facebook