Like GearBrain on Facebook
Amazon, Google and Samsung are acutely aware of the need to simplify the smart home. In February alone, the three made high-profile bids to consolidate the burgeoning market, both to boost balance sheets but also to lift confusion falling on consumers.
With the Amazon Echo, Google Home and Samsung SmartThings ecosystems all vying for space in households, it shouldn't be a surprise to see this consolidation take place.
First, Google announced that it would be taking Nest in-house. A producer of internet-connected thermostats, smoke alarms, security cameras and doorbells, Nest was founded by Apple veteran Tony Fadell in 2010 and acquired by Google for $3.2B just four years later. After the formation of Google parent firm Alphabet in 2015, Nest was spun-off into its own company — separate from Google — but still owned by Alphabet.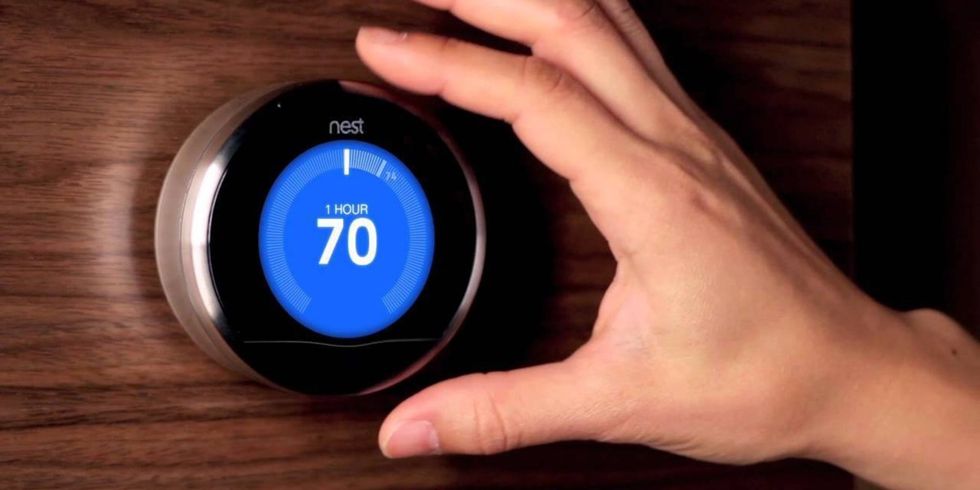 Google has taken Nest back in-house, raising privacy concernsNest
Alphabet says its will create a "more thoughtful home," by merging Nest and Google. This allows the two company's hardware teams to work side-by side which, given the success of the Google Home smart speaker, should come as no surprise. Nest, still relatively unknown compared to other Google brands like Android, Home and Pixel, will now be thrust into the mainstream by riding the coat tails of Google Home plus consumers eager to give their home a smart makeover.
But some say that while Alphabet may be saying they're making the space simpler for consumers, they may also be consolidating the data these devices collect.
"Adding data from Nest's home sensors and security cameras will significantly expand Google's monopoly on personal data," says Silkie Carlo, director of campaign group Big Brother Watch. "Many customers will be justifiably anxious about Google's growing, centralized trove, especially given that its business model relies on data exploitation."
Samsung is also looking to streamline the way its smart home systems work as well. The company is launching an all-new SmartThings app through its Galaxy S9 smartphones, when they go on sale March 16. Founded in 2012, Samsung acquired SmartThings in the summer of 2014, a brand used across a number of the Korean company's household products.
All connected to a wireless hub — and controlled either by Samsung's app or a smart speaker like the Amazon Echo or Google Home — SmartThings products include plugs, light bulbs, motion sensors, cameras, locks, doorbells, robotic vacuum cleaners and washing machines. Some are made by Samsung itself, but many are from third-party manufacturers.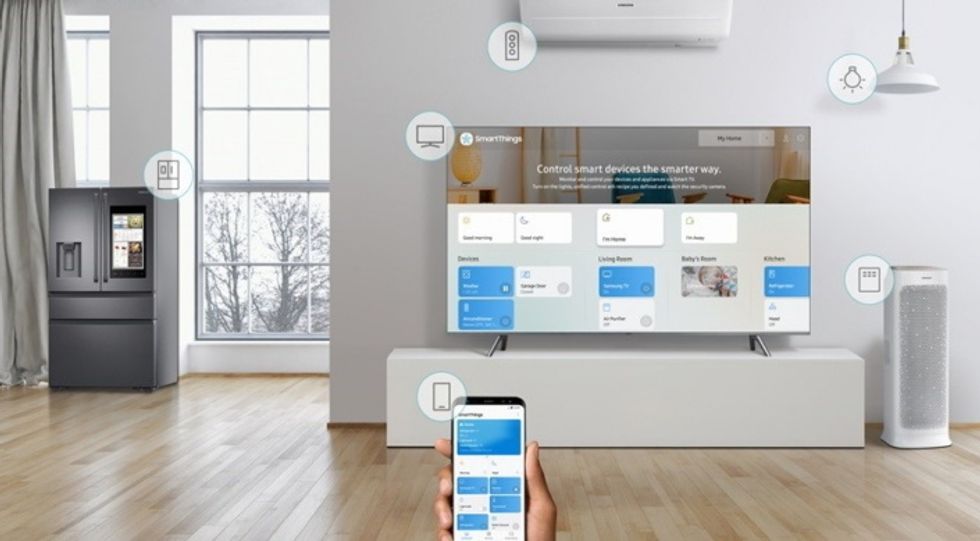 The new SmartThings app will make running a smart home simplerSamsung
Recognizing the inherent complexity such a system has — especially when it can be controlled by various assistants on different screens and on multiple displays from smartphones to TVs and fridges — Samsung said the new SmartThings app will "remove the complicated steps that are often required to complete everyday tasks and chores."
Samsung will do this, it says, by "fostering seamless interactions between a household's IoT [internet of things] technologies."
What this means at first is a SmartThings app, the same wherever you access it (whether that be your phone, television or, yes, even your fridge), and with the same ability to control every compatible device in your home. Samsung also hopes the app will make adding new devices to your smart home system simpler. (Don't for get to check out The GearBrain to see which connected devices work with or are compatible with Samsung SmartThings platform.)
Finally, Amazon rounded off the month by announcing its acquisition of Ring, a producer of smart doorbells. This purchase, reportedly worth between $1.2B and $1.8B, comes just two months after the retail giant sealed a $90M deal to buy smart home camera maker Blink.
Given Amazon's new in-home delivery service, where delivery people have brief access to your home via an app, a camera and a smart door lock, it doesn't take much imagination to see the motive behind Amazon's two most recent acquisitions. As for an indication of Amazon's commitment to this space, its purchase of Ring (a company rejected by Shark Tank in 2013), is its second-largest ever, behind the $14B it paid for Whole Foods in 2017.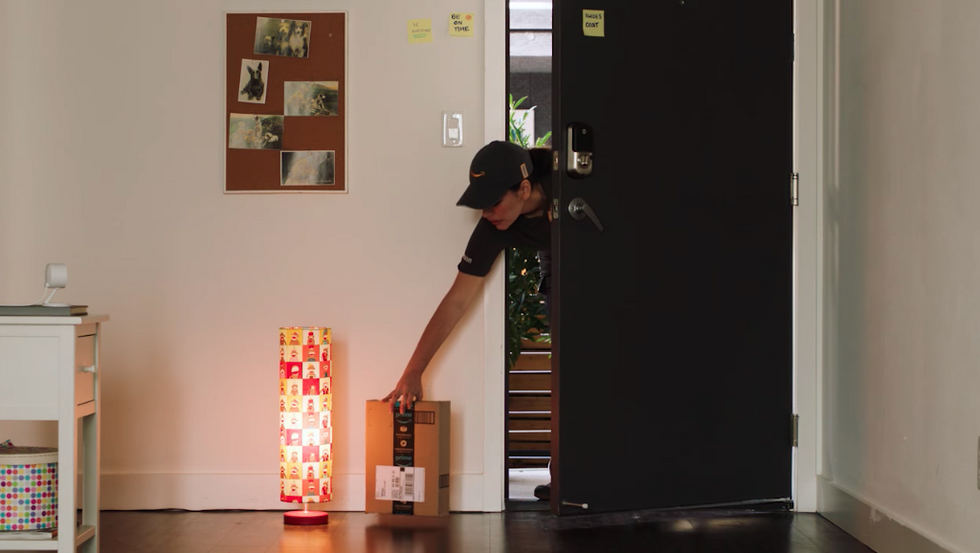 Amazon wants to make deliveries in your home while you are awayAmazon
Meanwhile, Google's smart home purchases include API.AI, a natural language processing firm, bought in 2016 to improve Google Assistant. There was also Dropcam, a home monitoring company bought for $555M in 2014, and of course Nest Labs for $3.2B in 2013.
In some ways, the smart home industry needs giants like Amazon, Samsung and Google to help keep the dreams of imaginative, but bootstrapped, startups alive. The market is quickly becoming crowded and with this comes confusion for consumers who are expected to understand the limitations of Alexa vs Google Assistant, the differences between ZigBee and Z-Wave, and why Apple's walled garden is more impenetrable than ever.
Consumers used to buying new smartphones every 12 or 18 months and treating most tech purchases as borderline-disposable are now being offered intelligence with more permanent devices.
As light switches, taps, showers, window blinds and door locks gain internet connections the industry is quickly becoming a complicated mess of potential dead ends. Who's to say that feature-packed, web-connected, Alexa-controlled door lock from a cool new startup will still be supported a year down the line? What happens if that startup goes bust, as so many do?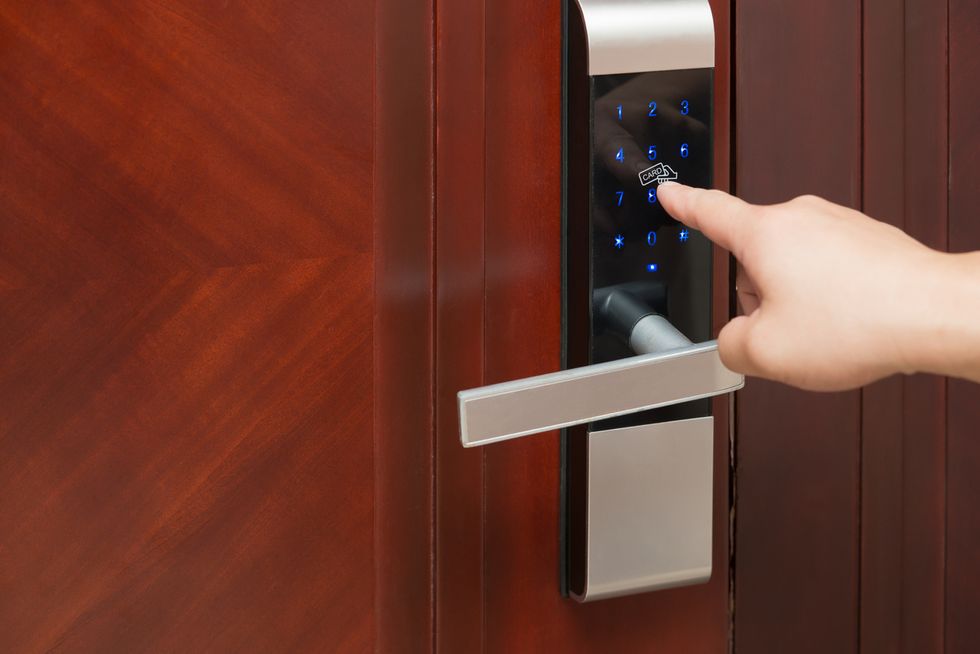 What happens when a smart lock startup goes bust?iStock
In buying up the cream of the smart home crop, industry giants like Amazon and Google are potentially helping to make the market more stable for consumers. But whether that potential act of kindness is their primary concern is up for debate.
"Google already harvests an incredible amount of detailed information about millions of internet users around the globe," says Big Brother Watch's Carlo, speaking about Google moving Nest in-house. "Now, Google is becoming embedded in the home, through 'smart' soft surveillance products."
The smart home industry is only just getting started, and soon it looks like the usual suspects will have it in a stranglehold. On the surface this is good for consumers and good for the fortune few startups who get bought out for millions or even billions of dollars. But then companies who are already flirting with Orwellianism then have an even firmer grasp on our lives, a more detailed view into our households and habits, and a greater responsibility to protect our data and our privacy.
(Check out The GearBrain to learn what smart home products and connected devices work with Google Home or Amazon Alexa Samsung SmartThings. )
Like GearBrain on Facebook