Like GearBrain on Facebook
Google has now made its Lens image identification tool available as a standalone app, which users of Android 6.0 Marshmallow and upwards can download and install.
What is Google Lens?
Already featured inside the Assistant app of Google's own Pixel phones — and due to appear on other smartphones soon — Lens uses artificial intelligence to analyze what you point the camera at, then tell you more about it.
Google says it will also add Lens to the cameras app of "supported devices" from a range of manufacturers through 2018. These include LG, Motorola, Xiaomi, Sony, Nokia (HMD), OnePlus and Asus.
However, if you own a recent Android smartphone and want Lens right now, you can download the new standalone app from the Play Store.
What can Google Lens do?
Similar to both Google Goggles and Samsung's Bixby Vision, Google Lens offers up information about where you point your smartphone camera and what it sees. This could be the breed of a dog, the name of a plant, or information on a painting, building or landmark.
As well as serving up the name of the object, Lens shows a stock image of what it thinks you are showing it — tap on this and you'll be shown a Google search for the object.
Point Lens at something which can be bought online, like a bottle of wine or an electronic device, and the app will identify it then direct you to where you can buy it. This also works with items of clothing, where Lens will attempt to find the garment (or some similar options) for you to buy.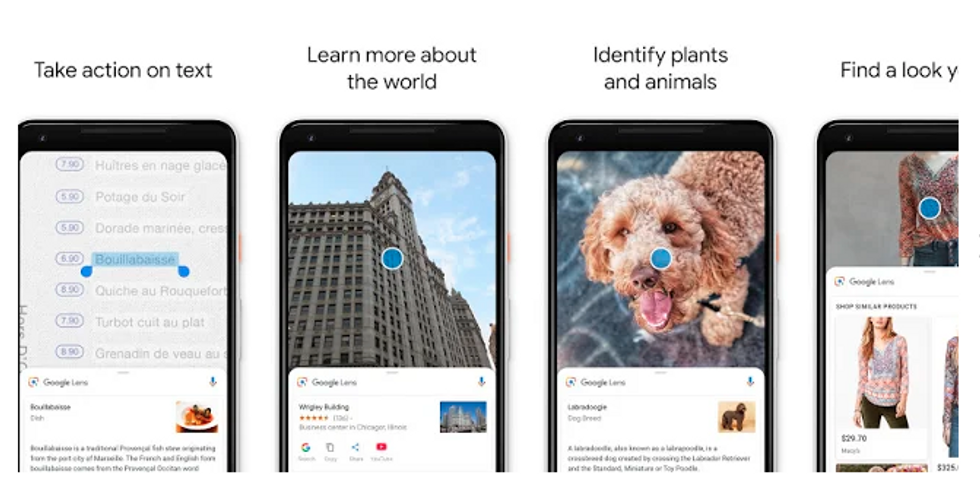 Google
Show Lens a film poster or DVD case and Google will provide a review and synopsis from IMDB, then offer links to view the trailer or look up the cast and similar movies.
As well as objects, Google Lens can spot text and understand what to do with it. For example, show Lens a business card and it will identify each piece of information — the name, phone number, email address etc — and let you call the number or send an email with one tap.
If you need to lift a passage of text from a book and paste it somewhere online or email it to someone, Lens can help here too. Just point Lens at the writing, tap on the sentence or paragraph you want, then select and copy it as you would a piece of text from a website.
How well does Google Lens work?
We have found the performance of Lens to vary depending on what we ask it to do. Sometimes — like when it correctly knew the different between two similar looking cars — we were pleasantly surprised. But other times — like when it failed to identify some common plants — it felt like a work-in-progress.
We also couldn't get Lens to pull off one of its most written-about tricks; to help the phone connect to a Wi-Fi network by showing Lens the network name and password. We tried two different networks but couldn't get it to work; however, being able to copy and paste the password without typing it out was still a helpful time-saver.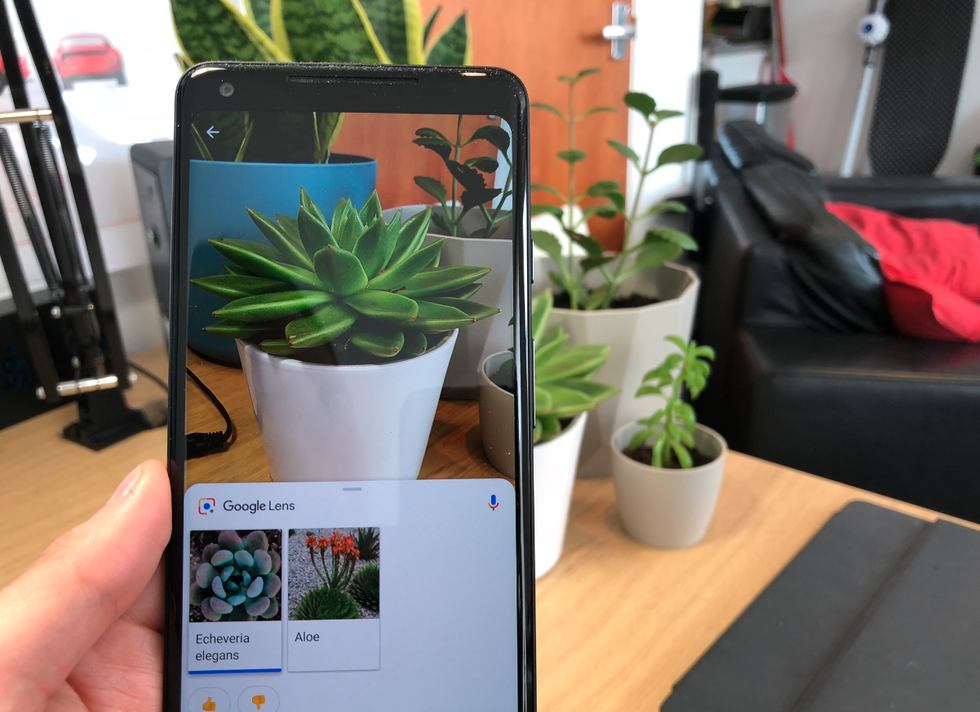 Lens can be used to identify plants, among many other thingsGearBrain
We also found that Lens will try and identify an object with the words it sees before anything else. For example, we showed Lens an ornament of an Egyptian pharaoh, but it repeatedly offered information on the Yokohama tire company, because the ornament was sat on a magazine with the company's logo partially on show. Isolating the ornament gave us "looks like...sculpture?" but nothing more.
Lens performed better with books, correctly identifying four out of five we tested it with. For the one it failed to correctly identify (instead giving us another book of a similar name), scanning the barcode worked fine.
The app can also show words and phrases it thinks correspond with the object you show it. For example, we presented the programme for a recent music festival and Lens offered up the name of the headline act, despite the band not being on the programme.
Being powered by AI, we fully expect Lens to improve over time, especially as more people use it and tap on the thumbs-up and thumbs-down icons to help teach the app what it gets right and wrong.
Like GearBrain on Facebook