Like GearBrain on Facebook
Google Maps already accurately predicts road traffic, thanks to access to road sensors and the location of our smartphones. Now, the app will also offer information on when your bus or train will be busy or quiet.
The app has done the same for bars and restaurants for a while now, letting Google Maps users know how busy a place tends to be during each hour of the day, how busy it is right now, and how these two sets of data compare.
Read More:
Starting this week and rolling out to 200 cities globally, Google Maps will offer a similar service for trains and buses. By accessing various data, including the anonymized location of our smartphones (when they have Google Maps installed and GPS switched on), Google can estimate how busy a particular bus or train will be.
That way, when you look up public transit directions, you can opt to wait for a later train in the hope it'll be a little quieter. Likewise, you could check your daily commute each morning and be alerted to an unusually busy bus on your route, then opt to leave earlier than normal, or head a different way if you want to get a seat.
This data should also lead to more accurate travel time predictions, as Google Maps can take into account the chance of you having to let a couple of packed buses or trains go by, before being able to get on one.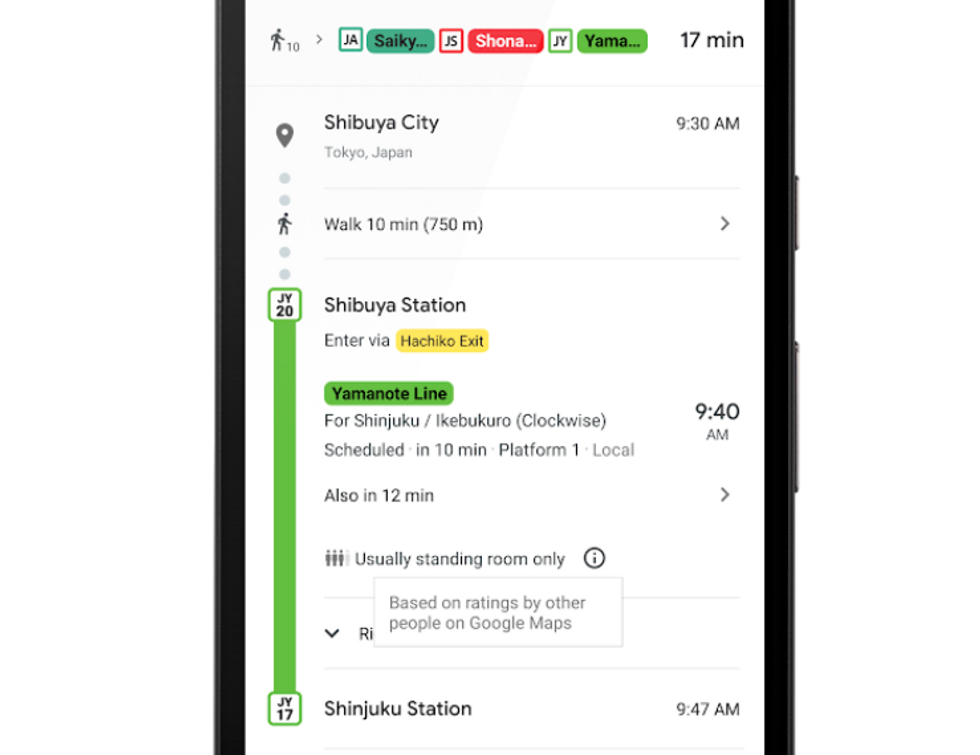 Google Maps now says messages like 'usually standing room only'Google
The system is rolling out to Google Maps users across 18 UK cities right now, with 200 more across the world to follow soon. The new feature is available on both iOS and Android.

Google is also introducing live traffic delays specifically for buses, in places where the company doesn't already have access to real-time information from transport providers.
The new system uses machine learning, which Google takes a deep dive into in this article on its artificial intelligence blog.
The company also said in a second blog post: "You'll now be able to see if your bus will be late, how long the delay will be, and more accurate travel times based on lice traffic conditions along your route. You'll also see exactly where the delays are on the map so you know what to expect before you even hop on the bus."
Google used transit data collected from Google Maps users (using the location, movement and speed of their phone) between October 2018 and June 2019 during peak commute times of 6am to 10am. The resulting data claims Buenos Aires was home to the world's most crowded transit line (the Urquiza Line), followed by Line 11 Coral in São Paulo, and Line A also in Buenos Aires, then Linha 8 Diamante, again in São Paulo.
Of the top ten most crowded transit lines in the world, Buenos Aires and São Paulo both appeared three times, while Tokyo appeared twice, Paris once, and New York's L-train was tenth.
Check out The GearBrain, our smart home compatibility checker to see the other compatible products that work with Google Home and Home Mini
What you need to know about Google Assistant Devices www.youtube.com
Like GearBrain on Facebook