Like GearBrain on Facebook
Google is updating SOS alerts, a feature currently in Google Maps, to let people know if they're heading into a zone affected by a natural disaster — and where a weather-related problem, such as a flood or a hurricane, may be going next.
The SOS alerts feature has been live since 2017 — able to push out news stories, emergency numbers, and how people can get to a safe place. But the new SOS tools tap into navigational tools, which will change as someone is driving as well, and also be visible on desktop versions of Google Maps too.
Read More:

Notification cards for hurricanes
A notification, as a large card at the bottom of the iOS or Android app, will show if someone is near an area that's impacted by a weather-related disaster — and clicking on this will bring detailed instructions on how to get to a safe place. This feature should be live in the coming weeks, and will also work on the mobile web or the desktop version.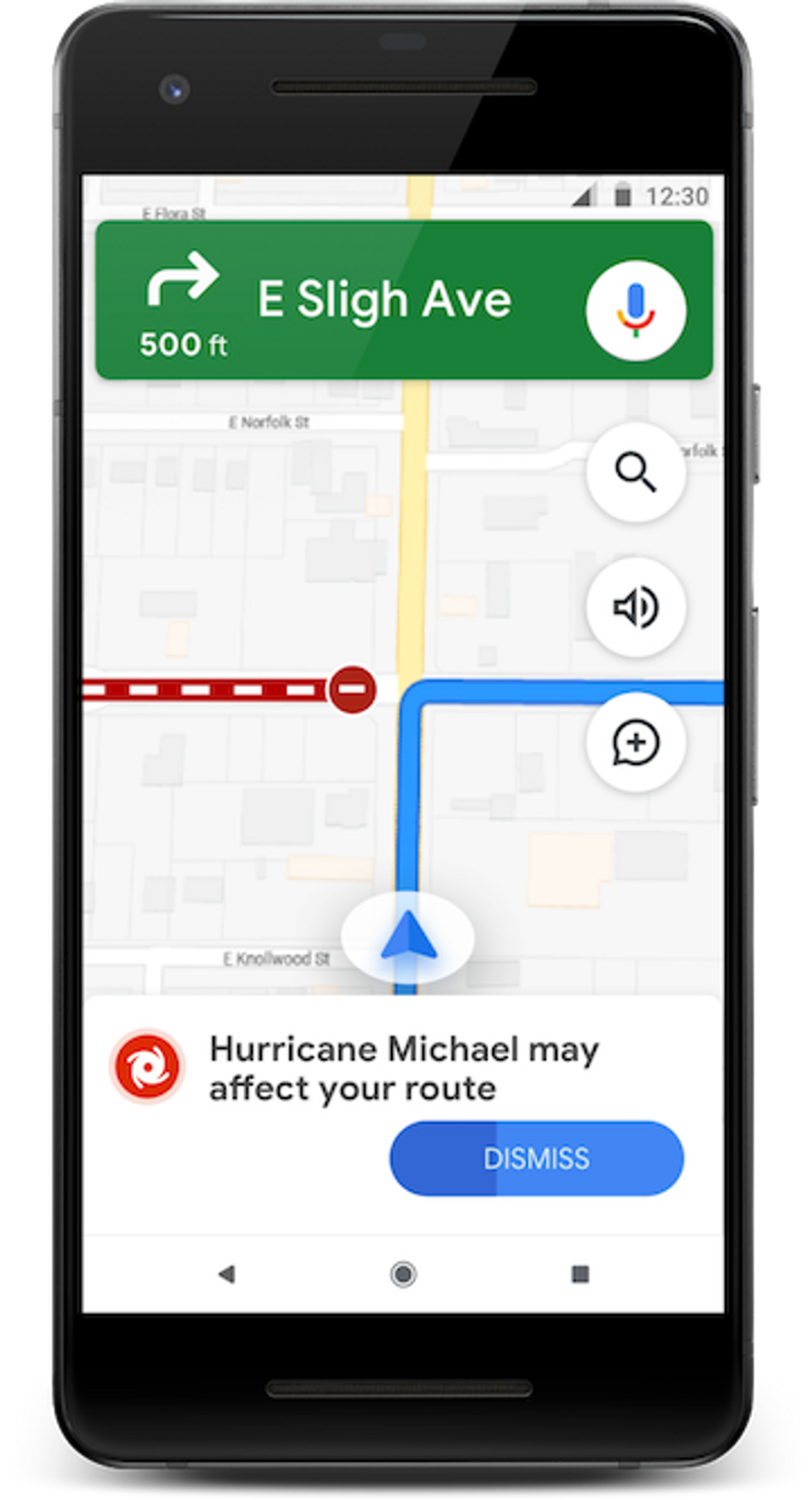 New alerts, to re-route drivers in the event of a hurricane, are coming to Google MapsGoogle
A hurricane approaching, for example, will create an alert, the time it was most recently updated, and a card which will visually show a predicted path, and the time that the storm should be approaching across its path. Google also states where it is pulling this information, including the National Oceanic and Atmospheric Administration, a trusted weather source.
If someone is in Google Maps, they will also be able to share their location through the card — and also push the information to others. That update can alert people that someone is safe, and that detail can be live for as short as 15 minutes or ongoing until that feature is turned off.
And launching later this summer, an additional feature will also alert drivers if the current route they've selected could be affected by a hurricane — and the app will try to navigate them away from that area. And if the traffic layer is turned on in the app, road closures, and those that Google suspects may be closed by a storm or weather-related event will show up. These can be confirmed, and then shared with other drivers in Android, if the road is still closed or not.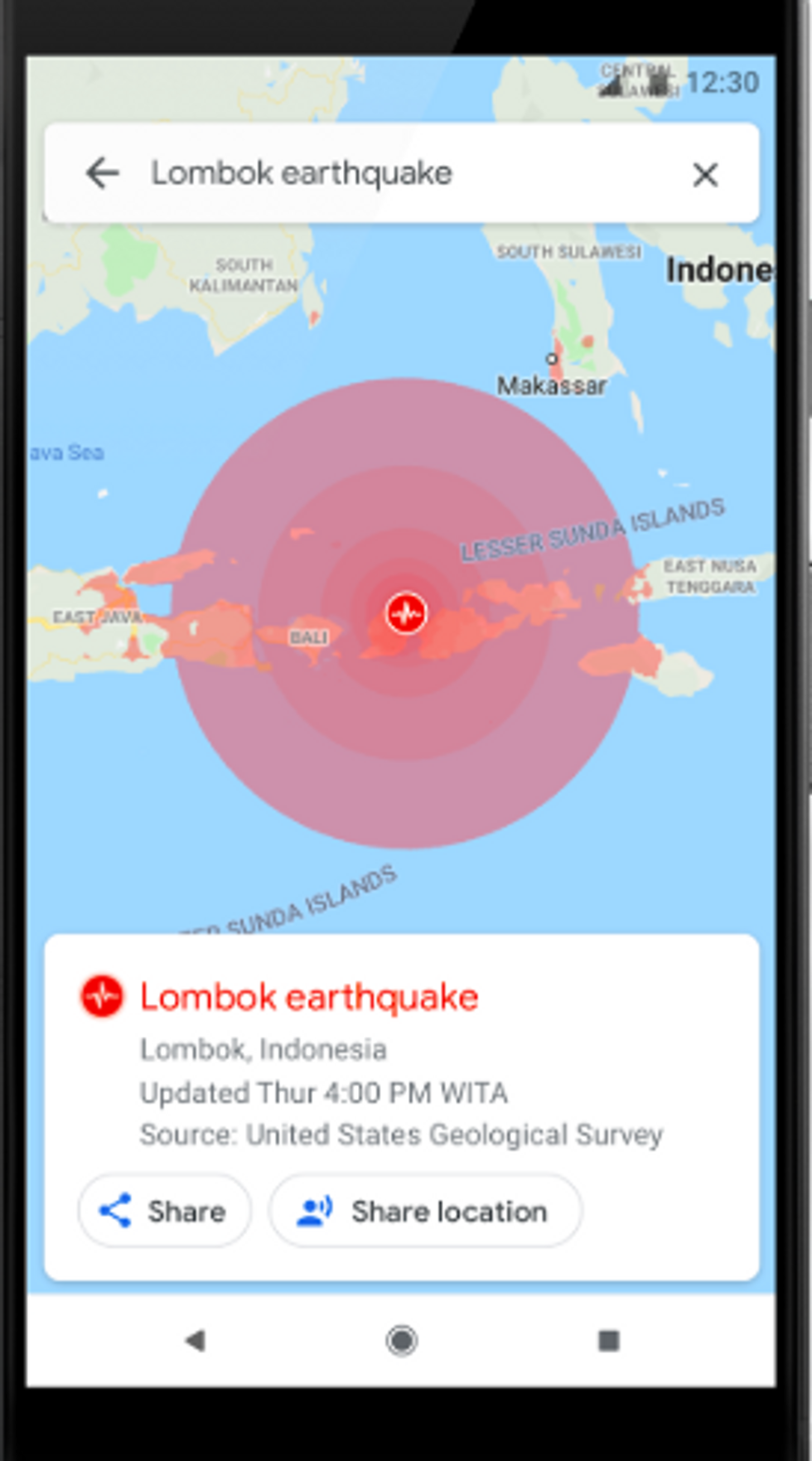 Alerts on the epicenter and where earthquake have affected surrounding areas, is on its way to SOS alerts in Google MapsGoogle
Earthquakes

If an earthquake has hit, tapping on the notification card sent will bring up the epicenter, the magnitude of the quake and also where the worst shaking was during the event. An earthquake that occurs in an area surrounded by water, will also indicate areas that could be impacted outside the quake zones.
Like hurricane alerts, this feature will also come to iOS and Android, the mobile web and desktops, and be rolling out in coming weeks.
Flooding
Flooding risks and forecasts of where this problem could arise, will be indicated by which areas are in danger, quantified by those with some flood risk to those regions where there is greater and even greatest flood risk.
This feature is rolling out first specifically in Patna, India, and then Google said it will expand the tool to the Ganges and Brahmaputra areas of India on Android, desktop and the mobile web
From Your Site Articles
Related Articles Around the Web
Like GearBrain on Facebook