Like GearBrain on Facebook
Reverse wireless charging has become a popular feature among smartphones over the last year or so, with the Google Pixel 5 the latest to jump aboard the bandwagon.
At its simplest, this function lets you charge accessories like earphones or a smartwatch by placing them on the back of your smartphone. Providing the accessory works with Qi wireless charging, the phone's battery will effectively turn into a wireless charging pad.
Read More:
It's a handy feature for when you need to top up the charge case of your wireless earphones, or when your Qi-compatible smartwatch needs a bit of juice. The function can even be used to top up the batteries of other smartphones.

But for the Google Pixel 5, there is a little more going on here. Firstly, the Battery Share function is switched off by default. To turn it on, open the Settings app and navigate to Battery, then Battery Share. Tap the toggle switch it turn it on, and if that's the first time a new Battery Share shortcut will be added to the Pixel's drop-down quick settings menu.
It is worth noting that Battery Share automatically switches off after 30 seconds of inactivity, or when the Pixel 5 is placed on a wireless charger. So you'll need to enable it again next time you want to use it.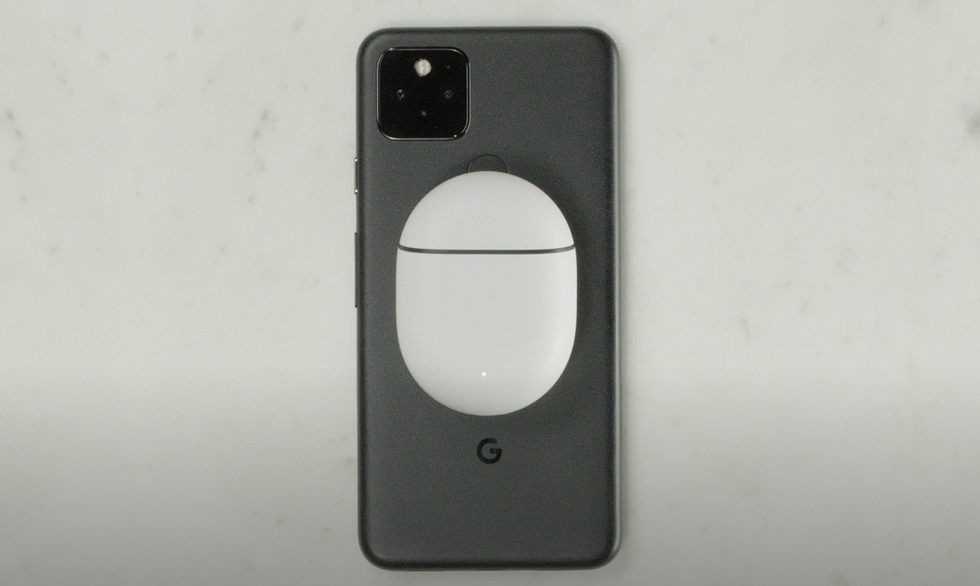 The Pixel 5 can be used to charge wireless earphonesGoogle
Battery Share also stops when the device placed on the Pixel reaches 100 percent charge, or when the phone senses a power transmission issue (potentially due to a thick case). A high temperature also stops Battery Share from working.

Also different here is how the Pixel 5 automatically switches Battery Share on when it is connected to a charging cable. Once you know this, it's convenient to plug in the Pixel, place it screen-down, then drop your earphone charging case on top, with the one cable filling both batteries at once.
The iPhone 12 does not have reverse wireless charging, but it was reported earlier this week that the hardware appears to be present in Apple's new handset, and could be switched on at a later date.
Fore more on the Google Pixel 5, you can read the GearBrain review here.
Google Pixel Stand Fast Wireless Charger for Pixel 5, Pixel 4, Pixel 4XL, Pixel 3 and Pixel 3XL
From Your Site Articles
Related Articles Around the Web
Like GearBrain on Facebook