Like GearBrain on Facebook
Google's latest and greatest Pixel 5 smartphone has a lot going for it. There's access to 5G (including super-fast but somewhat elusive mmWave), solid build quality, a fast 90Hz display, and one of the best camera systems money can buy.
All of this is wrapped up in a sensibly-sized phone, at exactly 6 inches from corner to corner, that also has a decent $699 (£599) price tag and the clean, simple and uncluttered Android interface Google smartphone fans love.
Read More:
Google Pixel 5 review: Hardware and design
Despite smartphones mostly all looking the same (folding handset aside, of course) Google has always managed to make its Pixel range stand out from the crowd –—and the latest Pixel 5 is no different. My review unit shows off Google's new 'Sorta Sage' color, which is an attractive pale green to you and I.
I think this color looks great, and the phone feels good in the hand thanks to a rear case finish that is somewhere between metal and plastic. It's actually an aluminum body coated in a matte resin that feels like it'll shrug off drops and knocks more successfully than glass or regular plastic.
It's initially cold to the touch, but soon warms up to room temperature; as such, some might say it lacks the premium heft of a truly metal smartphone, but I'm rather fond of it. After all, this isn't a thousand-dollar smartphone that has to look like a piece of luxury tech; it's a phone with a sensible $699 (£599) price tag.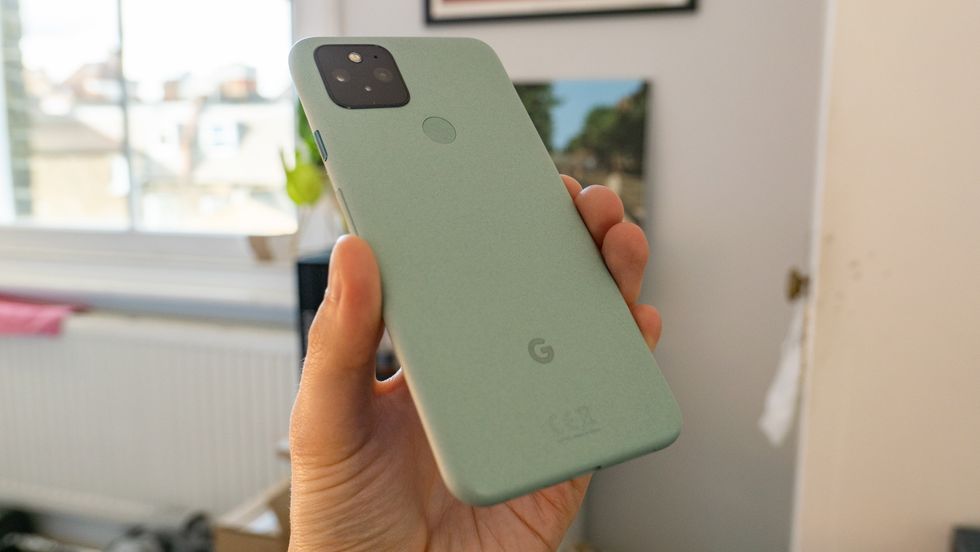 Google Pixel 5 in 'Sorta Sage' green GearBrain
The Pixel 5 is also sensibly compact. In a world where smartphone screens approaching seven inches are becoming the norm (and are increasingly difficult to hold securely in one hand), the Pixel 5 feels great. It measures 5.7 inches tall, 2.77 inches wide, 0.31 inches thick, and weighs 5.33 ounces. Thin bezels around the edges of the screen help add to the Pixel 5's compact feel.

Turn the Pixel around and you'll be greeted by the return of an old friend — a circular fingerprint reader. Pixel users of old will remember this from the Pixel 3, but it was removed for 2019's Pixel 4 and replaced by Google's answer to Face ID on the iPhone, a face-scanning system to unlock the phone. This didn't quite work as well as expected, so it's a case of out with the new and in again with the old, and the Pixel 5 is all the better for it.
The fingerprint reader is conveniently located to touch with your index finger, and unlocks the phone in a heartbeat. My only issue is when I have the Pixel 5 in my trouser pocket and my hand on top of it, as the print reader will occasionally touch my finger and unlock the phone.
Also removed from last year's Pixel is Google's Soli radar sensor, which meant the phone could be controlled with hand gestures. This also failed to take off, and is no longer a part of the Pixel 5. No great loss.
Google Pixel 5 review: Display
Key to the Pixel 5's comfort and usability is its 6-inch display, which I think is just the right size for a smartphone in 2020. It's an OLED panel, so has excellent contrast levels, deep blacks and colors that really pop. It is also capable of displaying HDR 10+ content, and has a 90Hz refresh rate, meaning the display refreshes 90 times per second. This is more than the 60Hz iPhone 12 family, but a little behind some other handsets that have upped the game to 120Hz.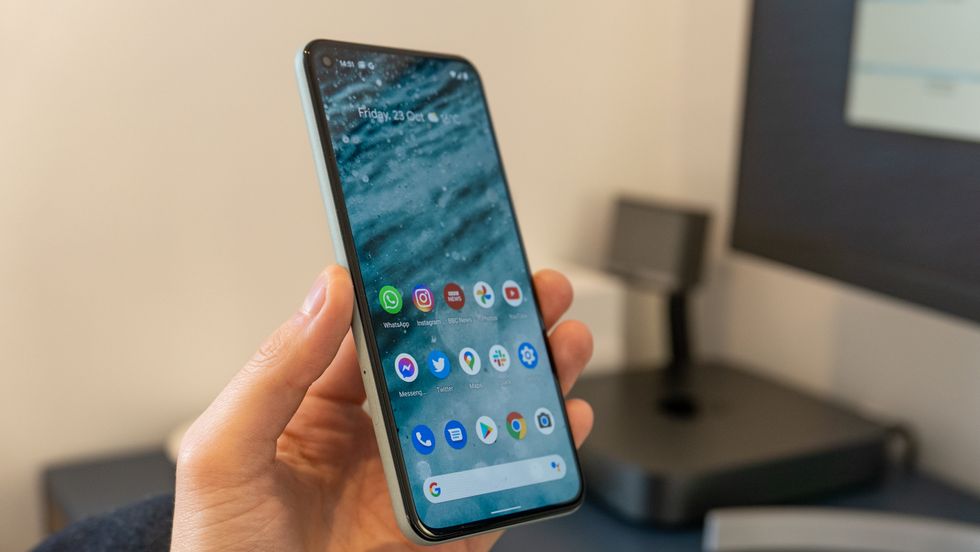 The Pixel 5 has a 6.0-inch display GearBrain
But, in all honesty, this isn't as big of a deal as some corners of the tech industry like to make out. Yes, the 120Hz display of the iPad Pro looks that bit smoother while scrolling, but such an upgrade is always going to be more obvious on the massive screen of a tablet. Unless you own an iPad Pro, you have probably never seen a screen with a refresh rate above 60Hz, so the Pixel's jump up to 90Hz, while nice to see on the spec sheet, isn't much more than that.

All that said, it's a great display with accurate colors, instantaneous response to touch inputs – and, above all else, it's a comfortable size. It's also pin-sharp thanks to the 2340 x 1080 resolution and pixel density of 432 per inch. Protection is in the form of new sixth-generation Corning Gorilla Glass.
Google Pixel 5 review: Camera
Even since the first Pixel arrived back in 2016, Google has produced phones with truly excellent cameras. The same is true of the Pixel 5 but, while the computational photograph is still top-drawer, the hardware is starting to show its age.
The main 12-megapixel image sensor is the same Google fitted to the Pixel 4 and even the Pixel 3 from 2018. The company has improved its photography software since then, of course, but I would like to have seen new hardware this time too. As a result, instead of being a huge leap forward, as some previous generations of Pixel cameras have felt, it's a case of the latest Pixel being as good as ever, rather than much better.
What's new is how Night Sight mode now switches on by default when the main camera thinks you might need it, which is handy. Night Sight is still one of the best low-light modes out there, seemingly using witchcraft to turn darkness into light, while producing accurate photos with no blur.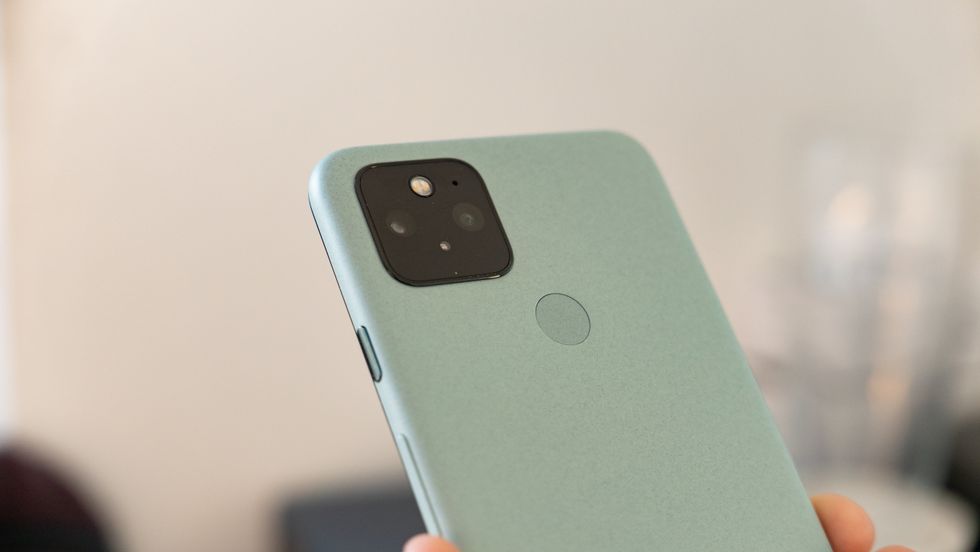 The Pixel 5's 12-megapixel camera and fingerprint reader GearBrain
Taking photos at night is one of the great joys of owning a Pixel phone. I found myself endlessly taking photos out of my bedroom window at sunset, just to see how well the phone brightens up the scene without introducing any noise, and how it can perform miracles in almost total darkness.

Below I've included two photos, taken at the same time with the Pixel 5 and my three-year-old iPhone X. Yes, this is an unfair comparison, but if you haven't upgraded your phone for a few years (like me and my smashed-to-pieces X), this goes to show just how much the game has moved on, and how much of an upgrade the Pixel 5 will feel to many buyers, despite using two-year-old hardware.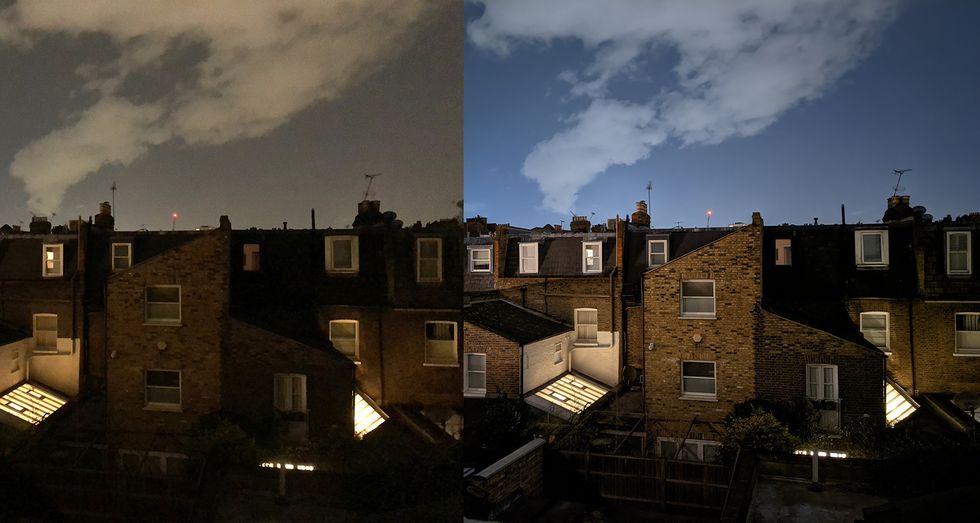 Photos taken on the iPhone X (left) and Pixel 5 (right) GearBrain
Also new is how you can use Night Sight and Portrait Mode at the same time, thus creating portraits with neatly blurred backgrounds and artificial bokeh effect, while also taken in low light.

Sitting next to the main camera is a 16-megapixel sensor with a 107-degree ultra-wide lens. This works well, and is useful if you're trying to take a photo in a cramped space, or just want to shoot with a different look, but it's not groundbreaking.
What's more impressive is what Google has done to the Pixel's video-shooting capabilities. Resolution is up to 4K at 60 frames per second, but more interesting is the new video stabilization settings.
Standard mode helps to smooth out the natural shaking of your hands when grasping a phone, while Locked and Active do an amazing job at keeping footage stable, even when zoomed in and moving more. Locked is particularly good; tap a subject in frame and the focus will snap to it and the video will remain still, even if you move your hand a fair amount. Only a deliberate movement will cause the camera to break away from the subject; footage shot with Locked enabled almost looks like it was filmed using a tripod, it's that good.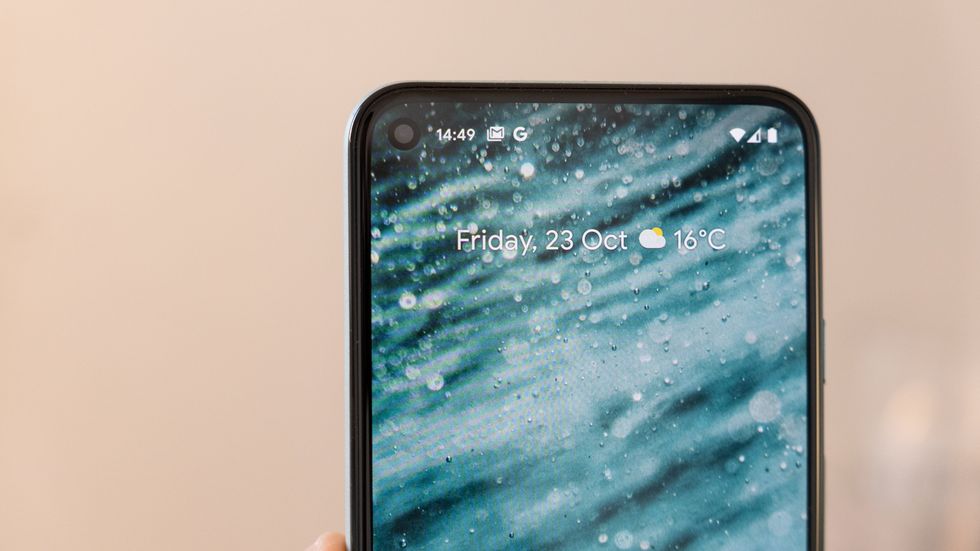 The Pixel 5 has a hole-punch style front camera GearBrain
The hole-punch style front camera has an 8-megapixel sensor and an 83-degree field-of-view. It takes great selfies, especially with Portrait Mode enabled, and benefits from Night Sight too.

My only real criticism with the camera system of the Pixel 5 is the few seconds it takes to process photos. Some are ready to view in their full splendor almost immediately, but a photo taken in low light with Night Sight enabled takes a few seconds to process, leaving you momentarily with a loading icon and a partially-processed photo.
It's a small gripe, but evidence that Google isn't using a flagship processor for this year's Pixel – and a telltale sign that it has removed the Pixel 4's Pixel Neural Core, the processor that previously handled image processing.
Google Pixel 5 review: Performance, specification and software
Photo processing time aside, there isn't much else to complain about with the Pixel 5's performance. The interface would very occasionally pause when opening an application, as if the app was hesitant to fill the screen for a split-second. But this only happened a couple of times during a week of using the Pixel 5 as my personal phone.
Google has fitted the Pixel 5 with the Snapdragon 765G processor and 8GB of RAM. Make no mistake, this is still a quick phone and will feel like a big upgrade to anyone coming from any handset made a couple of years ago, bonafide flagships included. It just isn't quite as powerful as today's range-toppers from Samsung and others – but then it doesn't cost as much as they do either.
When the Pixel 5 shines more brightly (or rather, has the potential to shine more brightly) is with Google's decision to make just one version of Pixel 5 for the global market. This means it works with both the sub-6GHz and mmWave versions of 5G. The former is more common for now, but lacks the higher speeds of the latter, which in the US is what Verizon uses for its entire 5G network.
The Pixel should switch between the two depending on what is available, and what carrier you use, but I was only able to try out sub-6GHz 5G, as that's all we have in the UK for now. Even then, and even in London, coverage is patchy. I live in a 5G blackspot, but a short walk away I saw download speeds of over 200 Mbps, which is around four times quicker than my home broadband.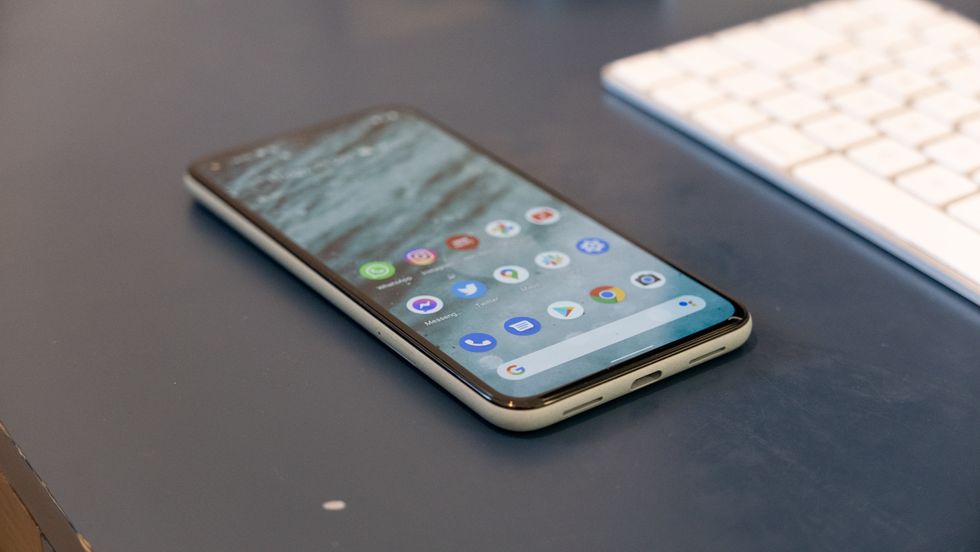 The Pixel 5 charges using USB-C GearBrain
Plainly, such performance is overkill for a smartphone. Networks and manufacturers alike are falling over themselves to herald 5G as the Next Big Thing, but for now that simply isn't the case. I suspect the majority of 5G data will be used on the Speed Test app, rather than actually doing anything useful, or that wasn't possible with 4G.

I will certainly welcome blanket high-speed coverage, as 4G still isn't everywhere just yet, and I applaud Google for ensuring the future-proof Pixel 5 can handle both types of 5G. But for now, 5G isn't the headline feature you may have been led to believe. At least not yet.
Battery life for the Pixel 5 is very good. Last year's Pixel 4 suffered in this department, but I've found the 5 to easily last all day. I also really like how, when swiping down to reveal notifications, the status bar shows how long the 4,000mAh battery should last and, as it wears down, at what time it is forecast to reach zero. Having been sat on a charger today, the Pixel 5 now has 96 percent and expects to last for 34 hours.
I haven't come close to running out yet, and by the evening the Pixel 5 usually predicts it will last until at least the following morning.
The Pixel 5 has 128GB of storage. There's no microSD card slot to upgrade this and no other versions are available. This should be fine for most users, thanks to Google giving all Pixel buyers free online storage for their photos and videos.
As far as software is concerned, it's a familiar story. The version of Android 11 here is exactly as Google intended it to be, without any of the user interface changes manufacturers like Samsung, Sony and LG like to include. Instead, it is clean, simple and works very well.
Google also pledges to bring updates to its own Pixel phones first, and that all Pixels will get updated to the latest version of Android for at least three years. So a Pixel 5 bought now will still be completely up-to-date at the end of 2023.
Google also makes some Android features exclusive to Pixel phones, like the new system where the Assistant can sit on hold for you , then give an alert when someone takes your call.
Google Pixel 5 review: Price and release date
The Google Pixel 5 is $699 / £599. It is available in the UK from October 15 and the US from October 29.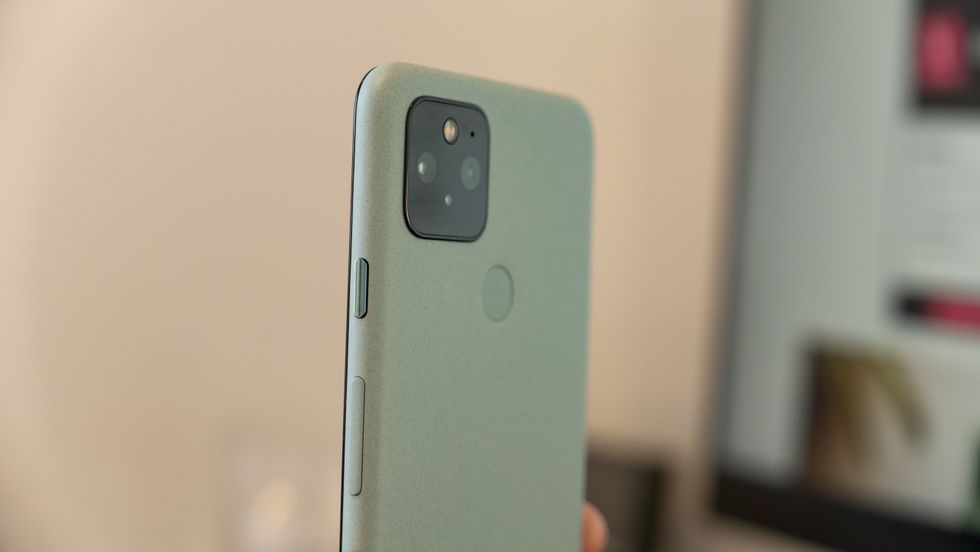 Google Pixel 5 GearBrain
Google Pixel 5 review: Verdict

As good as Pixel phones always are, Google has struggled to match the successes of Samsung and other makers of Android phones. I genuinely can't remember the last time I saw someone using a Pixel phone, and I can only think of one friend who has ever had one, and that was a few years ago now.
So it was inevitable that Google would eventually change course, and tuck itself into the mid-field instead of chasing flagships. This means no big-screen iPhone Pro Max rival and no market-leading processor. It also means the same old camera hardware, and a slightly less premium design.
But none of that really matters, because the Pixel 5 is still an excellent smartphone for the price. It covers all of the basics, while also having a great display, a design that is of a sensible size, and a fantastic camera system, albeit one that hasn't improved much on last year.
Pixel 2 and 3 owners will be very happy with an upgrade to the Pixel 5, and to them I heartily recommend the new model. But the smartphone annual upgrade cycle is increasingly one with diminishing returns, and buying a new phone every year no longer feels like the quantum leap it once was.
And that's fine. No one is forcing you to upgrade every year. Hold onto your handset for longer then enjoy a bigger leap forward when the time is right.
Having bowed out of the flagship race, I now hope Google can make a real name for itself in the mid-tier, because with the Pixel 5 that's a win it really deserves.
Pros:
Sensible size and a smart design
Great camera
Stock Android with three years of updates
Cons:
Image processing can be slow
Storage limited to 128GB
Google Pixel 5 5G (2020) GTT9Q 128GB (GSM | CDMA) Factory Unlocked Android Smartphone (Just Black) - International Version
Like GearBrain on Facebook