Like GearBrain on Facebook
Google's latest smartphones, the Pixel 5 and Pixel 4a 5G, have a lot in common, from their design and processor, to their software and cameras. But they are also a different size, with different displays and the Pixel 5 earns its higher price thanks to unique features like wireless charging and water resistance.
The Pixel 5 is the company's latest flagship smartphone, since for the first time there is no 'XL' version this time around. It is joined by the equally new Pixel 4a 5G, which is more than just the existing 4a with 5G added to it; it's an entire new model of phone.
Read More:
Both of these phones are also being sold alongside the Pixel 4a, which has been with us since earlier in 2020. That handset is priced at $349, while the new 5G version with a larger screen and other enhancements is $499, and the range-topping Pixel 5 is $699.
This gives Google a good spread of prices, but also means it is actively avoiding the flagship end of the market, where Apple and Samsung charge $1,000-plus for their top-tier handsets, and $2,000 in the case of the Samsung's latest folding phone, the Galaxy Z Fold 2 5G.
With the new Google phones available from today, here is how they stack up against each other, to help you decide which to buy.
Google Pixel 5 vs Pixel 4a: Design and hardware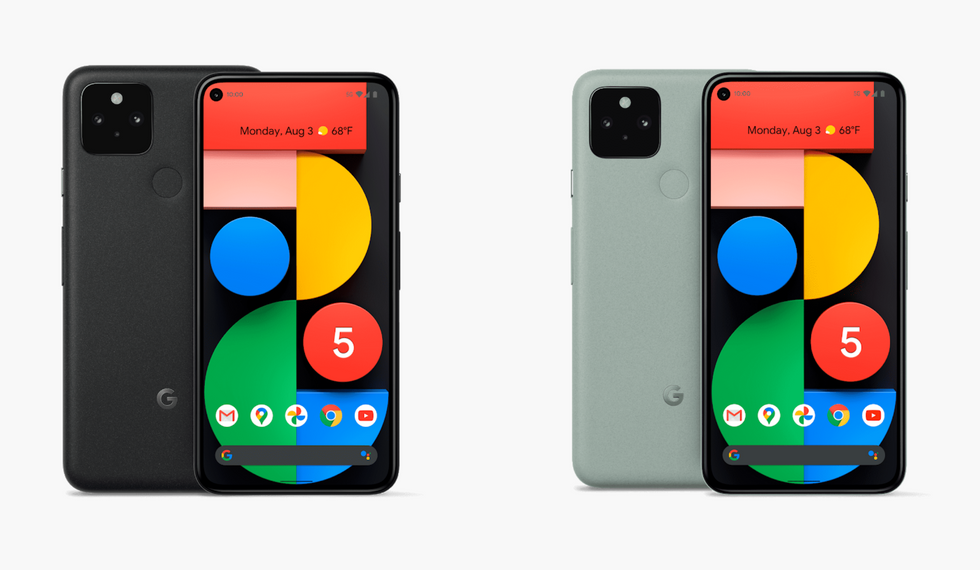 Google Pixel 5 color optionsGoogle
Both phones have a similar design, with their square rear camera housings, sat above a circular fingerprint reader, and a hole-punch selfie camera on the front.

Their dimensions are also quite similar, with a few small differences. The Pixel 5 is 5.7 inches tall, 2.8 inches wide and has a thickness of 0.31 inches, while the Pixel 4a 5G is 6.1 inches tall, 2.9 inches wide and 0.32 inches thick, making it larger in every direction.
Color options are also different. Both phones are available in black, while the Pixel 4a 5G is also offered in white, and the Pixel 5 comes in sage green.
Only the Pixel 5 is water resistant, with an IPX8 rating, while the Pixel 4a 5G has a 3.5mm headphone jack and the Pixel 5 does not. Both charge via a USB-C port and both have stereo speakers. The Pixel 5 has wireless charging, but the Pixel 4a 5G does not.
Google Pixel 5 vs Pixel 4a: Display
Here is where the real differences begin to show. The Pixel 5 has a smaller 6-inch display compared to the 6.2-inch display of the Pixel 4a 5G, while both have a resolution of 1080 x 2340.
Both support HDR and both use OLED panels, but Google says the Pixel 5 has a contrast ratio of more than 1,000,000:1, compared to more than 100,000:1 for the Pixel 4a 5G.
The other difference is how the Pixel 5 has a 90Hz refresh rate, 50 percent higher than the 60Hz screen of the Pixel 4a 5G. The higher refresh rate of the Pixel 5 should make scrolling through content feel smoother, but it still falls short of the 120Hz panels of some other phones. Having said that, the iPhone 12 family is sticking with 60Hz for another year.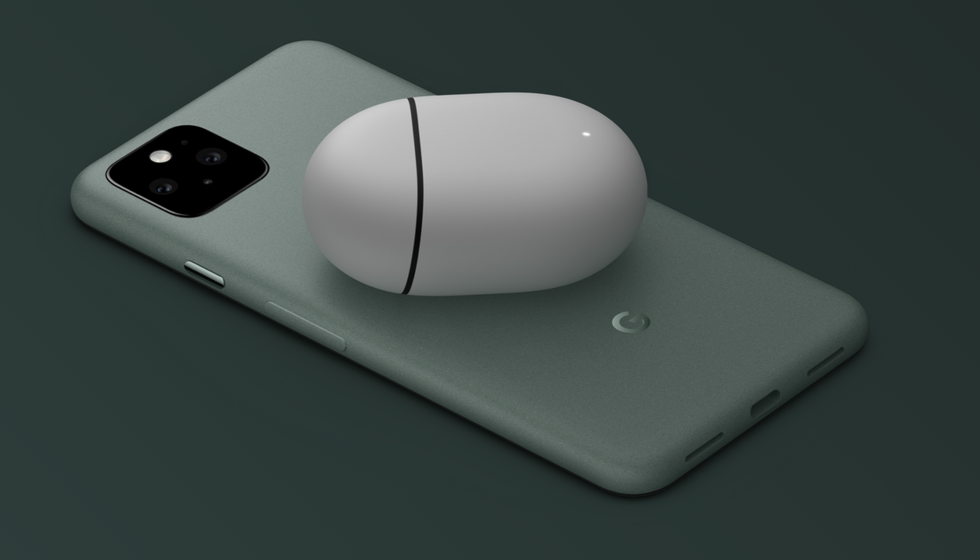 Only the Pixel 5 has reverse wireless chargingGoogle
Google Pixel 5 vs Pixel 4a: Processor, RAM, storage and specification

Both phones use the same Qualcomm Snapdragon 765G octa-core processor. This isn't a flagship processor, but helps to give the Google phones a more competitive price tag compared to handsets by Samsung and others.
Memory is limited to 6GB of RAM or the Pixel 4a 5G, while the Pixel 5 gets 8GB. Storage is the same 128GB on both phones, and it is not expandable via a microSD card slot in either case.
Despite being the larger phone, the Pixel 4a 5G has a slightly smaller battery than the Pixel 5, measuring in at 3,885 mAh compared to 4,080 mAh. The Pixel 5 also benefits from fast-charging and what Google calls Battery Share, where the phone charges Qi wireless devices like earphone cases and smartwatches when they are placed on its back.
Google Pixel 5 vs Pixel 4a: Cameras

The camera system is always where Pixel phones have shone bright, thanks to Google's class-leading computational photography technology. And what's great is that both the Pixel 5 and Pixel 4a 5G have exactly the same camera hardware on the front and back.
This really is a big move from Google, and means buyers of its $499 mid-range phone get to enjoy what should be some of the best photography of any smartphone.
The hardware of both includes a rear camera system with a 12.2-megapixel resolution main sensor with optical and digital image stabilization, an f/1.7 aperture and 77-degree field of view. This sits next to a 16-megapixel ultra wide sensor with an aperture of f/2.2 and a field of view of 107 degrees.
Both phones have an eight-megapixel front camera with an f/2.0 aperture and 83-degree field of view. Both phones also have exactly the same set of camera features, including Night Sight, Top Shot, Portrait Mode, Cinematic Pan, Portrait Light and more.
Ultimately, there really isn't much to tell these two Pixel phones apart. Both have 5G, the same processors, software, cameras and a similar design, while the Pixel 5 has a more premium construction, wireless charging, water proofing, a slightly better quality (but smaller) screen, and more RAM.
Like GearBrain on Facebook