Google is now adding some new visual markers to Gmail, Meet and Chat, a way to quickly see if the email or message in question is coming from a legitimate source — or potentially a hacker.
For email, the new feature will let companies embed their logo in the place of an avatar. So if an email is coming from your company, a retailer or a news source, its logo could be in the avatar bubble. That feature will roll out in the next few weeks with just a handful of groups — names which Google did not release. Presumably the feature, called Brand Indicators for Message Identification or BIMI for short, will expand to other groups later. They will need to submit their logos to Google, which will — if approved — then start pushing it through the Gmail system.
With people working from home, depending more on digital devices, hackers are hard at work, scheming to gain access to their data. Phishing attacks, for example, can include hackers sending an email pretending to be someone else, to get personal information or even passwords, so they can get into a network. This kind of attack just relieved Twitter employees of access to some very high profiled accounts in recent days, for example.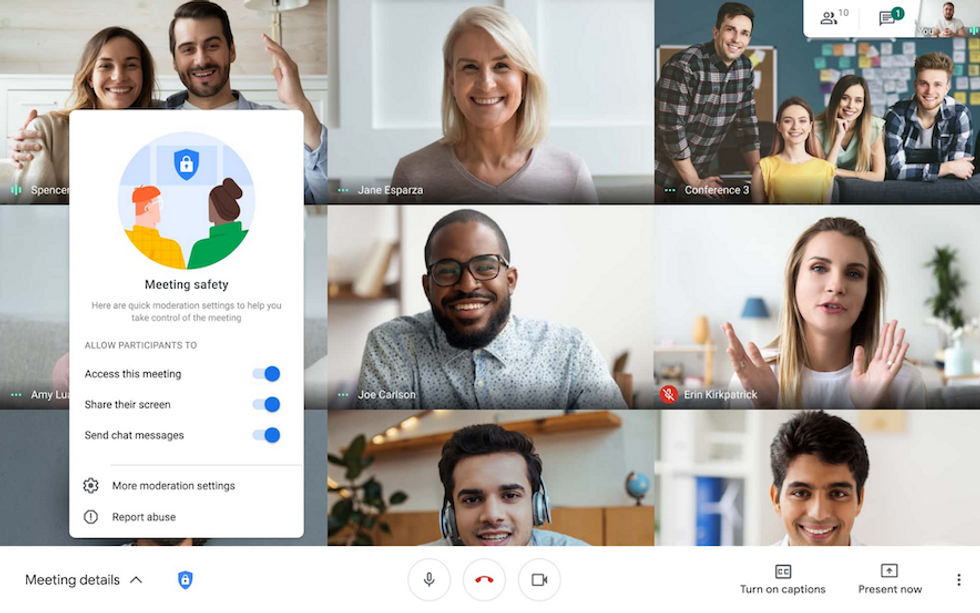 Google Meet is getting more lockdown featuresGoogle
Overall, though, data breaches are said to be down by 33 percent in the U.S. for the first half of 2020, reports the Identity Theft Resource Center (ITRC).

That drop stands as a sharp difference from the increase that happened between 2019 and 2018. Then, the ITRC found that data breaches were up 17 percent from 2018 to 2019. Still some very big names have been felled by attacks in 2020 already, including Amtrak, Bank of America, GoDaddy and Marriott.
Consumers aren't any less vulnerable to phishing. And these kinds of attacks can also come through messages. Google is also adding some new security features to Chat as well, including alerting people if a link sent through this method is considered "malicious," the company said.
Finally, with Meet, the video chat service, there will be new features to help people control who can come in, and who can't. If someone has been thrown out, they won't be allowed to "knock," to come back in unless the meeting host specifically re-invited them. Also, if a knock request has been rejected many times, that person who has knocked will actually be blocked from sending requests to join a meeting.
You also be able to block people who don't have a Google account, require a host join a meeting before the meeting starts, and other additions. These features will first come to consumers and the G Suite for Education accounts, timely with schools around the nation preparing to start fall classes in coming weeks.
Check out The GearBrain, our smart home compatibility checker to see the other compatible products that work with Google Assistant enabled devices.
Google Nest WiFi Router 2 Pack (2nd Generation) – 4x4 AC2200 Mesh Wi-Fi Routers with 4400 Sq Ft Coverage